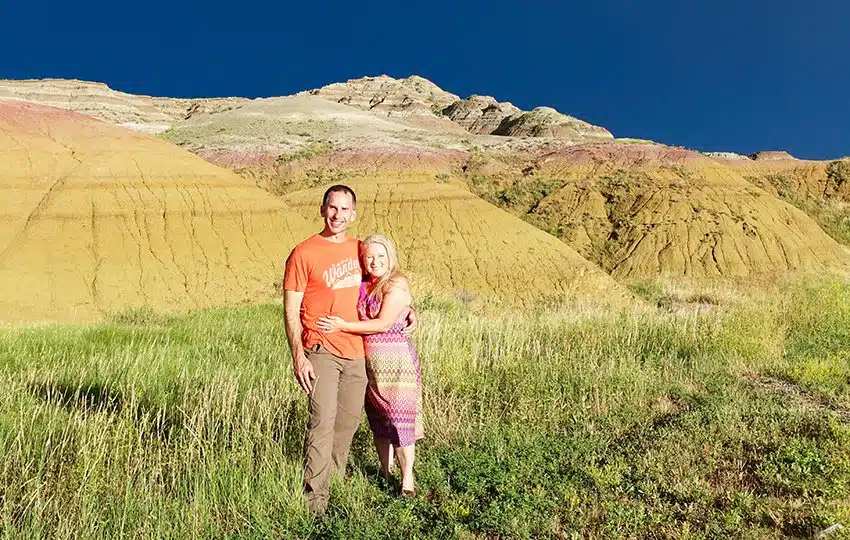 I'm a Colorado native, an avid cyclist and until February 2017, I was the Director of Operations for a successful nutritional supplements company based out of Texas. I worked regular 8-5 hours and a 40 hour week, which I was able to do virtually – thanks to technology. I worked for that company for almost 4 years, 3 of them working remotely from our RV while traveling the country. Like many Americans, I didn't get a lot of vacation time yet it was high value for me, so the decision to start RVing while still working was a great way to feel like I got more time off as we're usually 'right there' in places where we want to be with somewhere cool on our doorstep to enjoy right after work and on weekends.

I got to travel a lot with my previous job at EAS in Colorado, where I ran a health and fitness contest and was one of the judges for the Body-for-LIFE (BFL) Challenge over several years. 
It was while working for EAS that I got my first taste of a motorhome when some colleagues and I were driven across the country in a BFL branded Prevost (big, fancy motorhome) so we could surprise and present the Contest Champions with their prizes and checks for winning the Body-for-LIFE challenge. It was an incredible opportunity – being paid to travel, inspire and meet amazing people who were literally transforming themselves and their lives That experience – seeing the country in style with amazing views through that huge glass windshield – gave me my first taste of the RV life and I liked it… a lot!
Aside from that and a couple of trips to Mexico, I hadn't seen too much of the USA or the world. All that changed after a visit to Julie's homeland Australia in 2012. I got bitten by the travel bug – hard – and that's what inspired me to look at ways to do more of it as part of my everyday life and eventually led to us deciding to move into an RV to live, work and travel. These days, I've combined my skills and experience in operations and life transformation with my experience, skills and passion for RVing, to work alongside Julie as we create content for RVLove and courses for RV Success School full-time, so we're still working while we travel.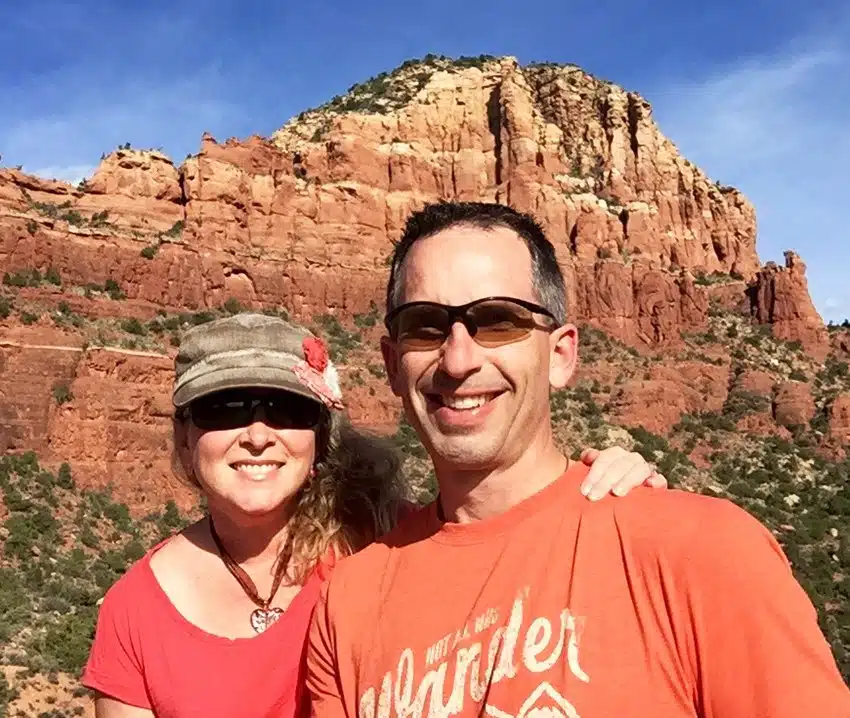 I was born in Australia and lived there my whole life until I moved to Boulder, Colorado in 2009. I first visited to attend a conference, instantly fell in love with the Rocky Mountains and decided I wanted to move there. Soon after returning to Australia, the global economy tanked. It was 2008. I'd worked so hard to build a successful marketing and event company (ironically, in the personal development industry) when it all imploded – along with my belief system and ideals of the measurements of 'success'. So I sold everything – my house and everything in it, returned my lease car, closed my business and moved to Boulder to hit the reset button and start my life over. It wasn't easy – I was single, living in a new country, had no job, no work Visa and I hardly knew a soul. Yet somehow, I knew I was in exactly the right place.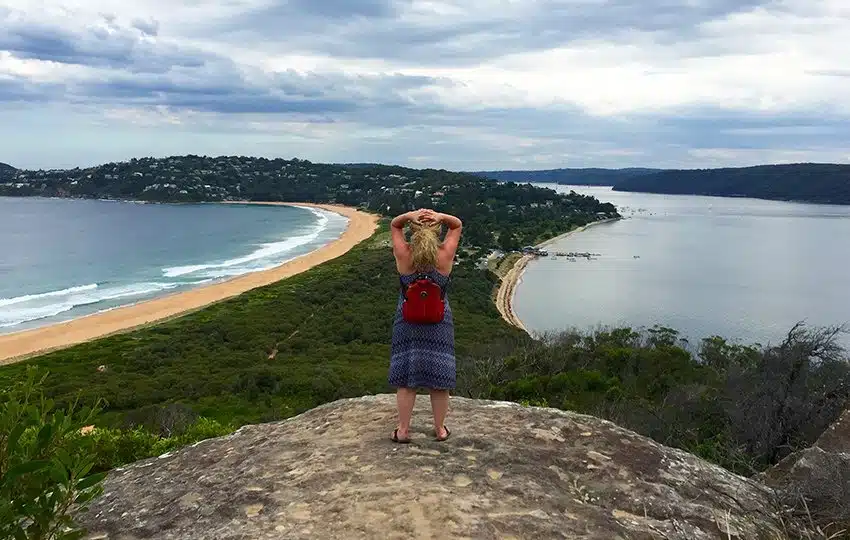 I moved from Sydney to Colorado with just 2 suitcases and everything I truly needed. I loved Colorado and it soon began to dawn on me that it was the simplicity of my new life that made me feel so happy, alive and free! That's when I realized I didn't need a lot of 'stuff' and that my life was actually much richer without so many material things (and debt) weighing me down. Instead, I was able to focus my time, energy and attention on more important things – relationships, nature and experiences. I think that's a big part of why the RV life suits me so well – I get to focus on who and what matters to me most every single day.
Careerwise, I've always been a writer, an entrepreneur and owned three businesses in marketing and communications. In 2005, my business evolved into promoting international authors/transformational teachers, who became my mentors and I began coaching private clients who found themselves at a major crossroads in life. I helped them turn things around to a new direction, and redefine their success measures to align with their values to enable them to achieve their own life, career and relationship goals in a healthy and sustainable way.
Marc and I work as a team, filming and editing videos, writing blog posts, managing our website, running our online courses, and creating digital media products, but I'm usually the one behind our social media posts. I love building communities and we both love helping people – sharing our experiences and what we've learned in the RV lifestyle to help others thrive too.
In the summer of 2010 after what seemed like a lifetime of waiting for Mr / Mrs Right, our paths finally crossed. We met on the dating website eHarmony, began dating soon after and were married in Boulder the following year. Our relationship took off pretty quickly after an incident relating to the movie Eat. Pray. Love. and a pair of socks. But we'll save those details for another time. Ask us about it over happy hour. And the reason behind his nickname "Champion". It's a fun story that we never get tired of sharing.
We truly believe that one of the reasons we're so compatible is because of how we met – through the values-based matching system that eHarmony is built upon. In fact, we applied those same principles to finding the ideal RV and setup for our RV lifestyle and so far everything's going swimmingly there as well! We're both big believers in waiting for 'the right one' – that goes for RVs as well as life partners!
The real reason behind our decision to become RVers
While we knew we wanted to do more travel, one of the big reasons we opted to start by exploring the USA in an RV was so we could take our beloved fur child, Coda – a 9yo 50/50 lab-poodle mix – along with us. Coda looooved attention but had a tendency to be kinda needy, hence her nickname "Coda-pendent"!
We started our travels with Coda, but sadly (make that truly, deeply, heartwrenchingly) had to say goodbye to her just 5 months later while we were in Monterey, CA. It was the hardest day of our lives (sniff, sniff). To celebrate her and our time together, we created A Tribute to Coda and her Wonderful Life which you can see here.
We really love dogs and if we meet you out on the road, we just might ask if we can give your dog(s) a pet and a cuddle. Unfortunately however, Marc is deathly allergic to cats so we can only love on them from a distance. Even though we continue to travel now with just the two of us and are not ready to adopt another fur child, we can share without reservation that the RV lifestyle is also well suited to pets as they get to experience so many more exciting smells and trails.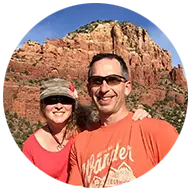 WANT TO LIVE & LOVE THE RV LIFE?
We're full-time RVers who have traveled to all 50 USA states over the past 6 years, sharing our journey and learnings along the way. We want to help YOU hit the road and live your RV dreams too.
Sign up for free email updates with inspiration, in-depth articles and tips to help you get there – better, faster and cheaper. We hope to see you there – and on the road!