Since we hit the road as full-time RVers in June 2014, we have visited all 50 USA states (48 of them with our RV), plus Canada, Mexico and Australia, and two cruises. Click the tabs below to find more detail on the places we've stayed, including National, State and County Parks, RV parks, plus links to campgrounds, related articles and videos, organized chronologically, by year visited.

2020
2019
2018
2017
2016
2015
2014
2020
2019
2018
2017
2016
2015
2014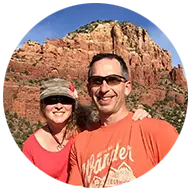 WANT TO LIVE & LOVE THE RV LIFE?
We're full-time RVers who have traveled to all 50 USA states over the past 6 years, sharing our journey and learnings along the way. We want to help YOU hit the road and live your RV dreams too.
Sign up for free email updates with inspiration, in-depth articles and tips to help you get there – better, faster and cheaper. We hope to see you there – and on the road!