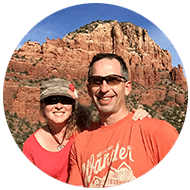 WANT TO LIVE & LOVE THE RV LIFE?
We're full-time RVers who have traveled to all 50 USA states over the past 6 years, sharing our journey and learnings along the way. We want to help YOU hit the road and live your RV dreams too.
Sign up for free email updates with inspiration, in-depth articles and tips to help you get there – better, faster and cheaper. We hope to see you there – and on the road!