Greetings RV Lovers!
As you consume our content, you may find that certain products and services – and the links to them – are affiliate links. This means that – at no additional cost to you – we earn a commission from them. If you are ready to make a purchase in your RV life, and would like to support this website in some way, using these links will help do exactly that. Everybody wins! If you have questions about the companies, please email us. We are happy to answer any questions you may have about the companies, products or services we share.
After almost a decade of RVing, we have extensive experience with almost every RV type, and a wide variety of products and services for living, driving, and traveling. We've consulted with companies on products and services, beta-tested prototypes, and put products through their paces. Our priorities are safety, quality, reliability, durability, and usefulness. As such, we seek out products that we believe are the best in their class, and/or offer the best value for money. 
We are extremely selective about the products, services, companies, and brands, that we work/associate with. And we use our experience to provide you with the best recommendations and reviews we can, on the products and services that are available. We will only ever recommend products or services that we feel will deliver value to you. 
Occasionally, we may be compensated for the time we spend reviewing, testing, and providing our honest opinion on products and/or services. Please note that this does not incur any additional costs for you. Our honest opinions and reviews are not for sale. Our goal is always to help you improve your RV life and travels. The reason we share, mention, and link to specific products and services is we genuinely believe in them. We regularly decline offers (paid, comped, or otherwise) to review or share products or services that we do not believe will benefit our audience.
While we aim to keep the information on our website up to date and correct, we make no guaranties of any kind about the completeness, accuracy, reliability, suitability or availability about any products, services, or anything else you may find here. We always encourage you to do your own research and due diligence before making buying decisions.
With full disclosure, RVLove is a for-profit business, which means we do earn an income from this website. You should assume that any links to products or services are affiliate links and we will receive a commission from your purchase. We appreciate you using our links, which helps support the free content we create for this site and community.
We make all efforts to ensure affiliate links are disclosed in accordance with the FTC. Please don't hesitate to reach out to us if you have any questions.
Best of LIFE,
Marc and Julie of RVLOVE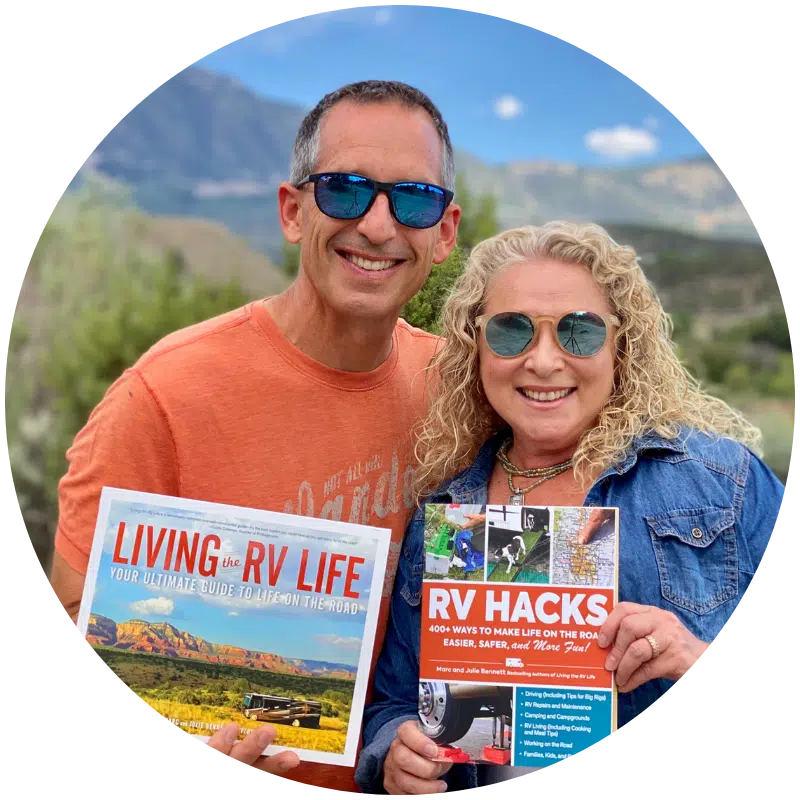 ARE YOU READY TO HIT THE ROAD IN AN RV?
It's always a great time to explore by RV! Over the past decade, we have lived, worked and traveled around 50 USA states, plus visited Canada and Mexico. And as RV course instructors and bestselling authors of Living the RV Life: Your Ultimate Guide to Life on the Road, and RV HACKS, we're here to show you how you can do it, too!
SIGN UP TO GET OUR BEST STUFF – sent straight to your inbox.