This post may contain affiliate links.
In this detailed video and blog review, we introduce you to the Vika+ folding electric bike from Blix Bike, share the specs, a feature comparison, the range, who it's ideal for, plus our overall thoughts. Are we still happy with it after having it a while? 
As RV travelers, we love being active, and getting out and about to explore local areas. So when Blix Bike asked us to review one of their electric bikes, we jumped at the chance! We ended up choosing the Vika+ electric folding bike because it is portable, and has a low step-through. The Vika+ is available in 3 colors – cream, black, and racing green – we opted for the cream color.
On a beautiful day in Colorado Springs, we took this bike out for a test ride to put it through its paces. We rode through the Garden of the Gods park, in downtown old Colorado Springs, and even through a construction zone, to see how the bike performed in various conditions and get a good feel for its durability and comfort. We had a ton of fun testing out the Vika+, and we hope you'll find this review helpful in your search for an electric bike of your own!
In this post we also share comparisons between our Vika+ (we have had this since June 2018) and the latest improvements Blix Bike has made to make the Vika+ even better. 
Update 2022, we upgraded our 2018 Vika+ to a new 2022 Vika+ Flex.  Check out that new review here.
What's Different About the Vika+ by BlixBike?
The VIKA+ is a compact, adjustable folding bike, with the added benefit of having an electric motor to assist you in your pedaling effort. It has 7-speed Shimano gears, and four levels of assist, plus a throttle for an extra boost when you want it. This bike is like a cross between a bicycle and a motorized scooter. It is perfect for when you want to get a little exercise, but you don't want to over-exert yourself, especially on challenging terrain. 
Another key aspect of this bike is the fact that it's compact and foldable. This is perfect for those of us that live in tight spaces, because the bike packs away really easily. It only takes a few seconds to fold the bike up, and it can go straight in its nice storage bag, which can carry the charger and accessories as well.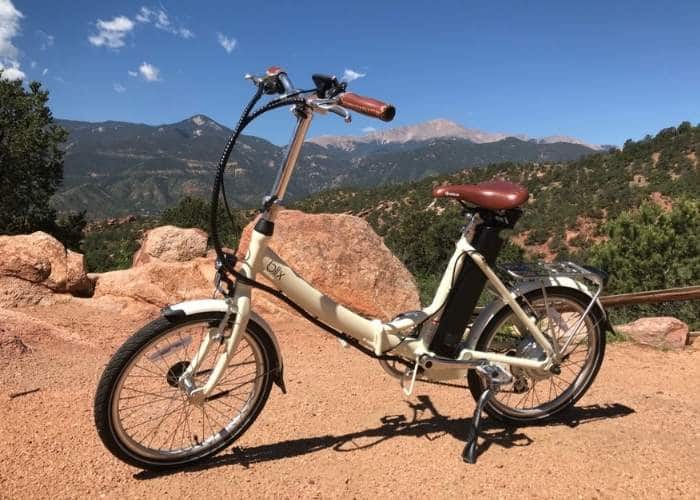 We have had our Vika+ since June 2018. In the video review above, we took the bike out for a 13 mile ride, which took about an hour and 20 minutes. We used about 35% of the battery power, so we're very confident that the estimation of 35 miles on a charge. Especially since we were using higher levels of pedal assist and a lot of full-on throttle electric power as if it was a scooter. 
Update: the newer version has a 45 mile range 
Blix says this bike goes up to about 20 miles per hour, and we definitely experienced that on flats. While riding downhill and in the higher gears, we actually got it up to 22 or 23 miles per hour. Our Blix Vika+ still felt very stable traveling at such a high speed. The bike has really good frame and steering geometry for a stable and confidence inspiring ride. Especially compared to other, lesser quality (and cheaper) folding bikes we have tried.  
Cruising through Colorado Springs, we were astounded by the speed, comfort, and quality of this bike. After riding it, Julie couldn't believe how much confidence she gained riding a longer distance. She felt a lot of relief and comfort, knowing that if she got tired while climbing mountains in Colorado, she could always use the battery power to get back home. This makes it more fun for us to go out on rides together. Marc is a stronger cyclist, but Julie can now keep up with him, and can even overtake him! 
The Vika+ e-bike is ideal for riding through scenic places, to the ranger station at an RV campground, or even running quick errands around town. We've taken it on scenic rides  to grocery stores and more.
After having the Blix Vika+ for over 4 years, using it while exploring the country with our RV, we can report the Vika+ is still holding up really well. Great evidence of the high quality build and components used.
More on our Vika+ experience
Of course, you can ride this bike just like any other bike, without using the battery and motor if you want to get more exercise. However, with the battery and e-bike feature turned on, once you put a pedal down you get a real rush from the power boost! It picks up right underneath you, and suddenly, you don't have to work as hard to pedal.
Who is it for?
If you're somebody who maybe isn't quite as fit, or you'd like to go longer distances without worrying about what the terrain is going to be like, this electric bike really does take the stress out of cycling. Or if you're concerned about safety or crossing busy roads like we did on our ride, it was great to have that electric boost to get across traffic quickly and safely. Plus, because we are usually traveling in new areas and not always sure of the route ahead, this offers a lot of peace of mind, as you simply don't have to worry or even think about whether or not you can make it to where you're going, and back.
We've also heard from a lot of folks who like e-bikes because they can still ride them if they have certain health issues, knee problems, or are recovering from illness and surgery. You can still get out and enjoy a scenic bike ride without having to physically exert yourself as much or cause injury or pain.
Plus, it's just a great electric bike for anyone who likes electric / battery powered forms of transport that are quiet, low maintenance and energy efficient.
After our almost hour and a half ride, I (Julie) was still energized, excited and loving riding the Vika+. It was an absolute blast, and I literally told Marc that this bike really brought the joy of biking back to me!
What Do We Love About Our Vika+ ?
We love the feeling of the electric motor helping out, especially in the lower gears and at lower speed. With seven gears, and four levels of pedal assist, you actually get a lot of control of how hard you pedal and can keep the battery lasting longer. You can always override the assist with a throttle at any time for that extra little turbo boost. Having pedal assist is a great equalizer if you have two riders of different ability.
Another thing we really like about the Vika+ is the low 16″ step through. Being vertically challenged, it's very comfortable for somebody Julie's height (under 5 feet tall) to not only mount and dismount from the bike, but just to ride it. We would definitely recommend this model to someone who is shorter in height, because it doesn't feel cumbersome to maneuver.
What makes it go and stop?
Since it has multiple sensors around the sprocket, this e-bike is very responsive. As soon as you start pedaling, it immediately notices that you're starting to pedal, and it kicks in with the pedal assist. There are four levels of pedal assist for this bike, and seven gears. It uses Shimano Acera 7 speed and it has V-brakes, so it has pretty good stopping power, as well. Newer versions of the Vika+ have even better braking power with mechanical disc brakes. 
Also, the 20-inch wheels roll really well over uneven terrain, so you don't have to worry about getting jolted around when cycling through rough areas. Some folding bikes have 16″ wheels that provide a rougher and more jittery ride.
We also love that the battery is mounted low for low center of gravity, and that it is easy to remove to bring inside to charge, rather than bringing the whole bike inside. The battery locks in place with a key when on the bike.
Why we chose a folding bike
Of course, many of the reasons we love our Vika+ are features that are available on most of the other quality electric bikes available with Blix. In fact, most of the other Blix bikes even have frame geometry with low step through.
How we use our Blix Vika+ is what made the folding electric bike all the more appealing. It folds down very compact. Once folded down, it easily fits into the rear cargo area of our small SUV. We could probably fit two in there. The folded Vika+ also easily fits into the RV storage bay areas. This allows us to keep it protected with our traveling lifestyle, which has helped keep it in great condition. We don't need a bike rack to transport it. And the smaller sized bike is physically a better fit for Julie since she is under 5 feet tall.
Some other riders might prefer having a full size, non-folding electric bike, or even one with large cargo capacity. Blix Bike offers multiple options for all different riders.
No matter which bike you choose, our coupon code – RVLOVE – will save you $50 at www.blixbike.com
Features on Our Blix Vika+
These are the features of our Vika+, which we got in 2018. To compare against the features of the newer model mentioned below.
Aluminum frame
20" wheels with Kenda tires
V-brakes with integrated electric motor shut off
7 speed Shimano shifters & 4 levels of assist, plus throttle for extra boost when you want it
Lithium Battery for lightweight power storage: Standard 36V 11Ah battery has a range up to 35 miles.
Optional 36 V 17.5 AH battery range is up to 55 miles
Recharge takes 3-4 hours. 500-800 charging cycles means a lifespan of around 25,000 miles
Folded Dimensions: 34 x 27 x 20 (L x H x W)
Folds up in less than 20 seconds
Weight: 49lb (Our 11Ah battery is about 6lb of that)
Highly adjustable to accommodate riders 4'10 – 6'2", weighing up to 220 lbs
Low 16″ step over height
Angle of frame & wider handlebars aid in stable feel
Comes equipped with rear luggage rack, front & rear LED lights 
Color matched aluminum fenders 
Trip computer tracks trip mileage, total mileage, current speed, top speed, battery life, Pedal Assist Level & LED front & rear light.
All lights are powered by the main battery pack, so no separate batteries
Comes with Owners Manual, Toolkit & standard 36V lithium battery plus charger
Features on the NEW Blix Vika+ Flex
Note the bold bullets denote what has changed / improved on the 2022 model. And check out our new full review here.
Aluminum frame
20" wheels and puncture resistant tires with reflective sidewalls
Disc brakes with integrated electric motor shut off
7 speed Shimano shifters & 5 levels of assist, plus throttle for extra boost when you want it
Lithium Battery for lightweight power storage
48V 15Ah battery range is up to 45 miles per charge
Recharge takes 5 hours. 500-800 charging cycles means a lifespan of around 25,000 miles
500 watt motor
Folded Dimensions: 36 x 28 x 21 (L x H x W)
Folds up in less than 20 seconds
Weight: 56lb (battery about 7lb of that)
Highly adjustable to accommodate riders 4'10 – 6'2"
Low 16″ step over height
Can carry up to 270 lbs of rider and cargo
Angle of frame & wider handlebars aid in stable feel
Standard front & rear LED lights, and color matched rear luggage rack
Additional luggage racks, baskets or bags are optional
Color matched aluminum fenders
Smart bell integrated into brake lever  
Trip computer tracks trip mileage, total mileage, current speed, top speed, battery life, Pedal Assist Level & LED front & rear light
Charge your phone or speaker with a built in USB charger
All lights are powered by the main battery pack, so no separate batteries
Smart mounting points for modular racks and accessories
Comes with Owners Manual, Toolkit & lithium battery charger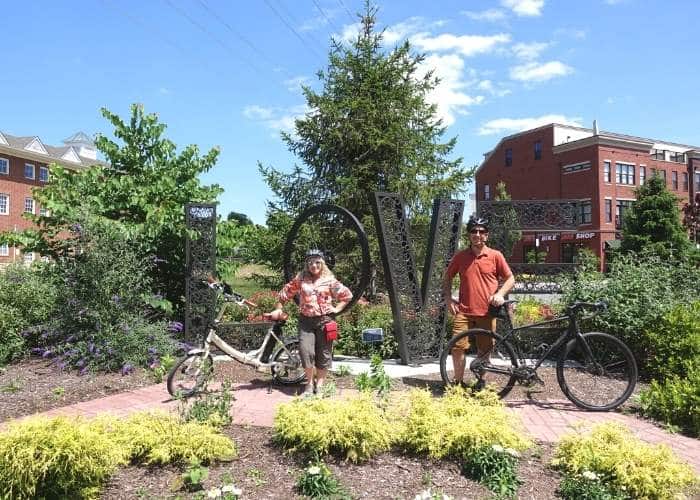 What's Our Verdict on the Vika+ folding e-bike?
The full retail price of the New Vika+ is $1,899, but if you use our coupon code RVLOVE, you will save $50. This makes it one of the best values in quality, folding electric bikes. And while it may seem like quite an investment for a bike, after experiencing it firsthand, we can attest that the quality of this bike is unquestionable. And after more than 4 years of ownership, we can confirm it holds up well!
After riding the bike over all kinds of different surfaces – around a very well-paved bike path, out in a construction area, and in downtown Colorado Springs – we were very impressed by how it handled every terrain. The tires really absorbed impact extremely well, and it felt very stable. It's clearly a well-built and sturdy bike, so the price definitely reflects the quality. 
Who would the Vika+ folding ebike be a great fit for?
Ultimately, we would definitely recommend this bike to anyone that loves to get some exercise, but also doesn't want to be intimidated by going on a longer ride or going up hills – whether that's for health reasons or comfort and enjoyment reasons. One of the things we learned while test riding the Vika+ was that we really love biking and being out in nature, Julie doesn't like pushing too hard or working up a sweat. 
With the Vika+ she can just get on it, and have a blast without worrying about how far we are going, or what the terrain is going to be like. Because we're always in unfamiliar places we never quite know what to expect when going out on a bike ride. So this electric bike removes that concern.
Other thoughts
This bike is also perfect to run a quick errand, because it would be so easy to do so without working up a sweat.
If you want to go pick up something, it has a little luggage rack on the back to be able to carry your cargo back with you. The newer version even has the ability to add a rack in the front too.
We love the quality of this bike, as it feels extremely stable and durable. 
The geometry and positioning of handle bars make it an easy, comfortable ride. 
It is both compact and portable, which is ideal for our traveling RV life. 
Quality touches such as leather hand grips and seat make this bike stylish, and practical.
 It's a joy to ride, and it handles hills and even a little rough terrain very well (although it's not designed for off road biking)
The Vika+ Electric Folding Bike has put the joy back into biking for me (Julie). We plan to enjoy this e-bike for many years to come, and as you will see for yourself in the video, it is really SO MUCH FUN! 
We hope you found this review helpful. If you have any questions at all, please feel free to ask away in the comments below. Do you have a Blix Bike already? We'd love to hear about your experience too!
If you're interested in learning more about Blix Bikes – whether it's the Vika+ or any others in their range – you can check them out at their website, blixbike.com. There are many to choose from.
If you decide to get a Blix Bike for yourself, use our promo code RVLOVE to save $50.
Where to Buy
Blix sells direct to customers, not through stores, and can ship it right to you. They offer free shipping to the 48 mainland USA states. There was very little assembly required. We were ready to ride in just a few minutes. 
View the bikes and order at their website: www.BlixBike.com