This post may contain affiliate links.
Do you really need a tow vehicle in your RV life? Or would an electric moped take you where you need to go – around local areas and the campground? After all, RV towing setups can be expensive, and gas prices are rising. So it's worth exploring all your options before making big decisions.
In this blog post and video review, we share our reasons for getting a Flux EM1 Electric Moped, as we explored new options for our own RV life and travel. OK, let's dive in!
This is our Flux EM1 electric moped. It gets up to 50 miles per charge, tops out at 40 mph and is a great option for short distance transportation.
We have had it for about a year, and today we will share with you what we think about our Flux EM1 electric moped, and why we think it is something worth checking out. Whether you are looking for alternate transportation out on your RV adventures, or even as your local ride around your home town.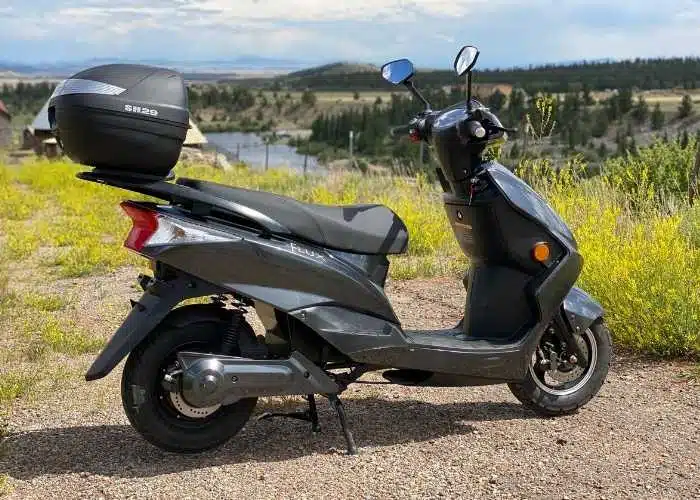 Why and How Did We Get A Flux EM1?
Last year, after renting a couple of smaller RVs – a Class B and a Class C motorhome – we started exploring the possibility of parking our big 40′ Class A motorhome on an annual campsite as our home base. Then getting a smaller Class B or C motorhome for shorter, more nimble RV travels.
In our research and planning phase, we weighed up our options for local transport so we could stay nimble, and not always need to break camp with the RV, especially if only one person needed to go out. We figured our best option would be bicycles. Julie has an electric bike which she loves, and Marc has a regular adventure bike. And we also considered the option of an electric scooter for running local errands and exploring.
Around that time, the folks at Flux Mopeds reached out to us to get our advice on the unique needs of RVers. We've met thousands of RVers over the years, and have seen all kinds of towing and local transport solutions. When it comes to keeping your RV setup nimble, and keeping costs down, we thought a moped or scooter could be a great alternative to other options. Instead of towing a car, having a second vehicle, or driving around in a big truck that tows your trailer.
We started looking more closely at Flux electric mopeds because we found them to be a great cross between a motorcycle and an electric bicycle. And over the years, we've had – and liked – both.
The Flux EM1 electric moped is like a motorcycle in that it is a proper vehicle with seating for two, lights, turn signals and a powerful motor that rides faster and farther. But, like an electric bike, it is super quiet, low maintenance and there is no smelly fuel or exhaust. It is easy to ride, park, and transport. And it doesn't even require special licenses in most states.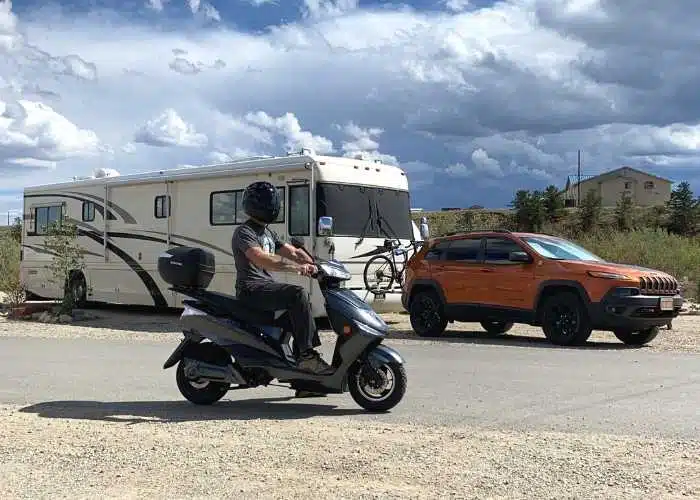 Testing out a Flux EM1 to Offer our Feedback
We were already considering changing our setup to something more nimble. So Flux Mopeds offered to send us their Flux EM1 to try it out for ourselves. We specifically wanted to see if it would be suitable for RVers, and how easy it was to haul and use. This way, we were able to offer our feedback directly with the manufacturer (a family owned business in Wisconsin, USA) based on our first hand experience. 
We found that the Flux EM1 itself was a great little electric vehicle to get around on. We didn't have any specific improvements to the moped, as it worked really well for us. The biggest challenge we faced initially, was actually around how to transport it easily. And how to make the whole process – buying, registering, transporting – simple and easy for folks, with all the important considerations covered. We discussed coming up with package options to suit the needs of different kinds of RVers, and that's what the company has now done. More on that further down. 
After using the Flux EM1 for a few weeks, putting it through its paces, we loved how much fun we were having with this electric moped. So we decided to keep it.  
As it turned out, we didn't end up buying a Class B or Class C motorhome to travel with our Flux. (However, this is still on the cards for the future). But, we did travel with the Flux EM1 on a rack on the back of our Class A motorhome. We have also mounted it on the back of our Jeep. More about how we do that in a bit. The solution we have now has evolved and improved drastically from what we started with.
Last fall, we changed our RVing set up, deciding to buy a home base and a Casita trailer for part time travel. Now we mostly use our Flux as our primary mode of transport as our local ride when we're at home. But we have also taken it out with a rental class C motorhome, and will definitely take it with us when we get another RV that can transport it in the future, as it's such a fun and affordable way to get around.
What Is It Like To Ride A Flux Moped?
We have ridden it around town and even on some low traffic mountain highways. We took it sight seeing, stopped for a drink, and ran a few errands to the post office and the grocery store. But mainly, we just enjoyed the heck out of riding it, and being able to take in the sights and smells as we rode made it a really fun and immersive experience where it felt like we were part of the scenery. We also rode it around the campground – to the office, laundry etc – and just for the fun of it.
The 1491 watt motor has lots of power for this lightweight scooter. It weighs 160 pounds, and we have two batteries at 22 pounds each, for a total of around 204 pounds. So it feels really quick on neighborhood roads, which is where you would likely do most of your riding. It can go from zero to 30mph in under 5 seconds but it feels faster. 
We did a few tests and found that with two passengers and one battery plugged in, we got from zero to 30 mph in 8.66 seconds. With just one passenger and two batteries plugged in, zero to 30 mph took less than 5 seconds.
The Flux EM1 it has a lot of torque to climb steep grades with ease, even 20% grades. We have done all of our riding in Colorado, a mountainous state. Being electric however, the Flux EM1 is not affected by altitude, unlike gas mopeds, which lose a lot of their already limited power at elevation. The Flux EM1 tops out around 40mph so you wouldn't want to spend much time on 50+mph roads, unless they have low traffic. Some areas require the top speed to be limited to a lower speed.
The independent front and rear hydraulic disc brakes are responsive and do a great job of stopping. Suspension is smooth and it feels very planted and stable.  Even when we have two passengers and cargo brushing up against the 330 pound limit.
Super Practical And Fun
Speaking of cargo, I usually keep my helmet in the SHAD cargo case when I'm not riding, and then carry cargo from errands in there while riding.
With lights, turn signals and an easy to read digital dash it is like riding a small motorcycle, but without the need for a special license (in most states). There is also no smelly fuel or exhaust, and parking options are even more abundant for small scooters.
We also love that it is extremely low maintenance. We basically just need to make sure the tires have air, and keep the battery charged up. Very few parts need maintenance (unlike gas mopeds) which is really convenient for when we're traveling, as we don't have to worry about getting repairs or maintenance done when we're in remote areas.
We love that the Flux EM1 is super quiet. People often look at us in surprise when they see us riding it, as they're expecting the sound of an engine, but there isn't one!
To give you an idea of how quiet the Flux EM1 is, normal conversation is around 60 decibels, yet the maximum sound level of the Flux EM1 is only 30 decibels. That means you won't disturb neighbors (in a campground or home town). AND… it allows you to fully immerse yourself in the environment when riding. You hear the birds chirping, the stream gurgling, trees rustling. And being on a moped instead of a car, you also smell the flowers, and feel the cool breeze.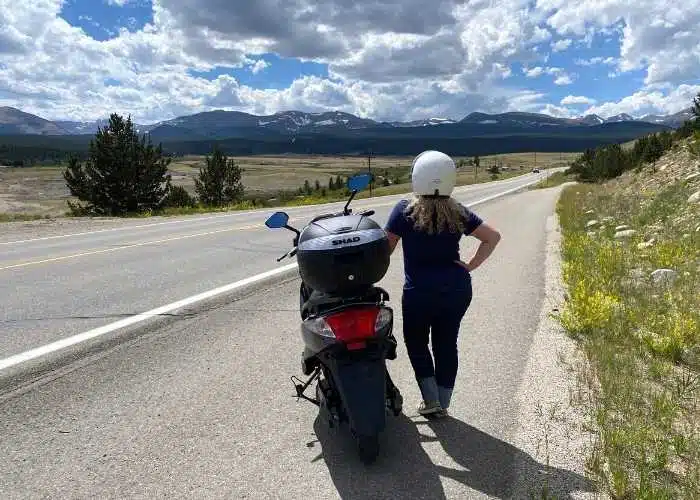 Two lithium-ion batteries have up to 50 miles of range (25 each) to enjoy the open road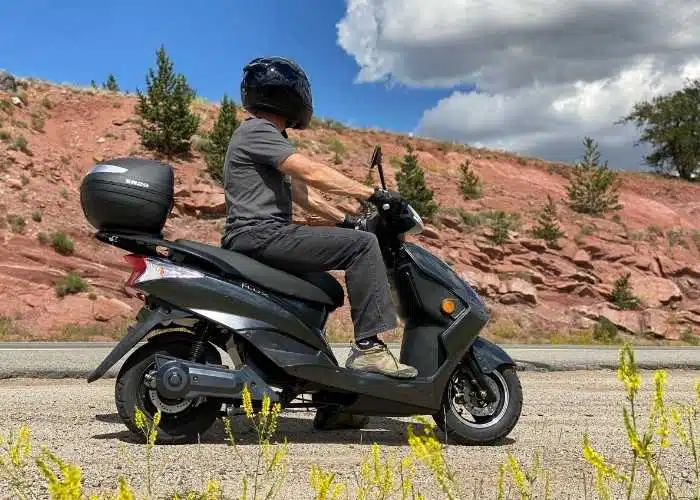 It's great for exploring the local area
This electric moped is super convenient for running errands (and way more fun!)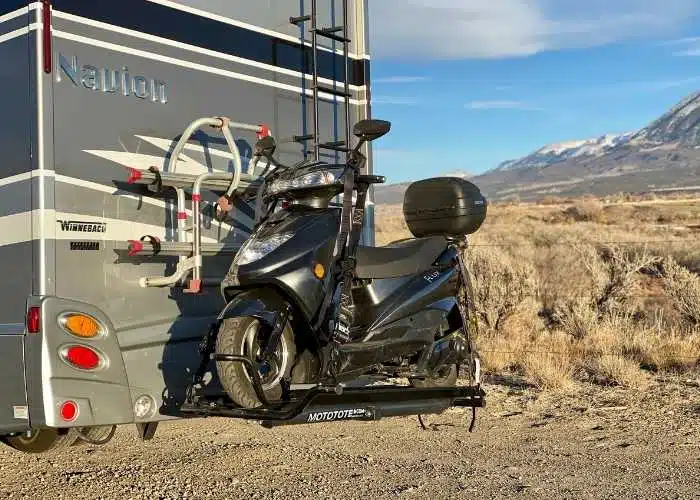 How Do You Transport the Flux EM1 if Traveling?
You can carry the Flux EM1 on a hitch mount carrier on the back of a vehicle, or motorhome. You could even transport the Flux in the back of your truck, in a toy hauler RV, or in a small cargo trailer behind a smaller vehicle. 
Or, if you want to have a towed vehicle AND a Flux EM1, you could mount the rack to the back of your towed vehicle like our Jeep. That is, assuming your vehicle has a hitch and adequate cargo capacity, of course.
How We Transport Our Flux EM1 Electric Moped
We now transport our Flux moped with a Mototote MTX M3 motorcycle carrier which works great. Initially we tried another carrier (from eTrailer) but that was NOT well suited, as it was difficult to load the moped, and even harder to secure it without damaging the RV.
After one use, we sold it and got the Mototote instead. This works perfectly with the Flux EM1 – in terms of loading, securing and safely transporting this electric moped.
After doing some research and trying the other carrier, the Mototote seems to be the best one out there. We have been super happy with it. It can carry up to 500 pounds (227kg) with a tire width up to 6 inches. It's made of black powder coated heavy duty steel, and it includes a loading ramp, and front tire mount. You can order the straps and lighting kit as well separately, or included as part of a package.
We find it very easy to roll the Flux EM1 up onto the ramp and rack. The tie down hooks are in excellent locations for easily securing your motorcycle or scooter. The loading ramp secures to the rack when not in use.  We now have the lighting kit too, which is great to help other drivers see your tail lights in case the moped blocks visibility. The rack fits any 2" receiver, and has a great, no wobble hitch mount.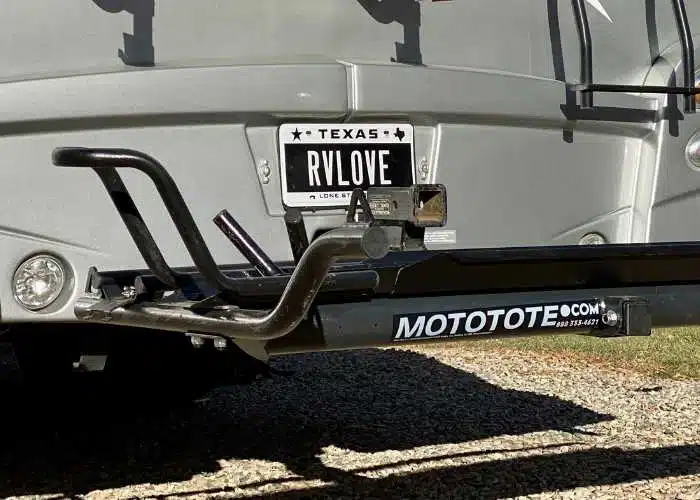 Flux EM1 Details and Specifications
Let's get into some of the specifications for more detail:
Size

74.2″ (188.5cm) long
31.3″ (79.5cm) seat height
29.75″ (75.6cm) wide including mirrors
160 pounds (72.6kg) without battery
Batteries weigh 22 pounds (10kg) each
330 pound (151kg) cargo/passenger capacity

Motor/Power

1491 watt motor
Quick acceleration
No fuel or exhaust smell
High torque for steep grades
Top speed of about 38mph (60kph)
Super quiet at max of only 30db (normal conversation is 60db)

Brakes

Independent hydraulic front and rear disc brakes for very capable and controlled stopping power

Charging

Charges from a regular 120 volt outlet.
Can travel up to 25 miles per charge (per battery)
Equates to $0.14 per charge or $0.006 per mile.
Many campgrounds don't charge extra for electricity which would mean 'free' power.
Lithium Ion Batteries are removable to allow flexibility in charging location.

Other

Available in Silver, Blue, Red, Yellow, and Black
Lockable storage in 'glovebox' area, under seat, and/or with optional rear cargo carrier
Two types of kick stands depending on parking surface area

Special hex key to cover key slot for extra security and weather protection, main key opens small storage area, also locks steering, unlocks under seat storage where batteries are kept.  And of course turning on power.  Second key for optional rear storage case.

Extremely low maintenance
Two year warranty
Easy to transport

For more detailed specifications visit the Flux website
View the Flux RV community and packages here
Scroll through the image gallery below to see the Flux EM1 in more detail
What Accessories Can You Get?
The Flux EM1 comes with a battery charger, which you can plug into any 120 volt outlet. It only takes about 3 hours to charge each battery, but we usually leave our battery on charge overnight. Most of our rides are fairly short, so we only charge the battery once every week or two. The battery range on the Flux EM1 is up to 25 miles, so with two batteries, you can go up to 50 miles on a single charge. The batteries are easily removable, so you can take them out and charge them anywhere. 
We like having two batteries, with one as a spare, so we don't ever worry about running out of range when riding it! We usually leave only one battery plugged in, so we always know we have a second battery to get us back.
And although it's not required in all states, we still highly recommend you wear a helmet, and probably some gloves.  
We bought new HJC i30 helmets (from Flux Mopeds) since our previous helmets we bought years ago for our previous scooters/motorcycles were aging out. The clear face shield is nicer than a full face helmet for this moped because it is much easier to read the gauges without dipping your head too far down. We also really like how this helmet has a built in sunshade that flips down, or up out of the way when not needed.
A Few Other Considerations
Most people will also really love having the cargo case – we do – but it is not required. Wearing a small backpack might be enough for your errands. But we find the Shad Top Case is great for cargo as it keeps the weight of a backpack off your shoulders, and it's a handy and safe place to store your helmet when left unattended.
Plus, if you quote the code RVLOVE when ordering a Flux EM1, they'll throw in the Shad SH-29 Top Case – valued at $108.99 – for free.
Flux Mopeds also have a waterproof cover to keep it protected. And you can buy the Mototote carrier and accessories, as well as helmets, rack, straps, cargo case, and extra battery – all from the FluxMopeds.com website.
Pros And Cons of the Flux EM1 Electric Moped
Pros
Lightweight, nimble and easy to ride, haul, maneuver and park

Reliable and extremely low maintenance

Electric-powered by lithium-ion batteries, giving up to 50 mile range (25 mile range per battery)

Inexpensive to own and operate – no more paying for gas (approx. $0.014 to charge each battery)

Quiet, with no noisy exhaust or smelly fumes

Can carry up to 2 passengers and cargo

It's a blast to ride!
Cons
Not designed to ride it on fast roads or highways

They manufacture them to order, so you'll have to wait up to 70 days to have it built and delivered. 

Seat height is 31" from the ground, which may be a challenge for shorter riders. Julie is 4'8 and she can still ride it solo, but it's a bit of a stretch, especially when mounting it onto the rack. She needs more practice to feel comfortable doing it alone.
We have found FluxMopeds.com to be a great one stop shop. Being a family owned company in Wisconsin, they are really focused on helping buyers get sorted with all the details involved with owning an electric moped. That includes registration, insurance, hauling, setup etc.
After sharing with the team at Flux the kind of things that RVers need to deal with, they put together a few packaged solutions specifically designed to help RVers with a solution to their local transportation needs. 
For RVers, they offer three packages, created to suit varying needs. They are the:
Local Ride Package

Haul and Ride Package

Long Haul Package
Here is a link to learn more about the packages, and what's included
Shipping cost will vary, depending on your location.
How Much Does a Flux Electric Moped Cost?
Of course, you can just buy the Flux EM1 electric moped only, without a package.
The Flux EM1 moped starts at USD$2,600 which include one 25-mile range lithium battery and the charger.
A fully loaded version, like the one we have, has a second battery, SHAD cargo case, and Mototote MTX M3 to transport the Flux when traveling. This will cost over USD$4,000, which is still around or less than it costs to set up a car for four down towing. Not to mention the cost of the car and related insurance and maintenance costs. So the Flux can really be a simple and affordable transport option.
Depending on how much you use it, the Flux could end up paying for itself in fuel and maintenance savings alone, compared to a regular vehicle.
How Do You Order a Flux Electric Moped?
Flux is a small, family-owned company based in Wisconsin that builds to order. So you can order a Flux exactly how you want it, and have it shipped direct to your door or campground. (Just check with the campground first!)
Shipping directly eliminates the middleman, and helps to keep costs down. Allow up to 70 days for your Flux to be built and shipped. The moped arrives via large LTL truck on a pallet, and in a metal crate wrapped in cardboard. It's very well protected and ready to ride when it arrives and after you unbox it.
Ours was delivered right to our campsite at Middlefork RV Park in Fairplay Colorado last summer. (Side note: One of the local campers actually makes knives, so was happy to take our metal crate!)
What Do We Think Of Our Flux?
Our Flux is great in regular/everyday traditional home life… not just when traveling. Now that we have a home base, we use our Flux even more than we did when on the road full time in our big motorhome. It just doesn't make sense to use our Jeep for a short trip to the local store or post office when the weather is nice. The Flux is easier to park, and makes it a fun little adventure instead of feeling like an errand or chore. In fact, we often choose the long way home instead of going directly home sometimes, just for fun.
We love how quiet it is, and that there is virtually no maintenance, including not paying for fuel. It is estimated that it only costs about $0.14 to charge the battery, which can travel about 25 miles. With gas prices rising, how far can you go with $0.14 of fuel in your car or truck these days?
When considering the various towing options out there for RVers, the price seems very reasonable, as the quality is high on this electric scooter. In fact, it doesn't cost much more than some electric bikes and is way less than others. In looking around, we have seen other electric scooters of lower quality for a couple hundred dollars less, but most similar quality scooters are more expensive than the Flux EM1. It's a good balance of quality and value for money, for the convenience and flexibility it offers.
Why Is The Flux A Good Option For RV Travelers?
Flux mopeds are a great option to consider for many RVers as alternate transportation, as campsite space can often be limited. For those with big trucks and tow trailers, it is a bit of a waste to drive a huge truck to pick up a couple items at the local market, or run short errands. It is especially great in areas where roads are narrow or where it can be hard to find parking for your truck. 
If you need two vehicles – say if one person needs to use the vehicle for work – an electric scooter like the Flux can be a handy and inexpensive secondary transportation option.
Class A motorhome owners can hitch mount the Flux with the Mototote and also tow a vehicle.
If you like to be more nimble in your travel and travel by Class B or Class C RV, mounting an electric scooter on a Mototote MTX M3 rack means you can still use reverse and lose virtually no mobility.  And… once you are in your campsite you won't have to break camp with your rig, you can just do your running around on a fun little electric moped.
So, the bottom line is that we really love our Flux EM1 scooter and we're excited to see companies like Flux coming up with creative new transportation solutions for RVers. And we would definitely recommend it to anyone looking for alternative transportation – whether that is around your hometown, or on your travels.
GOT COMMENTS OR QUESTIONS?
We would love to hear from you. Drop us a note in the comments section below.
Looking for more great gear? Hover over each image to see titles, and click to read our review. Find ALL of our gear reviews on this page.