This post may contain affiliate links.
One can never be too prepared for emergencies. And when the battery goes out on your RV, truck or car, a jump starter is a good thing to have in your trunk. We needed a jump starter powerful enough to get the RV going, should the battery go flat.  So when NOCO reached out and asked us to review their GB150 Genius Boost Pro Jump Starter , we were able to put it to the test. And see if it really is as powerful as they claim.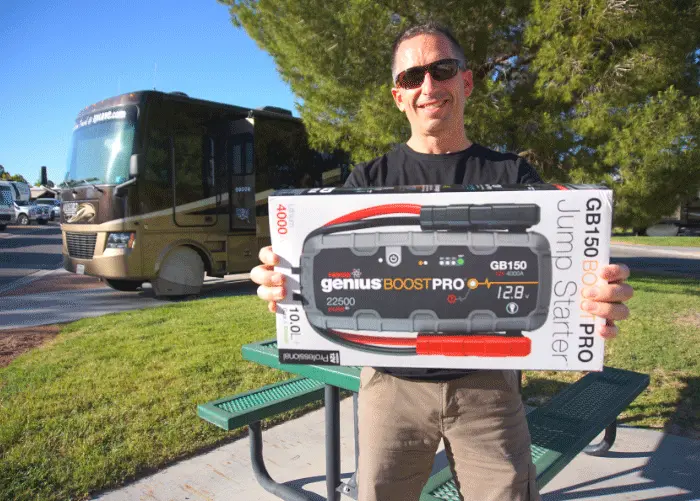 About NOCO GB150 Genius Boost Pro Jump Starter
n a nutshell, the NOCO GB150 is a portable battery that jump starts vehicles. It is a lithium battery rated at 4,000 amps. It weighs about 7.5 pounds and measures 3″x7″x12″. This powerful unit can jump start up to 80 times on one charge. We have jumpstarted our Jeep, and even our huge diesel pusher motorhome with an 8.3 liter diesel engine and totally dead batteries multiple times.
Not only does this work on batteries, but you can use this to charge other devices too, using the additional ports. For example, you can charge an iPhone or camera, using the USB port.
What's included in the box?
GB150 Lithium Battery Jump Starter

XGC 12V Male Adapter

XGC 12V Female Adapter

XGC Extension Cable

Micro USB Cable

Microfiber Storage Bag

User Guide & Warranty Information
Rated at 4,000 amps (22,500 Joules J3S)

Rechargeable lithium 500 Lumen LED flashlight with 7 different flash modes

2.1A USB charging port to recharge devices like smart phones, wireless headsets, digital cameras, tablets, bluetooth speakers

Powers 12V decides such as power inverters, tire air inflaters

Digital read out

Integrated volt meter

Spark-proof connections and reverse polarity protection

Jump starts diesel and gas engines up to 10 liters

Can do up to 80 jump starts on a single charge
I love the simplicity of this jump starter. To use, just turn on the power button. Remove the alligator clips and hook it up to your battery. That's it. This product also displays the voltage power of the battery once it is connected to the battery. You'll also love that these alligator clips are safe. The spark-proof connections also mean you won't have to deal with those scary sparks when touched together like other cables may do.
There are two ways to recharge the NOCO. With the USB port, it takes about 11 hours.  Or with the XGC cable, you can recharge it 4 times faster – in just over 3 hours – using your vehicles 12-volt auxiliary port.  You can actually go from zero charge to jump starting your battery in just 15 minutes. But we always keep our NOCO fully charged at all times, so it is ready to go any time we need it. Whether that is for our own vehicle, or helping somebody else.
Overall, I am very pleased with the NOCO GB150 Genius BoostPro. The amount of power in this jump starter is so impressive. Especially being able to jump start big vehicles and motorhomes. As mentioned above, we have jump started our 8.3L diesel engine multiple times with it.
The price is just under $300 but well worth the price for the amount of power it gives, compared to cheaper units. The battery life has lasted me a month so far, but upon further research I discovered it can last up to a year! I also love how compact the NOCO is because it makes it easy to store and on hand in case of emergencies. We keep it in the Jeep so we have it with us at all times.
I also like knowing that if I ever see someone on the side of the road or in a campground that needs a jump start, I can help them out – no matter what size their vehicle is.
We recently had an issue with our Jeep battery going flat while towing it, and I used the NOCO GB150 to jump start it several times until I was able to replace the battery.
You can buy this NOCO GB150 Genius BoostPro Jump Starter on Amazon for about $275, as well as the NOCO GB40 1000 amp mentioned in the video, for under $100.
There are several other, smaller size Jump Starters by NOCO – ranging from 400–2,000 amps. These range in price from $80 – $200. When you click this link, you will see all of the options and sizes available for the NOCO Jump Starters. You will see there is even a much larger model that goes up to 20,000 amps, but that is a hefty $1,500.
Personally, we have found the NOCO GB150 Genius BoostPro 4000 amp to be more than enough for our needs. We highly recommend every RVers – or even every driver and boater – have one of these on hand and charged, to get you out of a situation when your battery goes flat.
Want to see more of our favorite gear?
Visit our Gear Page, featuring video reviews of our very favorite gear – from RV Safety, to Trip Planning and Navigation, Outdoor Gear, Indoor Living, RV Makeover and more.
Shop our favorite products here at our Amazon Store
Visit our Road Gear Reviews channel to discover more gear from us and other RVers.