This post may contain affiliate links.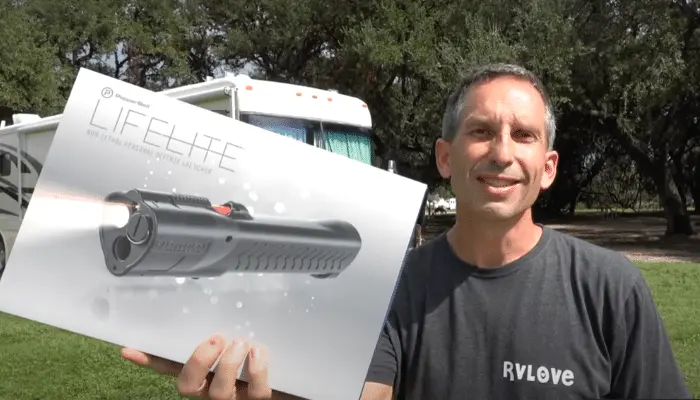 As experienced RVers, we are often asked about personal safety out on the road. What about carrying some form of protection? As former law enforcement, Marc is very familiar with both lethal and non-lethal weapons, having used and been trained in firearms, tasers and pepper spray. On the other hand, Julie has never used firearms or been trained in self-defense. 
So when PepperBall reached out to us and asked us to review their non lethal self-defense weapon – the PepperBall LifeLite – we were very keen to test it out. We put this pepper ball gun to the test and share our experience and thoughts here with you, in our video and this blog review. 
PepperBall was originally developed in 1996 as a non-lethal weapon alternative for government agencies and commercial markets. For years, their products have been trusted by the US Army, Border Protection, and over 5,000 law enforcement agencies. Now, PepperBall has designed a series of personal self protection devices, to bring consumers peace of mind and increased safety. The first of these consumer-focused products is the PepperBall LifeLite. But since then, they have produced many different pepper ball guns. So you can find just the right pepper ball gun for your needs.
PepperBall LifeLite: flashlight & pepper ball gun personal safety weapon
What is the PepperBall Lifelite? 
Originally designed for the military, the PepperBall LifeLite is a huge step forward in personal defense weapons. This professional grade, heavy-duty pepper ball launcher has a 350-lumen flashlight. The integrated laser point guide helps you fit and hit a target, and it is loaded with pepper ball projectiles. The LifeLite also has a safety switch to ensure it will not fire until you are ready to shoot. And it has an additional safety "pin" that "locks" the LifeLite when in storage or transport. 
What does it do?
You can carry the PepperBall LifeLite with you just about anywhere,  because it is, and looks like a common flashlight. You can have it in your hand for quick use, if needed. Pepper balls are loaded inside the LifeLite, and launched using CO2 cartridges, similar to a paintball gun. The pepper balls are filled with an irritant pepper powder that can spread up to 12 feet when they burst on impact. And no, you don't need to have a direct hit to have significant impact and incapacitate a threat.
The ability to shoot pepper irritant filled balls over a distance of 60 feet dramatically increases your safety, whether you are facing a two legged or four legged aggressor. 
Marc getting ready to shoot our target from about 20 feet away
How does the pepper ball gun and flashlight work?
When you are out and about using the Pepperball LifeLite, simply remove the safety "pin" to unlock the device. The flashlight turns on and off with a press of the black rubber button. The laser pointer activates when you push the black safety slider forward – this exposes the red trigger to help you easily aim and fire pepper balls at your target. We feel that pointing the red laser light alone may be enough to deter an aggressor! 
The PepperBall LifeLite carries up to five projectiles and has a semi-automatic trigger, so you can fire multiple times if needed. It is easy to load and unload the rounds, and can be stored in easy to access locations because it is not as dangerous or lethal as a firearm. 
Julie's first time shooting the PepperBall LifeLite pepper ball gun
White powder explodes as the inert projectile hits our boot mat target
The pepper irritant released by the pepper balls will have severe impact on a threat for five minutes, and significant impact for up to 15 minutes. This allows you plenty of time to exit a situation and get to safety.
The PepperBall LifeLite comes with 5 LIVE pepper ball projectiles, and 10 Inert practice projectiles. We recommend you get familiar with how it works right away, by loading the CO2 cartridge and the inert (purple) balls. Practice shooting the inert balls until you feel comfortable. Then load the live pepper balls into the LifeLite so it's ready for use and self protection.
What's included in PepperBall LifeLite Kit?
PepperBall LifeLite Flashlight and Pepperball Launcher
5 Live SD PepperBall Projectiles (most states)
10 Inert Practice Projectiles
3 CO2 Cartridges
2 CR123 Batteries
Lanyard with Safety Pin
Additional accessories include:
Wall mount, so you can mount it near the door of your RV or home
Rechargeable battery to replace the batteries that come in the kit
Holster so you can keep it on your hip
Weight: 1.75 Pounds

Size: 11″ x 2.5″ x 2.75″ approx.
350 Lumen Flashlight
60 Feet Maximum Launch Distance
5 Round Capacity
20 – 125 Degree Fahrenheit Operating Temperature
Key Takeouts From Pepper Ball Gun Demo and Test
The PepperBall LifeLite is a high quality product. It feels weighty and sturdy, and looks and feels very well made. It could even be used as a hefty object you could strike with by hand, if necessary. 
It was easy to load the CO2 cartridges and projectiles, and release the safety features. Using the laser to point at the target provided good accuracy for firing, and the red light was visible in the day, as well as night. At least on our dark gray boot mat which we used for target practice.
When it came to shooting the PepperBall LifeLite, Marc found it very easy to operate the pepper ball gun with one hand.  Julie, being more petite at four feet eight inches, found the LifeLite a bit too big to properly wrap her small hands around it, so needed to use both hands to shoot. One of the smaller Pepper ball guns (see further down) would likely be more comfortable and suitable for her to use. 
These pepper balls may be small but they definitely packed a punch, as they hit their intended target. The inert balls damaged our plastic boot tray at a 20′ range, putting a hole in it. The inert balls alone would cause a real sting, and could easily stun an assailant. The explosion of white powder traveled a good 6 feet in our shooting demo. 
Shooting the live pepper balls in a real-life situation would certainly be enough to impact – and deter – any wannabe attacker.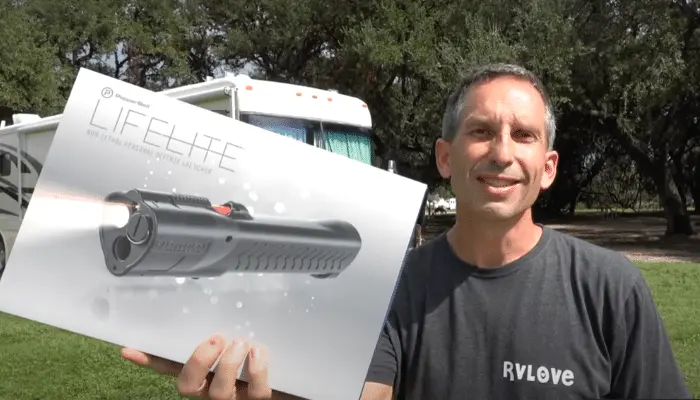 PepperBall LifeLite – What's Our Verdict?

In our opinion, the PepperBall LifeLite is an excellent, non-lethal, and practical tool for everyday personal protection, confidence and safety. We highly recommend it as an alternative for carrying firearms. It is much more accessible and easy to be used at any time for everyday protection, without lethal consequences. An additional benefit is there's no permit, background check, or waiting period required. We keep our LifeLite at our front door and take it out when we go for night time walks.
It is also much easier to travel safely around the country, and cross borders, without having to worry about state gun laws. That said, those living or traveling in (or through) New York, California and Massachusetts need to be aware that while the PepperBall LifeLite is legal, only inert projectiles are allowed to be used in those states. So you would need to remove live projectiles in CA, NY and MA. PepperBall does sell a couple of kits designed for those states (without the live projectiles).
How much is the PepperBall LifeLite?
While the PepperBall LifeLite is not cheap with a retail price tag of around USD$350 for the kit, but we do feel it is worth the price for the quality, safety features and peace of mind. If you're looking for a different kind of device and price point, you might want to check out PepperBall's other self-defense weapons below. These include the TCP Launcher, Mobile (this kit for CA, NY, MA) and the Compact. 
Save 10% With Discount Code: RVLV
You can save 10% on the PepperBall LifeLite and all products, accessories and refills when you use our coupon code RVLV at their website: http://www.pblifelite.com  and shipping is free on orders over $50.
You can also buy the PepperBall LifeLite from Amazon where it is listed at the full retail price, but the 10% discount code won't apply. The 10% discount is only valid when buying direct from the PepperBall website.
Other PepperBall Products
In addition to the LifeLite, PepperBall offers these additional self-defense weapons. We haven't used or reviewed these yet, but we are very keen to try them out and do a comparison very soon: 
TCP Launcher: Used by law enforcement, this is a great option for those who prefer the pistol form factor @ $399.99 (save 10% with coupon code RVLV). Much more of a pepper ball gun than the other products.
Mobile: New, more portable and compact version of the LifeLite @ $199.99 (save 10% discount with discount code RVLV)
Compact: Small size, big impact. Stash in a pocket or purse for quick accessibility, ready to shoot @ $24.99 (less 10% with code RVLV)
Where To Buy PepperBall personal defense weapons
You can buy the PepperBall LifeLite at

http://www.pblifelite.com

Save 10% with our discount code: RVLV 

Shipping is free for purchases over $50

Buy from Amazon (full retail price, discount code won't apply)
State Limitations of this Non-Lethal Weapon
Please note, being a non-lethal weapon, you may be able to carry the PepperBall LifeLite in all 50 states, unlike firearms. However, some states, like CA, MA and NY only allow use of the inert projectiles, instead of the ones with pepper irritant.
So, research your local regulations as well as the regulations of the areas you plan to travel to. If you are looking for a self defense weapon, we feel the PepperBall LifeLite is a huge advancement in personal safety.
*Disclaimer: The PepperBall LifeLite was provided to us at no charge for the purpose of gaining our honest feedback and review. We were not paid to do this review, and our opinions, as always, are our own.
GOT COMMENTS OR QUESTIONS?
We would love to hear from you. Drop us a note in the comments section below.