This post may contain affiliate links.
One of the very first upgrades we made to our "new to us" motorhome CC was ordering a custom new RV mattress. The RV didn't come with one, and we had sold our first RV with the mattress included. So getting a new one became top priority! You may recall we had upgraded the RV mattress (our first RV – the Tiffin) a year prior. You can read that post – including expert tips for mattress shopping – here. We loved the comfort and quality of that one so much that we ordered exactly the same one again for our Country Coach "CC".
Keep reading as we share the unboxing and unrolling process, and explain what's most important when buying ANY mattress – not just for RVs! Oh, and we have a coupon code to save you 10% as well.
When it is time for a new mattress
Of course, the fact our RV "CC" didn't have a mattress is the reason we needed to order one right away. But why did we decide to replace our mattress the year before? In case you didn't see this blog post / video here's the back story. Our first motorhome (the Tiffin) came with a standard 60″ x 80″ queen mattress. It is not uncommon for some RV mattresses to come in smaller or odd sizes, even odd shapes!
Fortunately, when we bought our first RV, it came with an upgraded mattress from the factory, which was much better than the standard, cheap, crappy mattress most RVs come with. We bought the Tiffin when it was 2 years old (a 2012 model in 2014)) and it was actually quite comfortable for the first couple of years. But by mid 2016, we noticed it had started degrading in comfort and support
First, we tried a mattress topper which we bought online from Overstock. But we had to leave it outside for 48 hours because of the awful, overwhelming off-gassing chemical smell – aka VOCs. While the topper seemed OK for a while, within a year, it became evident that our mattress was really coming to the end of its life.
We noticed that:
the mattress was visibly starting to sag and looked uneven

Marc started waking up with back pain, due to the lack of support

plus, being more than 5 years old, it had no doubt accumulated allergens and dead skin cells – yuck
After a visit to their 'build-a-bed' showroom in Denver in 2017, the folks at MattressInsider.com made us a custom mattress specific to what we needed. They took into account our sleeping preferences, comfort, level of support – and made the mattress to exactly the size of the bed base in our motorhome.
Are we still happy with our new RV mattress?
We get this question a LOT. And hopefully the fact that we have now ordered another one exactly the same says something. The answer is absolutely, yes! After a year sleeping on that new mattress, we absolutely loved it. But, it was custom made for that motorhome. So it was really appropriate for us to leave it with that RV and the new owners. And time for us to order a new custom mattress for this motorhome.
We were very happy with the comfort and support of our custom built mattress, made up of several layers. Of course, the layers that make up your mattress will be different for everybody. They will make a different one for you based on your needs.
Update 2022: We had a custom shaped mattress made for our newest motorhome, by Mattress Insider. Same materials as our first two mattresses, and we still use the mattress from our previous RV mentioned above in our home as our primary bed.
The layers that our new RV mattress is composed of
In our mattress, we have:
a base layer that is 5 1/2 inch soy-based high density foam and that's for support

an air flow layer that is a convolute foam layer that allows air to enter and exit the sides of the bed

the top layer, which is a one inch, four pound quality gel memory foam, and that sleeps a couple of degrees cooler than traditional memory foam
All of these foam layers are then glued together in their factory. They use an environmentally friendly water-based adhesive and then cover the whole thing in an organic cotton zippered and removable cover. And that's how it shows up, rolled up in a box!
Some of the things we really like about our mattress from Mattress Insider include:
they're made in the USA and don't have any toxic fumes (ie. VOCs)

their mattresses are very eco-friendly

they have an organic cotton cover

they are super comfortable and supportive

it gets shipped direct to you
MattressInsider.com also offers free shipping and a 121 day money back guarantee. This gives you great peace of mind so you can be sure that what you order is actually comfortable and right for you, when it arrives. If you're not happy, just call them.
How the new RV mattress arrives
As you can see in the video, the mattress arrives in a box that makes it easy to carry. Once you unbox it and take off the wrapping, the mattress starts to unroll itself. When it unrolls, it starts expanding the mattress right away. As you will see in the video, watch out once you cut that plastic wrapping!
It takes about two to three hours for the mattress to reach about 98% of its fullness. The last 2% takes about 24 hours. It was still super comfortable that first night nonetheless.
We placed our order for the mattress to fit this exact platform in CC – another standard queen-sized bed. It took around 3 weeks or so for the mattress to arrive, which is amazing for a custom mattress.
AireFlow moisture barrier
We use a moisture barrier to go along with our mattress. You can see it in the photo above under the rolled up mattress. We also purchased it from MattressInsider.com. The Aire Flow moisture barrier really creates a lot of air space under the mattress, which we think is important in this coach because our bed actually sits right above the engine. So if we do a long driving day, there's a lot of heat that comes up from the engine. This helps get some airflow through this moisture barrier area, which reduces the likelihood of bringing that heat up into the mattress.
Also because the bed sits above that engine bay, and there's not as much insulation underneath there, we think it helps prevent too much cold coming through during really cold weather.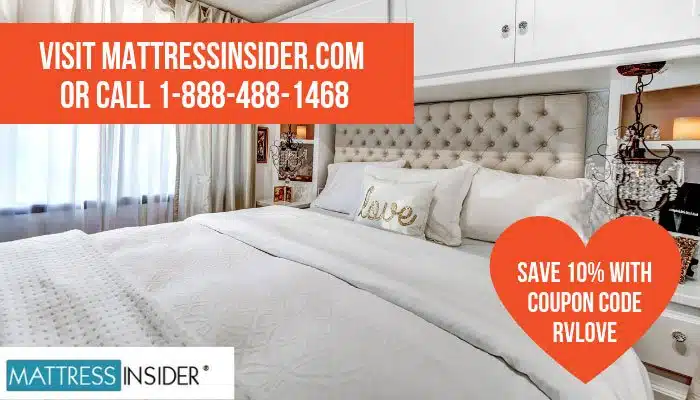 Order over the phone or visit their showroom
We actually got to try out the mattress before we bought one when we went to their showroom a year ago in Denver. Of course, you don't have to visit to order a mattress. You can simply call them on the phone and place your order that way. The sleep consultants you speak to are very knowledgeable and know which questions to ask and which layers and support will best fit your needs.
We've met several people that have bought mattresses as a result of our experience and have reported that even though they ordered it over the phone, that they've been really happy with their purchase. It's worked out great for their needs.
If you're looking for a mattress for your RV, or for your boat or home or anything really, they do custom mattresses for anyone, for everything, any shape and size, they can custom make that for you. Jump over to MattressInsider.com and when you use the code RVLOVE, you will save 10% on your purchase.
Save 10% with our RVLOVE coupon code
If you decide to order a custom mattress from MattressInsider.com, make sure you use our RVLOVE code – whether you're ordering over the phone or online – as that will save you 10%.
Until next time. We'll see you on the road!
Simply visit MattressInsider.com, email [email protected] or call them on 888.488.1468 and use the code RVLOVE.
GOT COMMENTS OR QUESTIONS?
We would love to hear from you. Drop us a note in the comments section below.