This post may contain affiliate links.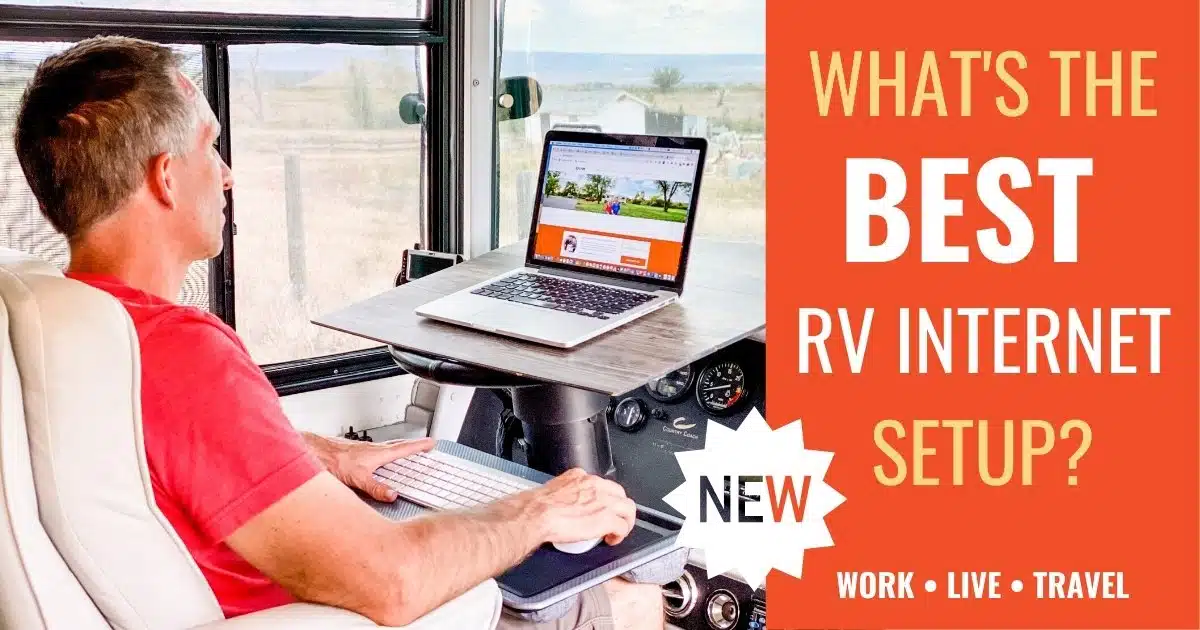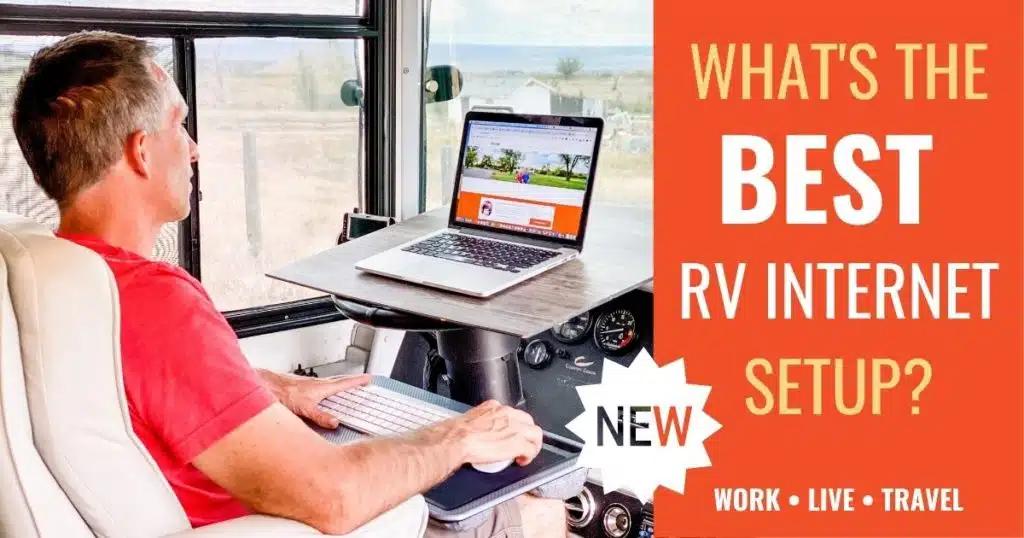 Feeling overwhelmed or confused by the challenge of trying to work out the best RV internet setup for your RV life and travels? There's a lot of info out there and it can be hard to try and make sense of it all. But if you're wanting a powerful, straight-forward internet solution that simply works, our latest RV internet setup may just be a fit for you. Especially if, like us, you work from the road and solid internet is high priority. 
Since our last post about how technology keeps us mobile and connected, a LOT has changed. So, we'll start with an overview of RV internet, and some of the options we've used over the years. We'll also share the exact gear in our setup that gives us rock-solid internet in our RV. Plus, we'll tell you all about a cellular data plan that is a game changer for RVers – and how you can get it. We also touch on why Starlink may be great, but it's not the sole answer for many RVers, and why we haven't pulled the trigger on it yet.
Spoiler Alert: You can now get a complete all-in-one RV internet connectivity solution – and high data, high speed data plan – with a major, nationwide cellular carrier – all from ONE reputable place. So you can seamlessly work remotely, and from the road, or just about anywhere!
What you will learn in this post
We've intentionally kept this article high level and easy to understand. But by the end, we hope you'll have a much better understanding of what you need to get good internet. And come away with clarity on whether or not the options we share – and the setup that works for us – will work for you, too.
If you're new to the world of RV connectivity, we recommend you read this entire post for an overview of the most common internet options for the RV lifestyle. But if you're already fairly well versed in RV mobile internet, and just want specific information – say on exclusive, high data, high speed cellular data plan or all-in-one mobile internet bundles – simply use the Quick Links below to jump straight to a specific section. 
OK, let's dive in!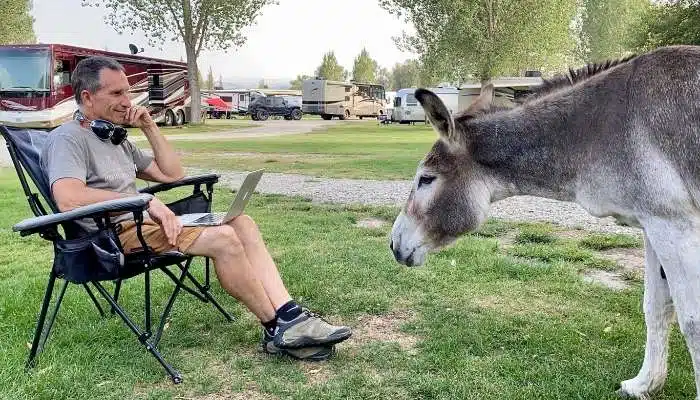 Marc gets a visitor while working outside the RV at the Gunnison KOA Journey, CO
The Right RV Internet setup = More Freedom & Fun
As you might expect, after 9+ years on the road – living, working and traveling in our RVs while exploring North America – our internet connectivity solution has evolved quite a few times along the way. Alongside the changing technology options available, we have upgraded our setup to ensure our RV internet solution was the best one for our needs. It's as close as we have been able to get to 'home internet' reliability since we hit the road in our first motorhome, back in 2014. 
Our internet setup gives us the freedom and fun of staying wireless and mobile! Whether we're staying in campgrounds, visiting national parks, or boondocking out on open land. And our system is able to 'grow' with us, as our needs change.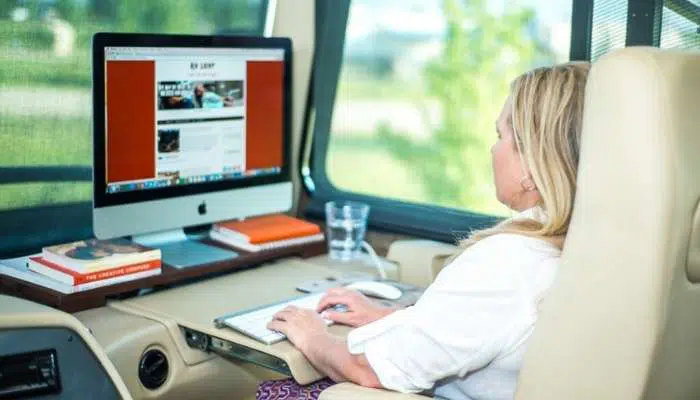 Julie's RV office in our first motorhome. Photo Credit: GabrielaPhoto.com
What We Do – And Don't – Cover In This Post
In this article, we also answer the big questions we get every week, including:
How do we get RV internet access on the road?
What is the best mobile internet solution for RV living?
What gear do we use and recommend for our RV internet?
Before we begin, please understand this article does not cover the vast myriad of options available when it comes to all things internet. There is no one size fits all, and a wide range of internet needs and budgets. That is a HUGE minefield which is covered in great detail by the team of experts at Mobile Internet Resource Center. 
This post is based on our own personal, real world experience with internet connectivity while working from the road in our RVs. And it is aimed at those of you with similar needs, who absolutely require solid, reliable internet. And want to know exactly what gear you need to make that happen.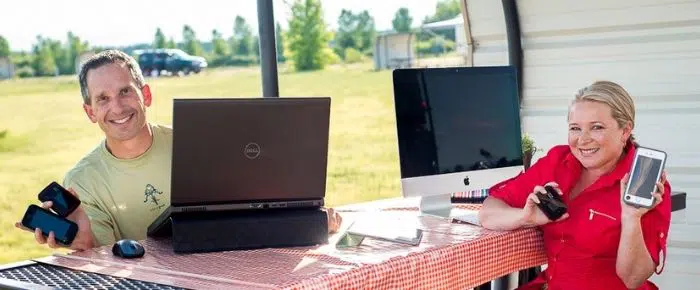 Our early work, technology and internet gear, back in 2014-15. But hey, it worked! Photo Credit: GabrielaPhoto.com
What Do We Use The RV Internet For?
A lot! That's why (back in 2013) around nine months before we hit the road – before we even started RV shopping – our biggest question and concern was:
How can we ensure we will have solid and reliable internet access so we can work while we travel? 
We knew if we couldn't get reliable internet for Marc's 9–5 job, then we couldn't RV full-time. It was that simple. Fortunately, we found the best available solution at that time, but of course, almost everything has changed since then.
Now if you're a casual RV camper with low internet needs. Or you like to get away from it all and disconnect from technology, this question (and article) likely won't be as relevant to you. But if, like us, your livelihood depends on being able to connect to the internet, then it's going to be a high priority – for both business and/or personal purposes.
If you are planning to work from the road (or already do), do extended or full time RVing, or just want to stay connected while you travel, then a setup like ours may be a good fit for you. Keep reading to learn more about how we use the internet.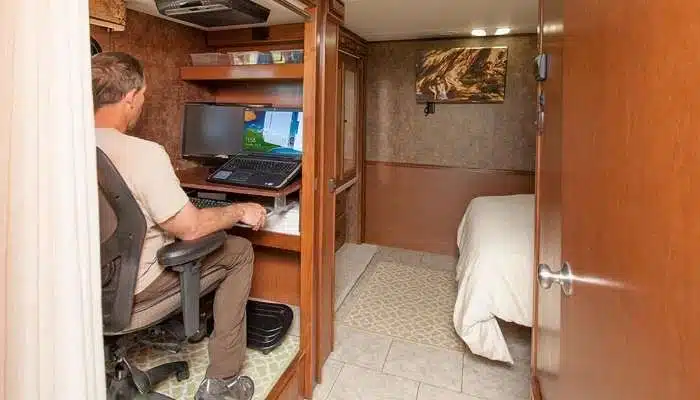 Marc works in the office we converted from a bunkhouse in our first motorhome
The key activities we've needed and used internet for:  
Do full-time remote work for an employer
Host and participate in Zoom and GoTo meetings
Run our online business from the road
Manage email, social media, upload videos, and write blog posts 
Run our online school
Stream YouTube videos, watch Netflix and movies, listen to music
Access cloud-based software and apps
Back up our iPhone photo and videos to iCloud
Download audiobooks, podcasts and ebooks
Checking the news and weather
GPS and trip planning
Campground research and making reservations
Have FaceTime and Skype calls with family and friends
Take care of online banking and other business/personal transactions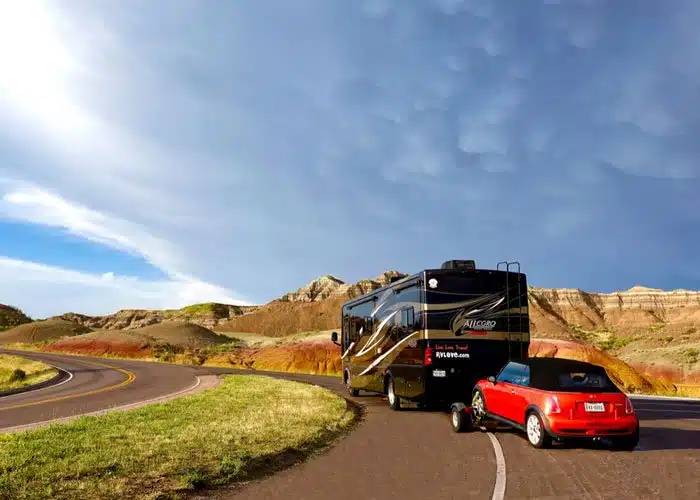 Our first RV – a Class A gas motorhome – in Badlands National Park, SD
Other common activities RVers use internet for include:
Doing VOiP calls
Road schooling kids
Teaching or taking online classes
Gaming
and more
Marc kicks back to watch a movie on Netflix in our first motorhome
How To Get RV Internet Access On The Road?
Advancements in cellular technologies over the last decade mean you can work quite efficiently on the road simply using cellular WiFi. 
If you're an occasional, low level internet user, you may be comfortable using public WiFi networks, and/or campground WiFi. But keep in mind that while 'free', these are almost always open, unsecured public networks. And despite what the RV park website or marketing materials may claim, campground WiFi is almost always WAY too unreliable and inconsistent to rely on for work, or dealing with secure information.
When a solid internet connection is critical to you – say for work or online school for kids – you really need to take your own internet solution with you, as you travel. 
The three main things you'll need to consistently get internet on the road are:
Cellular plan(s) with sufficient GB data from a major, nationwide carrier (AT&T, Verizon, T-Mobile) and/or a Starlink plan
Related hardware that will both work with your data plan (a device to put your SIM card into) and help ensure you get the best cellular signal and/or a satellite like Starlink
Areas that actually HAVE decent cellular signal – or a clear sky to point your satellite – so plan accordingly!
These days, in most parts of the country, it is surprisingly easy to find decent internet coverage with the three major carriers. You can even find good cellular reception in some remote boondocking locations, where it's less populated, and therefore has less demand on the cellular towers! 
Starlink is becoming more popular, but it's just not reliable enough to be an exclusive internet solution. It's really more of a backup / addition for redundancy. So while we touch on it, we don't cover it in detail. It's not part of our core 'set and forget' RV internet solution.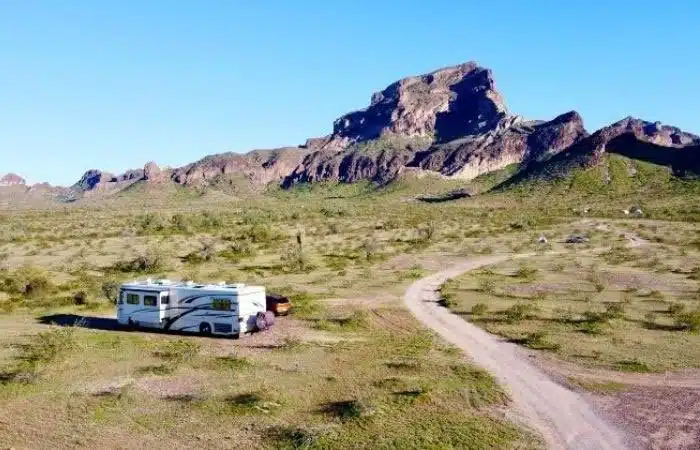 Boondocking – and working – on BLM land near Saddle Mountain, in Arizona
What RV Internet Device Options Are Available?
There are a handful of options that are very commonly used. Because our total connectivity solution has grown over the years, we have all of these in our arsenal, except satellite.
1. Smart Phones and Tablets
You can use your smart phone and/or tablet to access the internet via the data plan with your cellular carrier. This can be a good option for checking email, social media, having FaceTime or Zoom calls etc. You can also connect a computer to your mobile device, using the "personal hotspot" feature. However, there is usually a limit on the data allowed for the device, and a smaller data allowance for use as a personal hotspot.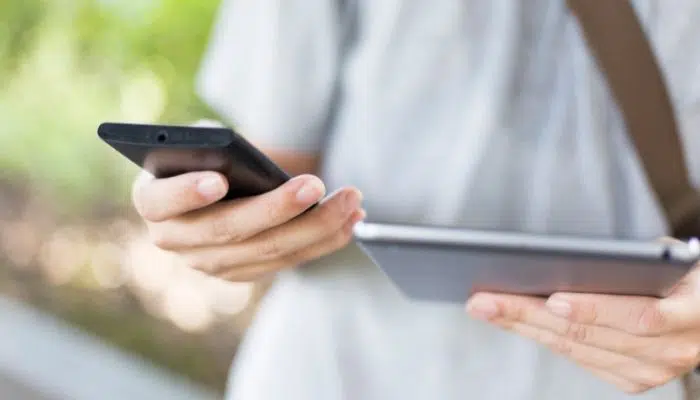 We use our smart phones/tablet to check emails, social media, news, and weather
2. WiFi Hotspots, MiFis and Jetpacks
These are all basically the same thing. A portable device powered by a lithium battery, that comes with a SIM card/data plan from a cellular provider. They work quite well, but if left on for for hours at a time, they can overheat (and be a fire hazard), batteries can swell and you may need to reboot. In our early years, we had two Jetpack / MiFi devices. We had one each with AT&T and Verizon for extra coverage and redundancy. 
Now we just use MiFis as a backup, and take on road trips in our vehicle when we know we'll be driving in areas not well covered by our phone cellular carrier (we have two iPhones with T-Mobile). But these can still be a useful, portable internet option, especially if you can find a big data plan to go with it.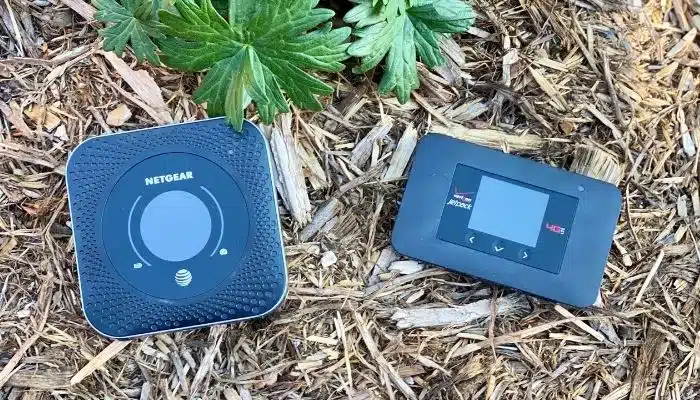 In our early years, we relied on WiFi and cellular hotspots from AT&T and Verizon 
3. Cellular Router with Modem
This is a more advanced piece of hardware and considered a serious mobile cellular router for the advanced user. It is extremely robust, stable, and powered by plugging into an AC outlet or 12V power source. They come with one or two modems, so you can use it with more than one SIM card / data plan simultaneously for the best coverage across multiple carriers. 
It provides a central hub from which you can connect all of your cellular devices to access the internet. If you like to really geek out, there's a lot more you can do with this router to enhance your internet connectivity (but we didn't have the need to). We have had a dual modem router for over 4 years now. It's been amazing – stable, fast and reliable. We have found this is the closest thing you can get to 'home internet' while traveling.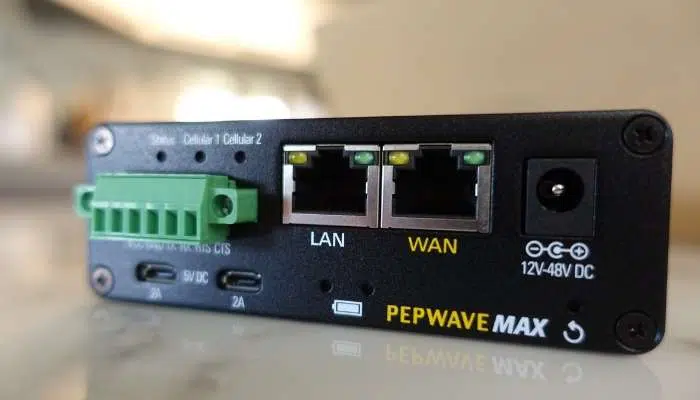 We've had a Pepwave cellular router with dual modem since 2019
4. Starlink Satellite
Like any new technology (and anything related to Elon Musk) there's been a lot of buzz about Starlink satellite. Early adopters, especially RVers, also discovered Starlink's limitations. A Starlink satellite needs a large unobstructed view of the sky. So you cannot park near trees. The original dish was big and took up a lot of storage space, which is usually at a premium in RVs, and you needed to set up and take down the dish every time you moved. 
Finally, Starlink originally could not be used while in motion. So it should not be relied upon as a sole internet solution if you need to be connected for work. If you're staying in an area with little to no cellular coverage, Starlink can be a great additional internet option. But Starlink is not essential to a core 'set and forget' RV internet setup. 
In 2022 they released a new dish that can be permanently mounted and used in motion on RVs, removing multiple challenges of the original Starlink.
2023 update:
RV / Roaming data is still deprioritized compared to stationary residential plans. But speeds are still probably adequate for most users. Especially since it might be the only data you can get if there is no cell coverage in the area.
Also, in March 2023, Starlink stopped offering the 'RV' version and renamed it Starlink Roam. The new plan has two offerings. One that is only available on a single continent for $150/per month and a global plan for $200 per month. Both are only intended to be used on land, so not good for boaters.
Another huge development in March 2023. Mobile Must Have can now sell Starlink hardware and bundle it with its other offerings. In the video below, Erik from Mobile Must Have shows the new Starlink In Motion equipment.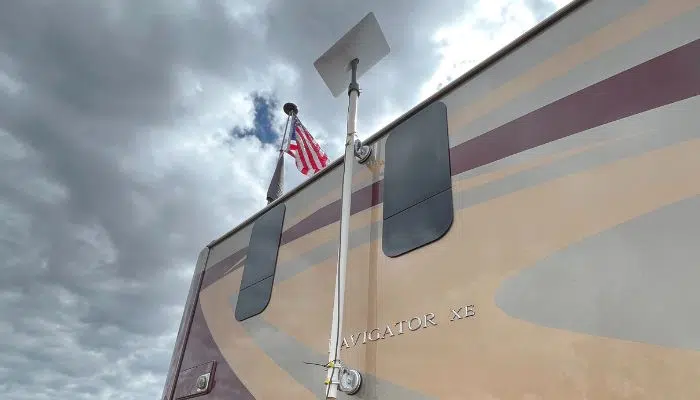 Original Starlink dish temporarily mounted on a Class A motorhome
Why we don't have Starlink yet
We don't have Starlink as part of our RV internet solution. Hence we aren't covering it in detail in this post. We have only used Starlink once. When staying at a remote Colorado campground, parked opposite an RV friend with Starlink as an additional backup option to his main RV internet solution. It was definitely handy to access it via his Pepwave router (which combines his multiple internet connectivity sources) to try it out for ourselves, and get online at a place where we normally can't.
Personally, we could not justify the size, space, and additional cost for our needs and usage. This may change, but right now it is overkill for our needs. So while Starlink is nice to have, it's not a critical addition. That is, unless you often camp in remote places, far from cellular towers. But, if you simply want the most capable internet connection regardless of cost, adding a Starlink to a cellular connectivity solution through a Pepwave router is probably the ultimate solution.
To learn more about the pros and cons of Starlink, and decide if it is right for you, we recommend you check out the many Starlink resources at the Mobile Internet Resource Center. In the rest of this article, we're staying focused on cellular connectivity, as that's all we really use and need.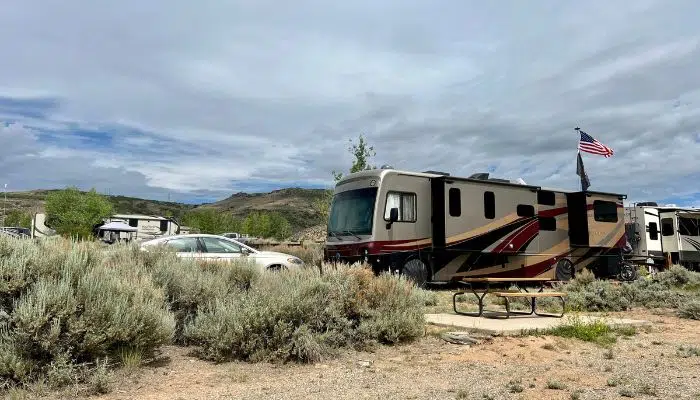 We parked opposite our friend's motorhome and used his Starlink
The Biggest Internet Challenges For RVers
Internet connectivity is not something most people at home or work usually have to worry or think about. But internet anxiety can be very real for RVers! Suddenly you have to be constantly mindful of a whole lot of other things you never had to think about before. These include:
Getting decent cellular reception
This is almost always top of mind for RVers who rely on the internet, as it changes every time you pack up and move your RV. No matter which carrier you are with, signal will not be consistent, as it is when you are stationary. As an RVer, you need to plan your travels around connectivity. And ensure you have the right equipment to maximize the cellular signal. As well as a carrier that has coverage in the areas you visit. Regardless, you'll need to beware of camping in locations like canyons, valleys and mountains, which impact reception, even if your cellular carrier's map shows coverage!
Finding a high GB high speed cellular data plan 
To date, this has probably been THE biggest challenge of all. Most of us consume so much data on our devices these days. It has been very difficult (often impossible) to find TRUE unlimited data plans, especially direct from a carrier. It's highly likely your so-called 'unlimited data plan' actually de-prioritizes or throttles your line, after say 22GB or 30GB of usage. (Read the small print on your data contract). 
In 2014, we were lucky to secure a grandfathered unlimited data plan before Verizon closed a loophole. We still had to be careful about how we used it (and not abuse it) so as not to raise any attention. But eventually it was shut down by Verizon in March 2022, after a good run of 7.5 years.
Some RVers have managed to find a similar plan on the black or grey market (which often involves 'renting' a line through someone else). These have been in short supply due to high demand, and also come with a level of risk. Over the years, we've also seen plans from resellers come and go, leaving their customers in the lurch when they close down. This is also why we have never shared or promoted any of them. We knew it was just a matter of time and we didn't want to share or recommend anything we weren't 100% confident in!
Finding a legitimate, high speed data plan with sufficient GB for your needs has traditionally been extremely difficult to find. Fortunately, there is now a solution to that, with the new wireless plans from MobileMustHave. But keep reading, we'll tell you all about it in a bit!
Making sense of the vast array of hardware options
From MiFis to Jetpacks, routers to boosters, antennas to extenders, and more! Not all equipment is created with a total solution in mind. And many don't perform in the way their marketing materials claim, either. Maybe the device itself works fine, but simply isn't necessary for what you need. Or perhaps it causes a conflict with other pieces of the technology puzzle.
Many RVers end up wasting a lot of time and money on various devices and systems that they don't understand, and often, may not even work well together. For example, while a cellular booster sounds great, it can actually hurt your signal. Is it any wonder people are so confused!? Don't worry, you're not alone!
So now you're wondering…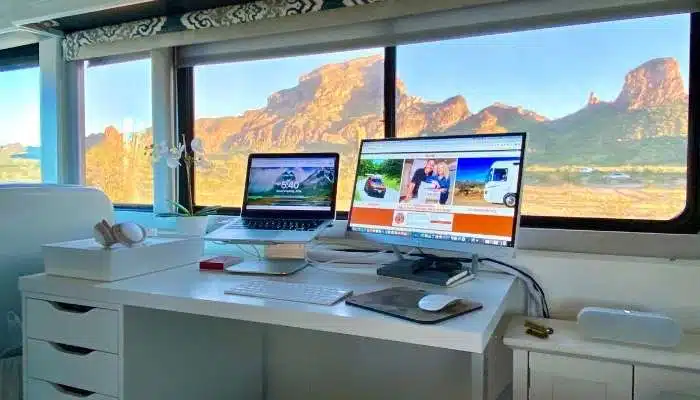 Have internet will travel! Working while boondocking in the Arizona desert
What is the solution? You'll need the right equipment (hardware) plus a cellular data plan with high GB capacity – that won't be throttled or de-prioritized – on a reliable cellular network with strong nationwide coverage.
So, What Is The Best RV Internet Setup?
Yep, here comes our reminder again… there is no one size fits all when it comes to RV internet! And what is best for us may not be best for you. Maybe you don't need an internet setup as solid as this one. And by the way, this isn't the cheapest internet option available either. But that wasn't the title of this post. This is about the BEST RV internet setup. But don't worry, there are a few bundles to suit different budgets.
To be honest, after years of navigating this minefield, we are relieved to finally have an internet solution that has proven to be the best, most robust and reliable system for our needs. The best thing is the new data plan, which makes for a TOTAL solution that we can recommend with confidence. It was difficult to do that before when we knew people would still find it challenging trying to hunt down a big data plan!
We genuinely believe what we're about to share is the best RV internet setup for road warriors and working RVers who simply don't want to worry about their internet connection. 
So let's take you through it.
The Pepwave Router, Rooftop Antenna & High GB Cellular Data Plan
There are the 3 key elements of our best RV internet solution. They are:
1. Pepwave Mobile Router
If you are not familiar with Pepwave routers, they are the units normally used in commercial applications like police, fire, ambulance, military, and transportation companies. Places where connectivity is absolutely essential. They are designed to be super reliable, rugged, and consistent. And they come with built-in antennas which may work just fine for you. But adding a compatible rooftop antenna will significantly improve the strength of your connection.
This is a mobile cellular router with a built-in cellular modem, that you insert your SIM card(s) into. This broadcasts WiFi throughout your RV (outside too). There are several models to choose from. Pepwave MAX Transit Pro Dual Modem CAT-7/CAT-12 LTE-A Router, PrimeCare Edition. Specific reason why this mix 7+12.  Cat-7 has specific band optimized for T-Mobile, Cat 12 optimized for Verizon and ATT.
It is a dual modem that allows us to insert up to 4 SIM cards from different carriers, using 2 simultaneously.
Also, as mentioned above in the Starlink section, we didn't feel we needed it. But if you want to level up even more you could bundle in Starlink with the cellular connection via the same Pepwave. As of March 2023, you can even purchase the Starlink through Mobile Must Have.
Pepwave Router with in-built antenna. Photo Credit: Annandale Photography
None of these Pepwave Peplink products are targeted at mainstream consumers – but several of them are affordable and friendly enough to appeal to advanced "prosumers" and will prove tempting for many of the most demanding RVers and cruisers who are seeking more than what typical consumer routers and hotspots can provide.
2. Rooftop Antenna
This is a MIMO (multiple input-multiple output) antenna that works well with the Pepwave router. It is an excellent pairing for extending cellular coverage and performance. And although a rooftop antenna is not essential, it really does significantly enhance connectivity reception. We got the Pepwave Mobility 42G (formally Puma 421) Antenna which works great with our Pepwave MAX Transit Pro Dual Modem.
Did you know that every 10 feet of increase in height will nearly double your cellular signal? And removing obstructions between you and the cellular tower will double your signal again? Increase your cellular signal by up to 600 percent by adding a roof antenna to your mobile internet setup. By putting your cellular antenna outside, you are removing the need to fight to get signal through your RV's thick insulation and aluminum construction. Most mobile hotspots or mobile routers have antenna ports that will allow you to take advantage of a roof antenna, which will improve your Internet speed and the range you can camp from civilization while still staying connected.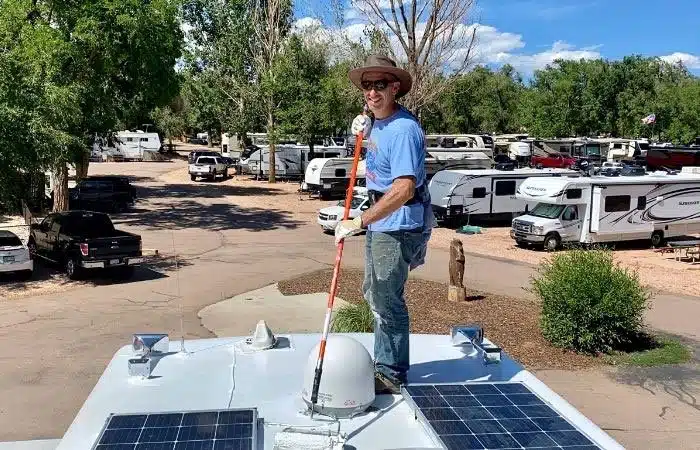 The Poynting roof antenna on our previous motorhome – it looks a bit like a shark fin!
3. High Speed Cellular Data Plan With High GB
You may already have a high GB data plan – and you can use SIM cards from any compatible carrier with the Pepwave router. But the final piece of the puzzle, if you DON'T have a big data plan, and the good news is you can now get a true high speed data plan, with large data amounts from any of the three major carriers directly through MobileMustHave to use with their Pepwave. This solves a major and long standing pain point for RVers who require a lot of data!
As mentioned earlier, we had an old Verizon unlimited data plan, and an 'unlimited' AT&T plan subject to de-prioritization after 26GB for years. Those plans are no longer available. So we chose to replace them with the MobileMustHave R300, and a P800. We now have FAR more data and connection ability than ever before.
We inserted both SIM cards into our Pepwave for glorious streaming and screaming fast and stable internet!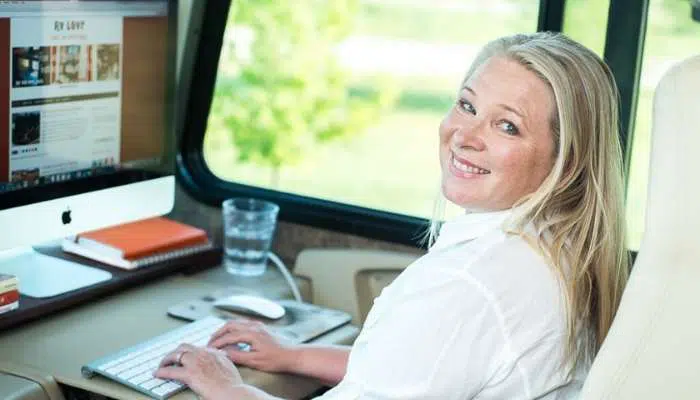 Julie's RV office in our first motorhome. Photo Credit: GabrielaPhoto.com
Get Your Complete RV Internet From A Single Source
The Pepwave router and antenna have been available to RVers for a while. And you can buy each of these three pieces individually, or in a total internet bundle from MobileMustHave.com – an internet e-commerce store that focuses on the needs of RVers, and especially tech gear and internet solutions. 
This cellular plan and the internet bundles are MobileMustHave exclusives. Which means, you can get your total internet solution – hardware and cellular data – from a single provider. 
Here's why this has huge benefits:
Solves the big problem of finding a high GB high speed data plan.
Your Internet just WORKS, as all parts are designed to work together – resulting in a more reliable, stable connection.
Simplifies the process of shopping, buying, setup. And even technical and customer support, when buying from one reputable provider as they know what you have and how it's all meant to work together.
OK, let's cover the details of the new high speed high data plans in more detail first because this is really exciting! Then we'll take a look at the three RV Internet bundles, that you can add this data plan to.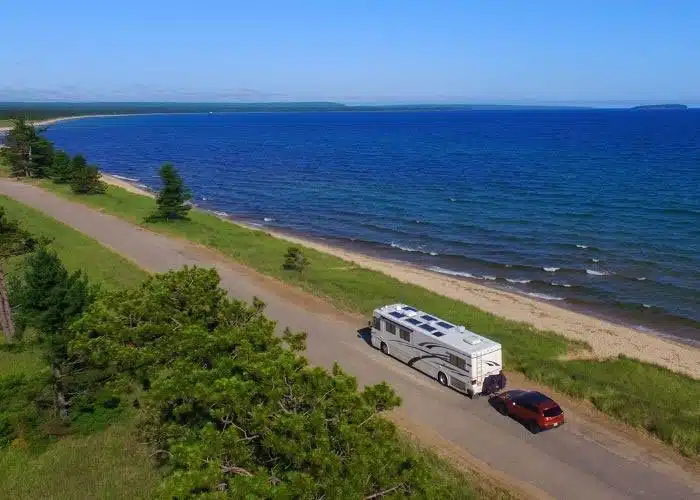 Did you know that most modems purchased from cellular carriers are locked for use only on that carrier? Even if they are unlocked, they often lack in their ability to function properly on other networks. Free yourself from any single carrier by investing in a multicarrier-supported cellular router (such as those made by Pepwave or CradlePoint) which can work on all of the major carriers and switch among multiple carriers at the switch of a button. This prevents duplicate spending down the road and gives you flexibility if you need to change carriers in the future.
New MobileMustHave Internet Cellular Data Plans
MobileMustHave Wireless R1000 – 1000GB/mo, Cellular Data Plan 1000 GB per month on the Verizon network. LTE and 5G compatible, authorized to use in a Peplink device, no contract required, and very high data limits.
MobileMustHave Wireless P800 – 800GB/mo Cellular Data Plan 800 GB per month on the T-Mobile network. LTE and 5G compatible, works with Peplink devices, no contract required, and high data limits.
MobileMustHave Wireless R300 – 300GB/mo 10mbps Cellular Data Plan 300 GB per month on the Verizon network. LTE and 5G compatible, authorized to use in a Peplink device, no contract required, and very high data limits.
But how much data will I need? 
Generally, most users find 150-200GB of data per month is sufficient. That's about what we use. But if you're a heavy streamer and/or a family of 3 or more, you may need a bigger plan. We always recommend being smart about your data usage. For example, don't automatically sync and backup all of the photos and videos on your smart phones to the cloud or across multiple devices. That will suck down your data FAST!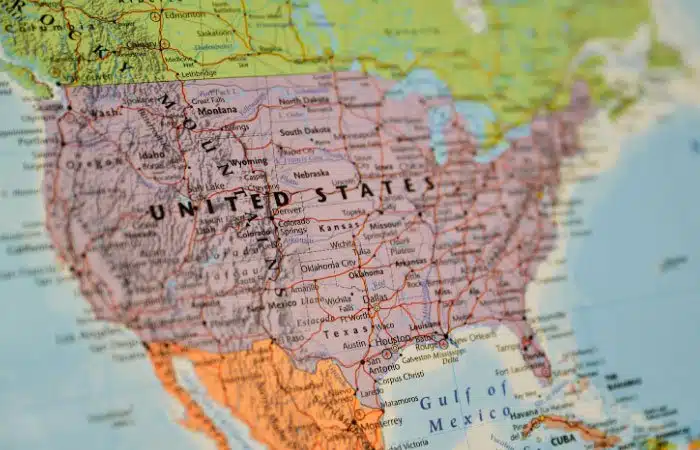 Now let's look at the bundle options.
1. Full Timer VR2 Internet Bundle
This is the most affordable of the three bundles, and includes the:
P

epwave MAX BR1 MINI LTEA Mobile Router Primecare Edition (HW3)

Choice of one of the four recommended rooftop antennas

Ability to use one cellular data plan/SIM card in the router, from any major carrier
Optional Add Ons include:
Cellular Data Plan from one of the plans mentioned above.

Device Configuration and Training for $99 (DIY setup is free, and comes with emailed instructions. We highly recommended the training option)
>> Click for more detail, specs and price on the Full Timer VR2 Internet Bundle
SAVE 5% when you use discount code: RVLOVE (except on data plans)
If you plan to use more than one SIM card / carrier in your router (as we do), then you'll want to level up to one of the dual modem options.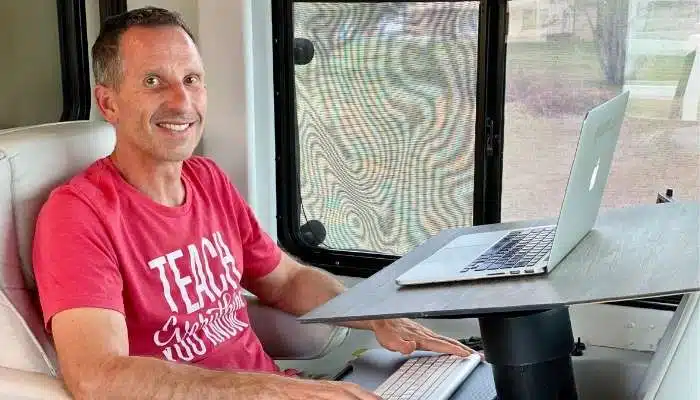 Marc works from his office space in the front of our Class A diesel motorhome
2. Speed Demon VR2 Internet Bundle
This bundle is designed for those who want the fastest, even if it isn't the most reliable and stable. Imagine a sports car. This bundle includes:
Pepwave MAX BR1 Pro PrimeCare Router with CAT-20 Modem

Pepwave Mobility 42G (formally Puma 421) Antenna

Ability to insert 2 cellular data plan/SIM cards into the router, from any major carrier. Use one at a time.
Optional Add Ons include:
One or more Cellular Data Plans from the plans mentioned above.

Device Configuration and Training for $99 (DIY setup is free, and comes with emailed instructions. We highly recommended the training option)
>> Click for more detail, specs and price on the Speed Demon VR2 Internet Bundle
SAVE 5% when you use discount code: RVLOVE (except on data plans)
Our Pepwave Modem, installed in our motorhome
3. Ultimate Road Warrior VR2 Internet Bundle
This bundle is designed for those super serious about speed and rock-solid connectivity on the road. We chose this bundle for our needs. It comes with the:
Pepwave MAX Transit Pro Dual Modem CAT-7/CAT-12 LTE-A Router, PrimeCare Edition

Pepwave Mobility 42G (formally Puma 421) Antenna

Ability to insert 4 cellular data plan/SIM cards into the router, from any major carrier, and use 2 simultaneously
Optional Add Ons include:
One or more Cellular Data Plans from the plans mentioned above.

Speed fusion of SIM cards

Device Configuration and Training for $99 (DIY setup is free, and comes with emailed instructions. We highly recommended the training option)
>> Click for more detail, specs and price on Ultimate Road Warrior VR2 Internet Bundle
SAVE 5% when you use discount code: RVLOVE (except on data plans)
Julie works from her RV office in our first RV, a gas Class A motorhome
How Much Will My RV Internet Setup Cost?
It all depends on your needs and which of these bundles or plan you choose, but here is a guideline of what it will cost to get you set up.
MobileMustHaveData Plan Only.

This will usually cost you $150-$200 per month (discounts available for members), plus a $50 activation fee. Though there might be some price increases on plans soon. You'll need to have the compatible hardware to insert your SIM card into. 

 

*Save 5% with RVLOVE Discount Code: When making your purchase, you'll save 5% on the hardware and bundles when you use the code RVLOVE upon checkout. Note this discount does NOT apply to data plans.
Out of your budget?
Of course, if your budget doesn't stretch this far, or if you don't need an internet setup quite this rugged, don't despair! You can still explore other cellular data devices and data plan options that will help you get internet access without breaking the bank. Remember, we traveled and worked from the road for five years with just a couple of portable MiFi devices. We upgraded our setup in 2019, then again in 2022! So another option may work perfectly well for your needs and budget.
All of this is constantly changing, and fast. So the best way to keep on top of all it all is via the Mobile Internet Resource Center. They track and report on all breaking stories about cellular plans, the latest devices, and Starlink satellite too. Most of their excellent content is free. It is funded by premium MIA members (Mobile Internet Afficionados). We have followed and been guided by the Mobile Internet Resource Center as premium members since day one, and highly recommend them. 
Got Questions About Which is Right for You?
If you're unsure about which bundle or equipment is right for your needs, the support staff and MobileMustHave.com website can quickly help you learn what you need to know and choose the right combo of equipment for your needs. 
You can also read up on even more articles on this gear, with additional insights from the technical experts, at the Mobile Internet Resource Center. 
Why Is This The Best RV Internet Solution?
We installed the Pepwave mobile router in our RV and mounted the antenna on the roof. Then we inserted our two SIM cards – T-Mobile and Verizon – into the Pepwave router. And with help from MobileMustHave's team, we got it all properly configured. The difference was night and day.
Here's what we found:
Our internet connection was noticeably more stable, faster, and consistent.
The router worked seamlessly 24/7 with both of our cellular carriers' SIM cards, providing a constant, central WiFi source for all of our devices.
Ability for the router to determine which SIM card/data plan was best to use based on our location and reception (and how we set up parameters).
It felt like a residential internet connection.
We stopped worrying about whether our internet connection and cellular reception would be good enough for Zoom meetings and work.
No longer having to juggle our WiFi devices for the best reception and to track our data usage.
We were able to monitor our entire usage via the admin panel.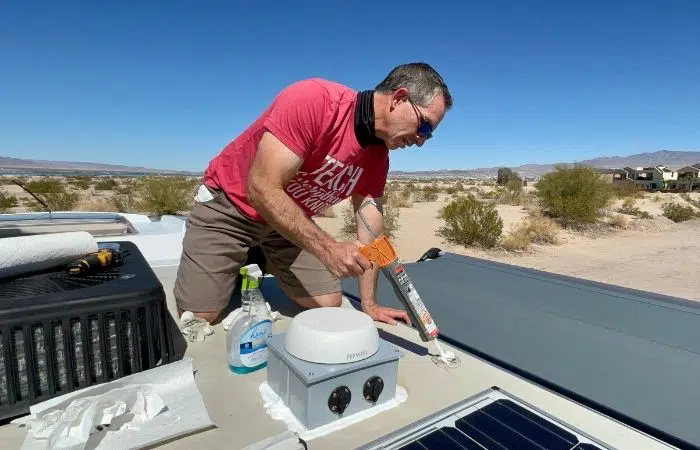 Of course, to get internet, you still need to be in locations where there IS cellular service. Or add the additional connectivity of Starlink to your solution. But it's rare we go places where there is NO cellular service. Unless we absolutely want to disconnect.
Other areas we most noticed a welcome difference was NO MORE:
checking to see which WiFi device we should use for the best coverage

overheating devices or swelling batteries

rebooting our WiFi devices

having to remember to charge the device when the battery ran low

turning the MiFi devices off at night and back on in the morning
We had never really thought about the time and mental energy we spent thinking about our internet before. We just learned to deal with what we had as we didn't know any better, not on the road anyway.
But after a few weeks with our new RV Internet setup, we realized we no longer had 'internet anxiety' anymore. In fact, we didn't realize we even HAD internet anxiety until it stopped! We don't think about our RV internet anymore, which is very freeing!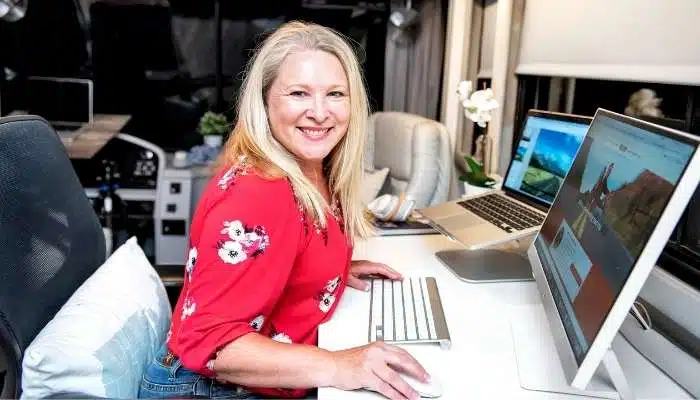 Julie works from our Class A diesel motorhome. Photo Credit: GabrielaPhoto.com
What About Cellular Boosters?
We know a lot of people talk about boosters. And we're not saying they aren't useful in certain applications. But personally we find it an unnecessary expense. 
A cellular booster will boost weak cellular signals for a single device when placed in close proximity to the booster. When we first started RVing full time we relied on our portable WiFi device for internet. We got a cellular booster and placed the Jetpack (or an iPhone) in the cradle to boost the signal, as needed.
Here's a great piece of advice from RV internet experts, Chris and Cherie of the Mobile Internet Resource Center, who shared some top tech tips in our latest book RV HACKS.
When selecting your mobile internet setup, it may be tempting to buy a cellular booster simply because people talk about them and they cost a lot of money, so they must be good, right? While a booster can serve a role in your mobile internet setup, it may not offer as much as you hope, for the price point. More often than not, a directly connected MIMO (Multiple-Input-Multiple-Output) antenna will outperform a booster when it comes to cellular data performance. When connected to a mobile hotspot device or router with antenna ports, they can be a much more cost-effective and powerful signal-enhancing option.
Is it worth adding a cellular booster?
A few years ago, we added the newer WeBoost 4G-X RV cellular booster to our internet arsenal. And while there's nothing wrong with it, to be honest, we really just didn't end up using or needing it. We mostly spend time in areas with decent cell coverage. Plus, at around $500, it was expensive for the little value it added to our internet setup.
We have found that our new internet solution – with the Pepwave Router, Rooftop Antenna and cellular data plans – works much better for our needs. But it's like comparing apples and oranges as they are so different.
We recommend starting with one of the above MMH bundles first. If you realize later you need a booster, you can always add that to your internet arsenal later. Right now, you'd be better off putting your money towards a router antenna bundle to get the core equipment.
Beware: Cellular boosters can actually slow you down in some locations. In fringe signal areas, cellular boosters can sometimes make a world of difference – helping you get online or place a phone call where it might otherwise be nearly impossible. But in moderate or strong signal areas, turning on a booster might actually slow down your Internet speeds, even if is shows increased signal bars on your phone. Sometimes turning on a booster can cut your download speeds in half! Because of this, never leave a booster on all the time. Use only when you have done a before and after internet speed test to make sure that it is actually helping.
Julie's working outside the RV. Photo Credit: GabrielaPhoto.com
How To Get Started With Your RV Internet
Are you ready to get the right internet setup for you now? Are you wanting to get an internet connection in your RV for work/business, education, managing your investments, or entertainment? Want to keep learning before you make a decision?
Here are your next steps:
It's "Zoom time" in our motorhome "CC"
Want To Learn More? Save with a Discount Code?
We promised this article wouldn't get too technical. But if you want to do a deeper dive into the technical specifications and information, or have questions about which setup is best for you, here are some excellent resources:

Mobile Must Have has a huge resource library of articles and videos to help answer your questions on this setup. Here's the link to their Support Portal. There's also a chat support feature if you need help working out which bundle or specific equipment is best for your needs. Use our discount code RVLOVE to save 5% on your purchases (except for cellular data plans).
The Mobile Internet Resource Center are the experts for all things mobile internet and have an immense library of articles, videos and reports on cellular data plans, gear testing, and information related to your connectivity options. They even have online courses to help you understand all the various options so you can create your own RV internet solution. You can access loads of their information for free, but if you do become an MIA member, you'll save $5 on their annual membership or courses with our discount code RVLOVE.
You'll also find more information about RV internet – including tips for staying connected and working from the road – and RV life, in our two bestselling books: RV Hacks: 400+ Ways to Make Life on the Road Easier, Safer, and More Fun, and Living the RV Life: Your Ultimate Guide to Life on the Road. 
Both of these books feature the experience, tips and advice from the most trusted and experienced RV internet experts – Chris and Cherie of Mobile Internet Resource Center, Erik and Kala of Mobile Must Have – along with other RVers.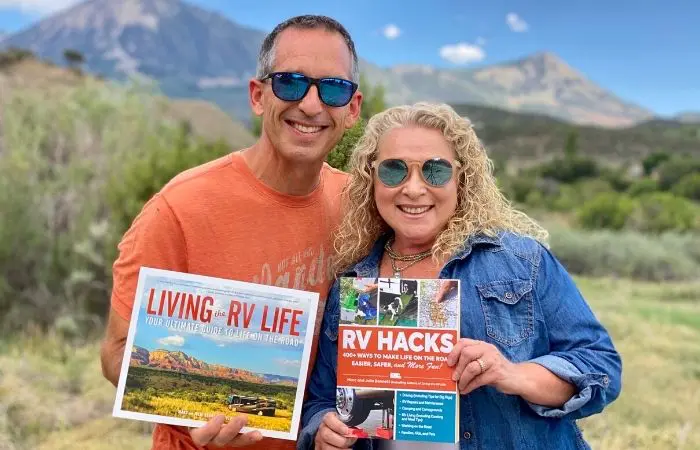 What Is Good RV Internet Worth To You?
Finally, while it is true that solid, reliable internet may not come cheap, we feel it is a reasonable price to pay for the freedom to live, work and travel anywhere, as we choose. The confidence and peace of mind that our RV internet setup offers is priceless. 
Well, we hope you found this article informative and helpful and that it gets you well on your way to awesome connectivity! Happy travels!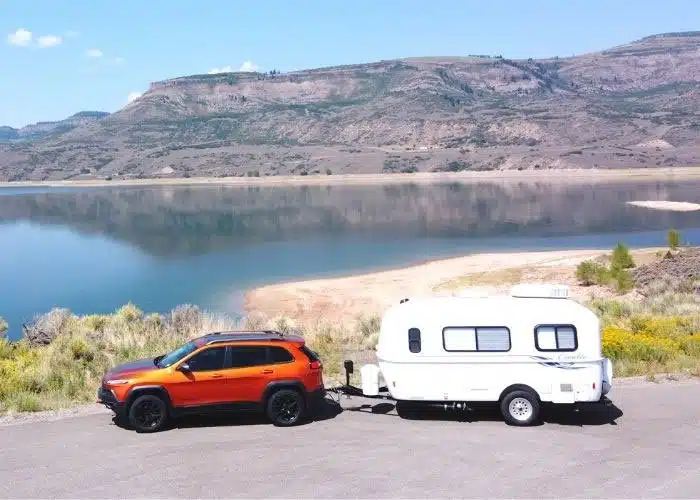 Our Casita Travel Trailer and Jeep, which we travelled in part time. Instead of a permanent mount, we used the Pepwave Router with built-in antennas. It sits inside a cabinet, with a cellular data plan/SIM card.
Our part time RV. Roof mounted Pepwave antenna, Pepwave router inside. Dual SIM cards with speed fusion.
GOT COMMENTS OR QUESTIONS?
We would love to hear from you. Drop us a note in the comments section below.