This post may contain affiliate links.
Beat the heat this summer with these 12 handy hacks that will help you, your pets, and your RV stay cool and comfortable, despite the high temps! We pulled these hacks from our new book RV HACKS: 400+ Ways to Make Life on the Road Easier, Safer and More Fun. It's available in print and digital at all good bookstores, and you can order it here.
But let's dive in and get you started right away… with this cool dozen RV hacks!
12 RV Hacks for Staying Cool This Summer
Use services like the NOAA Weather Radar Live app and Weather High-Def Radar app to track inclement weather in the days before your trip and adjust your itinerary or route as needed to avoid high winds, storms, or extreme temperatures.
It may sound obvious, but adjusting your travel days – and even your travel times – to avoid extreme heat and the hottest parts of the day can make for a much more comfortable and pleasant drive. That goes for you, your passengers, and your rig.
Adapted from RV HACKS, Chapter 1: Driving
2. Use an online trip planner with RV-safe GPS.
It makes a huge difference to know where you're going in advance and have a sound plan to get you there. Plan your trip in advance with a useful online tool like RVTrip Wizard.com, which uses your RV-specific data to help you plan RV-friendly routes, find campgrounds, plan fuel stops, and track your trip budget. Then access your trip via the RV LIFE app on your smart device to follow step-by-step RV-safe GPS directions. 
All this helps you keep your cool on travel days – mentally, emotionally, and physically – and gets your trip off to a much better start.
Adapted from RV HACKS, Chapter 1: Driving
BONUS: SAVE 25%. Use code RVLOVE25 when you sign up for RV Trip Wizard at this link (free 7-day trial)
3. Avoid overheating your brakes.
When you need to use your brakes to slow down, press them firmly for 5 to 10 seconds – as needed – instead of riding your brakes. Avoid maintaining consistent light pressure on the brake pedal for long periods, as it will create constant friction, which can cause your brakes to overheat and become squishy, and they won't work properly when needed. 
From RV HACKS, Chapter 1: Driving
4. Keep your steering wheel cool when parked.
When you park on hot days, use window shades and/or turn your steering wheel 180 degrees so the part of the wheel you hold to drive is shielded from the sun. When you start driving again, the wheel will turn so you can place your hands on the cool part of the wheel, and you won't burn your hands. 
Adapted from RV HACKS, Chapter 1: Driving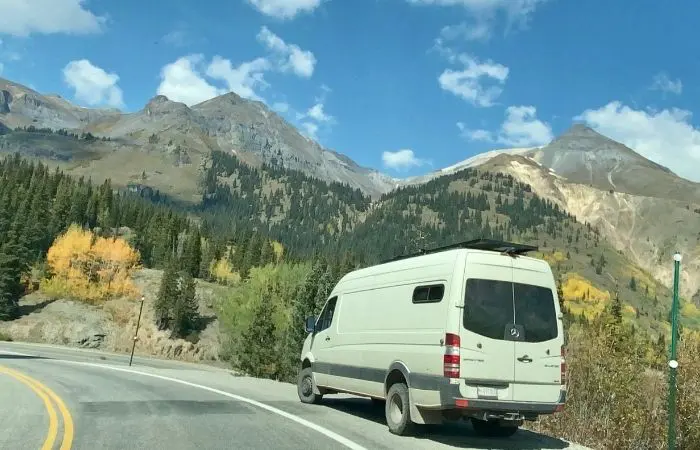 5. Tint your RV windows to keep it cool.
Apply window tint film to your RV skylight and windows to reduce solar heat gain and UV rays while increasing privacy inside your RV. 
From RV HACKS, Chapter 2: Repairs and Maintenance
6. Block solar rays from the outside.
Use external window shades on your RV's windshield to reduce the solar heat gain streaming into your RV. Blocking the sun's rays before they even get inside your RV makes a huge difference compared to simply having inside window shades or coverings. 
From RV HACKS, Chapter 2: Repairs and Maintenance
7. Park to create your optimal temperature environment.
Park your RV deliberately to take advantage of your preferred conditions at any time of the year. For early morning sun, park with your windows facing east. Position your RV so the patio faces the south side for a sunny patio. For a more shaded patio, park so it's facing west.
This may not always be possible in RV parks unless you select your own site. But it's definitely a good practice to follow when boondocking on open land.
From RV HACKS, Chapter 3: Camping, Campgrounds and Boondocking
8. Chill out before your trip.
Turn on your RV fridge the day before your trip to cool it down in advance. It can take many hours for an RV fridge to reach optimal operating temperature, so storing your food when heading out on your camping trip is safe.
Adapted from RV HACKS, Chapter 4: RV Living
9. Keep your fridge cool while driving.
Place ice blocks from the freezer (or a plastic container with a frozen meal you want to defrost) inside your RV fridge to help keep everything cool if you turn off the fridge while driving (we're talking about RV propane fridges). Put the ice blocks back in the freezer when you reach your destination so they are ready for next time. Or if you partially defrosted a meal, it will be faster to heat up so it's ready to eat upon arrival. 
Adapted from RV HACKS, Chapter 4: RV Living
10. Cook outside as much as you can.
Cook outside of the RV as much as possible to keep the mess, smell, heat, and condensation to a minimum inside. You can use a barbecue grill outside, of course, but you can also set up a separate cooking table outside for cooking with electrical appliances such as a portable electric cooktop, air fryer, electric griddle, pressure cooker, slow cooker, or rice cooker. This helps keep the inside of your RV cooler. Plus, it's just more fun being outside, immersed in your camping environment while cooking. 
Adapted from RV HACKS, Chapter 4: RV Living
11. Put up a shade shelter.
Bring a foldable pop-up shade shelter or beach tent to create a dedicated space for you to relax.  Or for kids to play outside at the campsite. A shelter tent helps contain the kids' play space and toys while reducing their exposure to the sun, which means fewer sunscreen reapplications! It also creates some separation, giving parents their own space to relax outside. These tent shelters can be great for your campsite, and they're portable enough to take on other adventures, like a trip to the beach or lake. 
Adapted from RV HACKS, Chapter 6: Families, Kids and Pets
12. Keep your pets cool in the heat.
Don't forget about your pets! In hot weather, inside or out, you can use a spray mist bottle of clean water to moisten your dog's coat or place a damp towel over them to help them cool off. 
We recently bought a swamp cooler vest for our dog, which works great. Here is a link to check it out.
Adapted from RV HACKS, Chapter 6: Families, Kids and Pets
GOT COMMENTS OR QUESTIONS?
We would love to hear from you. Drop us a note in the comments section below.