This post may contain affiliate links.
We're continuing to make upgrades and improvements to our motorhome CC. With the interior makeover complete, the exterior is now getting some RV "love"! It was time to replace the RV awning fabric and slide topper. Are you ready for a dramatic "before and after" transformation?
This is an affordable upgrade that can make a huge difference to your RV. We are super excited about what a huge difference it made, by Installing new RV awning fabric. Not only in how it looks but also how it performs. In this post and related video we share our experience as we install 3 brand new RV awnings and one RV slide topper, from Tough Top Awnings. 
We'll show you how BAD our old fabrics were. They were literally falling apart. And we will take you behind the scenes to learn more about the company that makes them and how they are manufactured. Tough Top Awnings also offered us a discount code to share with our RVLOVE community. You can save money on your own RV awnings and slide out awnings.
Check out the related video and read on below for more details. In the meantime, here's the BEFORE photo.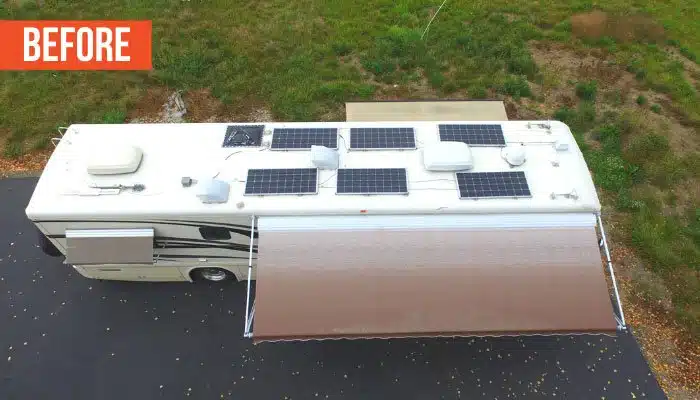 As many of you know, in early 2018 we bought a much older, 1999 Country Coach Motorhome, and about 6 months later a complete interior RV Makeover which we love. Now, we're focused on improving the exterior of the coach, starting with the RV awnings.
Our coach has a single slide, with a slide topper, two rear window awnings, plus a large side patio awning.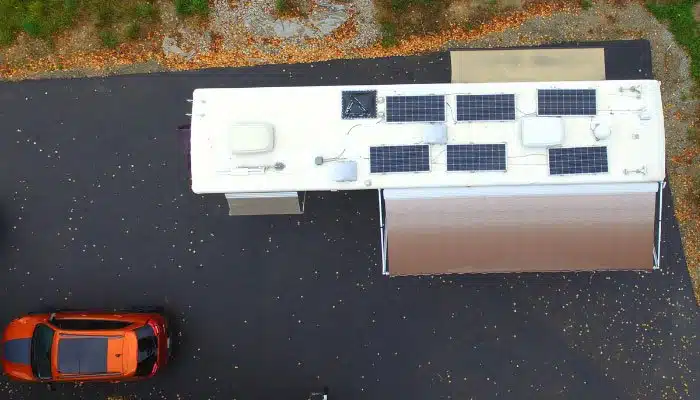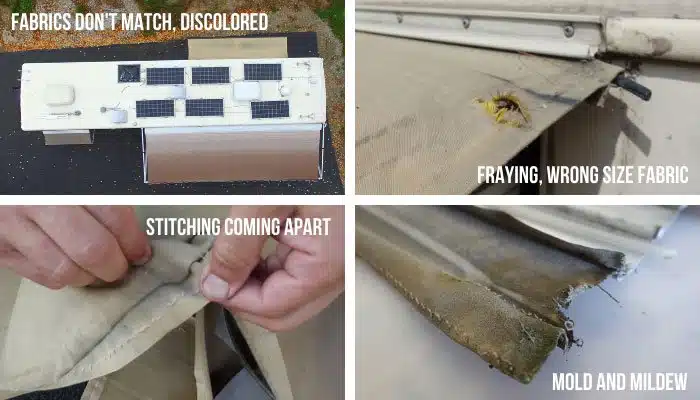 First up – appearance. When we bought the coach, all of the RV awnings and slide topper were completely mis-matched. Different fabric types, colors, and different ages too. It looked pretty ugly. We knew we eventually wanted new awnings and toppers from an aesthetic point of view. But they just didn't work well either. So it was time to replace them all.
Little did we know just HOW bad they were, until we took a much closer look. Removing the old RV awning fabric allowed us to better assess the condition they were all in. Especially when comparing them to what we have now. We're actually a little embarrassed we waited so long.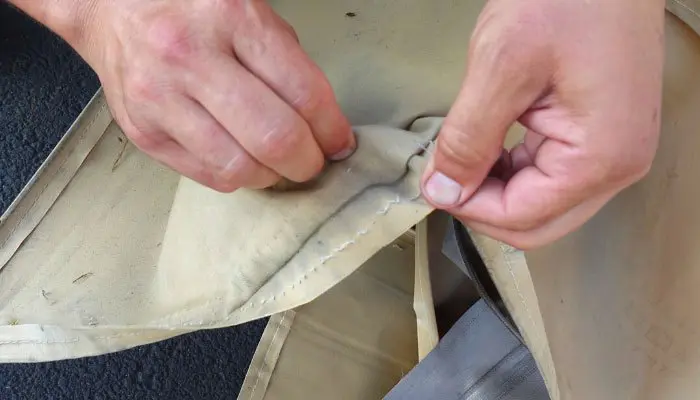 1. The Slide Topper
Let's start with the slide covers. It is over our living room slide on the driver side of the RV. This was the wrong size for the slide topper hardware, which was from Carefree of Colorado. We suspect this slide out awnings fabric had been replaced previously, as the fabric just didn't fit properly on the hardware. This, and the fabric were completely different to everything else on the coach. Having the wrong size fabric significantly reduced the effectiveness of the slide topper. The tension didn't hold as well, and it was more prone to tears.  And it would flap excessively in the wind, which was both noisy and annoying.
And, whenever it rained, the fabric awning material would get soaked as there was no water resistance. Instead of rain water running off the slide topper, it would soak through and, instead, pool on top of the slide.
That meant on travel days, I had to remember to squeegee any rain water off the top of the slide before bringing it in. Otherwise, I'd be driving along, hit the brakes and end up getting dumped on with water, right on top of my shoulders while sitting in the driver's seat.  Not fun.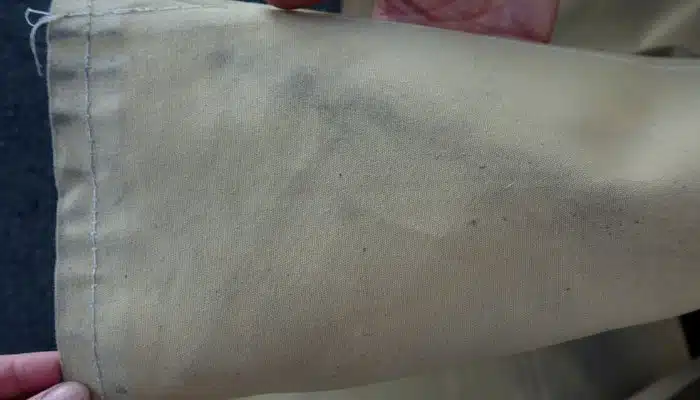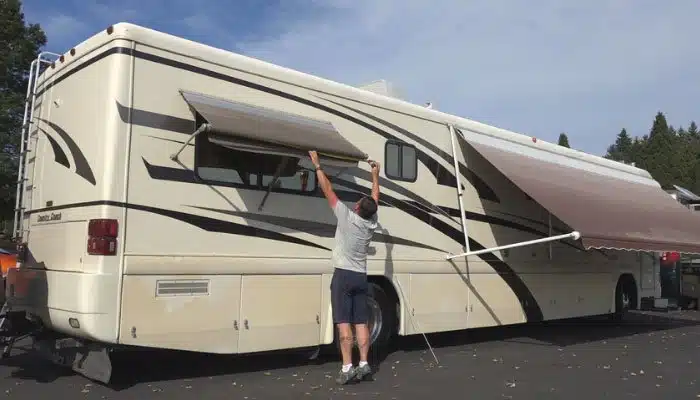 2. RV Window Awnings (x2)
Next up, the RV window awnings. We have two of those in the rear of the coach. One each on the driver and passenger sides, over the large windows in our RV bedroom. These were (we believe) perhaps even the original old canvas, which would make them 20 years old! They had deteriorated badly – faded and discolored from collecting dirt and dust. The age, and being exposed to the weather elements over the years, took their toll on these awnings. We just don't know for certain if these had ever been replaced. Probably not.
We suspect these used to be grey but ended up more of a khaki color due to the accumulation of dirt over the years. The window awning hardware was by Zip Dee. These ended up being not only time consuming to replace, but VERY difficult (even dangerous) to remove the old fabric and replace with the new fabric. In hindsight, we would have been much better off buying new window awning hardware before replacing that fabric. And if you have old Zip Dee awning hardware, we strongly recommend you do that.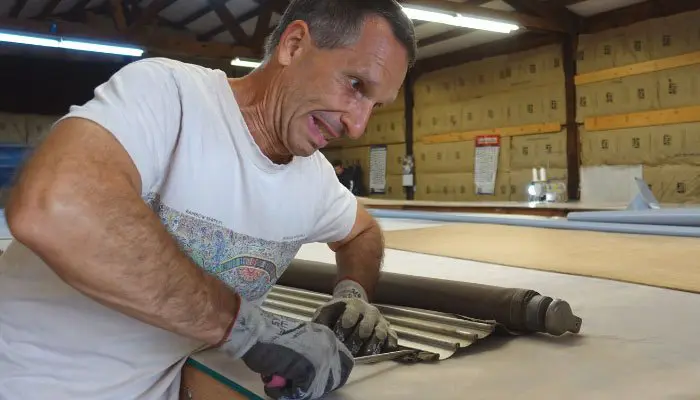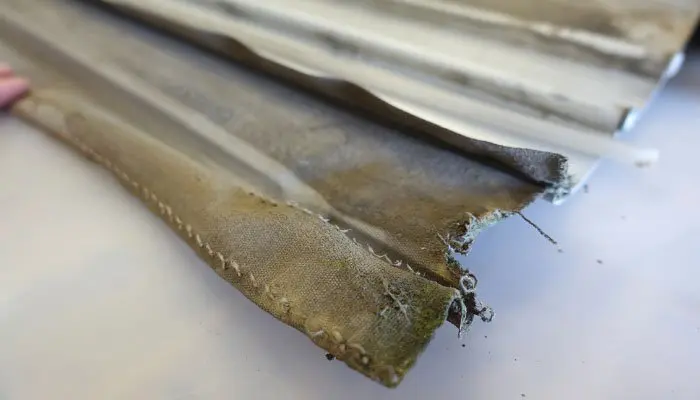 More RV Awning Problems
ALL of these, the slide topper and two RV window awnings, were covered in mildew (gross) and basically all of the fabrics were fraying, tearing and rotting away. The fabric was porous, and so anytime they were put away with any dampness in them, the moisture caused black mold spots to appear on the fabric.
When we removed the old RV awning fabrics, we also realized how badly the stitching was starting to fall apart. This was partly because of age and wear. We suspect the previous slide topper replacement was obviously made with cheap thread, as that wasn't as old as the rear awnings for RV. It was evident that the stitching was coming apart worse than all the others.
These were all beyond overdue for replacement!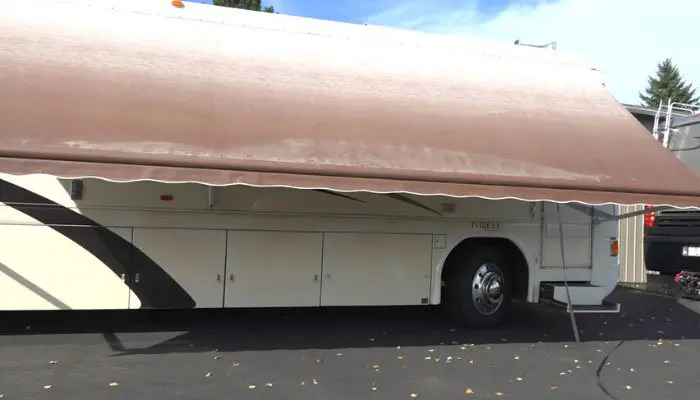 3. Main RV Patio Awning
Last, but not least, our main RV patio awning on the curb side. This is huge. it's a Dometic manual RV awning, over 20 feet long with adjustable pitch. We believe both the awning and the fabric were only about 3 years old and lightly used. The receipts for the replacement awning were in with the paperwork and manual when we bought the coach.
But even after only a few years, the fabric was already showing signs of degrading, with stains and mildew spots. We really didn't like how it looked.  It was completely different fabric color and style to the others, being graduated shades of brown and white. Very unattractive, and one reason why we didn't put the patio awning out very often at all. With our coach being white, with black and silver/gray accents, we have NO idea why anyone would have chosen a brown main RV patio awning!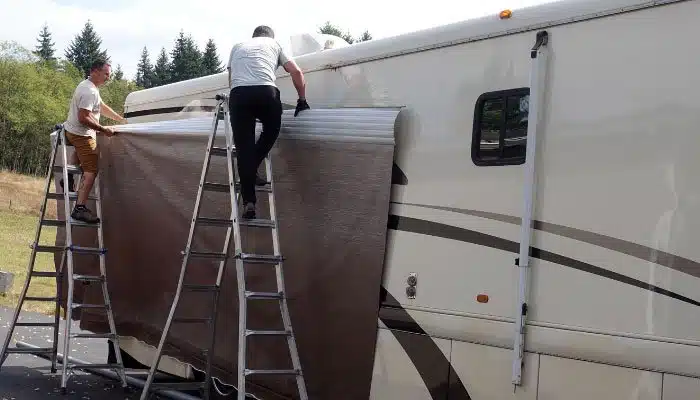 Upgrading to Better Quality and Matching Fabric
As you can see in the photos above, all of our awnings and the topper just didn't look good at all on the coach. Plus, with the issues of not being water resistant, covered in mildew, holes, fraying and the stitching literally coming apart, we were definitely ready to replace them. We opted for a high quality vinyl awning material that would be much stronger, waterproof, tear proof, UV and mildew resistant… and have them match and just look a whole lot nicer on our RV.
We decided to go with Tough Top Awnings. We had met the company owner, Tyler Hammack, in Quartzsite a couple of years ago – back when we had our other, relatively new coach (with much newer fabric). Now with our older coach and crappy awnings, we had a much bigger interest and need for new RV awnings.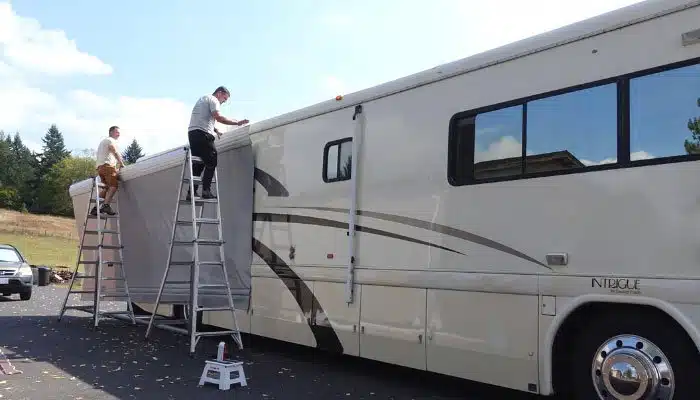 Can You Do This Job Yourself?
Yes, most people install their replacement fabric as a DIY project. Tough Top Awnings makes the RV awnings and slide toppers and ships them direct to you, so you can install them yourself, with another set of helping hands. Tough Top Awnings' website is loaded with great instructional videos for a wide range of different hardware to help make the installation easy on all recreational vehicles.
But as we were already RVing in the Pacific Northwest, where Tough Top Awnings is located. it was the ideal chance to catch up with Tyler again, take a tour of their factory to show you how they make the recreational vehicle awning replacements. And work together with Tyler, installing them together on our RV.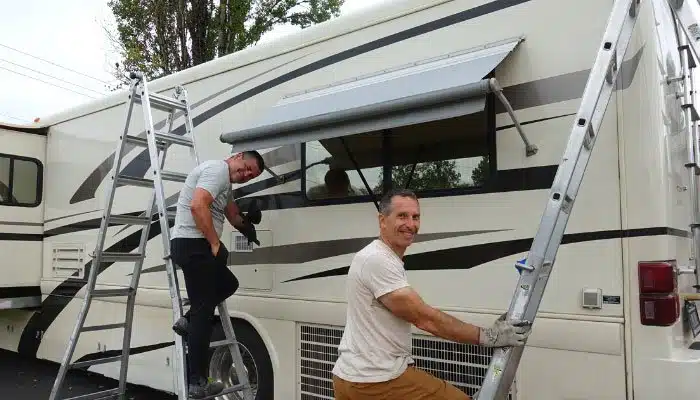 Tough Top Awnings is a family owned and operated company that focuses exclusively on manufacturing replacement fabric for slide toppers and awnings for RV.  They have been in business for about 15 years. The business was started by their father, an RV technician, who made replacement fabric in a small storage shed, after hours. Over the years, Tough Top Awnings has continually expanded the size of their staff and facility to meet their ever increasing customer demand for their product. 
Most original awnings and slide topper fabrics on recreational vehicles only last about 3 years. Tough Top uses much higher quality, durable, heavy duty vinyl fabric and marine quality thread and their products are expected to last 15-20 years. That is more than 5 times longer! And they perform much better too, as we have already experience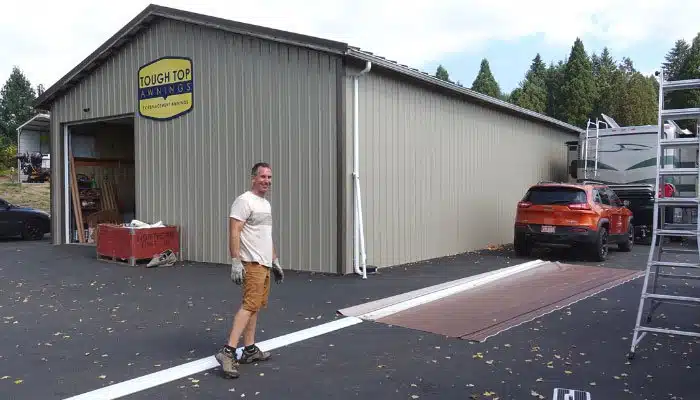 Installing Our New Tough Top RV Awnings
Installing these awnings and slide toppers did not end up being an overly time consuming or complicated job. And while it's a good DIY project, it is definitely going to be an easier job as a team sport. So grab a friend or a neighbor to help you out.
The installation of all 4 replacement fabrics, with me and Tyler working together, took less than 2 hours. But he does these all the time so he's fast as he knows exactly what to do. If it's your first time installing replacement fabric, you might want to allow about an hour per awning or topper.
You will need some basic tools, plus a couple of ladders. If you don't have ladders, you can often rent them from a hardware store or even borrow them from a friend or fellow RVer. You'll want to have a nice, open paved area to lay out the fabric before mounting it onto your RV. As you will see from the video, we laid the new patio awning fabric on top of the old one on the ground, before putting it up.
Each hardware installation is different, depending on the hardware. But you will find some great step by step instructions and installation videos on the Tough Top website for most types of RV awnings.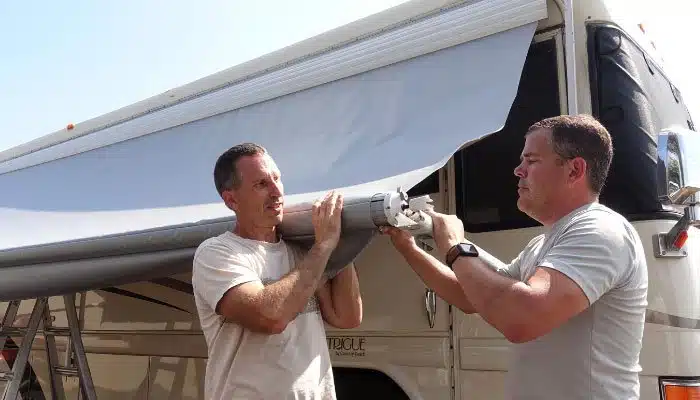 What Color Fabrics Do They Have?
Tough Top offers a selection of the most popular fabric colors – White, Sand, Gray, Black, Green and Blue.  We chose the Gray vinyl, which we felt was a nice complement to the white, black and sliver of the exterior of our coach.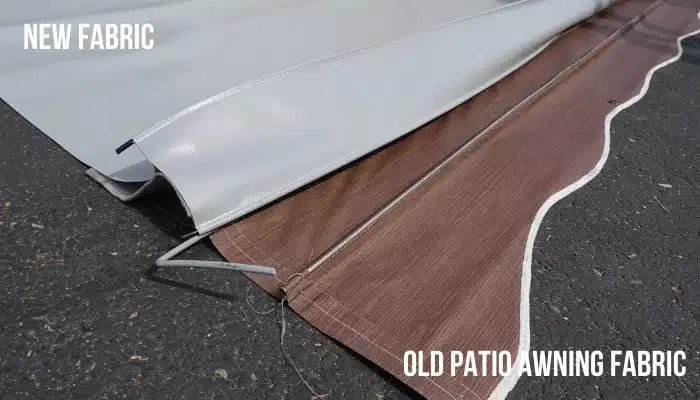 To be honest, in hindsight, we just didn't realize how BAD our RV awnings were – both in appearance and condition – until we actually removed them and replaced them with the new Tough Top RV Awning high quality vinyl fabric. We are absolutely delighted with the end result!
Are you ready for the AFTER shot? Drum roll please…….
We knew they would look so much better – with a uniform, matching color and fabric around the coach. But our new awnings and topper also perform so much better now, too. And because the quality of the new fabric is so superior to what comes direct from the OEM (original equipment manufacturer), we know these RV awnings and slide topper fabric will really hold up so much better. 
Now, our new RV awning fabric is the perfect size for the hardware, eliminating the flapping and tearing we experienced before.

The stitching is a higher quality marine thread, which will keep the RV awnings more secure, and won't easily pull apart of break the thread, like the old ones did.

And the high quality vinyl fabric is waterproof, not just weather resistant. This has stopped the water pooling on top of our slide. Which means no more mid-drive showers for me!

They are mildew resistant
And they match – we think they look fantastic! What about you?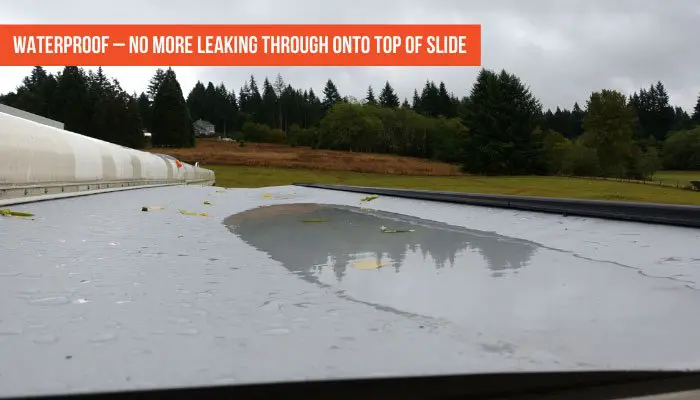 Final Thoughts and Comments
The fabric used by Tough Top Awnings is a high quality, durable waterproof vinyl. They offer a 5 year warranty on them, but told us that they expect them to last for 15-20 years. So we don't expect our fabric will need to be replaced again in the life of this coach. At least, not as long as we own it!
During the Tough Top fabric install, we also gave the hardware a good de-grease and clean. We also adjusted the tension on all of the awnings and the slide topper, so these are working a lot better now. Because they look and work so much better, we have actually found that since replacing the fabric a few months ago, we are now putting out the patio and window awnings more often now. We're no longer embarrassed by how ghetto the old ones looked! Ha!
At the time of this post and video, it's been three months since we installed our new RV awning and slide topper fabric.  We remain extremely happy with this upgrade, and the excellent customer service provided by Tough Top Awnings.
If this is an upgrade you've been thinking about for your travel trailer, 5th wheel or motorhome, we say go for it. And we've even got an RVLOVE discount code for you. Keep on reading for the details.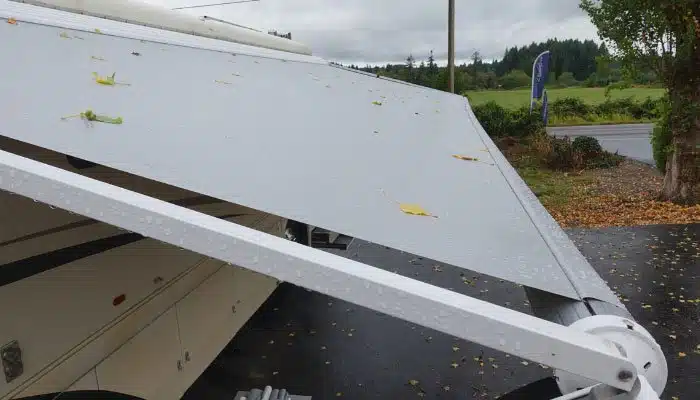 So, How Much Does It Cost?
Of course, every recreational vehicle is different. With varying sizes and types of RV patio awnings and slide out awnings. So the price will vary, depending on your needs. But here's a guide to give you some idea, based on our upgrade.
Ours was a big job – replacing one slide topper, large RV patio awning, plus two side window awnings. Your job may be much smaller, or bigger.  But to give you a guideline, the fabric replacement for our RV cost around $900 in materials plus $400 in installation (we did this on-site).
As you can see, doing this as a DIY project will definitely save you some money. And for around thousand bucks, we think you'll agree, this is one RV upgrade that has made a HUGE difference to the exterior of our motorhome!
Even if we don't keep our coach more than 5 years, it will still help the resale value when handing over to new owners. Which makes it well worth the investment to get higher quality material.  And in the meantime, we get to enjoy the benefits of it.
We've also got a discount code for you, to save you some money, so keep on reading to get all the details.
To get new awning fabric for your own RV, here are your options. And keep reading a bit further down for our discount code to save yourself some $$$.
Online – Most people order their RV awning replacement fabric online from the Tough Top Awnings website which is the fastest way to get them into production.
Phone – But if you prefer, you can call them on 360-953-3299 to talk though your order, measurements and pricing with their team, before placing it.  
Email – You can also send an email to Tough Top to place your order that way. Just click here to email Christie.
Hardware and Measurements – You will need to advise what hardware is used for each awning or slide topper (there are several kinds and each could be different). Also be sure to take accurate measurements. Here's their online order page which walks you through the process.
Production and Shipping – Orders usually ship in 5-7 business days. The time to produce your new RV awning replacement fabric and slide toppers can vary. As it usually depends on the size of the order, time of year, and where they are shipping to. But on average, you should have your new RV awning and slide topper fabric in 1-3 weeks. And shipping is free to the lower 48 USA states. They also ship internationally, and can provide you with a quote, in need. Email them for more info.
Save Money With Our RVLOVE Discount Code
If you are interested in upgrading your RV awnings and slide toppers, you're in luck. We have been able to secure you a discount with Tough Top Awnings.  
Whether you are ordering online or over the phone, you will save 5% year round, when you use the code RVLOVE.
Again, simply call Tyler or Christie at Tough Top Awnings on 360-953-3299.  Or you can email them, or place your order online at Tough Top Awnings website to get it into their production line ASAP. 
Well, we hope you found this article and video helpful. If you have any comments or questions, please feel free to leave them below. We always love to hear from you!
See 11 More Repairs and Updates to our RV
As seen on The RVers TV series! Tyler and Tough Top Awnings were actually featured on The RVers in Season 1, Episode 5, talking with Peter of the RV Geeks about the the benefits of upgrading your RV awnings and slide toppers with better quality, vinyl fabric. Find out how to watch The RVers here.
GOT COMMENTS OR QUESTIONS?
We would love to hear from you. Drop us a note in the comments section below.