This post may contain affiliate links.
Ever worried about running out of power during your RV trips? If so, it may be time to upgrade to a lithium battery, with benefits including a longer lifespan, increased efficiency, and lighter weight. Switching to lithium can be a game changer for your RV life. And the best part? For most RVs, it's an easy and affordable upgrade you can do yourself.
In this article, we'll guide you through the steps to upgrade your RV lead acid battery to lithium so you can start enjoying the freedom of more reliable power on your travels. This can be a super simple upgrade that makes a huge difference in available power without breaking the bank.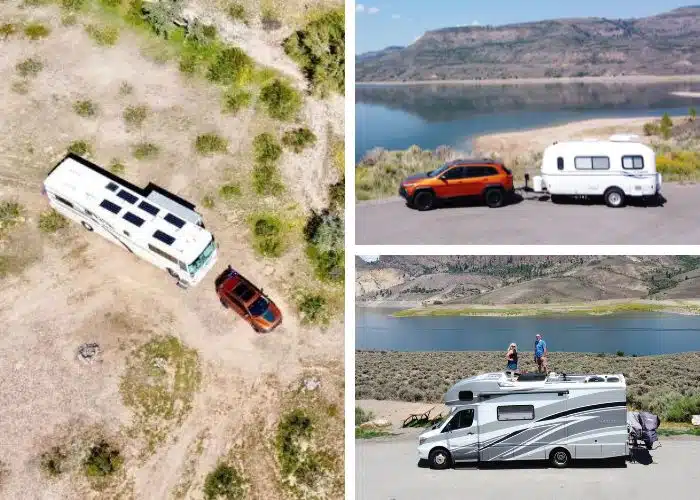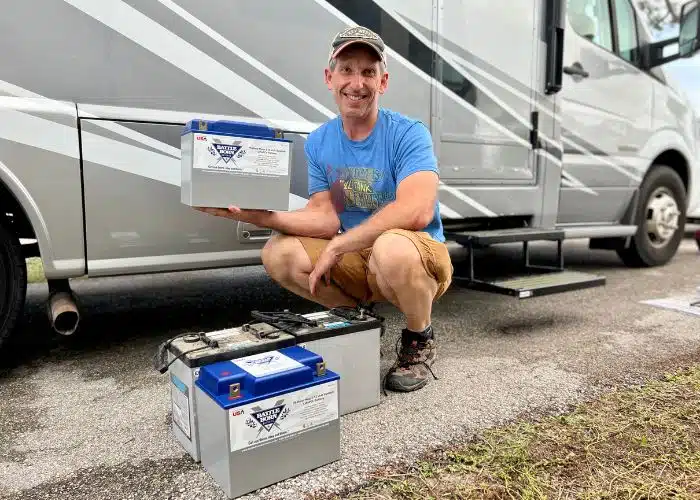 RV Lithium Battery Upgrade Benefits
If you are not already familiar with RV lithium batteries and why RVers are swapping their original lead acid batteries for lithium, here is a quick list of why they are superior.
Dramatically lighter weight than similarly sized lead acid batteries

Significantly more available power from the same size

Much longer battery life or charging cycles (better value over time)

Able to use ALL of the power, not just 50% as in lead acid

Not damaged by discharging too far, and built-in protections

No poisonous off-gassing, so they don't need to be ventilated

Far better power availability in

cold temperatures

Can be stored in insulated and secure areas

More resistant to heavy loads of power

Much faster charging/recharging 
With lithium having so many benefits over lead acid, it is easy to see why you might want to make the swap. Those who would not see as much benefit likely spend their RV trips hooked up to power in a campground. But some of the above benefits can benefit every RVer, regardless of how you use your RV.
Note: Coupon Code RVLOVE offers discounts with Battle Born Batteries. See details at the end of the post.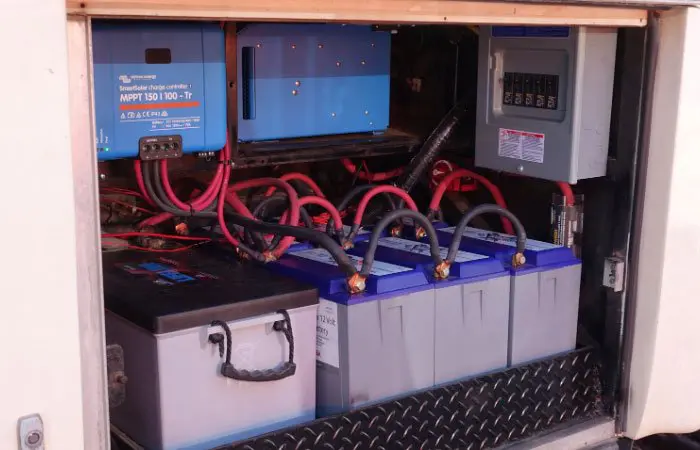 Our previous huge RV lithium battery upgrade
If you have been following us for a while, you probably know we did a massive lithium battery upgrade in our previous Class A full-time RV. This was a massive upgrade that completely transformed our RV into an amazing off-grid home on wheels. We could even do our Ultimate RV Makeover powered entirely by our solar and lithium batteries.
That system included adding 600 amp hours of Battle Born Batteries (6 x 100 ah batteries), plus 1020 watts of solar panels, a new inverter, a converter, a charge controller, and massive changes to the wiring and electrical system in the RV. That was a significant investment in time and money, resulting in a powerful and life-changing upgrade. If you want more information about that power system, you can check out our article and video in Episode 5 of our RV Makeover Series. There's a great explanation in there.
That setup enabled us to boondock for extended periods in our full-time RV life. Several weeks at a time. And use all kinds of household appliances and tools in our daily life. But that's a lot more power than you may really want.

What if you don't need a big battery upgrade?
The simple fact is most people don't need an extensive system like that. Most people just want to reduce their battery anxiety while traveling in their RV. And are interested in upgrading to lithium batteries for some or all of the reasons and benefits we mentioned above.
Also, many may not feel confident in making significant changes to their RV electrical systems. Nor do they want to need to spend too much money. They just want a simple, affordable drop-in battery replacement to reap the benefits. So that is the focus of this article—simple drop-in replacement upgrades to lithium batteries in RVs and campers.
Two Simple Drop-in Replacement Upgrades To Lithium Batteries
OK, we shared some of the many benefits of upgrading RV batteries to lithium. Plus, a quick overview of our big previous power upgrade. Now let's dive into the details of the two simple and relatively inexpensive drop-in replacement battery upgrades we did on our two most recent RVs.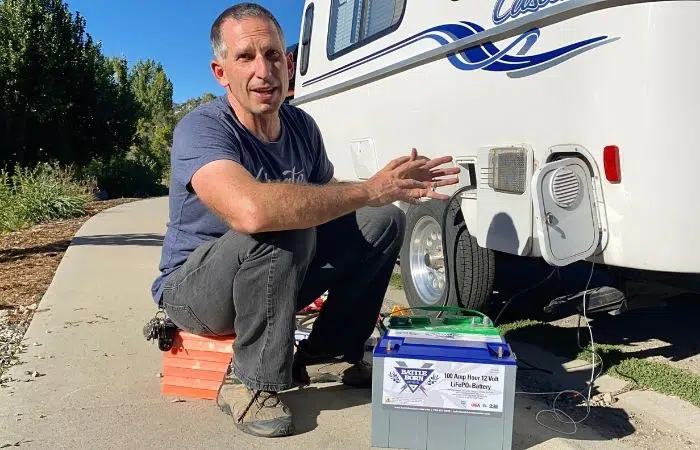 RV Lithium Battery Upgrade #1: Casita Camper
We bought our Casita camper trailer primarily to use for short getaways. Many of our trips with this camper were boondocking. But with just one small lead acid battery from the factory, we felt a lot of limitations and battery anxiety. This was amplified because we were used to the comforts of the much larger battery system in our Class A motorhome.
The original battery that came with the Casita was rated at 88 amp hours. When you factor in that only 50% of a lead acid battery's rated power is available to use, that meant only 44 amp hours. When you consider water pumps use four amps per hour, furnaces use eight amps per hour, and all of the other draws, those 44 amps can go quickly.
We usually carried a small portable solar panel which helped capture energy on sunny days. And sometimes, we brought a portable generator for more extended stays, like at the Albuquerque International Balloon Fiesta. But when out camping, we prefer to use batteries and solar when possible.
By upgrading the lead acid battery in our Casita to a 100 Amp hour Battle Born lithium battery, we more than doubled the available power (2.3 times). This is especially so when you consider that lithium recharges faster. It offers more true available power, and the battery power does not significantly diminish if drawn low. We also saved on weight with the lighter lithium battery. And no longer had to worry about poisonous off-gassing from a lead acid battery right under our bed.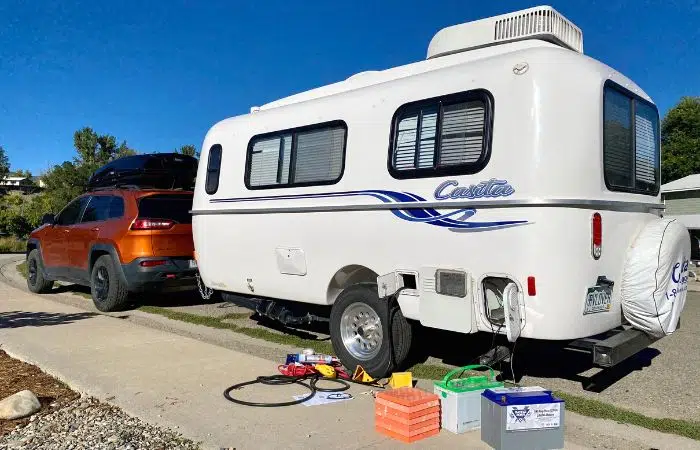 Drop-in Install: Upgrading Casita RV battery to lithium
The installation of our new 100-ah lithium battery was super easy. All I needed to do was unlock the bay, remove two bolts, and slide the old battery out. Then I simply detached the battery cables from the old battery, connected them to the new battery, and put the battery back into the bay.
I chose to add a battery monitor and cable inside the camper, which added a bit more extra complexity. But that task only added another 30 minutes to the job. Having the battery monitor really improved our camping experience, as I got an accurate picture of available power. 
The stock battery charger, though not explicitly rated for lithium, had a charging profile that still accounted for most of the battery charging needs. And the battery would also charge from our solar panel and when towed behind our Jeep. It worked beautifully while we owned it. While we no longer own the Casita, we are still in touch with the new owners, who advised it is still working great for them.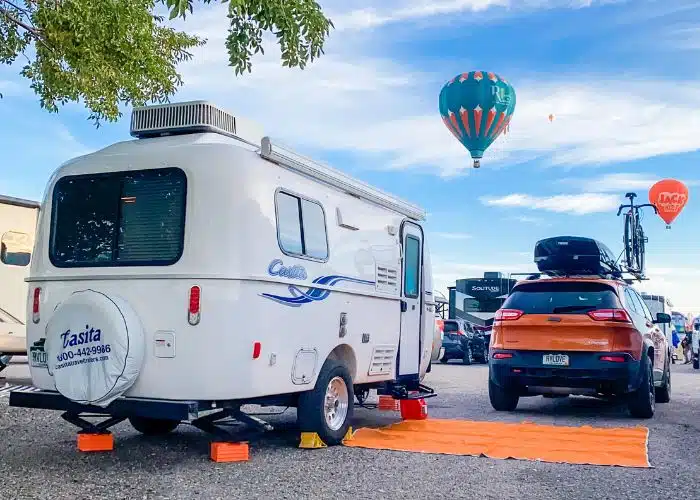 How much did it all cost? How long did it take?
Installation of this drop-in battery replacement – and battery monitor – for the Casita camper took less than an hour to do by myself. The 100-ah Battle Born lithium battery we chose costs just over $900 and more than doubles the available power.
Remember, because lead acid batteries often need to be replaced every few years, the lithium battery you replace it with may be the only battery the RV will ever need. Depending on how long you keep it, of course! We paid about $60 for the battery monitor and cable. So all up, this RV lithium battery upgrade (and monitor) comes to less than $1,000 (ex-tax).
Gear we used:
RV Lithium Battery Upgrade #2: Class C RV
When we began traveling in our 2017 Winnebago Navion Class C motorhome, we were renting it from a friend. We were driving it from Colorado to Florida for the winter. The first night we were not connected to utilities, and we realized something was wrong with the house batteries. They were so dead; they couldn't even run the water pump to flush the toilet!
Remember, this was already the second set of batteries in a five-year-old RV. The original batteries that came with the RV from the factory were two NAPA 8240 12-volt batteries. These weighed 42 pounds each and were rated at 75 amp hours. Being lead acid, the total usable power of the pair would be 75 amp hours. As you might expect of factory RV equipment, they are inexpensive $150-ish batteries.
About a year after taking delivery of the RV, the original owner upgraded the NAPA batteries to two much larger AGM batteries. At the same time, he also added 300 watts of solar power to enhance his off-grid capabilities.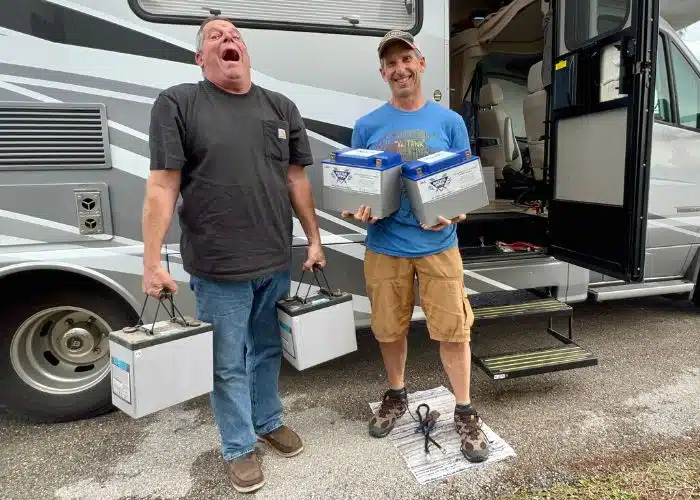 Switching from AGM batteries to lithiums saved 78 pounds and increased power
Upgrading from dead AGMs to new lithium batteries
This second set of batteries, which were completely dead, were two Lifeline GPL-4CT 6-volt batteries, each rated for 220amp hours. But remember, that is 220amp hours at 6 volts. RVs operate on 12 volts. So this meant changing how the batteries were originally wired and changing the way you calculate available power.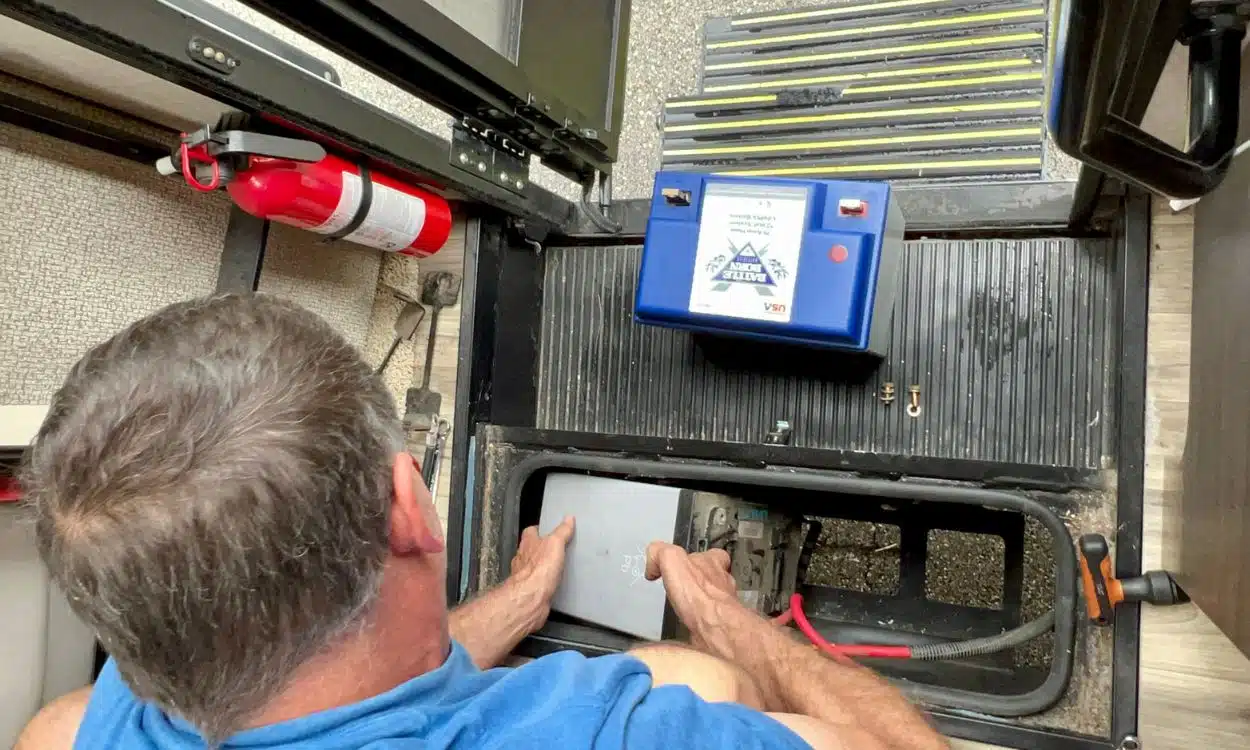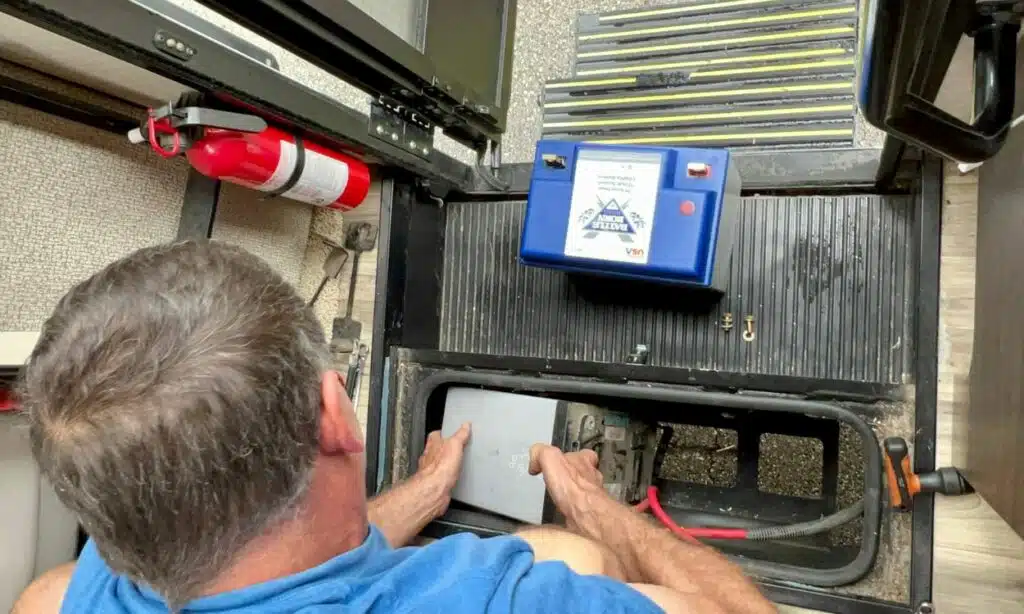 Let's look at the data
Here's the math. A total of 440 amps at 6v = 220 12v. Then, being lead acid, the 50% usable power means 110 actual amp hours available. It was a significant improvement from the original batteries. Dimensions were 10.28 inches in length x 7.06 inches in width x 9.92 inches high. They weighed a whopping 66 pounds for a total of 132 pounds.
Replacing the batteries became an immediate necessity. Because they were SO dead, we HAD to stay at places with electrical hookups. So we began searching for replacement batteries. The same AGMs weren't easy to find (we assume due to supply chain delays). Eventually, we found them advertised at around $400 each. But because we could not find them locally, the cost of shipping made them more expensive. The total cost for replacing the two dead AGM batteries with the same type was around $1,350, including shipping!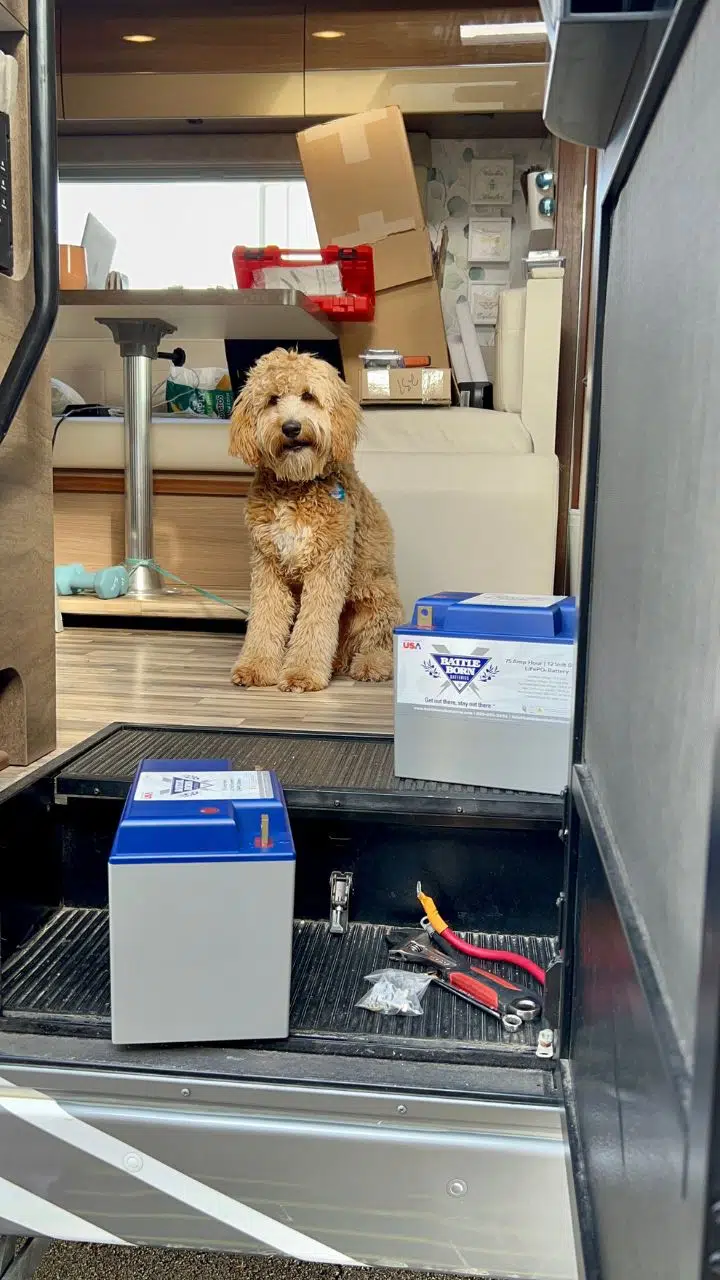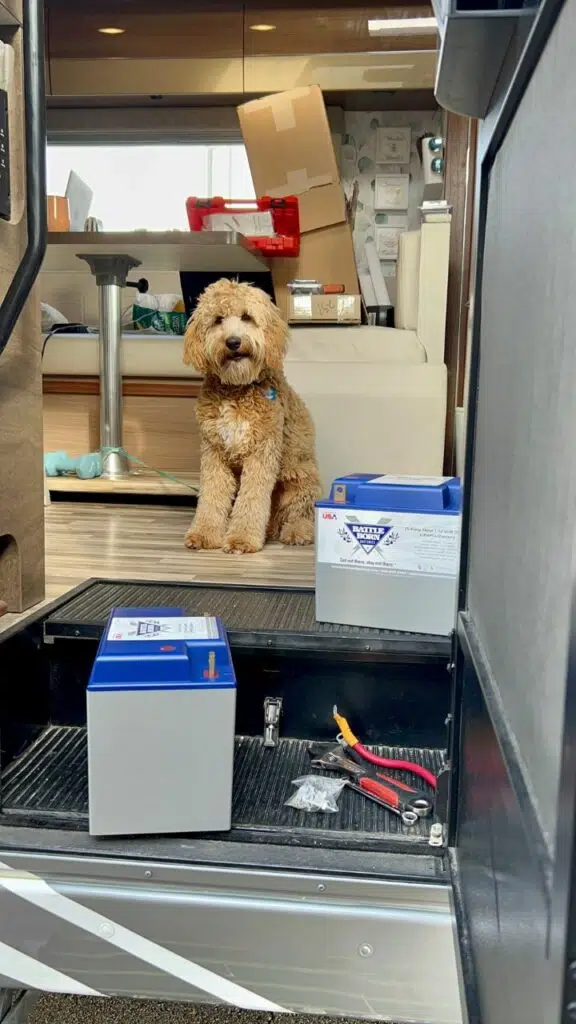 Which RV lithium batteries did we upgrade to?
Because of the supply chain issues and the relatively high cost of two new same AGMs, we recommended our friend upgrade his RV batteries to lithium. They only cost slightly more, which was worth it for the extra benefits. And we told him we'd do the installation.
We were able to replace the dead AGM lead acids with two 75Ah Battle Born lithium batteries for a total of 150 amp hours of usable power. The reason for selecting 75ah lithium batteries (instead of 100ah) is the 75ah size batteries are slightly smaller than the 100ah and virtually identical size to the AGMs we replaced. This was important as the RV stairwell space was snug. Overall, this was a pretty easy drop-in replacement. Dimensions in inches of these 75-ah lithium batteries are 10.49 in length x 7.11 wide x 8.95 inches in height.
But these easily have 50% more usable power because of lithium's advantages of discharge and recharge. If you compare the lithium battery upgrade to the original factory batteries (which most RV owners would have), the available power is more than double. 
The weight savings were a huge advantage too. Because this RV has limited cargo-carrying capacity for its size. The new lithium batteries for this RV weighed only 27 pounds compared to the 66-pound batteries they replaced. That is a massive 78-pound difference in weight savings for the same size and more power. Even compared to the smaller original lead acid batteries, the two new lithiums would have saved 30 pounds of weight.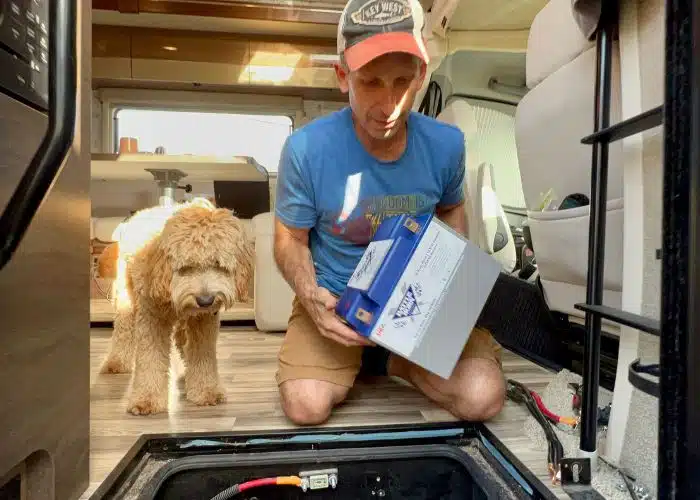 The Install: Upgrading the Class C RV house batteries
Swapping out the dead lead acids for lithium would have been a super simple 15-minute job if the dead batteries were still the original 12-volt batteries. But since we were replacing 6-volt AGM batteries, I needed to switch the battery wiring back to how it was initially wired from the factory.
That added some extra time and required special wire crimping tools. Shoutout to our friend Brett Hays for his help! Brett was staying at the same campground and helped me with the job, and brought the tools we needed. The extra wires and parts cost about $36. But remember, you likely won't need to worry about this, assuming you're upgrading from 12-volt batteries. 
Since the new lithium batteries no longer needed to ventilate, I was also able to improve the insulation in the battery bay. Even though lithium outperforms lead acid in cold weather, this better protects the battery from extreme temperatures and also keeps the area cleaner. I simply added some foil insulation around the batteries, as there wasn't a lot of space to work with due to the step mechanism.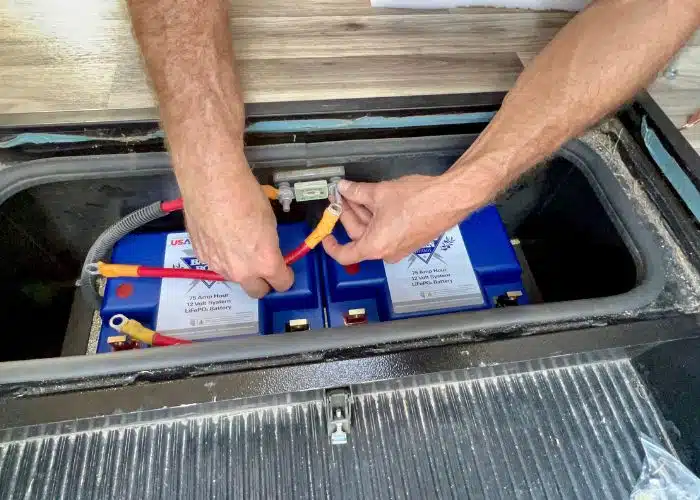 How much did it all cost? And how long did it take?
The two new lithium Battle Born 75Ah batteries came in at a total cost of only $1,438, including shipping. That is only $90 more than what it would have cost to replace them with the same AGMs that died. Remember, this $90 difference buys more than 50% more power, dramatically reduces weight, and offers all the other lithium battery advantages. Also, remember these new batteries were the third set of batteries for a five-year-old RV. And these should last at least ten years.
All up, the battery swap probably took about an hour. Most of that time was because I needed to switch from two 6v wired in 'series' to two 12v wired in parallel. That required changing the battery wiring connections, including crimping some new wires. If I were simply swapping out the original 12-volt batteries, the job would have likely been only 15 minutes. That upgrade would simply involve disconnecting the old batteries from the wires and removing them. They are easily accessible in the RV step well. Then drop in the new lithium and connect the wires.

Gear we used:
The wires and crimping tool we used were only needed because we had to switch from 6-volt back to 12-volt. So you probably won't need those. We got those from a local auto parts store.
Discount Coupon Code: RVLOVE
As mentioned above, Battle Born Batteries offers RVLOVE readers discounts when using coupon code RVLOVE at checkout. The coupon offers $50 off per battery. And also 25% off of merchandise like clothing. Coupons cannot be used in addition to sale pricing or other coupons.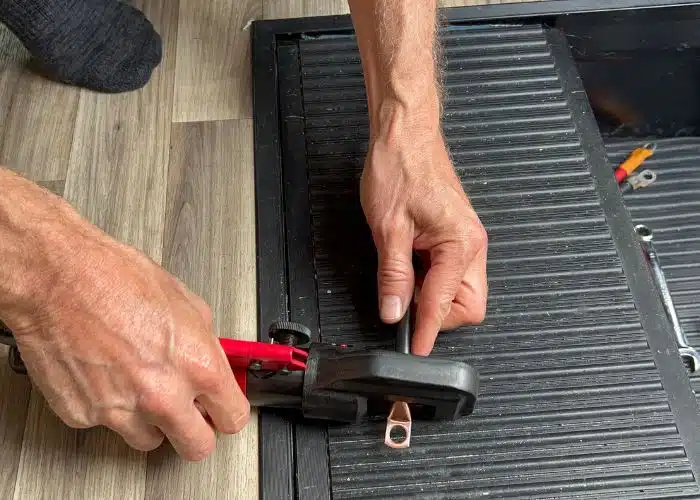 Don't you need to change the RV battery converter?
This is a question we commonly get. And while the original battery converter/charger in this RV is not technically rated for lithium, it can still do much of the charging for our upgraded batteries. The charging profile for the stock battery charger has a bulk charging phase at 14.4 volts which are great for charging lithium. However, the float stage is not high enough to maintain lithium for extended periods. 
But, since this RV is also a motorhome, the house batteries charge at 14.4 volts whenever the motorhome engine is running. And, since this RV has a solar charge controller rated for lithium batteries, it also keeps the batteries topped up nicely. So, since this RV has three ways of charging, it has never been a problem keeping the batteries at their full potential.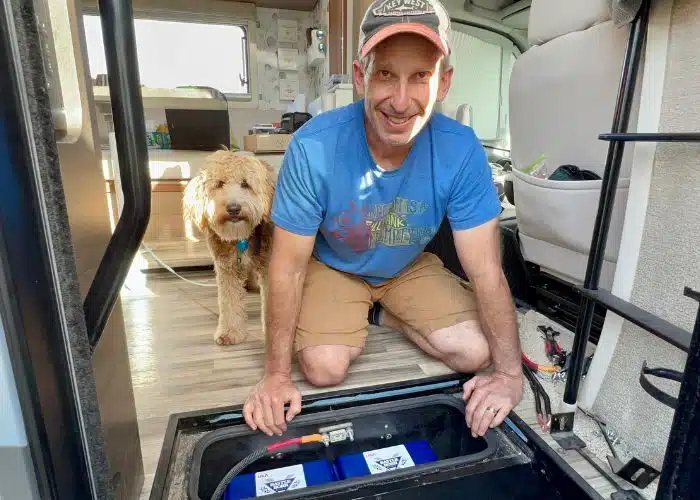 As you can see, a simple drop-in replacement from lead acid batteries to lithium is not only possible. It can actually be easy! The higher costs are more than outweighed by the long list of lithium advantages, especially when considering how much longer they last. The important thing to keep in mind is you don't need to make a huge investment or drastically change your RV wiring systems, to do a lithium battery upgrade and reap the benefits.
And yes, that first major power system upgrade to the Class A motorhome we full-timed in was amazing! But now that we're part-time RVers, we have still appreciated the significant improvements and reduced battery anxiety from our simple and easy drop-in replacement battery upgrades. We can now relax more, knowing we have power for our shorter overnight boondocking stays.
Considering making the switch to lithium batteries in your RV? We're sure you'll love it. Especially if you like spending time unplugged from power, out in nature, and making the most of your RV experience.
Discount Coupon Code: RVLOVE
As mentioned above, Battle Born Batteries offers RVLOVE readers discounts when using coupon code RVLOVE at checkout. The coupon offers $50 off per battery. And also 25% off of merchandise like clothing. Coupons cannot be used in addition to sale pricing or other coupons.
GOT COMMENTS OR QUESTIONS?
We would love to hear from you. Drop us a note in the comments section below.