This post may contain affiliate links.
Are you ready for your best year of RV life and RV travel? Join us and more than 30 RV industry and RV lifestyle experts at our 2nd Annual Hit the Road RV Summit, over the weekend of April 24-25. You will learn from this amazing lineup of people who will be sharing valuable information, strategies, advice, and tips for making the most of your RV life and travels – in 2021 and beyond! 
Grab your ticket to the Hit the Road RV Summit to watch this dynamic, online event! 
Last year's inaugural Hit the Road RV Summit was a huge success – and it was all about learning what you need to know to hit the road in an RV. In 2020, so many people fell in love with the RV lifestyle that they want to keep on doing it. And over the past year, we've been seeing a lot of changes in the RV and camping space – we all need to adapt to keep up, while finding ways to make it even more affordable and enjoyable!
We LOVED LOVED LOVED the sessions. I can't rave enough about the quality, content and value of the Summit programming. I used to be a national TV producer/reporter for entertainment shows out of Nashville so when I compliment your production, believe me, I know what I'm talking about. You are to be commended for your professionalism, creativity and production content. You guys are the best!
Thank you very much for all the effort and time you put into the Summit, it was definitely worth it!
Wow!! I am so glad we signed up for this! The caliber of speakers was excellent. Bless you both for this opportunity!
My wife signed us up for the Lifetime Access Pass so we can watch at our leisure. The presentations we have been able to watch so far were fantastic. Keep up the good work!
I cannot say enough about the quality of the presenters and the depth of information shared in this top notch summit. I'm looking forward to watching the presentations again later on.
Been with you all day. This is wonderful!
This summit is epic! Every single set of speakers has been great. Great work! Good information!!! Thank you!
We loved last year's event and we learned a lot! 
So many good presenters and wonderful information. Even though we've been full-time RVers for four years now, we're still learning! Fantastic job!
What an awesome summit! Lots of interesting people, ideas; and information. We have been RVing for 45 years, but there is always something new to learn. Thank you for all your hard work organizing and presenting this summit.
How to RV better, longer and for less?
Record numbers of people are hitting the road to live the RV life and travel, and many are asking the same questions:
Where to find the best camping destinations AND score campsites?

How to stay connected to the internet while you travel?

What about RV systems – like RV electricity and propane? Batteries and solar? What do you need to know about tires? 

How about tips for tackling RV repairs and maintenance?


What are the top ways to save money and improve your RV lifestyle?
You'll find all this and MUCH more in this dynamic, 2-day online event.
Here is our amazing lineup of speakers: 
This is who you will be learning from over two full days.
Why the Hit the Road RV Summit?
With so much information already out there about RV life and travel, we know it can be confusing and overwhelming. Getting answers to your questions isn't always as straight-forward as it should be, and you may not even be sure about what or who to trust! Because there is so much to learn, and even more information to sort through, many people are left wondering where to even start! 
That's exactly why we created the Hit the Road RV Summit online event. 
We wanted to bring you quality information from an incredible lineup of trusted experts – from the RV industry AND the RV lifestyle. These are all people that we know and trust, with a wealth of knowledge and experience to share. 
Some you may already know – whether from YouTube, blogs, podcasts, or even magazines. And some you may have never heard of! But one thing they all have in common is they know their stuff! That is why we have personally selected this group of people to share their particular area of expertise and wisdom with you. You'll get to hear from people you may rarely – if ever – be able to access.
We hope you will join us for this fun and dynamic virtual experience – online!
This event has been a huge team effort by speakers, partners and sponsors alike – all coming together to help us realize this vision to help more RVers gain access to a ton of great, information, education and inspiration! (Not to mention awesome prizes and special discounts, too!) We'd like to give a big shoutout to say THANK YOU to our sponsors for supporting this event! 
You can visit out sponsor page here: Meet our Sponsors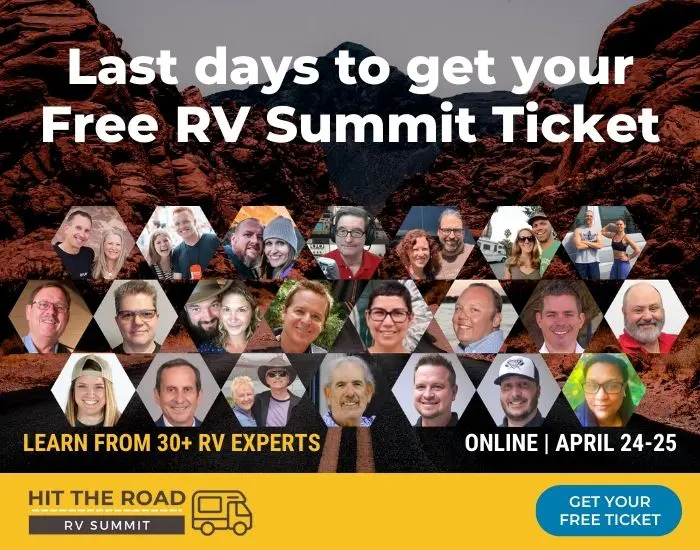 Access Exclusive Offers, Discounts and Prizes
We're giving away loads of prizes throughout the summit, thanks to the generosity of our sponsors, partners and speakers. Everything from autographed books, and RV trip planning subscriptions to tech and RV gear, camping memberships, lithium batteries and more!
Plus, you'll get access to exclusive Summit discount codes, with special offers and discounts, for a limited time.
You'll find all the details in your summit emails and your official Summit Program Guide.
Frequently Asked Questions
What is the focus of the 2021 Summit?
This year, the summit content is aimed at helping ALL RVers continue to build upon your knowledge and experience as we NEVER stop learning as RVers. This year's theme is "the long game" and is designed to give you the confidence, info and tools to have a great experience, tackle challenges with ease, so you can keep enjoying the RV lifestyle for many years to come! The sessions have been carefully selected to help you find the best campgrounds and campsites (even during this record camping year); understand your RV and systems; learn about RV safety (eg. electrical, propane tires); how to run a business from the road or find workamping gigs; how-to tips for RV maintenance; RV rentals; options for towing and alternative transport; tips for living in a small space and van life; how to avoid over paying for an RV; managing your RV repairs budget; how to live and travel large on less; staying fit and health on the road; current and future trends for internet connectivity; camping and electric vehicles; and much more!
How can I watch the Summit for Free?
Simply register for your free ticket at the Hit the Road RV Summit website and you'll be getting an email with all the info on how and where you can access the summit content over the weekend. Sessions will be free to watch at their scheduled time on the Summit platform. You can view it on your computer, tablet or smart phone, using the app. Plus you'll be able to interact with the speakers, and engage in polls and questions throughout the event.
What if I can't attend the sessions at the scheduled time?
If you prefer to watch the Summit sessions on your own schedule, you'll want to grab the Lifetime Access Pass – the early bird price is just $27 (goes up to $97 after the summit) and this allows you to watch (and re-watch) the summit sessions at your convenience. (You'll also get extended expiry dates on deals and discounts.)
Where can I learn more about the speakers and view the schedule?
You can visit the Summit website at HitTheRoadRVSummit.com and scroll down to see the speaker lineup. Just click "Read Bio" under each speaker's photo and name to learn more. The Summit Schedule is currently being finalized and will be ready in a few days. We will be sending the link to view the schedule to everyone who has registered for the summit. You will also be able to view the speaker bios, session names, days and times, and view the sessions from within the event app.
How can I access the RV Summit exclusive deals, discounts and prizes?
Our speakers, sponsors and partners have been incredibly generous in their support of this event and we wanted to pack the summit full of value and fun for you! All registered summit attendees will be eligible to win thousands of dollars worth of prizes, and have access to exclusive Summit discount codes and offers that will save you $$. Most codes are valid during the weekend of the summit. Lifetime Access Pass holders will receive an extended expiry date on discount codes and offers, and in some cases, bigger discounts. We will be drawing prize winners all weekend throughout the summit.
What if I buy the Lifetime Access Pass and later decide to upgrade to the 2-Summit Bundle or VIP All Access Pass?
If you buy a Lifetime Access Pass for the 2021 Summit and later decide up upgrade to one of the other options, we will refund the cost of your original pass purchase. Other options include the 2-Summit Bundle, or the VIP All Access Pass 2021 (includes access to both RV Summits, plus all of our flagship RV courses eg. Hit the Road the Right Way, Choosing the Right RV For You, Interviews with Other RVers, and Monthly Live Calls + Q&A – well over 70 hours of video content)
All RVers – experienced, newbies, full timers, part timers and vacationers – RV dreamers too! With everything from the latest camping strategies to more technical RV sessions, and useful RV lifestyle info, there is literally something for everyone. There will also be new information relating to the changes to RVs, camping and travel in the year ahead with RV industry expert commentary on what the future holds.
We've rounded up so much great RV education, info, tips and advice, we just know you're going to love it!
You can pick and choose the sessions you watch on Saturday April 24 and Sunday April 25, 2021. Or watch anytime, on your own schedule, with the Lifetime Access Pass for the 2021 event. But, having seen all the sessions already, we highly recommend you watch them all, as there is so much amazing information shared by every single speaker in their session(s).
We hope you're as excited too. We look forward to seeing you at the summit!