Disclosure: Please note this post may contain affiliate links. This means – at no additional cost to you – we earn a commission if you make a purchase using our links. We only link to products and companies we use and recommend. The income goes toward supporting the free content on this site and community.
We have news! Big, exciting, "dance-worthy" news! And yes, we're finally allowed to share it! If you've been wondering why we've been so quiet lately, and especially if you saw the fun/silly dancing video that we shared on social media back in February, it's because of this.
Drum roll please….brrrrrrrr………We wrote a book! But not just ANY book, we wrote Living the RV Life – Your Ultimate Guide to Life on the Road. It's being published by Simon and Schuster, a major publishing house (through their imprint Adams Media). It's going to be released in the fall and YES, it's available for pre-order in paperback or Kindle. Here is a sneak peek of the cover below, which we LOVE – a drone shot that Marc captured last year while boondocking in Sedona! You can also read a little more about the book here.
You could say we're just a LITTLE bit excited! It is an incredible honor to be asked to write "the bible" (their words) for living a mobile life of travel and adventure by such a highly respected publisher. But what we're most excited about is how this book will be an incredibly powerful way to introduce this lifestyle that we love so much to a wider audience of people, and inspire them and show them how they can do it too! We'll be honest, this has been an enormous project, and it's not over yet.
We're still working on editing and other things behind the scenes and learning a LOT about the process of what's involved in writing and publishing a book through a big publishing house. We had originally planned to self-publish a book very similar to this in 2018, 
But when Adams Media/Simon and Schuster approached us in January with their request – well, we realized we would be able to produce an even higher quality book on a whole other scale, and we wouldn't have to do all the work ourselves! It's rare to be able to get a publishing deal these days, especially as an 'unknown author' so we feel extremely fortunate, are beyond grateful, and to be honest, still spinning a bit over the fast-paced chain of events these past three months!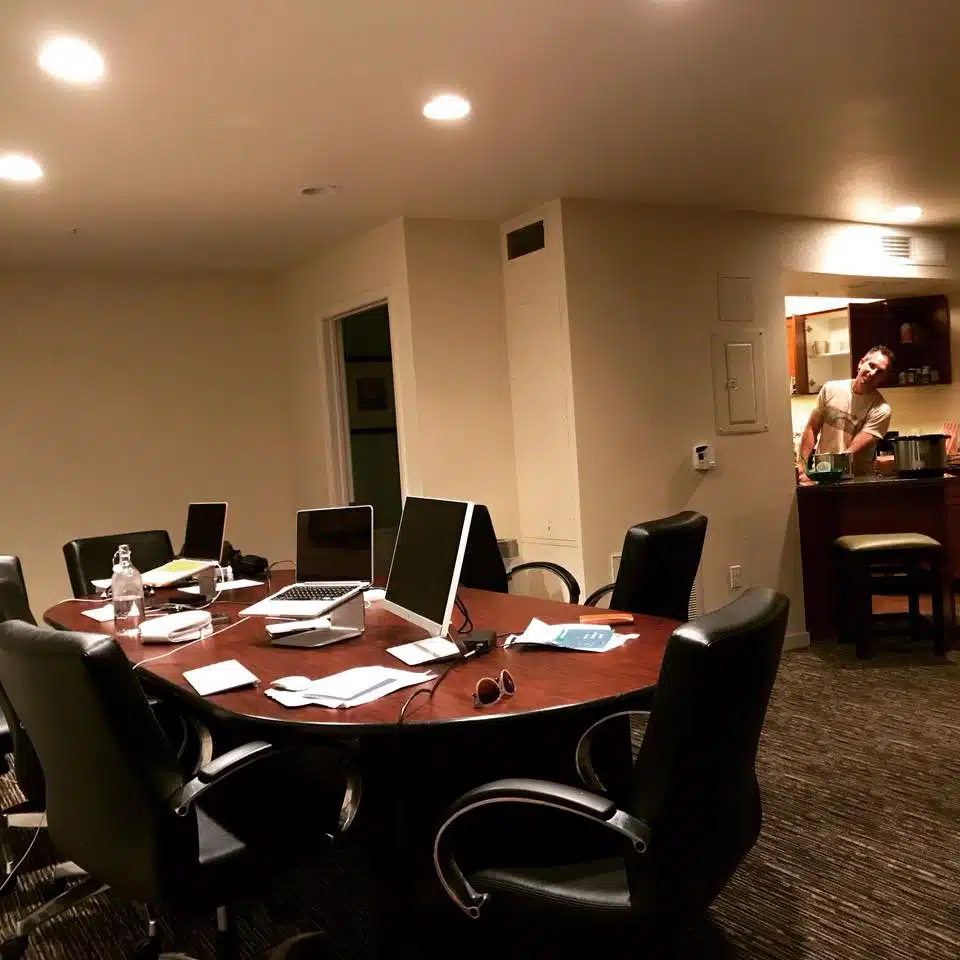 Now you're probably starting to understand why we've been Instagramming photos of us holed up in hotel rooms working until all hours, or that we've simply have been too busy to be able to post much at all. We had a really tight deadline and to achieve it. We had to put in some serious hours and slow down our other content production just to get it done, but we did it! This has been a journey in itself, and one we look forward to sharing more about with you.
But for now, we just HAD to share this announcement as soon as we got the green light from the publisher that we could share the news publicly on our blog and social media. Thanks for hanging in there and being patient with us – especially after teasing you in February when we jumped the gun and shared that dancing video. At the time of posting, we honestly had no idea that we wouldn't be able to share the news for another (almost) three months! We've been busting at the seams to share the news with you, but, we had to honor our contract.
We hope you're (almost) as excited as we are and we look forward to sharing more developments as we are able!  You can pre-order the book (paperback or Kindle) now through Amazon and Barnes and Noble. Yippee!
Thank you SO much as always for your support and for sharing the journey with us! We simply would not be here without you, your positive vibes and your encouragement! Stay tuned for more on the book by signing up for our email newsletter, following us here at RVLove.com, YouTube, and of course, on social media – Facebook, Instagram, Twitter and Pinterest. There's going to be a LOT of interesting updates coming over the next few weeks, so be sure to keep an eye out for them!
Love, Marc and Julie
PS. We'd love to hear from you in the comments below, so please leave us a note! This is something for us ALL to celebrate and we hope you're going to love it too!
PPS. Here's our official video announcement, FINALLY we were allowed to post it! More of the back story in here plus a sneak peek of the book. Learn more here at the official book page.