This post may contain affiliate links.
Our Top 5 Travel Highlights from 5 Years of full time travel
It's funny. This is a very common question we receive in our travels.  But is one of our least favorite questions. Partly because it is so hard to choose.  But mostly because, so often it is the only question they ask. It feels like when most people are asking the question, they are wanting us to diminish this amazing lifestyle to a single location that they should add to their bucket list. 
Living and working full time from an RV is a massive change from 'normal' life and filled with so many unique experiences beyond the places we visit. That said… we definitely have some amazing travel highlights, and are happy to share a few with you in this post. 
1. The Grand Canyon with snow 
The first travel highlight that comes to mind is our first visit to the Grand Canyon. The Grand Canyon is a truly awe inspiring place. We had heard for years that photos can't give it justice, and it is true. But our first experience was extra magical. Why?  Because we had never even seen a photo of the canyon with snow on it before, and that was our experience. 
We were staying at an RV park just outside of the National Park and experienced a big snowstorm. The campground owner came to us and said that we should leave work early if possible and get up to the canyon as soon as we could. Because it is very rare to see the canyon with snow on it as it melts quickly. It was super cold, so we bundled up in our warmest gear and raced to the park.
When we arrived at the edge of the canyon, the snow and fog were so thick we actually couldn't see more than 50 feet.  But then, almost by magic, the clouds, fog and snow stopped, and the enormous expanse of the view opened up.  It took our breath away, and was so powerful, it was even emotional.  Definitely an unforgettable experience and true highlight. 
Maybe because of this experience, we decided to splurge a couple days later and enjoy a helicopter ride over the canyon. Another unforgettable experience and one we recommend. Though it was a splurge at the time, we quickly forgot how much it cost and the memory will be with us for a lifetime.
2. Sunrise in Maine, on Cadillac Mountain
Our second highlight from 5 years of full time travel, is watching the sunrise from Cadillac mountain in Acadia National Park, Maine. Practically the opposite end of the country from the grand canyon. An interesting fact for you. For much of the year, Cadillac mountain is the first place the sun hits the USA every morning. 
Warning: This experience requires waking up (or staying up) at an uncommon and probably uncomfortable time.  We had to drive in from our campground, which meant a 3:00am alarm bell. You see, similar to a sunset, where much of the best color is AFTER the sun sets. Much of the best part of a sunrise is then BEFORE the sun crests the horizon.
Once we arrived, we found a beautiful spot on a rock edge overlooking the shoreline and little islands. The twilight turned to beautiful, color-filled sky. There were hundreds of others who shared the experience that morning too. Parking is limited at the top, so we were glad we went early and were not in a rush to head back out. We also enjoyed sunsets from the mountain top during our stay in the area, and would recommend that experience as well, especially if you, or your travel companions aren't up for the early morning hours.
3. Zion National Park
Zion National Park really amazed us. In the previous 6 weeks, we had visited many other gorgeous national parks. Glacier, Yellowstone, Tetons, Bryce, and Capital Reef to name a few. We literally had a conversation with each other about how we weren't sure if we could take in any more of natures beauty. 
Entering from the east side of the park, we loved the changing landscapes and especially loved watching a group of mountain sheep climb virtually straight up a rocky ledge. The tunnel isn't very big, so when large vehicles need to pass through, the park rangers temporarily close the tunnel for the opposing traffic. This allows one direction to drive straight down the center line. It happens many times per day, but only while rangers are on duty. So we were sure to arrive mid-day. 
Driving through the tunnel, we caught a few glimpses of the coming grandeur. But, once we came out the other side, we were so awestruck by the beauty that we had to pull over. We just couldn't drive until we had a chance to soak in everything we were seeing. 
I don't want to oversell it. Maybe it just happened to be the perfect time of day and light. But it is unquestionably one of our top  highlights in 5 years of full time travel. We stayed 12 days in a campground inside the National Park. Also enjoying many hikes, including the famous Narrows hike. It is definitely a place we look forward to returning to.
4. Visiting our 50th state, Alaska, Glacier Bay National Park
Crossing back to the west, our next travel highlight is in Alaska. We were staying at a Thousand Trails campground in BC Canada called Cultus Lake RV Camping Resort. Julie woke with the idea to check and see if there were any last minute cruise deals. One of the great things about living in an RV is that you can park near a major cruise port and watch for last minute deals.  
We found a 7 day cruise to Alaska for only $399, sailing in just a few days.  We booked our tickets and sailed north. One of the highlights of the trip, was something you definitely cannot experience in an RV. We sailed into Glacier Bay. Watching the glaciers calve, filling the bay with huge chunks of ice, and seeing the wildlife was awesome. What a great way to celebrate our 50th state visited
Another highlight of our Alaska trip was renting a car for a day, to drive inland. The car was expensive at $200/day. But we REALLY wanted a picture standing next to an Alaska welcome sign. It was a great drive, and totally worth the time and effort to capture the photo.
5. Long Beach, Washington and the perfect day
What did we say?  Yes. Our experience in Long Beach Washington is worthy of this top 5 in 5 years of full time travel list. Not because it is a particularly amazing place. Nor is it a place that we recommend people put on their must see list. The reason it is on our list, is because you don't need to have the perfect location to have an amazing experience. For more detail, you can read our dedicated blog post called the simple things that made a perfect day, in Long Beach WA
But the cliff note version goes something like this. We were staying at a Thousand Trails campground in the area. I had gotten off work early, and it was a perfect weather day. We went for a bike ride along the beautiful coastal bike path, and enjoyed throwing a ball for Coda on the beach. We enjoyed a sunset dinner, topped off with a rare 'green flash' sunset, and a wonderful evening back home. 
So many of our top experiences are about more than the location.  It could be the people with you, the circumstances that brought you there, or any number of other reasons. The full time travel lifestyle is one filled with enrichment.  
Bonus travel highlight experiences from our 5 years of full time travel
Bonus 1 – No Winter for 5 years
Ok, this isn't a specific location or experience, but felt I had to share it.  Before hitting the road full time, I had lived my whole life in Colorado. Colorado is beautiful, and is still one of my favorite states. When I was a kid, I loved playing in the snow, and as an adult, still really love snowboarding. But, I must say, it has been pretty great to be able to avoid winter in our RV. For the last 5 years, we have spent every winter in someplace warm. It is pretty fun to be swimming in an outdoor pool and catching some sun, instead of shoveling snow off my driveway.
Bonus 2 – Our state sticker map
Another fun travel bonus. When we bought one of those little state sticker maps for the outside of our RV, we didn't know how much fun it would be. It brings some extra purpose and fun to traveling all of the states, and is also a great conversation opener for meeting people. Fair warning though. We found ourselves doing some pretty crazy things because we had one.
A great example is when we returned from a trip to Australia. We needed to drive from Texas to Colorado. But, instead of a direct route, we drove via Arkansas, Alabama, Tennessee, Kentucky , Missouri and Kansas. Just to enhance our experience, and of course get those stickers on our map. Everyone has their own qualifiers for what it takes to earn a state. We feel there needs to be more than just driving through it. Ours requires a more memorable experience, and usually at least one overnight stay.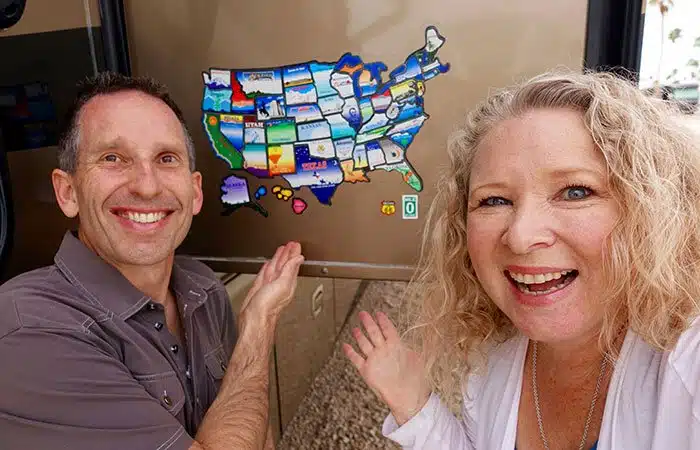 5 Biggest Challenges of 5 years of full time travel
Ok, now for the juicy stuff you have been waiting for. Or maybe what you immediately scrolled down for. Time for us to share what have been our biggest challenges in transitioning to a life of full time RV travel. Note, the top 5 are not listed in order of magnitude nor chronological.
1. Selling our home
The first major challenge caught us by surprise a bit. Julie and I had agreed to sell our townhome and fully jump into the RV lifestyle. We wanted a clean break and didn't want the stress of ties of being long distance landlords.
The sale of the home came very quickly. It was everything we had hoped for. A cash buyer, quick close, opportunity to rent it back for a month, and they even bought most of our furniture. All those really made for an easy moving process into the RV. But the day after we had a contract, Julie started crying every day. It was a tough time as we both tried to work through the emotions that came up. 
I was feeling guilty that maybe Julie didn't really want to sell after all. She assured me that she was on board, and asked me not to take it on. But it was still tough. Julie cried every day until the closing on the property. After that, it stopped and she was fine. There were still other emotional journeys and adjustments in the coming months and years on the road. But that first one surprised us both and is still one of the top 5, 5 years of full time travel later.
2. Our 1st mechanical breakdown
Our first mechanical breakdown while driving was another significant challenge. It is different when it is your home that is broken down on the side of the highway, instead of just a car. Partly because it isn't as easily remedied. The good news is that if you are in a location that you can pull over safely, you have all the comforts of home with you. At least until it gets towed away.
Another challenge with it is that it can have such significant impact on your travels and your life. Our first major mechanical occurred about two years into our travels. We were driving our Tiffin across Arizona. Maybe we cursed ourselves by mentioning a few minutes earlier about how wonderfully reliable our coach had been.
All of the sudden, there was a horrific sound. It sounded like I had run over a giant metal box, and it was tumbling underneath the cockpit.  There was a shoulder to pull over onto, but only just enough to get out of the traffic lane. Semi trucks were flying by at 70mph, causing our RV to sway significantly with each one passing. 
How we handled it 
It was stressful, but I am proud to say that we held it together pretty well.  Possibly due to my previous career in law enforcement, I can usually stay calm in high stress environments (short term at least). Our roadside assistance wasn't much help. Partly because we were traveling on a weekend, and most of the service locations were closed, so they didn't know where to tow us to.
At least we had the peace of mind that we had an extended warranty.  That meant we knew the expense would be capped. We were resourceful and found our own solution for getting to a service facility. We have had a number of other breakdowns over the 5 years of full time travel. In fact, this particular breakdown was part of 3 breakdowns in a month. But, all of our subsequent breakdowns were much easier once we had our first one under our belts.
3. Losing Coda
Our next challenge we want to share is not directly related to RVing. But, elements of the RV life definitely compounded the challenge. One thing we have been reminded of time and time again over the years is this. Life happens, whether you are living in an RV or not.
One of our biggest challenges in our 5 years of RVing occurred less than 6 months into our travels. Our beloved Coda had developed lung cancer. It was immensely painful losing her. Julie and I don't have children. Coda was our 'baby girl'. Part of the healing process included making a dedicated post and video called A Tribute to Coda and her Wonderful Life
She was a huge part of our life. In fact, she was a major reason why we chose the RV lifestyle in the first place. We wanted to increase our travel, but it needed to be a fit for all three of us. Bringing our home with us everywhere we went, made it easy for Coda to be a part of the adventure.
RVing compounded the challenge in a few ways. Not being in our hometown, meant we didn't have our familiar vet. But that was relatively easily solved. More importantly, we didn't have any family, friends, or other support near by. Loss is always hard, but even more so when you already feel separated from other loved ones. 
After losing her, we chose to fly home to see family that holiday season.  Interestingly, there were other emotional transitions and changes that occurred after that trip. We share more of that in our post about 6 months on the road. Wow.. fun to look back at that video. It feels so long ago.
4. Living AND working together… Look out!
Moving from a traditional home into an RV generally means squeezing your lives into a much smaller living space. Having access to good weather allows more outside time. But in general, full time RVing couples need to adjust to significantly closer quarters. This unquestionably has it's challenges. And we were not immune to that. 
BUT… things got a whole lot more challenging when we added WORKING together. When we first set out on the road, I had my regular full time job, and spent most of my day separated in my little bunkhouse conversion office.  Julie spent most of her day in the front area of the RV working on building RVLOVE, or chatting with friends via Skype. Or, as mentioned in our first 3 months post/video, spending a lot of time sleeping. 
The shift to working together
When we were almost three years into our life on the road, we had a significant shift. RVLOVE had grown to more than we could handle with Julie full time, and me after work. I had also become completely burnt out at my regular job and had some health challenges as a result. RVLOVE was very rewarding work, so we made the decision to both work full time on it. However, we hadn't fully understood just how different our working styles were. 
Don't get me wrong. We actually have very complimentary skill sets.  When we are at our best, we are a great team. But I am here to tell you that working together the last couple years has been a challenge. The good news is that the challenges have actually helped us grow even closer. It has also continued to get better and better with time. So, we are excited about where things are heading in this area.
5. Living the RV Life versus sharing it
Our fifth challenge in our 5 years on the road, has been navigating the balance between living the RV life, and sharing it. We love helping and inspiring others to live a life they love. But we feel the best way to do so, is by first living a life that inspires ourselves. 
Sometimes bringing out a camera can change our experience of a location or event. It shifts the dynamic when you switch from enjoying it for yourself, to thinking of how it would be best shared with others. We have always strived to only create content we are inspired to create. Sharing what would be valuable to us. Not focusing on clicks, views or subscribers. Of course we recognize the importance of those things when trying to build a channel. But it has never been our driving force. Wanting instead to stay focused on our values. That is why we have not always been super consistent with our content. 
Thank you for being there over the years, and for supporting us as we navigate the balance. We have loved being a part of your lives, as we share parts of ours with you.
Final Top 5 Highlights from 5 years of full time travel
Our first 5 years of full time RV life have been a remarkable life change.  Regardless of what happens in the coming years, we will always be able to look back on this time. We have traveled more than some do in a lifetime. Seen amazing places, and grown as a couple and individuals as we navigated the challenges that came our way. We have many personal highlights, but will narrow it down to another short list for you.
1. Getting out when we did
When looking back on our experience, one thing we think of often is how happy we are that we started when we did. Like many people, we had previously looked at extended travel as something we would do 'someday'. We had kept it at a distance, thinking like others, that we needed to wait until retirement or other more commonly accepted life stages had passed. 
Choosing to start when we did required some extra juggling.  Mixing full time travel with full time work/careers has its own unique set of challenges. But we have been able to make it happen, and have a huge list of experiences to thank for it.  We have made many new friends too.  There is so much to see and do, and the future is promised to nobody. So we are really glad we did what it took to make our 'someday' much sooner.
2. Creating RVLOVE
RVLOVE started as a creative outlet for Julie.  Finding herself between jobs when we decided to hit the road. She wanted to get back to writing and creating. Her desire to learn how to make videos and learn new technology spurred the growth even more. When we started out it sometimes felt like we were talking to an empty room. But over time, our audience grew. 
It was fun to create, and extremely rewarding to know that we were helping others. We loved inspiring and educating others on possibilities for them to create a life they love. Regardless of if that involved an RV or not. The RVLOVE community has grown, and it is wonderful to see people within the community helping each other too. It has certainly been a challenge at times, but we have been deeply rewarded by the experience.
3. Leaving my regular career to work for ourselves
Our next top fiver is related to the growth of RVLOVE. In PART 1 of this two part series, we talked about taking on too much. I have always had a high value on maintaining a good work/life balance. Around the time that I left my job, I wrote a  blog post called the price we pay to work, insights on work life balance and freedom that seemed to hit a cord with many of our readers if you want a deeper dive. But in the interest of staying focused on our top fives in this post, will be more succinct here.
We loved to see RVLOVE grow those first few years. However, it eventually became too much to handle for Julie full time, and my evenings after work. My responsibilities at my regular job had also increased during that time. We eventually arrived at a tipping point. 
No longer able to juggle both, we took a huge leap of faith. We backed ourselves and both dove into RVLOVE full time, because it was the work we were most inspired and moved by. It didn't, and still hasn't, replaced my former income. But as we often share with others, there are many different forms of currency. Adventure, freedom, Intrinsic reward, knowledge, and time are some good examples of other currencies.  Having the courage to leave my regular job and start working for ourselves will always be a highlight in our lives.
4. Building Rv Success School
As mentioned above, we have loved sharing on RVLOVE. But YouTube and the blog had limitations in creating focused deeper dive material. Being common consumers of other educational content online, we knew that we would have loved to have access to an online school about RVing when we started out. 
So my first big project after leaving my job (and restoring my health) was creating RV Success School. It was the first online school to help people learn how to succeed at RVing. It has been very rewarding to connect with students and help make the road easier and smoother for them. It is also a great way to share our coaching backgrounds from our previous careers.
5. Releasing Our First Book
Not having children of our own, Julie and I have had a consistent underlying desire to somehow leave something else behind. We want to have a positive impact, and share something that can live on. Creating the book definitely satisfies some of that feeling for us. When the publisher reached out to us and asked if we would be interested in writing the book we were very excited.
We had already been talking about writing a book that year. The opportunity to write for major publisher was of course, even better. We had a super short deadline to create it. but pulled it off. It took a toll with all of our other commitments, but is really worth it now.
Living The RV Life – Your Ultimate Guide To Life On The Road released on November 20th, 2018. As I write this post the book is already nearing it's third print run. The book as been so well received by end readers and industry. It has been immensely rewarding to create. And will always be something we are very proud of.
Last, but certainly not least – You – our community
We touched on this in the 'building RVLOVE' section above. But this has been such an important highlight to us it is worth a second mention.  YOU, our readers, viewers and community are such a big part of all of this.You are the reason we create. You are what brings the value to so much that we do. So THANK YOU for being such a big part of this 5 year journey for us!  It has been an amazing five years so far, and we are looking forward to the years ahead.
GOT COMMENTS OR QUESTIONS?
We would love to hear from you. Drop us a note in the comments section below.