This post may contain affiliate links.
After 9 months of labor and preparation, we're thrilled to announce the arrival of… drum roll please…. our NEW (2nd) book! Yes, RV HACKS: 400+ Ways to Make Life on the Road Easier, Safer and More Fun! officially hit bookstores around the country – in print and digital – on July 13. We're feeling like a couple of proud (and sleep deprived) parents, and we can't wait for you to 'meet it' 🙂 hehe, oops, we mean read it!
This book is one of the big projects that has kept us head down, tail up since last fall. So we're definitely ready to welcome this bundle of useful RV hacks and tips into the world! It's available pretty much everywhere books are sold. You can learn more on the official RV HACKS book page, and find links to where you can buy it here.
On the same day RV HACKS is published, our first book Living the RV Life: Your Ultimate Guide to Life on the Road, was released in AUDIO format! So now you can listen while you learn all about how to hit the road and live the RV lifestyle. You can find it here.
UPDATE 7/14/21: RV HACKS is already a #1 bestseller, thanks to YOU! After hitting the top spot in several Amazon categories on launch day. And the reviews are rolling in!
OK, let's jump in and give you a sneak peek of what you'll find inside RV HACKS!
PS. Keep on reading until the end to get the details on our book launch meetup events. We'd love for you to join us in celebrating, if you can!
The book is paperback, with 240 pages, and slightly larger than a regular size book 
RV HACKS is divided into 6 chapters, each covering the key areas of the RV lifestyle
What (and who) you'll find inside RV HACKS
As the cover says, there are 400+ ways to make life on the road easier, safer, and more fun! It's organized into 6 chapters:
Driving
Repairs and Maintenance
Camping, Campgrounds, and Boondocking
RV Living: Cooking, Organization, Storage and Decor
Work and Technology on the Road
Families, Kids, and Pets
We wrote the book in such a way that it's a fun, light, and easy read. Category icons, hack illustrations, and RV lifestyle photos throughout really bring the book to life. You can read it from front to back, or randomly open at any page, to read a hack or two at a time.
"Love, love, love this book! I'm savoring it and only reading 25 hacks a day! Love this RV life!"
Other RVers featured in RV HACKS
In every chapter, you'll also find great hacks from many other experienced RVers, sharing a personal story on how a certain hack 'saved the day!'
Look out for hacks from Cherie and Chris of Technomadia, Heath and Alyssa of The RV Entrepreneur, Peter and John of The RV Geeks, Aaron and Christine of Irene Iron Fitness and Travels, Nathan and Marissa of Less Junk < More Journey, Brian and Melissa of RV With Tito, Janine Pettit of Girl Camper, Jeremy and Stephanie of The RV Atlas, Juliet Whitfield of Tails from the Road, Duane Lipham of RV Inspection and Care, Emily and Tim Rohrer of Own Less Do More, Mike and Anne Howard of HoneyTrek, Mark Koep of Campground Views, and many more!
Got Questions? Get Answers.
Every RVer starts out as a newbie with lots of questions. And we all know the RV learning curve can be steep. RVing takes time and practice, and the truth is, as RVers we never stop learning! That's why we wrote RV HACKS – to make RV life just that little bit (or a lot) easier for you. You'll find answers to questions you never even knew you had!
When you can pick up a few handy short cuts, or ways to do things better, you'll save time, money – and even avoid mistakes – so you can focus on having more FUN.
Even if you're a seasoned RVer, you'll still find plenty of new nuggets of new wisdom, within the 415 hacks found in this book! And if you've got a few hacks of your own, we'd love to hear them! Who knows? It could end up making it in a future edition?
Our goal is that no matter what kind of RVer you are, after reading RV HACKS, you'll come away feeling that no matter what RV life throws at you, you can say to yourself with confidence…. "I've got this!"
"I thought I knew all the RV hacks. Boy, was I wrong! Whether you are a seasoned RVer or a newbie this book is for you. We Full-time RV'd for 2 years, RV'd for 3 years prior to that and tent camped (with 5 kids) for 10 years before that. I'm only on chapter 3 and I've had a lot of AH HA moments! Some of the best ones were on highway signs. How did I not know that? I hope you enjoy this book as much as I did."
Is This a Self Published Book?
No. RV HACKS (just like our first book Living the RV Life) is published by Adams Media, a division of Simon and Schuster. This means the book – and all of the information in it – has been rigorously edited, to ensure accuracy and quality. We're also honored that RV HACKS has been endorsed by some of the RV industry's leading experts. So you know you can trust the information and hacks within.
"A copy of RV Hacks should be in every RV on the road today."
"This is amazing! Whether you are a novice, first time RVer, thinking about buying an RV, or you're a seasoned RVer, this book is awesome! You need to get it!"
"RV HACKS is full of insights that most RVers could spend years trying to figure out! A huge asset in any RVer's library."
Where Can I Buy a Copy of RV HACKS?
Order your copy of RV HACKS from any bookseller, in print or digital. Here are some easy links.
It's a book we're really excited about and proud of. Most importantly, we hope YOU love it and put the hacks to good use in your own RV life!
We'd love to hear your thoughts, so please consider leaving a review online! (eg. at Amazon, Barnes and Noble, Good Reads, Apple Books, Books-a-Million, Target (online), your favorite independent bookstore, or wherever you got the book.)
Join Us to Celebrate our Book Launch!
Now that RV HACKS has been birthed into the world, our first book Living the RV Life is also officially available on AUDIO the same day, AND we hit #1 bestseller on multiple lists, we are ready to celebrate! We'd love for you to join us, in whatever way you can. Here are a few options:
Join the fun on social media! Share pix of the book (and/or you with it?). Share your favorite hacks in a post or story on Instagram, Facebook and/or Twitter . Make sure you tag us and use hashtags #rvlove #rvhacks and #livingthervlife so we can see them! We'll be re-sharing some of our faves – including the funniest, most creative, farthest away, and more. Follow us on social media where we'll be sharing the details.
Join us in person for a happy hour meetup! We have scheduled two, so far, both in Colorado. See our Facebook page for event details – the first is in Denver on Tuesday, and the second is in Boulder on Thursday. See below for more details.
Catch us online. We're doing a bunch of podcast interviews, and we'll be sharing the links for you to listen and watch. We're also planning a virtual book launch / signing party online soon. But we'll host that after the frenzy of this week is behind us! So keep an eye out for more updates.
We'll also be sharing news of more meetups throughout the year, as we travel.
Where Can You Find Us? Event Details
On Tuesday July 13 and Wednesday July 14, we will be driving around, doing random drop-ins to find copies of RV HACKS on the shelves at bookstores! We'll be signing copies, snapping photos and sharing them on social media at Instagram and Facebook. Maybe we'll bump into you at one of the stores? (We have no set schedule).
Our in in-person Colorado Meetups are very casual, and our first public events since the pandemic. So we're having them outside, and we'd love for you to join us if you can! (You can bring your books for us to sign, or buy one from us in person). See below for event details, as we realize not everyone is on Facebook to view events there.
Catch us on these Interviews, Articles and Podcasts
You can also watch, listen and learn more about RV HACKS, some of our faves, and the story behind it all here: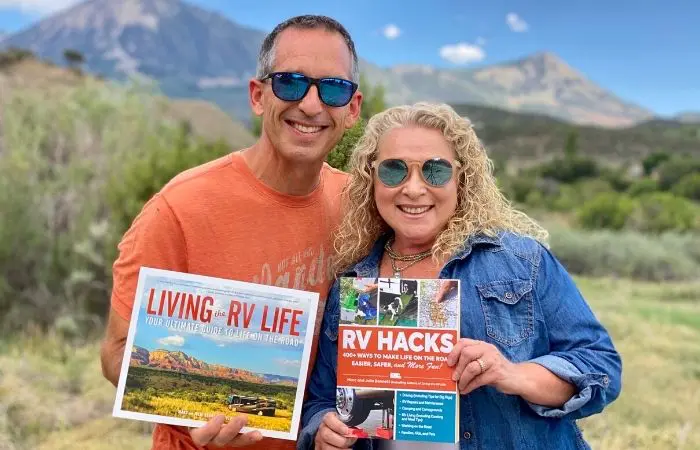 Thank You!
Finally, we want to say a big THANKS to YOU for being on this journey with us! Whether you've been following us for years or just joined our community, know that you are the reason we write these books. We love sharing what we've learned, to help make your life on the road easier, safer and more fun! And we so appreciate having you as part of our RVLove family! And we couldn't have hit all those #1 bestseller lists without YOU! 
We hope to see you out on the road someday, and look forward to connecting online via our blog and social media channels. 
Wishing you safe and happy travels. May these RV hacks help you out along the way, and make your RV life all the more enjoyable!
Best of LIFE,
Marc and Julie
GOT COMMENTS OR QUESTIONS?
We would love to hear from you. Drop us a note in the comments section below.
Over the years, we've created many other resources to help RVers like you learn how to live and love the RV life. Here's where you can find them.
If you have any questions at all about these resources, please don't hesitate to ask. We're here to help.