This post may contain affiliate links.
Ever witnessed an accident inside the campground? We recently saw a departing RV hit a stationary RV parked at their campsite. Fortunately, nobody was hurt. But it did cause thousands of dollars of damage. And ended up being an expensive inconvenience that could have easily been avoided with some extra care. In this post, we share some RV driving and parking tips and hacks to help you avoid a crash in the campground!
We've come to notice that check-out time at RV parks can be pretty interesting. With RVs of all kinds and sizes coming and going, there's usually lots of activity, especially in big parks. 
Over the years, we've enjoyed many stays at Thousand Trails Palm Springs, including a total of about six weeks this winter. But with over 400 campsites, leaning palm trees, narrow sites, and tight roads, it isn't that big-rig friendly. Every day, we see RVers inching their RVs around corners, in and out of their campsites. Some days, those corner navigations aren't successful.
As we stepped out of the RV for our morning stroll, we saw a commotion several rows down. A fifth wheel was parked on the corner at an awkward angle, as many people and golf carts buzzed around. 
As we got closer, we saw a large truck and fifth wheel had just pulled out of their campsite, and headed for the exit. They only got about a hundred feet when they took a left turn. The tail swing from the fifth wheel caused the rear end to hit the front of a Class A diesel pusher motorhome parked in its campsite.
While the fiver sustained only minor damage, the Class A motorhome ended up with a broken windshield, significant body damage to the front cap, and a broken passenger side mirror that broke off and hung limply down the side. We predict the repair cost will amount to several thousand dollars, and the owners will be displaced from their RV for at least a couple of weeks, more likely a month. 
The resulting dialog between the RV owners appeared to be amicable. Though insurance should cover it, the crash still created a whole lot of expense, hassle, and frustration for everyone involved.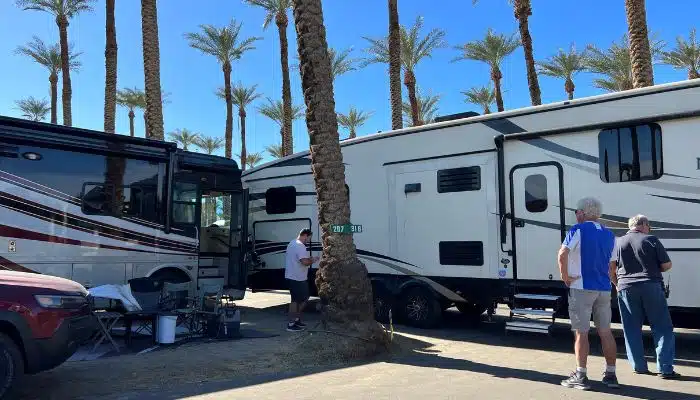 The fifth wheel driver didn't have a spotter, or pay close attention to tail swing
With the truck and fifth wheel stuck, the motorhome had to move backward
7 RV Hacks to help you avoid accidents
Of course, accidents can happen – even when you do your best to avoid them. But as we continued our walk around the campground, we counted several simple steps that could have been followed to prevent this particular incident. Or at least reduce the likelihood of it happening! So we put together these seven useful tips to help you stay safe, and avoid a crash in the campground.
Most of these you'll find in our book RV HACKS: 400+ Ways to Make Life on the Road Easier, Safer and More Fun (shown in yellow blocks below, some with illustrations). But seeing this accident also helped us come up with yet another simple tip to help keep your rig safe, even when parked at a campsite, minding your own business!
After many years of RVing, we've learned to be mindful about which RV sites we choose for these very reasons. We hope you find them helpful. Feel free to share!
Here's our RV, later parked in the same site as the motorhome, but waaay back!
1. When it comes to RVs, size really matters!
Many people choose large RVs when buying an RV, especially if they are downsizing from a home to go full-time. Even more so when they have a large family. Believe us, we understand the appeal. But know that all that extra living space comes with multiple challenges. Bigger RVs are often harder to find campground reservations for and can be more challenging to maneuver when you get there. 
This is a factor for navigating the campground and getting into and out of the site. But is also for being able to tuck deeper into the RV site. Two of the biggest factors in today's accident had to do with both of them being bigger RVs. However, neither RV was the biggest out there. I would guess that both the fifth wheel and the motorhome were about 40 ft in length. 
Some RVs today are even bigger than that. We've seen fifth wheels up to 47 ft long, not counting the truck. 
The trailer length made it more difficult to complete the sharp corner and increased the tail swing (more on that below). The length of the parked RV meant it could not tuck deeper into the RV site, further out of harm's way.
RV HACK #17: Remember that bigger isn't always better.
Whether you're renting or buying an RV, choose the smallest one you feel you and your travel companions can be comfortable in. The larger the RV, the more limiting it will be to drive, and the more difficult it will be to find places to park it. It's not impossible, but it does require more planning and flexibility. For example, you can usually find campsites for large RVs in campgrounds located within 5–20 miles of most national parks, but if you really want to camp inside these popular parks, you'll have much better luck finding a site and navigating interior roads with a smaller RV.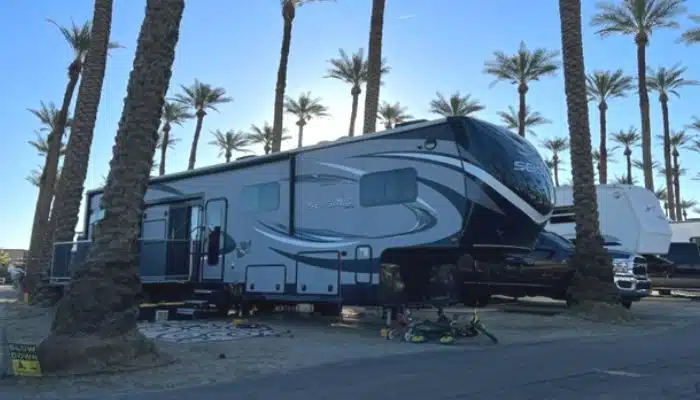 This 45-foot fifth-wheel also parked in the same spot as the motorhome that was damaged, despite also witnessing the accident. Bold, as they hang out of their site.
Bigger RVs, especially trailers also often have weight challenges. These require more powerful trucks to tow them, are tougher on steep grades, and the more complex the RV, the more that can go wrong. But, that's a whole other blog post. So let's get back to the main point of this article!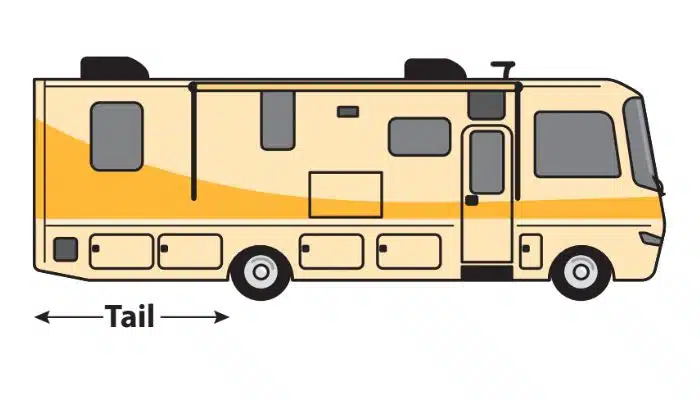 2. Watch out for your tail swing
For those who have never driven a larger vehicle, the concept of tail swing might be quite new. It is a vital dynamic that we have seen damage many RVs over the years.
RV HACK #46: Calculate your RV tail swing to avoid hitting anything while maneuvering.
Did you know that the tail of an RV can swing outward approximately 1 foot for every 3 feet of length behind the rear axle? When maneuvering your RV in tight spaces like gas stations and campsites, it can be easy to hit a pole, tree, or other objects when making a turn. Calculate your tail swing by measuring the distance between your rear axle to the rear bumper of your RV and dividing by 3. Stay at least that distance away from any object if you know you'll be turning, to maintain a safe clearance. If you are driving a triple-axle RV, measure from the middle axle to the rear of the RV and divide by 3 and maintain at least that distance.
So, if you have 12 feet of RV length behind that point, the tail of your RV could swing out 4 feet. That is quite a bit and was a major factor in this accident. The truck towing the fifth wheel drove by just fine, but when he made the turn, the tail of the fifth wheel swung out into the front of the Class A motorhome, about halfway through the turn, and got stuck.
3. Pay close attention to RV site selection
Not every campground lets you choose your site. But as Thousand Trails members, we almost always get to choose our own site when staying at their campgrounds as they have a "first come, first served" policy. 
Personally, we like that, so we can choose the site best suited to us and our RV. When you're staying at a campground that pre-assigns your campsite, you usually provide your rig size (and number of slides as well) when booking, which enables management to allocate an appropriate site for your RV size.
RV HACK #69: Book a pull-through campsite for easy entrance and exits.
If you're driving a big rig or are otherwise uncomfortable backing your RV into your campsite, simply book a pull-through site at the campground. This will allow you to easily drive right in, then drive right out again. You may not even need to unhook your vehicle (if you are towing).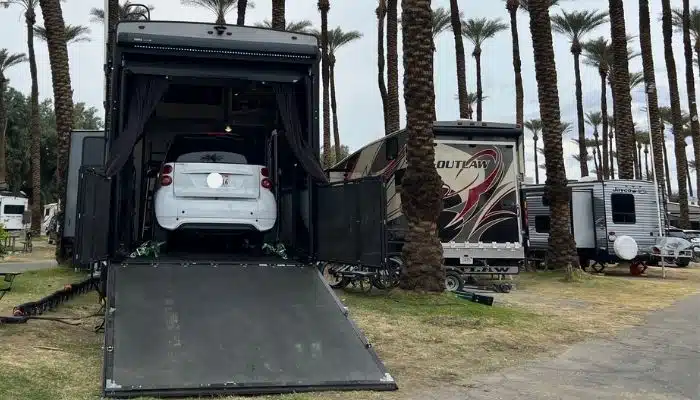 Pull-through sites enable easier access to rear deck and ramp of toy haulers too.
This is especially important if you are new to RVing, or only staying for a short time at an RV park. These sites are generally the easiest sites to get in and out of, and the most forgiving of larger RVs. 
In addition to choosing a site that is easy to get into and out of, it is also important to be mindful of where the site is within the campground. This was another major factor in the accident we witnessed. The Class A motorhome was parked well within its campsite boundary. But they did have room to back up a few feet further. Ironically, the Class A owner did have to "back up the bus" after the accident to get unstuck, and create enough space for the fifth wheel to complete his turn and exit. 
The second consideration of your RV site selection to help avoid an accident can be avoiding sites at corners within tight RV parks whenever possible. That is both the inside corner and the outside corner. Depending on how another driver initiates their turn, a large RV will either cut the inside of the corner, or the RV tail will swing out beyond the corner. Which is what happened in this instance.
4. Do proper route planning, even within campground
Know exactly where you are going, to make sure you get there safely. Not just for the public roads you'll be driving, but right up to the moment you pull into your campsite inside the campground!
RV HACK #62: Review the campground route map before driving it.
Upon arrival at your campground, take the map you're given at check-in and review the route to your campsite before you leave the office. Some campground roads have tight turns, one-way streets, and even dead ends that can make it difficult to turn around. Review the campground map first to determine the most efficient route to your campsite and ensure you're coming up the correct way on the street so you can properly navigate your RV into your campsite.
The campground staff at check-in will also usually have recommendations for the best route to your assigned RV site. You can even call ahead for suggestions, if in doubt. We did this on our way to Yosemite National Park some years back.
We were concerned about driving our 36′ motorhome on the most direct route in as it seemed a bit precarious. So we called the Yosemite Lakes campground office for advice. They strongly suggested an alternate road, which ended up being much safer and less stressful.
Another memorable incident happened a couple of years ago in Colorado Springs. We witnessed a truck towing a fifth wheel, plus a trailer behind that, enter the RV park. Being such a long vehicle, we were surprised to see him take a tight left turn from the inside lane.
Then we heard a loud CRUNCH as we watched the trailer crash into the back of his fifth wheel as he turned the corner. The driver did just one lap of the campground before exiting – making it a very costly short visit!
RV HACK #71: Back into your site from the driver's side.
The passenger side is known as the "blind side," so back your RV into a campsite from the driver side for maximum visibility. Plan your route within the campground accordingly to make sure you approach your site from the driver side whenever possible.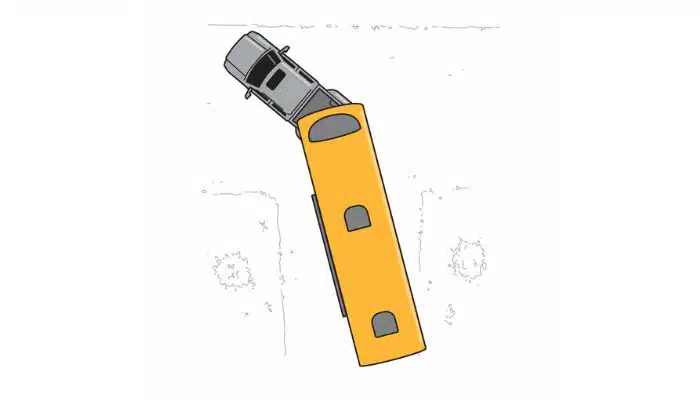 Of course, planning your route outside of the RV park is super important too. That is why we like using an RV-safe GPS when planning and driving our route. Our favorite route-planning tool is RV Trip Wizard which we have used for many years to plan our RV trips in advance.
5. Have a spotter outside the RV
This alone could have helped prevent the "fifth wheel meets motorhome" accident. If the passenger had gotten out to act as a spotter, they could have checked to make sure the tail of the fifth wheel had enough room to make the turn safely.
When navigating tight turns, and especially when backing into an RV site, it is important to have an extra set of eyes outside the RV. There can be many blind spots for the driver. If you're a solo traveler, don't be afraid to ask others for help at the campground. Most RVers are friendly and quick to offer help with this.
This is especially true when their own RV or other vehicle is nearby and in the danger zone. We have moved our towed vehicle many times to allow easier parking access for others. A spotter can see things that no backup camera can see, and give you a warning with plenty of time. It can also make parking much faster, instead of second-guessing how close you are.
6. Use both verbal and non-verbal communication
Speaking of having a spotter. Make sure you have effective ways to communicate with them. Two hacks from our book cover this simple yet important topic.  
RV Hack #68: Buy a set of walkie-talkies for easy short-range communication.
Bring a set of walkie-talkies along on your RV trips to use instead of cell phones to improve communication when navigating into your parking spots or if driving vehicles separately. This tip ensures good communication even in the spottiest of cell coverage areas.
RV HACK #70: Use RV sign language when parking to make the process go smoothly.
Develop and agree upon a good set of nonverbal hand and arm signals with your copilot as an additional form of communication while parking your RV at a campsite. Avoid shouting, causing a scene, and miscommunication by using large arm movements that are easily visible to the driver. For example, communicate "Stop" by lifting and crossing your arms in an X. Lift your arm up to shoulder height and bend at the elbow to motion forward, or motion to the side for moving left or right. Spread your arms apart and bring them closer to indicate the remaining distance. You'll get your RV situated faster and without stress, and avoid a yelling match that could save your partnership and potential embarrassment!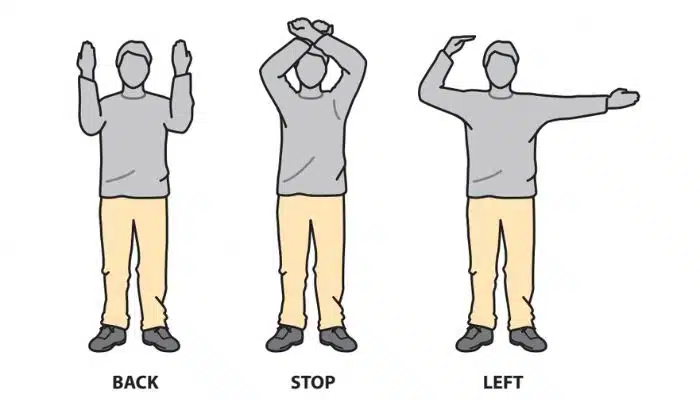 7. Practice makes perfect... or at least reduces errors
Driving big vehicles takes some practice. Do yourself and others a favor by practicing as much as you can in less risky environments.
RV HACK #63: Use cones for parking practice.
Practice maneuvering and backing large vehicles or trailers in an empty parking lot using safety cones. Build your skill and confidence in a safe, obstacle-free environment without an audience before hitting the road and having to deal with other vehicles, trees, and other hindrances.
As it turns out, we'd met the people driving the fifth wheel a couple of years ago in Florida. They are not brand-new RVers, and full-timers. So yes, it's easy even for experienced RVers to make mistakes, as one can become complacent or overly confident over time.
We had seen many other large RVs make that same corner, safely. As we said, it's an easy mistake to make, which is why we recommend revisiting many of the above tips, as a reminder to help avoid it happening to you!
Well, we hope you found this post helpful! You can never be too careful when it comes to RVing. And a little extra time and attention can go a long way to saving you – and your fellow RVers – a lot of unnecessary hassle, frustration and expense!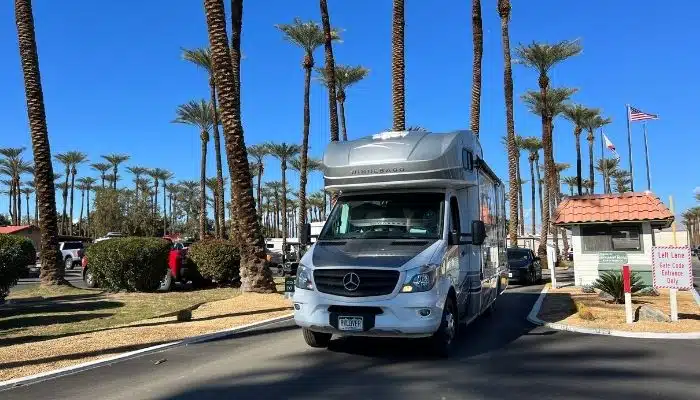 Want More RV Safety Tips?
When it comes to RVing, there are so many areas you need to pay attention to and stay safe. And a little extra care and awareness can go a long way. From driving to weight, to RV tires and fires, here are some useful articles and videos to help you do that.
Got comments, questions, or additional tips?
We'd love to hear from you. Drop us a note in the comments below.