One of the best things about the RV life is you get to travel as far and wide as you like and take your home with you. Go where you want, go when you want and stay as long as you want. You can explore more like a local instead of playing tourist to truly get a feel for the uniqueness of each place that you visit. In our first 3.5 years on the road, we had visited all 50 USA states, while still working full time! We've walked across the Mexican border for dental work and driven up into multiple Canadian provinces. We've left the RV behind to take a couple of trips down under to Australia. As an RVer, you are location independent, so your opportunities for travel are virtually unlimited. We've come to realize just how much there is to love about so many places – and you know the best thing of all? We don't need to settle for just one – we can enjoy them all whenever we choose. Below you'll find travel tales, experiences and places that may call you too.
About 6 months ago, we met a fantastic full time van life couple, with an amazing energy, and equally great story. Aaron and Christine just celebrated one year of living and working full time from the road in their Airstream van. They take us on a van tour, and share the ups, downs and realities
read more »
We've been following Marc and Julie for over three years and have learned sooooo much from them! We love their upbeat spirit, sense of adventure, and how they share their knowledge and experiences with everyone. As we get ready to set out on our own full-time RV journeys, we feel so much better prepared because of Marc and Julie and RVLove!​
Great couple that have provided so much information and insight to the RVing life. We have followed them for years and find them both to be a great inspiration! We spent a couple of years learning and planning to become full time RVers and have recently taken the leap! We couldn't have done it without Marc and Julie's guidance.
Marc and Julie are down to earth people that tell it like it is. Lots of good information from friendly folk.
Your book arrived today! It looks fantastic and has all the information I really wanted to know. I can't wait to really dive in!
This couple is so much fun to watch as they continue on their journeys. I love watching their videos, reading their posts and blogs. Thanks for sharing your journey and entertainment with us all, guys!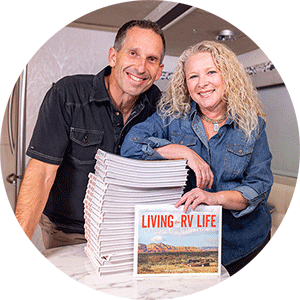 THINKING ABOUT HITTING THE ROAD IN AN RV?
There's never been a better time to get ready to hit the road in an RV and explore – SAFELY! As full-time RVers who have traveled to all 50 USA states over the past 6 years, and authors of the bestselling book Living the RV Life – Your Ultimate Guide to Life on the Road, we are here to show you the way. 
SIGN UP TO GET OUR BEST STUFF – sent straight to your inbox.