This post may contain affiliate links.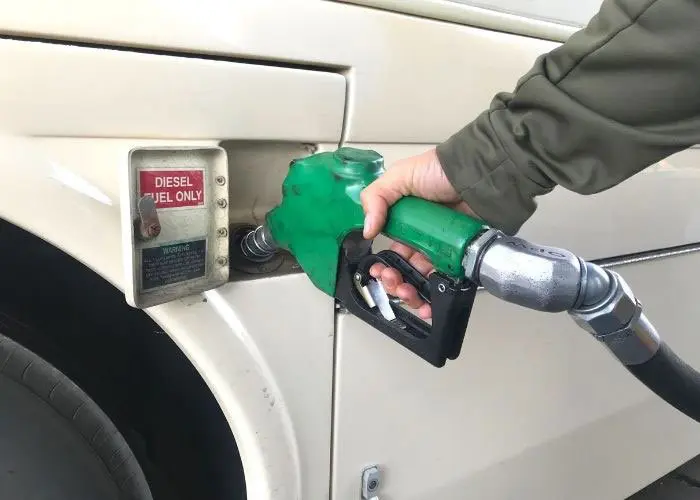 Oh, how we'd love a dollar every time we're asked: "How much do you spend on fuel for your RV!?" The answer, of course, depends on many things, including how many miles we drive. But we did the math after six years of full-timing and think the answer may surprise you! Here's our in-depth report on fuel costs – we hope you find the info share helpful as you plan and budget for your RV life.
Six years of RVing Recap Series
This is Part 4 of our '6 Years of RVing' recap series, where we share our fuel expenses after six years on the road, traveling the country full time. Here are the first three articles:
Part 1: Is Thousand Trails worth it? Our comprehensive review
Part 2: What Have We Spent on RV Camping Over the past six years?
Part 3: The Real Cost of RV Ownership – Repairs, Maintenance, Depreciation on our 2 RVs
In this fuel blog post, we also share our generator and propane usage, along with our overall average monthly fuel costs. Plus, we answer the most frequently asked questions we get about our RV fuel economy and expenses, as well as some tips on how we save at the pump.
Before we dive into the detail, we recommend you keep all this info in perspective and not just take our fuel expenses at face value as "expensive" or not! Our fuel costs and usage reflect our own RV choices and how we choose to travel. Yours could end up being very different. We'll cover some of the reasons why your fuel costs and mileage may vary in this post. We hope you find this article useful, and we look forward to hearing your questions and experiences in the comments at the end.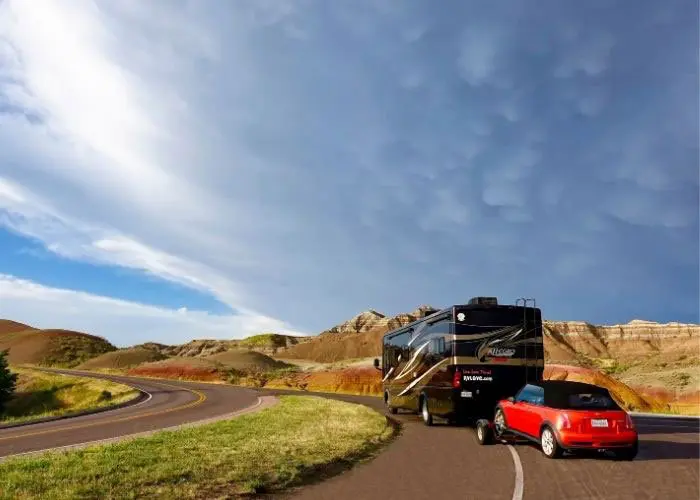 Our first RV setup: 2012 Class A gas motorhome towing a Mini Cooper on a tow dolly 
Let's start with the most common question we get asked...
Don't You Spend A Fortune On Fuel Costs?
Many people we meet assume that fuel must be a huge expense for full-time RVers like us because of how much traveling we do. To give you an idea, in the year 2015 alone (our first full calendar year on the road), we traveled to 3 corners of the country, driving 8,400 miles in the RV and 8,500 in our towed vehicle (a total of 16,900 miles) visiting 33 states along the way! That must have cost a fortune, right? Not really!
Most people tend to think about their own annual mileage and fuel expense, with commuting and running errands. Then, when they think about how far and wide we travel and combine that with poor fuel economy (typical of many large RVs compared to a car), it's easy to imagine we must spend much more on fuel than they do. 
American Average Miles Traveled
According to Car and Driver, the average person in America drives around 13,500 miles yearly – well over 1,000 miles per month. So that means a couple with two cars would typically drive a combined 27,000 miles per year. We expect that would mostly be for work commutes, running errands, and perhaps a few weekend road trips or vacations here and there.
To put this into perspective, we drive about the same or fewer miles each year (with our RV and towed vehicle combined) compared to most American couples who mostly drive to work and run errands. Let's look closer at the reality of our RV travels and the miles we put on our vehicles.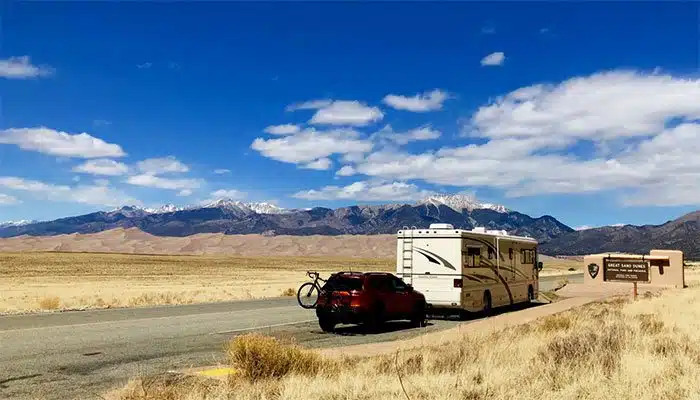 Our second RV Setup: 1999 Class A diesel motorhome towing a Jeep four down (flat tow)
How Far And Wide Have We Traveled?
Since 2014, we have driven well over 50,000 miles in our two motorhomes, visiting all 50 USA states (48 of them with our RV and several states multiple times). We've also driven across southern Canada some, but we've never taken the RV into Mexico. 
We're often on the move, usually aiming to stay with our RV in one location for 1–3 weeks at a time. But we also have a lot of shorter, 1-2 night stays along our journey. So our travel pace really varies.
An important factor to remember is that as full-timers exploring destinations around the country, we don't 'drive there and back' like most folks who live in a regular home and take RV road trip vacations. We simply move in one direction from one place to the next. And like most full-time RVers, we don't have a home base to return to. Plus, we share one vehicle and work from the RV, so we don't have a daily commute. All that keeps our miles pretty low, considering how far and wide we travel. Which in turn helps reduce our fuel costs.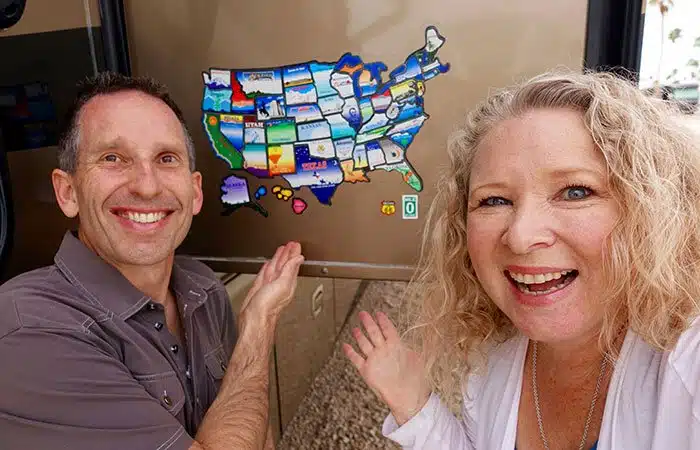 We've visited all 50 USA states baby! But only 48 of them with our RV.
How Many Miles Have We Driven in Our RV & Toad?
All up, during our six-plus years of full-time travel, we drove over 107,200 miles with our RVs and towed vehicles. That works out to an annual average of about 17,867 miles per year for two vehicles. That works out to be pretty close to 9,000 miles each. And it stayed about that almost every year, except for 2020, which we consider an outlier due to the pandemic.
From discussions with other full-timers, we have found that driving their RV between 6,000 and 8,000 miles per year is fairly common. But obviously, we have met folks with far higher or far lower miles. 

Now, before we dive into a breakdown of the miles driven year by year, you need to know that our TOAD tires and suspension components would experience BOTH the miles that vehicle was towed behind the RV AND the miles it was driven. However, our car odometers only show actual miles driven. So that's what we have shared here since it is most relevant to fuel costs.
This may vary for you, depending on your towed vehicle and the method you choose to tow it. Oh, and we've rounded our miles up to the nearest 100 or 1,000, as our mileage record keeping wasn't perfect, but pretty darn close.
RV Terms To Know: The terms "Towed Vehicle" and "TOAD" can be used interchangeably. A vehicle towed behind a motorhome is also often called a "Dinghy".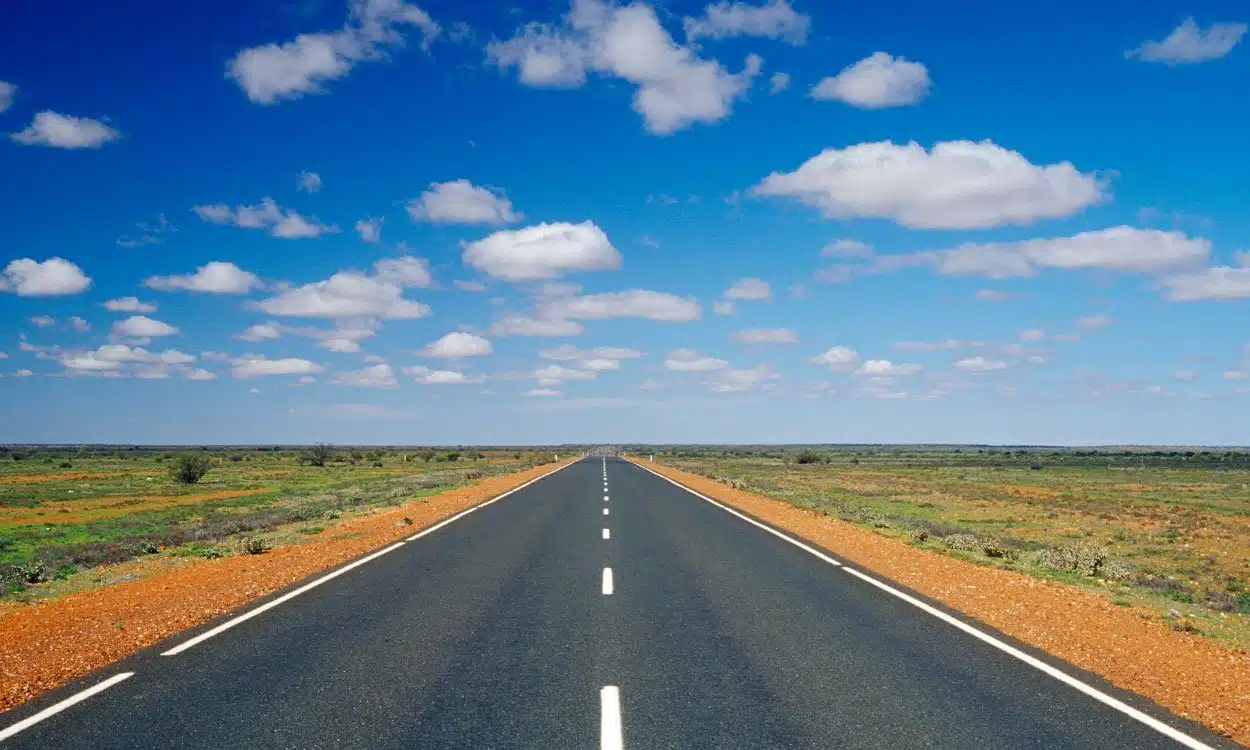 Year by Year Breakdown of Miles Driven and States Visited
2014 = 10,000 miles in total (May to December)

RV = 5,000 miles 

Towed vehicle = 5,000 miles

Seven states visited 

2015 = 16,900 miles total

RV = 8,400 miles

Towed vehicle = 8,500 miles

33 states visited

2016 = 19,100 miles total

RV = 9,600

Towed vehicle = 9,500

24 states visited

2017 = 17,000 miles total

RV = 9,200 miles

Towed vehicle = 7,800 miles

17 states visited

2018 = 21,000 miles total

RV = 10,000 miles

Towed vehicle = 11,000 miles

Total of 15 states (lots of back and forth between a few)

2019 = 19,000 miles total

RV 10,000 miles

Towed vehicle 9,000 miles

25 states visited

2020 = 4,200 miles in total (up to June)

Our RV 1,300 miles (we only drove from Arizona to Colorado)

2 Rental RVs – 2,300 miles (Jan-Feb in Florida and Texas) 

Towed vehicle: only about 600 miles in six months, as we mostly stayed in place because of the pandemic

Seven states visited

Total Miles Traveled: 107,200 over six years

RV Miles: 55,800 (including four weeks in 2 RV rentals)

Car Miles (Towed vehicles): 51,400

Total average: 17,867 per year (RV and Towed car combined)
We visited all of the lower 48 states by RV at least once. If you add up all the states visited above, it comes to 128, but we visited many states multiple times (even in the same year), so we estimate our individual state visits to be well over 150. We also visited Hawaii (by plane/hotel) and cruised to Alaska.

Update 2022. We still travel in our RV, but now part-time. Interestingly we put more miles on our RV in 2022 as part-timers than we did when full-time.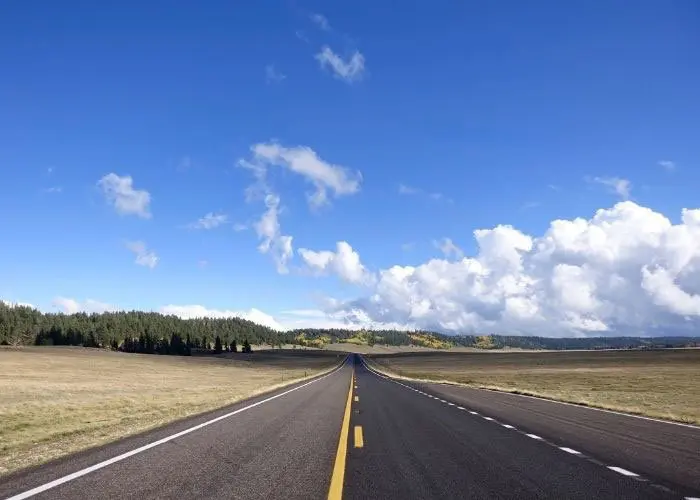 Isn't that big RV a gas guzzler? Yes, compared to regular passenger vehicles, many motorhomes – especially big Class A motorhomes like ours – ARE gas guzzlers. But the key thing to remember is that we don't drive our Class A motorhome like a car. We may drive a couple hundred miles to a location, then park the RV for a couple of weeks – or even a month or more – before moving on to our next destination. We drive our fuel-efficient TOAD vehicle when going to explore or run errands. This helps reduce our fuel costs.
We've shared our annual mileage above and also shown you this is comparable to most Americans with a 2-vehicle family living a "normal" life. But let's take a look now at our fuel efficiency for each vehicle.
What MPG do we get on our RVs (both Class A motorhomes)? 
2012 Tiffin Allegro Open Road 36' (gas) = 7 MPG 
1999 Country Coach Intrigue 40' (diesel) = 8.5 MPG 
Overall Average = 7.5 – 8 miles per gallon approx.
While our average fuel economy of 7.5 – 8 miles per gallon would be considered poor compared to a car, truck, or van, it's also fairly typical for a Class A motorhome. 
Interestingly, we didn't notice much of a difference in our fuel economy when towing a car behind our Class A motorhomes compared to when we were not. That's because the design of a big Class A motorhome is aerodynamically inefficient. 
What MPG do we get on our Towed Vehicles? 
2006 Mini Cooper S Convertible = 28 MPG
2015 Jeep Cherokee Trailhawk = 25 MPG 
Overall average = 26.5 miles per gallon approx.
Fortunately, our overall average fuel economy improves substantially when we factor in the miles traveled with our towed vehicle, as that higher fuel efficiency offsets the lower mileage of the coach. 
So, What's our Overall Average Fuel Economy?
We consider this to be more of a guesstimate than an exact science. But let's take the average mileage of our RV and towed vehicle, each being around 9,000 miles per year.
Based on the average mileage for each vehicle, one could ballpark estimate that the average would be 17mpg. But, based on fuel costs and further complexities we won't go into here, we estimate our average overall fuel economy to be around 14 MPG.
This is on par with many smaller motorhomes – like Class B or Class C, and many trucks. Of course, many other factors can impact your fuel economy – driving conditions, terrain, altitude, wind, speed, and even your personal driving style. 
Here's an example:
On our first day driving our Class A gas motorhome – empty, not towing – at 55-60mph, we got around 7.5 mpg. But the next day, when driving at 65mph in windy conditions (cross winds and head winds), our fuel economy plummeted to 4 mpg! 
So your own mileage results may vary, even with the same vehicles!
For us, we have found the most fuel-efficient – and much safer – driving speed is in the 55-60mph range. This is also less stressful and less fatiguing than driving over 60mph.
What Is The Size And Range Of Our RV Fuel Tanks?
The size of our RV fuel tanks and the mileage we can get on each tank determines how often we need to fill our tanks. However, sometimes, we'll fill whenever we see a great gas price. Or if we see a fuel stop with amazing access for our rig. Or if we know we will be crossing the border into another state with higher fuel taxes/prices (we're looking at you, California!)
Here's the size and range of each of our RV fuel tanks:
Tiffin motorhome = 75-gallon gas fuel tank
We could technically drive a little over 500 miles on a tank, but we mostly filled every 400 miles or so. 
Country Coach motorhome = 110-gallon diesel fuel tank
This had a much higher range, which we liked. We could technically drive over 900 miles on a tank, but we would typically fill after around 700-800 miles, or again, whenever we saw great fuel prices along our route!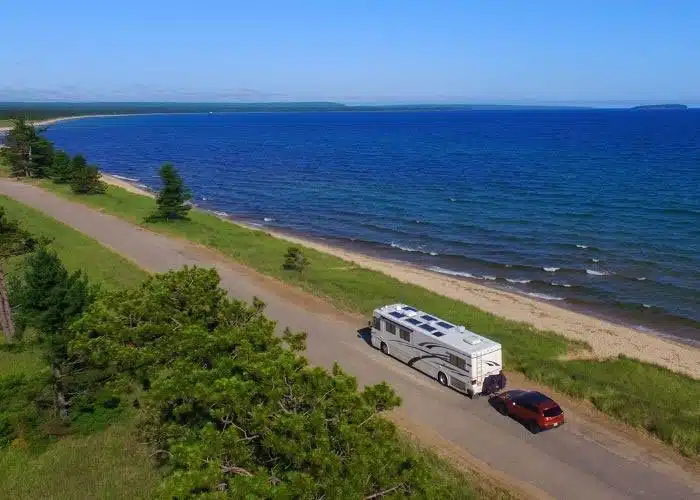 What Range of Fuel Prices Have We Seen?
When we hit the road back in June 2014, fuel prices were around $3.30 – $3.80 a gallon for gas (in Colorado). A few months later, we saw fuel prices as high as $4.50 (in summer in Lake Tahoe, California). The highest price we have seen for regular gas while out and about in our towed vehicle was $5.99 a gallon in Beverly Hills, CA, in October 2019. Of course, we didn't stop or fill there! 
Fortunately, for the most part, over the past six years, we have seen fuel prices trend lower, and they have stayed pretty reasonable for the most part. We filled once our diesel motorhome in Colorado for as low as $1.59 per gallon! 
From what we have seen, fuel costs have mostly fluctuated between $1.50 and $4.50 a gallon, with the average ranging between $2.50 and $3.50 a gallon (gas and diesel), depending on the city/state, time of year, and the price of oil.
How We Save on Fuel Costs– And Keep it in Perspective
Honestly, while we obviously try to find great fuel prices as we travel, we have also learned that the changing price of oil "is what it is," and it's all just part of the RV life. We don't complain about fuel prices, and we rarely (if ever) change our travels due to them. But we CAN do that if we choose. And if you are more budget conscious, you may prefer to spend more time in a particular region where prices are lower AND travel in your RV at a slow pace.
Finally, we NEVER fill our RV to get the cheapest price without first doing our homework on the location. If a low fuel price means entering a gas station with poor access for an RV, it increases the chance of an 'incident' – like hitting the roof if it has a low clearance or side-swiping those yellow poles! 
Paying for an RV repair or insurance deductible will cost much more than any saving you would have made on your "cheap" fuel fill! And while we are lucky (or planned well enough) that it's never happened to us, we've heard (and seen) plenty of others with stories to tell!
Fuel Programs We Use That Save Us Money
What We Spent On Fuel Costs Over 6 Years?
When adding up what we've spent on our total fuel expenses over the past six years, here is the grand total for the combined fuel costs of our RV and towed vehicle. We felt this was fair since most people who travel via truck and trailer would have all miles with the single (towing) vehicle. 
Mileage towing vs. un-hooked will likely vary significantly for them, so it is still worth keeping track of both types of miles for accuracy. And it is a useful point of comparison, considering the total fuel expenditure. Looking at RV fuel expenses alone is only part of the picture.
Total Spent on Fuel (RV and Toad): $27,000 approx.
Monthly Average: Around $375 per month
That amount is less per month than many people we know who have daily commutes to work. 
Note that the fuel costs above include the fuel our onboard generators burned as the same fuel tank powered them as the RV. 
What Factors Affect What You Will Spend On Fuel?
Of course, how much fuel will cost YOU in your RV life will depend on several factors. These are including, but are not limited to:
Your choice of RV or truck and the typical MPG it gets – type, size, age, condition, etc

Type of fuel – gas or diesel

Price per gallon – which changes often and is out of our control

Geographic location – some cities and states are more expensive than others

How many miles you travel – the further you drive, the more you will spend on fuel

Speed – the faster you drive, the more fuel you will use

Driving and traffic conditions – at altitude, on highways, stop-and-go traffic

Any fuel card discount programs you may have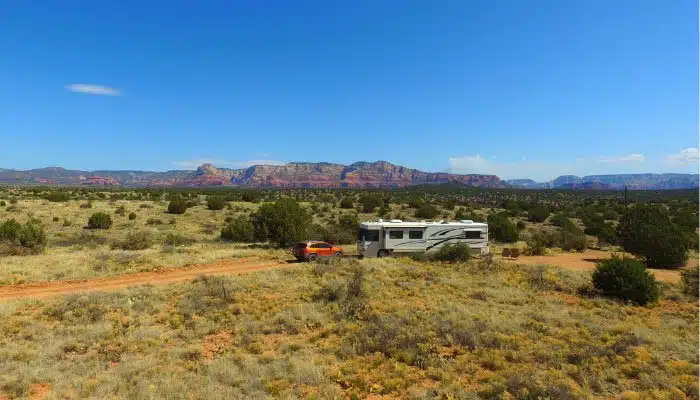 Boondocking in Sedona, Arizona
What Was Our Generator Usage?
In the six years from June 2014 – June 2020, we ran our onboard RV generators to power our motorhomes. This was usually when we were dry camping off the grid. We tend to boondock in places with comfortable temps (70s is ideal), open the windows for cross breeze, and rarely run the air conditioner. But we will occasionally run the generator to fire up the the air conditioner to cool the coach down if it is really hot. 
We also occasionally fire up the generator to power our coach house air conditioner while driving on hot days. Sometimes, we just run the generator to top up our RV batteries on cloudy or rainy days, or to exercise the generator if it has not been used in a while.
We ran our onboard RV generators for a total of 510 hours over these six years. That's an average of around 85 hours per year, or a little over 7 hours per month.
Here's the breakdown:
First, gas powered RV: 285 hours used (over about 3.5 years)
Second, diesel powered RV: 135 hours used (over about 2.5 years)
We used the generator quite a bit while out boondocking in our first RV, as it only had two lead acid house batteries and NO inverter! We did not have solar installed on that RV, but we did add a portable solar panel. 
With our second RV, we mainly only ran the generator when boondocking in our first three months. Before our RV power upgrade, where we added lithium batteries and solar panels. This allowed us to do much longer, more comfortable boondocking. That's why generator hours were lower on our second RV. We did not use our generator at all during the seven weeks we spent off-grid doing our RV renovation.
With our rental RV on the beach at North Padre Island, Texas
What About Propane Usage?
Finally, let's not forget about propane! This is another fuel source – and fuel cost – that will be a factor for most (but not all) RVs. 
Most RVs have a propane tank which is used for:
Water heater

Refrigerator (unless it's a residential fridge)

Rangetop for cooking


Furnace for heating
We used our propane tanks for all of the above, except for the fridge in our second RV (the diesel Country Coach), as we installed a residential refrigerator, which was powered by electricity. Some RVs use propane for their onboard generators too.
How Big Are Our Propane Tanks?
The main onboard propane tanks in both RVs were large:
2012 Tiffin motorhome had a 24-gallon propane tank

1999 Country Coach has a 42-gallon propane tank

Plus one portable 5 gallon / 20lb propane tank for our BBQ / portable fire pit

Most travel trailers use 20-30lb propane tanks, which are easier to exchange and fill at many locations.
Again, how much propane you use depends on many things, including:
How often do you use your propane appliances?

Our water heater and fridge also had an electric option when hooked up at a campground. So we could use electricity at RV parks, reducing the cost of propane.



How long do you stay in colder climates?

And how much you pay for propane also depends on where you fill your tank! It can be convenient to refill your propane tank at the campground or have a mobile propane truck come to your RV. Or, you can take your RV to a truck stop, gas station, or agricultural supply place to fill your propane tank. If you have the smaller 20lb propane tanks on your RV, these can also be easily exchanged at many supermarkets, gas stations, hardware stores, etc.
How Much Did We Spend On Propane?
In our six years of full-time RV travel, here is what we spent on propane:
Total propane usage over six years: $720 approx.
Monthly average: Around $10 per month
Keep in mind that we mostly followed warmer weather – chasing the seventies! But if you spend significant time in cool climates – or are mostly unplugged, camping off-grid and running propane appliances – you will likely use much more propane than we did.
Those with a propane-powered generator who boondock a lot will likely use more propane than we did. Our propane needs were very low as we mostly stayed in campgrounds and almost exclusively ran our fridges on electricity.
Also, when boondocking, we would usually only heat the water tank once per day. Once the tank was heated in the morning, we would turn it off, and it stayed hot most of the day. If you want supplemental propane heat for comfortable room temperatures in your RV, a popular choice is to use a portable propane space heater that doesn't have to be plumbed into your RV.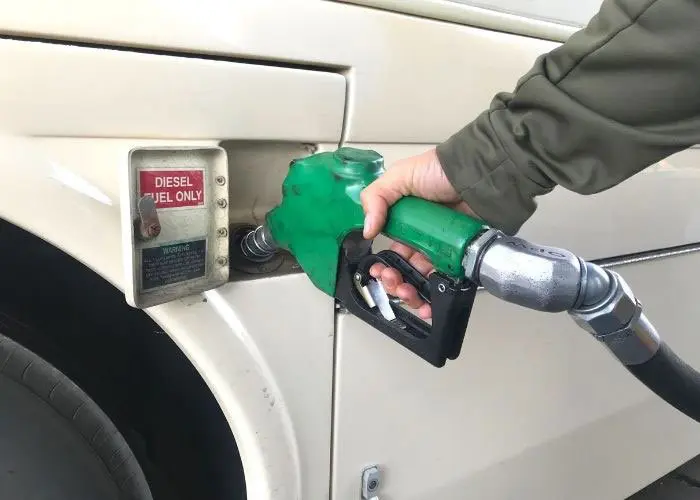 Grand Total Of All Fuel Costs And Usage Over Six Years
So let's tally up the grand total of ALL the fuel we used over the years as full-time RVers:
Fuel for RVs and Tow Vehicles (includes generator usage): $27,000

Propane: $720

Total: $27,720 over six years

Annual Average: $4,620 per year

Monthly Average: $385 per month
We're curious – is that number lower or higher than you expected?
Final Comments On Fuel Costs
When we started traveling six years ago, fuel prices were much higher than what we are seeing at the pump at the time of writing this article. As we have mentioned, fuel prices can vary significantly, and your travel pace, camping style, geographic location, time of year (climate), and how and where you drive all impact your overall fuel costs and usage. We recommend padding your fuel budget to allow for fluctuations without changing your travel plans significantly.
Here's an example of how your travel pace can impact your fuel expenses. We only spent a total of $700 in fuel in the first half of 2020. This is less than a third of our normal average spend because we traveled so little while sheltering in place during the pandemic. It is also clear evidence of how much you can curb this variable expense if you travel less distance and move less often. 
Also, note that the price of fuel will vary widely across US states. According to the website GlobalPetrolPrices.com, in the Western states, prices are about 20 percent higher than the national average. And in California, gas is around 50 percent higher. Prices are about 5% higher in the North Eastern states. And the lowest prices can be found in the Midwest and the South, where fuel is about 5-10 percent lower than the national average. 
Was it Worth it?
As mentioned earlier, we think our $385 per month average fuel costs for our RV(s) is pretty reasonable when you consider that we traveled full-time, exploring all of North America! We feel very fortunate to have lived a pretty big life on the road, and for us, the cost has been well worth it for all of the experiences we've had. Yes, even with a "gas-guzzling" Class A motorhome! 
No doubt, with a smaller, more fuel-efficient RV and/or traveling fewer miles or at a slower pace, you could bring this fuel cost down. And while we like to be mindful of fuel prices, we definitely don't let them control our travel plans. There are plenty of ways to save money as an RVer, through discount fuel, RV camping memberships, and of course, good planning and budgeting, too. 
We hope this information was helpful! We'd love to know… 
How much do you spend on fuel in your RV travels each month? 

What kind of mileage do you get? 

Got more tips for saving money on fuel? 
Leave us a note in the comments below! And keep scrolling to read our 5 Tips for Saving Money on Fuel below.
5 Ways To Save Money On Fuel
If you have a diesel truck or RV, you can save up to a dollar per gallon (seriously!) with this discount fuel program for RVers. Read our article and watch our video on

Discount Fuel – How to save money at the pump

(we usually average a saving of 30–80 cents per gallon)

Download the free Gas Buddy app to find the best fuel prices in your area while traveling – it works for both gas and diesel.


Sign up for other loyalty programs or credit cards with places like Pilot/Flying Js, Love's and others that offer them. These can be used in conjunction with the programs we mentioned above, for extra benefits, like earning loyalty points

Plan your RV road trips efficiently, and don't zig-zag or backtrack. We use RV Trip Wizard to plot our routes, choose fuel locations, and track expenses along the way.
GOT COMMENTS OR QUESTIONS?
We would love to hear from you. Drop us a note in the comments section below.