This post may contain affiliate links.
Ever wondered what it costs to repair and service an RV each year? This was one of our big questions when planning to buy an RV and live in it full-time. As our 2 year anniversary of coach ownership coincided with our visit to
Tiffin in Red Bay, Alabama
, we figured it was a good time to share our RV repair history and expenses. Of course, while this isn't necessarily an indication of what you can expect with your RV (they are all so very different) we hope it will give a sense of the kinds of things that can happen and what these can add up to.
About Our RV
Ours is a 2012 Tiffin Allegro Open Road gas Class A coach in the 35QBA (bunkhouse) floor plan. We purchased our motorhome direct from a private seller in May 2014 with 23,000 miles on the clock. It was in excellent condition inside and out and were fortunate to inherit the previous owners' extended service contract (until 2018). This gave us extra peace of mind when buying a used RV. Learn everything you need to know about RV Extended Warranties in our dedicated post.
We've been very happy with our coach. Whether it's due to the hundreds of hours researching and shopping around, that we chose a quality brand, that the previous owners had taken great care of it (as we do) and/or we've just been very lucky. Ultimately we've found our RV to be very reliable, requiring only regular servicing, a handful of minor repairs and three larger repairs over the past couple of years.
Of course, the cost of owning, servicing, repairing and maintaining an RV can vary widely with so many variables to consider. The type of RV, age, brand/quality, condition, and mileage – to name a few. So while our RV repair history may be useful information as a guide for your own budgeting purposes, please remember that this is just OUR experience and your RV repairs may end up being quite different! As a general rule, we feel it's always better to over estimate what you need to allow for RV ownership and repairs, so you are well prepared.
With all that said, here we go!
RV Repair & Service History: May 2014 – May 2016
YEAR 1
June 2014: Propane Leak Test
During our maiden voyage driving the coach from Ohio to our home in Colorado, Marc noticed the scent of propane so we turned it off at the main tank. Back in Colorado, a propane shop confirmed that yes, we did have a propane leak but advised us we needed to go to an RV repair shop to have it repaired. This wasn't great timing as we were in the midst of moving into our coach in readiness to commence our full time RV life, so we put that RV repair on hold temporarily and simply avoided using propane as much as possible, keeping the main tank turned off until we could get it fixed.
Cost: $40.00 for the test
June 2014: Replace Broken Main Cabin Door Latch
On our journey from Colorado to California, the main coach door handle broke off in Marc's hand while overnighting at a truck stop in Winnemucca, NV. We were able to get into the coach from the outside but we couldn't get out of the coach from the inside. This was the moment we felt immense gratitude for our driver's side door (an uncommon option) as an alternate way to enter and exit the coach without having to jump out of the bedroom emergency exit window! Tiffin shipped us a replacement latch mechanism which Marc was able to install in less than half an hour. Note: the previous owner also had this issue, so this is actually the second latch replacement in the life of the coach.
Cost: $252.84 for parts & shipping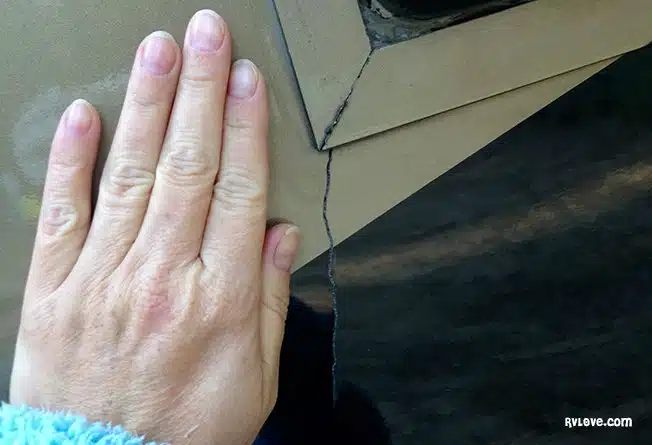 July 2014: Repair Crack in Fiberglass Sidewall
During our stay in Lake Tahoe, a crack appeared in the coach fiberglass wall under the rear driver side bedroom slide. We contacted a local Tiffin dealer who advised this was a common issue for our particular coach model as there was insufficient support underneath the slide and Tiffin confirmed they would cover the $1,000 repair under their 5 year fiberglass warranty. Our RV repair appointment for the coach was at Happy Daze in Sacramento who needed it for 4 days to add a support strip, repair the crack and repaint the area. Fortunately, Marc's uncle lived only an hour away so we were able to stay at his house that week. We did pay for one night's stay at the Cal Expo Fairground (about $35) so we could take it into the dealer for repair early on Monday morning and we picked it up on Friday afternoon.
Cost of RV Repair: $1,000 (fully covered by manufacturer) Actual Cost to Us: $0
As a side note, we had hoped Happy Daze could also fix the propane leak at this time but they advised they were too busy (in fairness it was July) so we just continued dealing with it by keeping the propane tank turned off, cooking outdoors on our BBQ and electric hotplate and running the generator to keep the fridge cold while driving. Hence, we hardly used any propane at all in 2014.
Dealer Review: Would we recommend Happy Daze? At the time of repair we thought they did a decent job, but we were disappointed they were unwilling or unable to repair our propane leak when they had it in their shop for 4 days. However, our biggest concern was that the sidewall paint job began peeling within 18 months so we had it repainted by Tiffin in May 2016. Therefore, we probably wouldn't return to Happy Daze unless we really had to.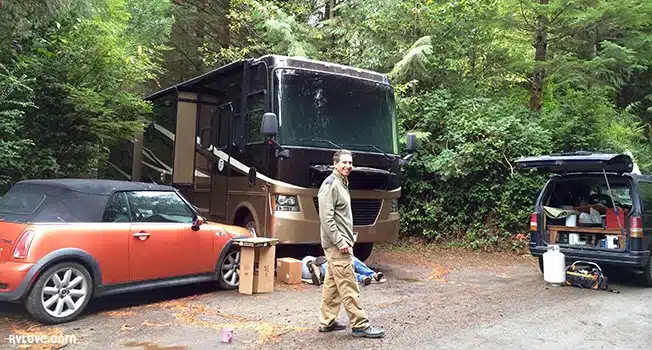 October 2014: 30K Engine Service / Oil Change
It was time for our first coach service (since buying it) so Marc bought the supplies – oil filter and synthetic oil (our RV uses 7 quarts) and we called a local Mobile RV Repair guy to do the RV oil change at our campground in Florence, Oregon. Calling a mobile service guy was super convenient as we didn't have to pack up and take our coach anywhere, the guys did a good job and given the rain we got that week in Oregon, we sure are glad they were willing to do the dirty work! Be aware, however, that not all campgrounds allow certain repairs or oil changes onsite, so ask first.
Cost: $80 for service + $45 for supplies = $125

December 2014: Fix Propane Leak (finally) – Replaced Furnace & Hose
With winter looming, it was time to get our propane leak fixed once and for all. We contacted Mike Thompson RV in San Bernadino, CA and worked with them to ensure we wouldn't be out of our home on wheels for long. They assured us they could identify and fix the problem within 24 hours, so we only had to spend one night in a motel ($50). After several hours of thorough testing to determine the source of the leak(s) they replaced a hose with pinholes and the front furnace.
As the biggest – and most costly – repair to our coach so far, this was covered under our RV extended warranty, also known as extended service contract (minus deductible), along with an electrical repair they made to the main ceiling light wiring which intermittently turned off when the main slide was out.
Here is what our extended service contract covered:
Labor for furnace testing and repair (5 hours = $525)
LP leak detection fluid ($15.98)
Furnace hose ($67.75)
Furnace ($821.70)
Ceiling light wiring part and labor ($5.56 part + $157.50 labor)
Total Total of RV Repairs: $1,593.49 (covered under extended service contract)
Actual Cost to Us: $517.26 (deductible + some tax) + $50 for motel = $567.26 (saved $1,076.23)
Dealer Review: Would we recommend Mike Thompson RV? Yes, we were extremely happy with their service which was both prompt and thorough. They went above and beyond in every way, even making a small body trim repair to the front of our coach at no cost. We would return to them in a heartbeat and absolutely recommend them. And no, we don't have any affiliation with them or any other shop mentioned in this article!
December 2014: Light Bulb Replacement x 2
While at Mike Thompson RV, we picked up a couple of LED bulbs from their supplies store to replace two non LEDs that had burned out – one for the refrigerator and one for inside the closet.
Cost: $16.50 

February 2015: Replace RV Shower Hose Ring
The bronze shower hose ring affixed to the bathroom wall that holds the shower hose in place is only made of plastic so it eventually broke. We found a replacement on Amazon and Marc was able to switch it out in just a few minutes. Easy peasy.
Cost: $13.95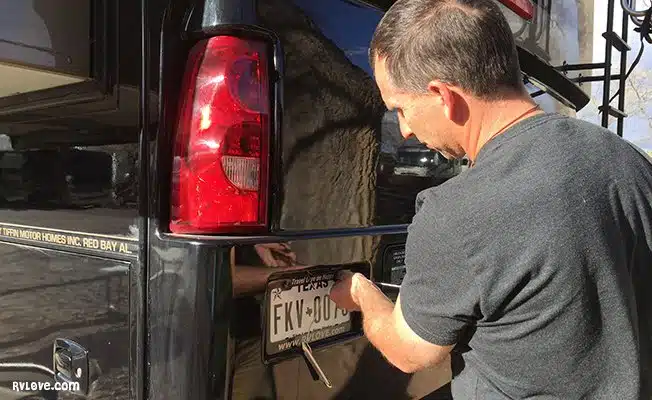 March 2015: Annual Vehicle Inspection + Replace Tag Light
When it came time for our vehicle inspection in Texas, they found the tag light (which illuminates the rear license plate) wasn't working. They passed our RV vehicle (just $7) based on our sworn promise that we'd replace the light pronto. Tiffin shipped us the part and it was another quick and easy install for Marc.
Cost: $7.00 for Vehicle Inspection Certificate + $12.37 for part & shipping = $19.37
YEAR 2
July 2015: Replace RV Shower Hose Ring (again)
No, it wasn't a faulty part, even though it's only made of plastic. This time I have to confess that I (Julie) slipped in the shower, grabbed the shower hose handle and promptly broke the ring again. D'oh!
Cost: $13.95 
July 2015: 35K Engine Service + Chassis Lube + Service Generator
While staying at Thousand Trails in St Clair, MI we found a shop in nearby Port Huron (Hill's Garage) that was big enough to handle our RV to perform an oil change, lube the chassis and service the generator (238 hours) for the first time since we'd bought the coach. Marc bought the oil and the filters needed for the RV along with filters and oil for our 7K Onan generator. It took the shop 2 hours for them to do the work all up and labor costs came in at about $150.
Cost: $270 including all parts and labor
Dealer Review: Would we recommend this shop? Yes, we were very happy with Hill's Garage and would definitely return.
August 2015: Replace Broken Plastic Fridge Door Shelf
One of our plastic fridge door shelves was cracked and it finally gave way completely. No big deal, but I have to admit I was shocked at how expensive a simple, silly plastic shelf can be! Camping World wanted $60 plus shipping – seriously!? But I managed to save at least $20 by buying it from Dyers online.
Cost: $48.46 for part & shipping 

November 2015: Replace Water Heater, Fix Driver Side Window Switch
Marc discovered water pooling on the main living area floor between the cabinet and dining area. Initially he thought it was coming in from when we pulled the slides in. But upon closer investigation, he realized it was coming from the bathroom – a leaking water heater. When we brought the coach off it's leveling blocks and the RV tilted forward, the water that had pooled underneath the heater ran underneath the cabinets and into the living area. This is definitely one of the advantages of living full-time in your RV. You're able to notice and rectify issues like this immediately as opposed to having it sit for weeks or months in between trips which could cause extra damage and create a nasty mold problem.
We arranged to take our coach into Camper's Inn of Mocksville, NC near our campground at TT Forest Lake. They diagnosed the problem, ordered a replacement (ours is a 6 gallon Atwood) and sent us back to our campsite until the part came in. We returned a few days later and they completed the install of the new water heater, removed the cabinets to check for water damage and treated the area to prevent mold occurring.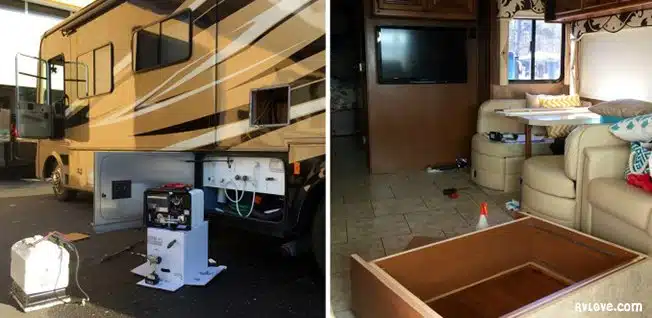 While we were in the shop, they also checked our kitchen sink pipe adjustment as they occasionally leak when the sink is full of water ($60 labor). They installed a new driver's side window switch (Marc thought he had fixed this but the problem kept recurring) and also rewired the rear license plate wiring as it kept shorting out the bulb.
Here is what our RV extended service contract covered:
Water heater part ($796.57) and labor ($300)
Driver's side window switch ($18.99) and labor ($60)
Freight for parts ($23.86)
It did not cover:
Labor for the shop to build a new wooden base for the water heater ($60)
In-line valve for water heater x 2 ($25.81)
License plate re-wiring ($60)
Kitchen sink pipe check and adjustment ($60)
Shop supplies ($9)
Total of Repairs: $1,414.23 (covered under extended service contract)
Actual Cost to Us: $500 deductible + 214.81 = $714.81 (saved $699.42)
Dealer Review: Would we recommend Camper's Inn? Yes, absolutely, everyone was professional, efficient, knowledgeable and friendly. We would definitely go back.
March, 2016: 40K Engine Service + Annual Vehicle Inspection
As we're officially Texans now, we stopped in to get our annual vehicle inspection along with an oil change at Trucks and Tracks in Columbus, TX – it was the only local shop we could find that could deal with a large RV like ours. Marc bought the oil and filter, as usual, the service side of the job went smoothly. Our oil cap was missing so they also ordered a replacement for that. However, our TX State Safety Vehicle Inspection cost us a LOT more than the $7 it should have, as they found the 5 Amber Clearance Lights above the windshield weren't working and spent another couple of hours trying to pry them off in an attempt to fix. They were unsuccessful, charged us $150 for their time and we left without a vehicle inspection certificate. Needless to say, we were bummed about the wasted time and money without a satisfactory outcome. (Two months later, as you'll find below, Tiffin fixed the clearance light issue in 5 minutes by replacing a fuse. A fuse, can you believe it!? )
Cost of Service: $176.57 for parts, labor and environmental fee
Cost of Oil Cap: $15.37
Cost to Inspect Faulty Clearance Lights: $150 (!)
Dealer Review: The oil change went fine but based on our annoyance, frustration and costs relating to the amber lights issue alone, we would not return to Trucks and Tracks.

May 2016: Several RV Repairs while visiting Tiffin HQ
We initially planned a trip to Tiffin to do the factory tour but in the lead up to our visit, we found a number of relatively minor items that needed attention. You may have already seen our video outlining the things we wanted Tiffin to take care of in 
this video
but we have listed them below for easy reference.
Replaced fuse for amber clearance lights above windshield ($9.50)
Repaired main coach door shock absorber – screws wouldn't stay in side wall ($47.50)
Adjusted basement door latches (x2) to close properly ($29.83)
Replaced toilet – clunking sound, leaking gasket ($180.04)
Replaced water pump which literally broke down while we were in the service bay! ($94.82)
Checked slides to see if adjustment needed ($47.50)
Checked and lubricated leveling jacks (no charge)
Checked tank sensors – weren't showing empty after dumping tanks (no charge)
Repaired peeling paint from coach sidewall repair (related to repair in July 2014) (no charge)
Inspected and touch up paint on a scuff on top rear corner of roof (no charge)
Cost: $427.82 including parts, labor and tax
We also filmed our actual experience in the service bay at Tiffin, Red Bay and shared it in the video below.
Dealer Review: Would we recommend the Tiffin Service Center? We think it's pretty evident from our videos and articles so far, it's a resounding yes! These guys work on Tiffins day in and day out, so they were able to troubleshoot and fix our issues quickly and easily and we were thrilled at how much we got fixed on our coach for so little. It may not be that way for everyone, but for us, it was a breeze.
May 2016: Miscellaneous Items Replaced
Windshield Wiper Blades: $39.38
Sink drainer/plug: $8.62
So what's been our total out of pocket coach repair and service costs in the time we've owned it? Drum roll please…..
2 Years of RV Repairs & Service: $2,900 = average of $1,450 / year
The first year actually came in at $1,034.92 and the second year was $1,864.98 – which averages out at under $1,450 a year or about $121 a month. During our planning phase, we had actually budgeted $100 a month for RV repairs and service so it's not too far off our guesstimate. We think that's pretty reasonable for a home on wheels that has traveled over 40,000 miles around the country, with 20,000 of them driven by us!
It's important to keep in mind that we do have an RV extended warranty service contract which has saved us $1,848.53 so far. Without that, our expenses would have totaled $4,748.43 over the 2 years, an average of $2,374.21 per year ($198/month). We definitely appreciate the extra peace of mind this coverage brings us, knowing that the cost of most major repairs is capped at our deductible of $500.
When it comes time for us to change/upgrade our coach, we'll definitely be buying another Extended Service Contract – we like having as much certainty as possible when it comes to managing our expenses and we don't like nasty surprises so for us, we just consider it part of the overall cost of owning an RV – or any home. Of course, much like insurance, you never know if or when you'll need to use it, but at least you can relax more when you know you are covered for the unexpected.
Summary 
Overall, we have found the cost of RV repairs and servicing to be quite reasonable, but remember, we live and travel in our RV full-time and no longer own a stick and brick, so our RV costs are not on top of the expenses related to also owning a home. We do take excellent care of our motorhome, keep a keen eye on things and Marc is quite handy so he's able to do a number of smaller repairs himself – all of that makes a difference.
Remember, for our comprehensive post on the costs of 6 years of RV ownership click here.
So now, we want to hear from you!
How does this compare with what you spend on annual coach repairs and service? Is your coach trouble free or do you have a horror story or two? What do you spend on RV repairs and servicing each year?
GOT COMMENTS OR QUESTIONS?
We would love to hear from you. Drop us a note in the comments section below.