This post may contain affiliate links.
When we decided to change RVs and buy another used motorhome – an older diesel –  we knew we wanted to get a professional pre-purchase RV inspection done first, before signing on the dotted line. It ended up being a wise decision that saved us a lot of money. In this video and blog post, we share our RV pre-purchase inspection experience. And why we think it's worth spending the money having a 3rd-party professional do an RV inspection before you buy.
Our decision to buy a new coach
Our decision to change our motorhome was not one we made lightly. After all, our RV isn't just something we take out on weekends. It's our home and our office too! We had been casually considering changing RVs for about a year. We dove into serious RV shopping a few months before we found our 1999 Country Coach Intrigue. A coach like this certainly isn't for everyone.
Buying an RV is always a very individual decision. So we guinea-pigged ourselves by applying everything we have learned over the years (and teach in our RV Success School) It helped us narrow down to the kind of RV we felt would help us best meet our needs and goals in this next phase of our life.
We narrowed our list of 'must haves', and other features important to our specific needs and lifestyle. And we were very clear on what our next coach needed, to make it the right fit for US. Being crystal clear on your own unique needs, values and preferences will help immensely during your RV shopping and purchasing process.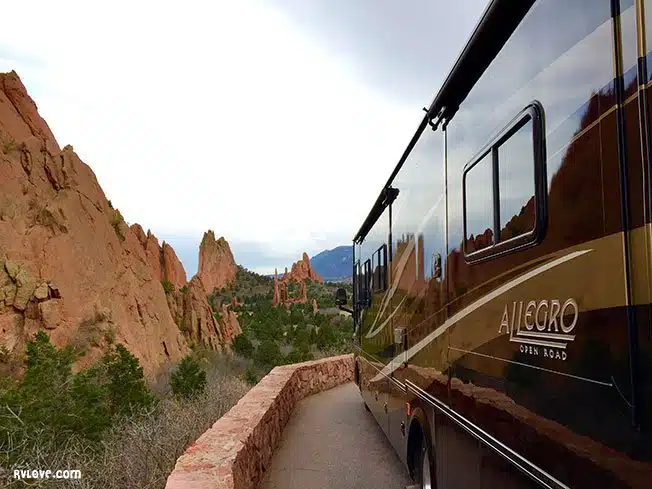 Now, before we dive into the inspection experience of our 1999 Country Coach Intrigue  "CC", we have a confession to make.
As RV newbies back in 2014, we did NOT get a pre-purchase RV inspection on our 2012 Tiffin Allegro Open Road motorhome. Why not? Well, as we said, we were RV newbies (obviously, this is even MORE of a reason to get an RV inspection pre-purchase). But we simply didn't know what we didn't know at that time!
After several conversations with the private seller, I flew out to Ohio to inspect the Tiffin and take it for a test drive. It drove great, was in excellent condition, and everything we had hoped for. The RV was only 2 years old, had just 23,000 miles, AND came with an extended service contract. We were even able to transfer the extended service contract into our names. This was definitely a huge bonus that we put to good use and saved us thousands over the next 3.5 years. We figured we didn't really need to spend the money on a professional inspection. 
There was nothing obviously wrong with the coach, so we proceeded with the purchase. On our maiden voyage from Ohio to Colorado, I detected the smell of propane. As it turned out, we had a propane leak, resulting in the need to replace one of the furnaces plus a leaky hose. Fortunately, this repair was covered under our extended service contract. But we still had to pay the $500 deductible (the total repair was about $1,800). It definitely would have been good to know about this in advance. A professional RV inspector may have been able to detect this ahead of time. And the issue could have been repaired before we took delivery, but I digress. Back to CC's inspection.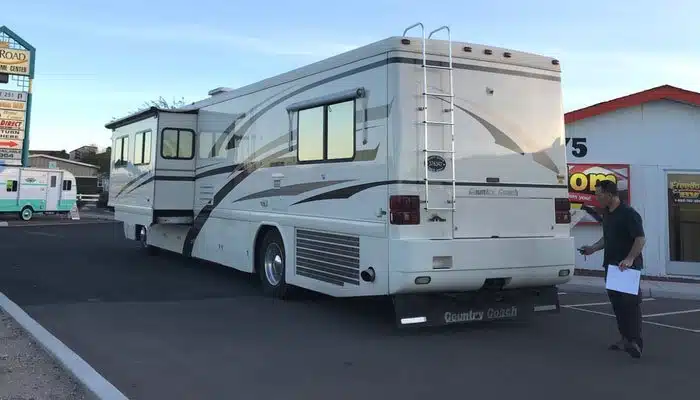 Why we wanted a professional RV Inspection
We consider ourselves experienced RVers who understand the most important things to look for when RV shopping. But we are not mechanics or engineers, and we're certainly not trained or qualified to do professional RV inspections. There are SO many components and structural aspects of an RV to take into account. And it would be near impossible for us to check them all thoroughly without proper equipment.
Any time you're buying an RV – whether new or used – you're still taking a risk. Will  it will be reliable, go the distance with you and not end up costing you in terms of unexpected or costly issues and repairs? We're firm believers that anything and everything you can do to help manage that risk, is a wise move.
Of course, we did our own initial inspections of CC. But also knew we wanted a much more thorough independent 3rd-party inspection to test all systems on the coach before purchase. We wanted an unbiased and even more skilled professional to conduct an inspection who could be more objective. We were already in love with CC. A third party is more likely to catch things that we might miss during our own inspections.
Benefits to purchase process
Even though this particular RV was much less expensive than others we had been looking at, it is still quite a chunk of money. With so many things that can go wrong with an RV, we knew it was important that we make a good decision on our purchase. A professional inspection can highlight potential issues in advance. This knowledge can save you money when negotiating a purchase price, or may even help you avoid buying a lemon.
Ultimately, it will give you peace of mind in knowing exactly what you are buying and what to expect to reduce the risk of 'surprises' down the road. In fact, one of our RVing friends, shared how much he valued having a professional inspection on his one year old RV. It was required in order to take out an extended service contract. He learned so much more from the Inspector about his RV, systems and recommended maintenance during the process.
Scheduling Our RV Inspection
We felt ready to buy and were keen to get the inspection done and finalize the transaction as soon as possible. We chose Premier RV Inspections, as they have an excellent reputation, and a network of qualified inspectors around the country.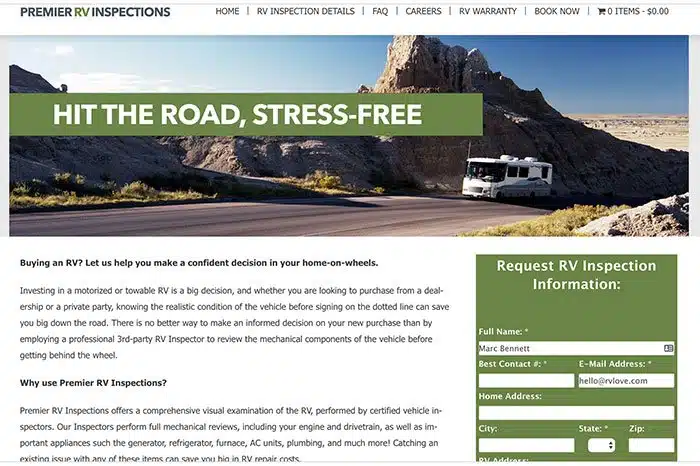 The online scheduling process was simple and easy, and we were able to schedule our inspection in Tucson just a few days later. We also liked that Premier RV Inspections also works very closely with Wholesale Warranties – another company we know and trust. In fact, getting quotes for extended service contracts (warranties) on certain RVs on our short-list was part of our shopping and research process. Depending on the unit, warranty prices can vary widely. This definitely impacted some of our decision making when RV shopping.
RV inspectors are mobile and will come to where the RV is located. But you might not be able to be present during the inspection.
Preparing for your RV Inspection
A few things you will need to have available for your inspection:
Ensure the RV is unlocked and plugged into electricity and water (or at least fill your fresh water tank)




Turn on the fridge at least 4 hours before the inspection (preferably overnight)




Allow about 2-3 hours for the inspection
What is included in an RV Inspection?
The RV inspection will vary depending on the type of RV you are buying. For both motorized and towables, they will inspect the exterior of the RV, mechanicals and the most costly components, including:
External Condition (body, rust, damage, paint, decals, windows, slide out seals, glass etc)




Tires and Batteries




120 Volt Systems and Appliances (Air conditioners, residential fridge, microwave etc)




Slide room operation




Generator




LP Propane and Gas Systems and Appliances (fridge, furnace, range burners etc)




Fresh Water and Holding Tanks / Draining System




Audio, Video, TV, Satellite etc




Other electrical appliances (washer/dryer, dishwasher etc)




Photos of RV, especially those detailing areas of concern



The inspector completes a written report, which you will get a copy of within a couple of days of the completed inspection.
If you're buying a motorhome, as we were, the inspector will also check:
RV fluid levels, such as engine oil, coolant, power steering, transmission fluid, brakes etc




Engine, Transmission, and Cruise Control (operation, vibrations, slipping abnormalities), Dash Gauges, Dash A/C, Audio visual etc




Braking and Suspension systems



They will also do a test drive of the motorhome (generally as a passenger) to check for unusual sounds, vibrations or noticeable defects. The inspector will not only inspect but also educate you about the condition of the RV.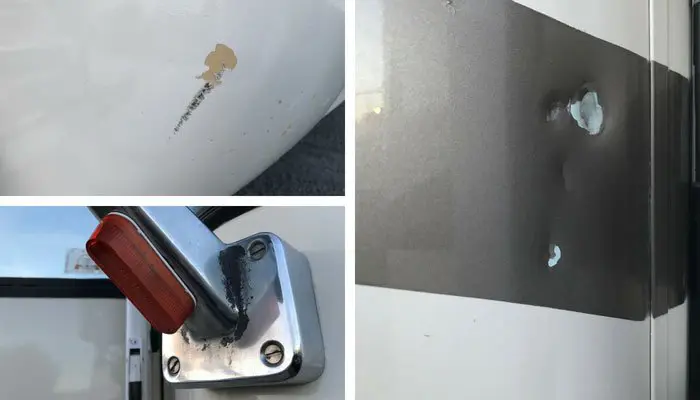 I arrived a couple hours earlier than the scheduled appointment time to do my own pre-inspection and build a list of items to discuss with the inspector upon arrival. During my initial walk around I noted that the tires were different sizes than original equipment on the RV. There was also a big chunk missing from one, and the rear tires looked old. I was unable to find the date code as the tires had been mounted with the date codes facing in.
The plumbing system and most of the appliances were working. But I wasn't sure if they were working optimally. I had also spotted some water damage behind the fridge and there was some surface rust in areas. But the engine compartment was nice and clean. There was some paint peeling and checking and plenty of cosmetic imperfections. This was to be expected, given the age of the coach. That didn't concern me, I was more focused on the mechanicals and systems and looked forward to hearing what the inspector would find when he arrived.
Inspector arrives
Once our inspector, Eric, arrived, he did an initial inspection of the exterior of the coach including the tires, batteries, engine bay, storage areas, and generator. It was definitely a bonus that Eric was very familiar with Country Coach. He had worked for the manufacturer and owns one himself!
Watch the video to see the high level points of our RV inspection. Note, fortunately, we were able to be present during the inspection. But, depending on the inspector, you might not be allowed to be present.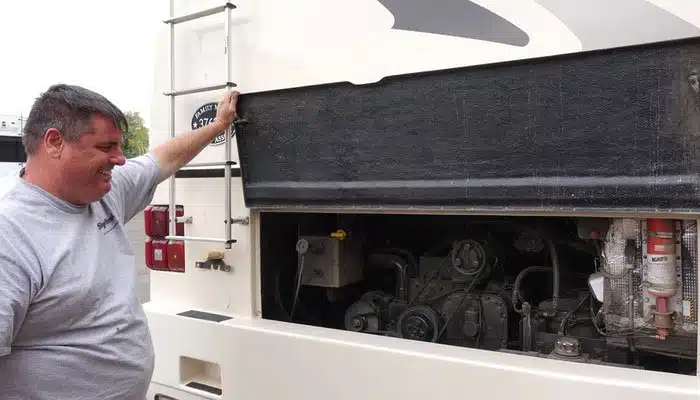 After our initial exterior inspection, we went inside to test the electrical, propane and plumbing systems. We tested all appliances and fixtures. There are so many things to test in modern RVs, especially motorized ones. It is like doing a car inspection and a home inspection at the same time.
Even though it was a hot day, we still checked the heat pumps and furnace. We tested every light, and every function of all appliances. Not just to see if they worked, but also using diagnostic tools to ensure they were working properly. We tested the slide movement. And inspected the ceiling and inside cabinets for any signs of water damage or other potential concerns.
Eric drove the coach to test the engine, transmission, steering and braking systems and ensure they were operating as they should. The road test confirmed some of our expectations from the larger sized tires, as you'll see in the video.
Of course, if you're buying a non-motorized RV, the inspection won't include a road test.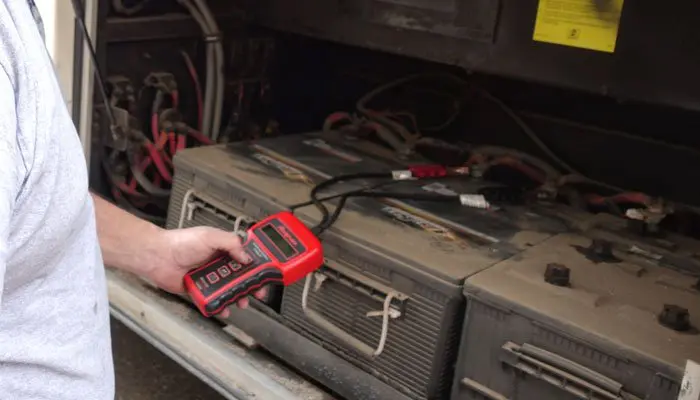 As expected, during our inspection process we uncovered a number of issues that needed to be addressed.  Based on Eric's feedback, we were also able to establish a priority list for repair.
Here is a summary of the items we knew we needed to action fairly quickly:
Replace all six tires (poor condition, uneven, different sizes, types and ages)

Service engine (change oil and filters etc)

Replace the waste tank blade valves (leaking tank)

Install new engine belts (showing signs of cracking)

Replace the chassis and house batteries (working but old and wrong type)

Remove the water damaged flooring under the RV fridge (when upgrading to a residential fridge)

Replace inverter for house electrical system  (not working)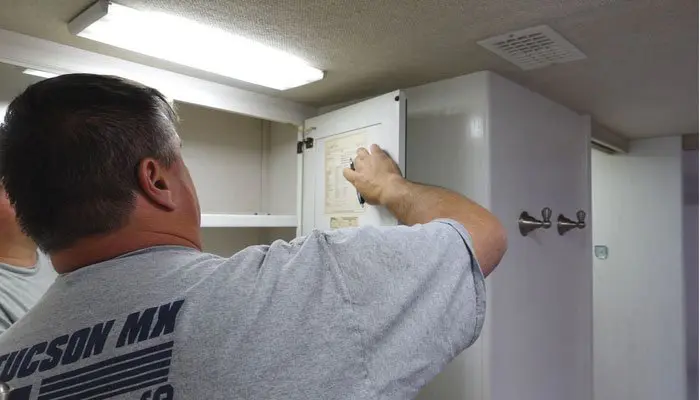 It felt really good to be armed with detailed information on the specific items that needed to be repaired and how soon. This allowed us to plan and budget for future repairs. It also became a powerful negotiating tool when it came down to agreeing on a purchase price with the seller (dealer).
Some people might choose to negotiate for the seller to remedy the issues prior to taking delivery. We opted instead to negotiate the price down and arrange to do the repairs ourselves. Of course, the best path for you might be different depending on your time, skills, and level of interest in DIY RV repairs.
Issues Found Brought Us Huge Savings
We are confident that the knowledge we gained during the RV inspection gave us the clarity and confidence to negotiate the purchase price down substantially.  The price you pay for an RV inspection can pay for itself many times over. It certainly did in our case. We ended up negotiating an additional $10,000 off the already discounted 'internet sale price' of $35K. In the end, we bought our CC for just $25K. Score!
And as soon as I drove CC off the lot, I headed straight to the tire shop to get some new shoes for CC. I also took it to a shop for engine and chassis service. Keep an eye out for our next video where we cover our first set of 'fixes'.
As you may know, we have been planning to do a significant renovation of the RV interior once we have had a chance to live with it 'as is' for a few months and work out what we want to do. Some of the other smaller concerns identified with the interior – like peeling paint or loose fixtures – will be addressed during our upcoming RV makeover / renovation (See our Ultimate Makeover Series here) . The most important things to us from the beginning were ensuring mechanical safety and road worthiness. The cosmetic stuff we can deal with for a while.
Do You Really Need a Professional RV Inspection?
In our opinion, whether you're buying from a dealer or privately, knowing what you are getting into in advance can save you in many ways – repairs, time, money and headaches. When you know exactly what you're getting into, it helps you make an informed decision, gives you confidence in the purchase, and can significantly reduce the chance of nasty (or expensive) surprises down the road. If any issues are identified, you can either choose not to proceed with the purchase (and save yourself an expensive mistake by avoiding buying a lemon), request certain repairs be made before taking delivery, or use that inspection report and "fixit list" to negotiate an even better price (as we did).
When you're selling your RV, having an independent written inspection report will also show prospective buyers the RV is in the condition as advertised. Finally, if you're considering taking out an extended service contract (also known as an extended warranty) you will need to have the RV fully inspected before they will offer you coverage of your used RV anyway. These are not needed at the time of buying a new RV. Even if you are buying from an RV dealership (as we did), their walk-throughs are usually not very thorough or in-depth. So having an independent, unbiased, 3rd party review of the RV will give you more certainty and peace of mind. You're not just believing what the salesperson tells you!
Our experience
All in all, we had a positive experience and are glad we had a professional RV inspection before we bought our RV. It's one of those things that so many people try to save money on. But at the end of the day, you may end up spending more in the long run, fixing issues you may not have been aware of. 
This is especially likely if you are a newbie or don't have a lot of RV experience. But even as experienced full-time RVers, we absolutely recognize the value in it.
What Does an RV Inspection Cost?
You will pay around $400-$450 for professional RV inspection for a motorhome. Towable RV inspections are almost always less expensive as they are much simpler, with no need to test the engine and related mechanicals. An RV pre-purchase inspection is an investment that can literally save you thousands and bring a lot of peace of mind with it…. or it can help you avoid buying a lemon.
If you are shopping around for an RV, we highly recommend getting a professional, independent inspection from a qualified technician before buying. We also recommend getting a quote on an extended service contract to consider as part of your total RV purchase cost, as these prices can vary widely, depending on the type, age and mileage of the unit.
That's one of the benefits of organizing an inspection through Premier RV Inspections . Getting a completed inspection through their company is also a prerequisite for obtaining extended service contract (warranty) coverage through Wholesale Warranties which is the company we recommend most often. They offer the widest range of policies, the best pricing and excellent service.
Below you will find some links to these companies, which we know and trust through personal experience.
GOT COMMENTS OR QUESTIONS?
Are you shopping around for an RV? Have you had a professional RV inspection? We'd love to hear from you in t he comments below.