This post may contain affiliate links.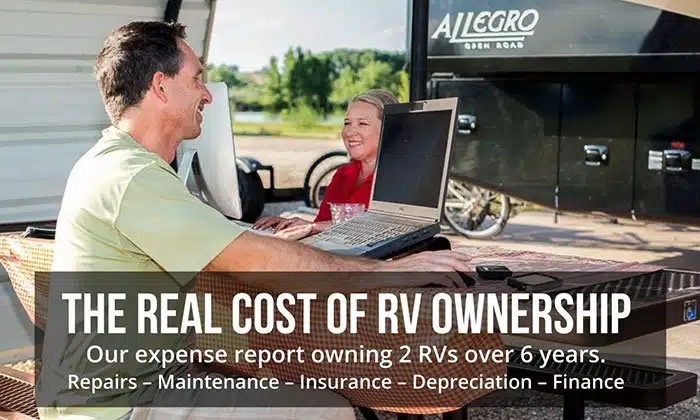 After owning two RVs and full-time RVing for six years, what have been our REAL RV costs? This is Part 3 of our '6 Years of RVing' recap series, where we share what our RVs have cost us in RV repairs, maintenance, depreciation, etc, over the years.
We did the math on both of our motorhomes – a 2012 gas-powered motorhome and a 1999 diesel pusher motorhome – to see how it all added up. We think you'll find the data very enlightening – and hopefully helpful in your RV decision-making.
It's not always easy to find accurate data on the real cost of RV ownership.
A list of possible RV costs and expenses to be aware of is one thing. But actual, hard data is another. For example, our report is based on our six years of real-world RV ownership, documenting our expenses and generating a total and average monthly RV cost.
We also provide context, as RV-related expenses can (and will) vary, depending on your unique situation and choices. And not all of our decisions will be the same as yours.
Full-time RV life vs traditional life
Remember that as full-time RVers, many of our RV-related expenses replaced what we might have otherwise spent on our stick and brick home. However, if you plan to own an RV in addition to owning or renting a regular home, keep in mind that many of your costs will double up, naturally making RVing more expensive. But as full-timers, many of our prior home ownership-related expenses were replaced by our RV life expenses.
We embraced the RV life from day one in a Class A motorhome, knowing this is typically a more expensive option than buying a trailer. Have there been some costly surprises? Yes! However, we have no regrets, and we take responsibility for ALL of the choices we make in our RVing journey. So should you.
Full-time RV life vs. Part-time RV life costs
We also have an even more recent blog post comparing all of our full-time RVing costs against our Part-time RVing costs now that we have a home base. Check out that blog post here.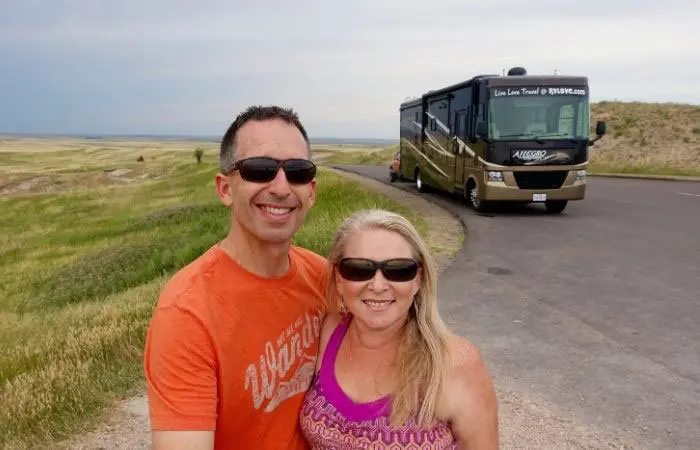 Disclaimer: 
Before we begin, know that every RV – and every RVer is different. So our RV costs and expenses may be similar or very different to what yours is or might be. There is no right or wrong – just different scenarios and different related costs, which may or may not be typical. This is simply our personal experience. We share this information as a helpful guide. But it should not be considered a hard and fast rule of what to expect. You should always do your research. And do not overcommit yourself financially when buying an RV – generally a depreciating asset. Go in with your eyes wide open so you are prepared.
We hope this article provides you with an excellent perspective and understanding. Therefore, helping to guide your own RV purchase and ownership decisions.
Read it in detail to the end to get the complete picture because it is NEVER just about the numbers. It's not black and white. There are many variables to consider, even in our situation shared here.
Lastly, this post covers the RV costs of our actual RVs and related expenses to keep them safe, operational, and well-maintained. We don't skimp when it comes to safety. 
What is NOT included in this report?
We do NOT include the cost of campgrounds, camping memberships, or fuel and gas here, as we consider those RV travel expenses. But, you can read our other posts in our 6 Year Recap series for that detail. In Part 1, we share our comprehensive review of our Thousand Trails camping membership – is it worth it? In Part 2 we share our total RV camping expenses – campgrounds and boondocking – over 6 years. Here in Part 3, we cover RV ownership expenses. And in Part 4, we cover mileage and fuel.
There's a LOT of information and detail in this article, so we have broken it up into several parts. We recommend you read it all the way through to get the full picture. 
Grab yourself a beverage and settle in! You are about to learn a TON!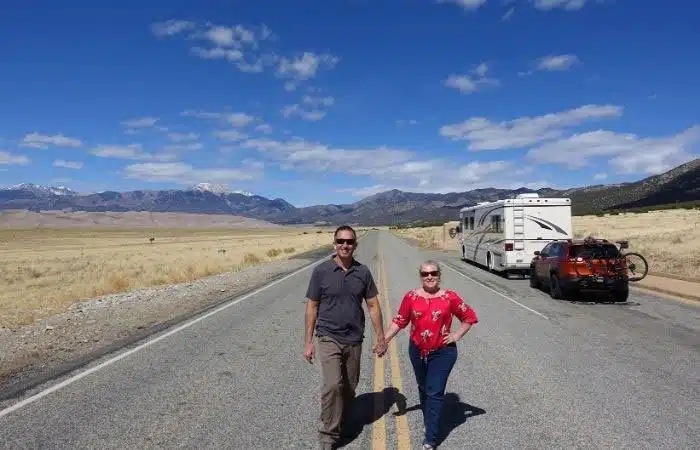 The Real RV Costs of Ownership
Firstly, it is important to remember that RV ownership costs can vary widely, depending on numerous factors. These include, but are not limited to:
Type of RV (motorhome vs. towable; diesel vs. gas; brand; model etc.)
Buying new vs used
Purchase price (and tax)
Financing (or not)
Market conditions (supply vs demand)
Condition of RV
Standard and frequency of your RV maintenance and care
RV Repairs – and whether DIY or take to a shop
RV Warranties (manufacturer and/or RV extended warranty)
Your RV use and mileage 
Secondly, the variety of RV choices is enormous. Some RVs are more straightforward, while others are more complex and thus more expensive. Some people will certainly spend far less than we have, and others will unquestionably spend far more. 
What type of RV(s) do we travel in?
To offer some perspective, over the past six years, with both of our RVs, we have chosen to travel in Class A motorhomes towing a car. This combination generally tends to be a higher average cost than towing a trailer with a truck. But, we purchased both RVs used, which usually helps reduce the overall cost and depreciation.
Also, remember that Class A diesel motorhomes are more expensive than Class A gas motorhomes – purchase price, repairs, and maintenance – as they are generally higher quality with more expensive parts and components.
Looking to compare some other types of RV travel?
This blog post and the others in our six-year recap series focus on our full-time RV travel costs in Class A motorhomes. But we have another detailed blog post that compares our full-time and part-time RV costs. Our part-time RVs are a smaller Class C motorhome and a Casita camper trailer towed behind the same Jeep we used to tow behind our Class A motorhomes. Check out the detailed comparison of our full-time and part-time RVs here.

Our first RV – a 2012 Tiffin Allegro Open Road Class A gas motorhome. We towed a MINI.
RV Purchase Price – What did we Pay for our RVs?
Here's what we bought and what we paid for them:
RV #1 – 2012 Tiffin Gas Allegro Open Road Class A Gas Motorhome
Our first RV (known as Rocky) was a 36' gas-powered motorhome, bunkhouse model, with four slides. We bought the Tiffin from a private seller in Ohio in May 2014. It was just two years old, with 23,000 miles. All up, we paid about $100,000 ($93,000 plus our Colorado state taxes). According to NADA Guides, the MSRP was $129,500 (ex-tax). We were the 3rd owners.
RV #2 – 1999 Country Coach Intrigue
Our second RV (AKA CC) was an older but high-quality 40' diesel pusher motorhome with one slide. We purchased the Country Coach from an RV dealer in Tucson, AZ, in March 2018 at the bottom of the depreciation curve for just $25,000 plus Texas sales tax (we changed domicile from Colorado to Texas in 2015). So, around $26,500 total. 
Although it was 19 years old with 170K miles (we were told but unable to verify as the odometer was broken). We were not too concerned as Country Coach has a reputation for making some of the finest motorhomes ever built, and the quality is still superior to many newer RVs today.
According to NADA Guides, the Country Coach sold new for around $234K (about $360K equivalent today). We believe we were the sixth owners of this coach. We intended to do a complete RV renovation and truly make it our own. Being experienced RVers who saw how these things are built at the factories, we weren't afraid to tackle an RV remodel and DIY repairs. I've done construction and mechanical work and figured it would be a good learning experience.
What about our TOAD vehicles?
During this time, we have also owned two vehicles for towing behind our motorhome/s. A 2006 Mini Cooper Convertible is what we started out with, towed on a tow dolly. We switched it in October 2017 for a 2015 Jeep Cherokee Trailhawk, which we flat tow 4-down. To clarify, we won't include these costs in this article as we are focusing on the costs of RV ownership. Towing a vehicle is optional for motorhomes.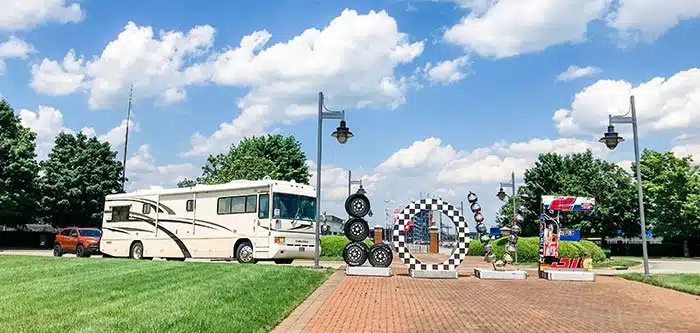 Our 2nd RV –1999 Country Coach Intrigue Class A diesel motorhome. We tow a Jeep.
Did we have any Factory or RV Extended Warranties?
Having your RV repair costs – or at least some of them – covered by a warranty is one way to help you contain RV repair expenses. Here's what we have had over the years.
RV #1 – 2012 Tiffin Open Road
Although this 2-year-old coach did not have a factory warranty (most are only for a year), the structure/body was still covered under Tiffin's 5-year structural warranty.
We were lucky that the seller included an exclusionary RV extended warranty in our purchase, with the remaining policy valid until March 2018. This was worth several thousand dollars. It cost just $75 to transfer the policy into our names.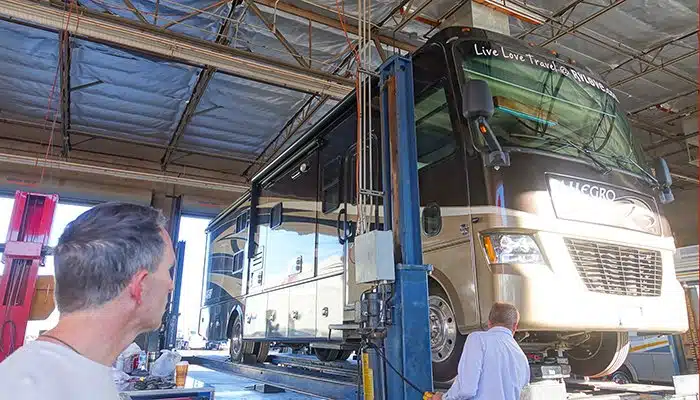 King Pin repair underway on our Tiffin, this RV cost was covered under our RV extended warranty
RV #2 – 1999 Country Coach
The Country Coach was sold 'as is' with NO warranties from the RV dealer because we haggled hard on price (originally $50K, sale sticker was $35K). We also had a professional RV inspection done (approx. $450). Consequently, we knew some of the issues before buying. 
We looked into getting an RV extended warranty (also known as an RV extended service contract). Even though our CC was 19 years old at the time, it was actually not the coach age but the 100,000+ mileage that made this motorhome ineligible for warranty coverage. We decided to 'self-insure' and bought the coach anyway, figuring our financial exposure was fairly limited as we bought it so cheaply and could DIY many repairs.
In short, had the coach mileage been only, say, 90,000, we would have been able to buy a 3-year RV extended warranty – with a $200 deductible – for just $7,500. (And as you will see, it would have been worth it.)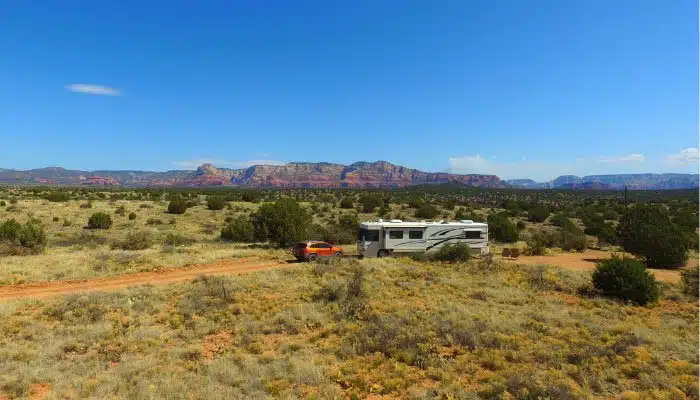 Boondocking in Sedona, Arizona
The Real RV Costs of Ownership – Financing and Interest
When we jumped into the RV lifestyle in 2014, even though we had sold our home, we chose not to pay cash for our RV. We wanted to invest our money elsewhere. Above all, our RV mortgage interest was a tax deduction anyway, as it was our 'home on wheels.' 
Finance and Interest on RV #1 – Tiffin
We financed our first RV – the Tiffin – at 4.39% over 20 years with a secured loan and payments of $569 a month. We paid that loan off when we sold the Tiffin a few years later (after 45 months of ownership). All up, we paid around $13,740 in interest during the time we owned the Tiffin. That averaged out at $305 per month.
Finance and Interest on RV #2 – Country Coach
We also financed our second RV – the Country Coach – at 5.44% over seven years with an unsecured loan and payments of $501 per month. During our 27 months of ownership, we have paid $3,784 in interest on the Country Coach. That averages out at $140 per month.
We both have excellent credit, so our interest rates were near the lowest available when taking out our loans. 
Keep in mind financing costs will depend on several factors, including but not limited to:
The type of lender

Prevailing market interest rates

The RV you buy (e.g., age, price)

The loan term

Your credit score

Looking back, our total interest expense over the six years was about $17,524, with average monthly interest costs of $243. Most of that was for the financing of our first, more expensive motorhome.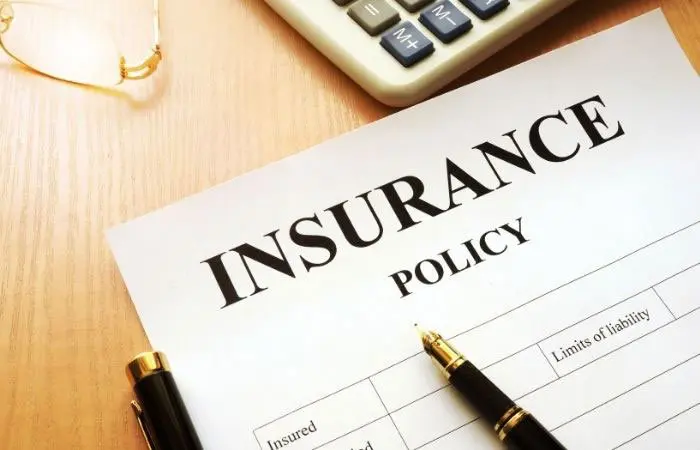 Insurance is another RV cost that will vary widely, depending on the type of RV and vehicle you buy. Your insurance cost – regardless of the insurance company – will depend on the type and value of the RV, type of coverage, state and city you insure the vehicle in, your driving record, credit score, insurance claim record, and no doubt many other factors we aren't even aware of. It's best to have an insurance broker look into the options available to you and recommend at least a couple of options and quotes based on your situation.
We had a full-time RV insurance policy with no prior insurance claims, plus excellent credit scores and driving records. We were insured in Colorado for our first eight months, but this switched to Texas when we changed our domicile in early 2015.
Here is what we paid in insurance:
RV #1 – 2012 Tiffin Open Road. The annual insurance premium on our Tiffin was around $1,200 per year. All up, during our 45 months of ownership, we paid $4,700 in insurance for the Tiffin, an average of $104 per month. 
RV #2 – 1999 Country Coach. The annual insurance premium on our Country Coach was around $1,075 per year. All up, during the 27 months to June 2020, we have paid $2,298 in insurance for the Country Coach, an average of $85 per month. 
Over six years, we have paid a total of $6,998 in RV insurance, averaging $97 /month.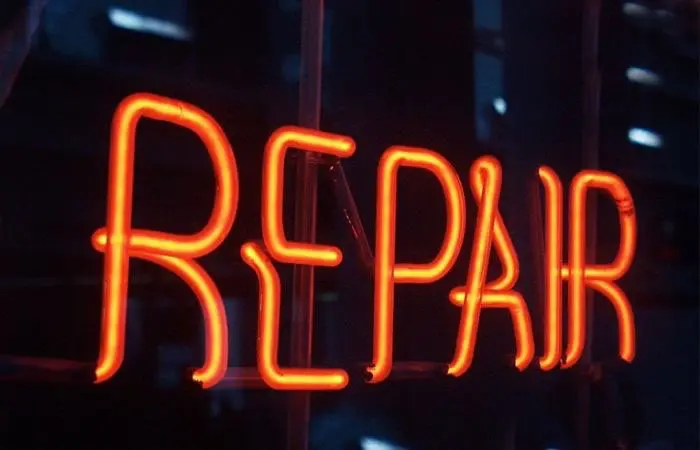 RV Costs of Repairs and Maintenance
All RVs – new or old – cost money to repair and maintain to keep them in good running order. We always knew the RV repair and maintenance would be more on our older coach – that's part of the trade-off for buying it so inexpensively and not anticipating much (if any) depreciation. 
So let's take a look at what we spent on RV repair and maintenance before drilling down into the detail, so you can see just how and where these expenses add up.
RV #1 – 2012 Tiffin Open Road Class A Gas
Over the 45 months we owned our first and much newer motorhome – the Tiffin – the total RV costs for repair and maintenance expenses came to $17,981 from May 2014 to March 2018. But we didn't have to pay for all of that ourselves. Our RV extended warranty covered $5,721 of the eligible RV repair costs. 
However, some RV costs of repairs were NOT covered by our warranty, plus we also had to pay a $500 warranty deductible each time we took the RV in for a warranty repair (four times). And, of course, regular maintenance/wear and tear isn't covered by a warranty either. 
So, we ended up paying a total of $12,260 out of pocket – averaging $272 / month.
Two of the most expensive items – 6 new tires ($3,200) and Sumo Springs ($1,450) –added up to $4,650. And while neither of these was urgent, we opted to install them anyway, as safety is our high priority.
Summary of Tiffin RV Repair and Maintenance Costs
Total RV Repairs & Maintenance: $17,981 over 45 months
Less Amount Covered by RV Warranties: $5,721
Total Out of Pocket Expenses: $12,260 over 45 months
Monthly Average: $400 per month total (we paid, out of pocket, $272 / month)
It may also be worth noting that our RV extended warranty on the Tiffin was set to expire a couple of weeks after we sold the coach @ 59,000 miles.
We were definitely glad to have the warranty subsidize a significant amount of our RV costs for repairs. We know the previous owner also made a claim under warranty so that policy would have more than paid for itself. However, we found the $500 deductible to be relatively high and really added up ($2,000 over four repair claims). Next time we may opt for a lower deductible. 
Related Content: 
RV #2 – 1999 Country Coach Intrigue Class A Diesel Pusher
Being an older RV and based on the inspection, we knew the motorhome needed some repairs and maintenance right away – like new tires. We invested loads of time, energy, and money into getting this motorhome into MUCH better shape than when we bought it. Fortunately, I was able to do a lot of RV repairs, maintenance, and upgrades myself as DIY projects, which saved us many thousands of dollars in labor.
Remember, ALL RV repair and maintenance costs on our Country Coach were out of pocket.
We had no RV warranties (no RV factory or extended warranties). And we did NOT include optional RV upgrades like our RV makeover and off-grid system (we'll share more on those below), as we consider most of those non-essential improvements (many aesthetic and comfort) – not actual necessary RV costs for repairs and maintenance.
From March 2018 – June 2020, we spent $23,268 in repairs and maintenance on our 1999 Country Coach motorhome. That's $862 /month over 27 months so far. OUCH!
Spoiler Alert: note that almost a third of that is related to a single major repair in March 2020. Up until then, the numbers weren't nearly as scary. More on that repair in a bit.
Marc repairing the air suspension linkage on our Country Coach (above and below)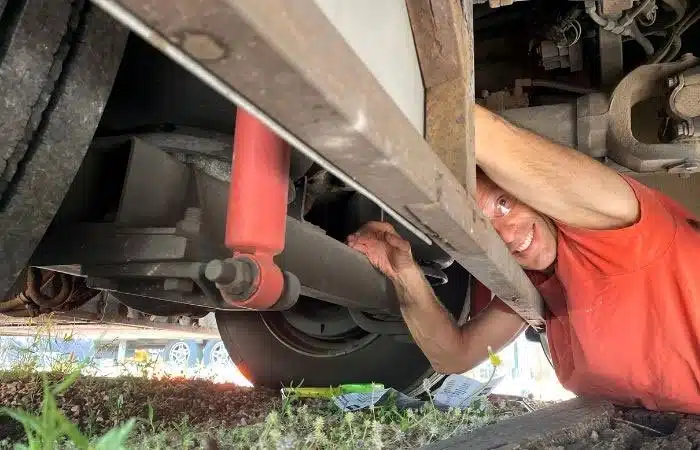 Summary of Country Coach RV Repair and Maintenance Costs
Total RV costs for Repairs & Maintenance: $23,268
Monthly Average: $862 / month over 27 months
Again, this amount of $23,268 is ONLY counting the required RV mechanical repairs and maintenance from March 2018 to June 2020. AND most of these were done DIY.
It is worth noting our average total monthly expense for RV repairs and maintenance on our second RV – the older 1999 Country Coach – was more than double that of our first, newer coach. And our average monthly out-of-pocket expenses were more than TRIPLE. But again, we paid a lot less for this coach – it was a quarter of the price of the Tiffin and a higher-end diesel motorhome!
Until 2020, the Country Coach repairs were actually not too bad. But we were hit with a big, unexpected $8,500 RV repair bill in March to replace the fuel pump, which spiked our RV repair costs significantly and may not have been necessary on a motorhome with lower miles. We later learned the actual mileage of the Country Coach was well over 200,000. Beware of any diesel RV that spends significant time in storage. The stagnant fuel can damage fuel system components.
What if we had qualified for an RV extended warranty?
In reviewing our first 2+ years of ownership of the Country Coach, we are confident a significant portion of the $23,268 in RV repairs would have qualified as RV warranty repairs exceeding the $7,500 we would have paid for a 3-year RV extended warranty. That is, had the coach qualified with under 100K miles. We would definitely place a higher priority on eligibility for an RV extended warranty for our next RV.
There is never any guarantee, when buying an RV, on what you will end up paying in repairs and maintenance. 
There are way too many unknowns, and ultimately, it is all a bit of a gamble. That's why we really wanted to limit our financial exposure upfront and reduce our risk by not spending as much on our second motorhome. 
The Country Coach took much more time and effort to fix than I anticipated, but I put it all down to a great learning experience. Now I have much more confidence tackling DIY RV repair jobs and a much better understanding of the many things that can break! The education has been priceless.
If you're interested in the details of our actual repairs and RV costs, year-by-year, on both of our RVs, take a look at the table below. 
Marc cleans and preps, then reseals the roof on our Country Coach
RV Cost of Repairs – Year by Year Breakdown
Just click each tab to see the detail of RV cost of repairs, maintenance and expenses for each year.
2014
2015
2016
2017
2018
2019
2020
2014
Tiffin Repairs from June – December (we bought the RV in May 2014.)
Total Repair Costs: $3,081. We paid $1005. RV Warranty/ies covered $2,076.
Propane leak test $40 

Replace broken main door handle $253

Fix propane leak and replace hose, furnace $1,593 (extended warranty covered $1,076, we paid $517 deductible, misc, plus $50 for hotel = $567) 

Repair and repaint cracked fiberglass wall ($1,000, covered by Tiffin 5 year structural warranty) 

Oil change $125 


Plus a few small parts repaired DIY $20
2015
2016
2017
2018
2019
2020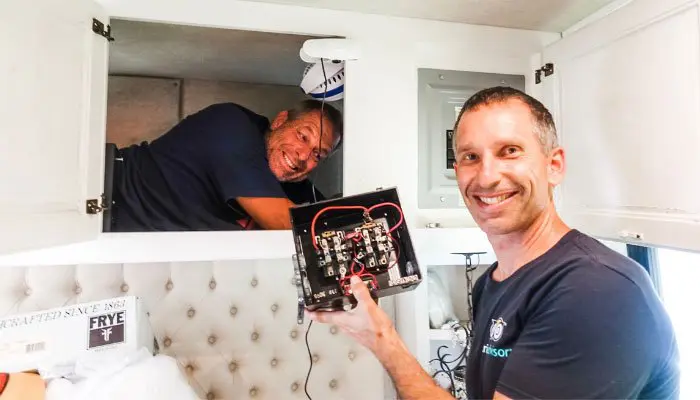 Our friend Brett helps Marc replace the transfer switch in the Country Coach
Total RV Repair & Maintenance Costs over 6 Years
Here are the totals over six years, with expenses combined for both RVs – the Tiffin and the Country Coach:
Total RV Costs for Repair and Maintenance: $41,250

Minus Repairs covered under RV warranties (first coach): $5,721

Out-of-Pocket RV Repairs and Maintenance Costs: $35,529

Average Monthly Cost: $573 over 72 months ($400/mo RV #1; $862/mo RV #2)
Again, here are a few things to keep in mind
On our first coach – the 2012 Tiffin gas motorhome – $5,721 in RV repairs and labor were covered by our RV extended warranty during the time we owned it, and the Tiffin 5-year structural warranty covered the bodywork from the crack under the slide (twice).

On our second coach – the 1999 Country Coach diesel motorhome – a large percentage of the repairs were DIY. So technically, the labor was 'free' since so much of the work was done by me and/or with the help of a friend for the cost of parts, no labor costs.
If I wasn't able to DIY as many repairs as I did on our second coach (which had no RV extended warranty), I would have needed to take the coach into a shop for those repairs and pay the going labor rate, which ranges from $80–$160 an hour. We have found most $120-$140 an hour. This would have saved me many hours. However, it would have substantially increased our out-of-pocket expenses and total RV costs. And I wouldn't have learned as much – ha!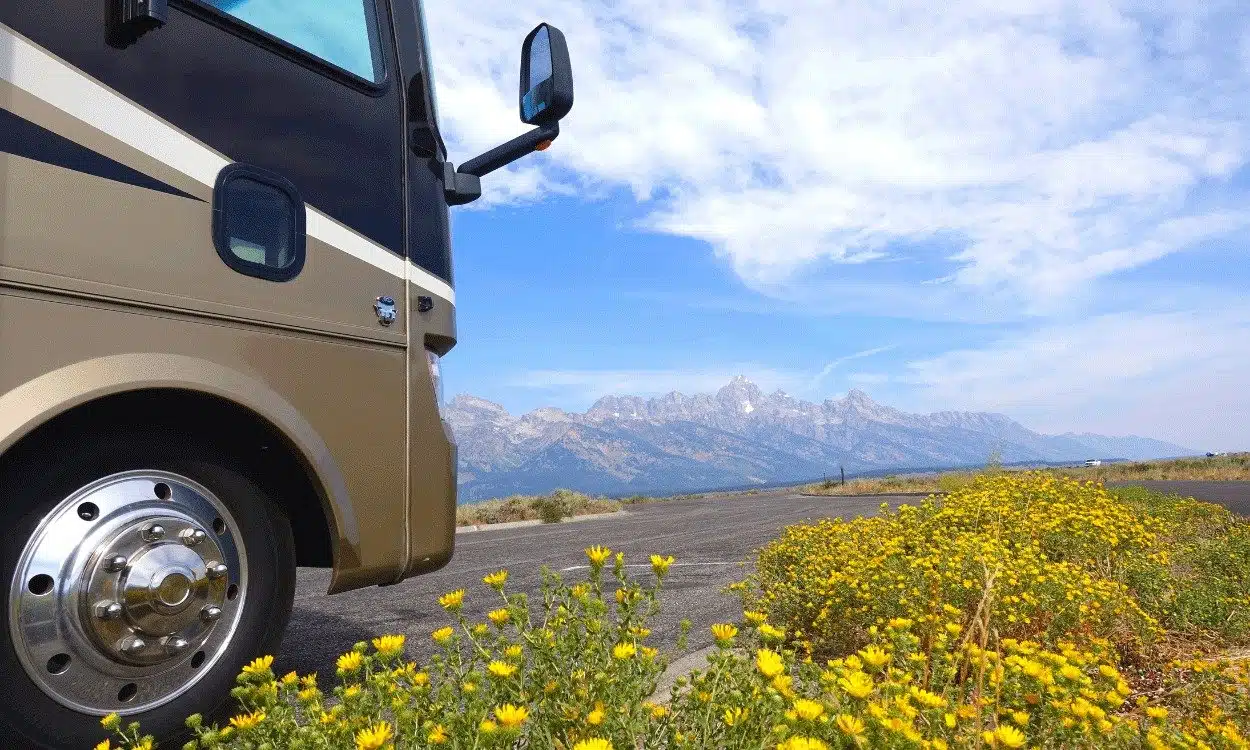 How much was RV Depreciation?
This is a fascinating comparison. Let's look at both – very different – scenarios.
As you would expect, our first RV, being only two years old, experienced substantial depreciation. But not nearly as much as if we had bought the motorhome new. We were fortunate that we bought the Tiffin at a reasonable price in May 2014 and sold it well in March 2018 to a private party. But if we had traded the Tiffin in at an RV dealer, our net cost of RV depreciation would have been MUCH higher. 
Our second RV, the Country Coach
Buying at the bottom of the depreciation curve meant the base value wouldn't drop any further for a long time. But we did spend a lot on RV repairs, maintenance, upgrades, and the RV makeover. How much will we get back in increased value over what we paid?
Let's take a look at the details. 
Depreciation on RV #1 – 2012 Tiffin Open Road gas motorhome
To recap, we bought the Tiffin for around $100,000 ($93K + Colorado state tax) in May 2014 and sold it privately in March 2018 for $75,000. When we considered trading the Tiffin in at a dealership, we were only offered $50,000. So, by selling it privately, we were able to make an extra $25,000 and also limit our RV's cost of depreciation to $25,000. 
That $25,000 depreciation loss averaged out at $556/month. 
Had we traded the Tiffin in and rolled that extra depreciation into a new RV loan (as many do), we would have had a net depreciation of $50,000 – or $1,111 /month. OUCH!
You are probably keeled over on the floor right now!
Above all, everything with wheels depreciates, and our RV life isn't just a vacation.
It's the vehicle that allows us to live, work, and travel as we roam North America. Moreover, we don't have another home/mortgage payment, so think of it as rent. 
Depreciation is very real, and we strongly recommend you think about your future (likely) loss when thinking about buying an RV so you know what to expect.
Now, pick yourself back up, and let's continue!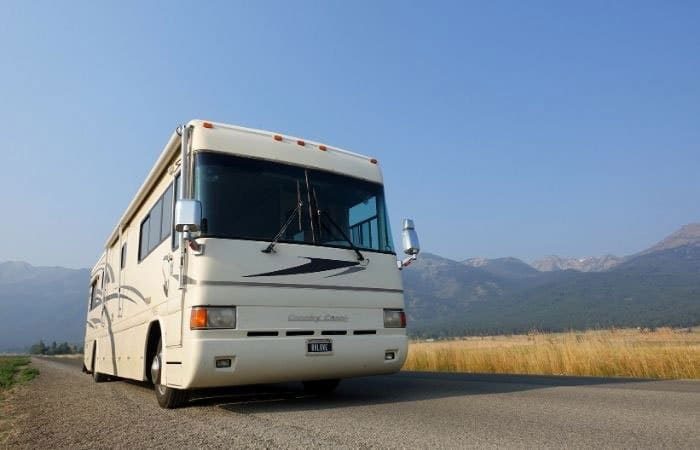 Depreciation on RV #2 – 1999 Country Coach diesel motorhome
To recap, in March 2018, we purchased our Country Coach diesel motorhome for $25K ($26,500 including taxes). Our decision to buy a much older RV (19 years old but high quality) for our second RV was multifaceted. Obviously, after the $556/month depreciation on our first RV, we wanted even more to minimize depreciation next time around. 
We bought our Country Coach at the bottom of the depreciation curve – about a tenth of its original $230K price 20 years ago! (Yes, RVs depreciate hard!) We knew that the base price would not move much – if any – for the next few years at least.
Still, we negotiated 28% down from the asking price of $35K (originally 50K) to $25K, which was just above the dealer's wholesale price.
No, we didn't get any special favors or deals.
We were simply experienced, well-informed buyers who recognized an ideal purchasing scenario. Then we used all of that to our advantage to negotiate HARD. And we also took the risk of buying the RV 'as is' with no dealer warranty.
We knew the trade-off in buying this older RV would mean higher RV repair costs and maintenance. And it did! Discouraged by seeing how RVs are built during multiple RV factory tours and with so few that suited our more modern style and our need for two separate work spaces – we took on a DIY RV renovation.
What did we sell the Country Coach for?
In an ideal selling environment, we sold the Country Coach for nearly double what we paid for it.  
Selling the Country Coach for $49K meant a $22,500 increase in value – appreciation instead of depreciation. Essentially 'getting our money back' on our purchase price, PLUS offsetting the depreciation we experienced with the first coach. This increase in value is due to other improvements made. More on that below.
BUT…. this is not the whole picture!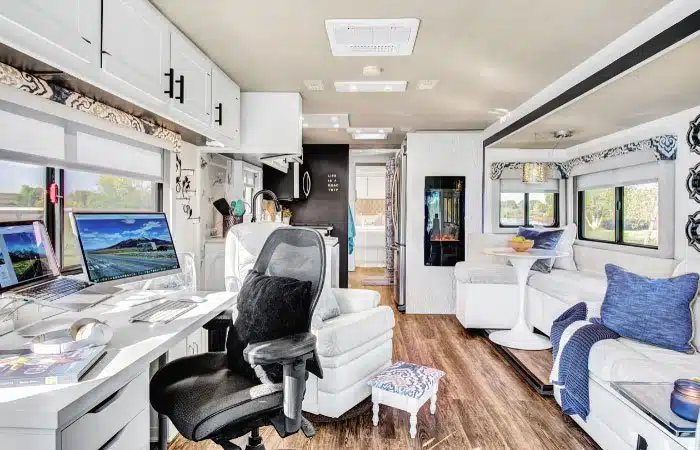 Investing in improvements to the Country Coach
We must also factor in how much was invested into the Country Coach to increase its value since purchasing it. We spent about $12K on our interior remodel supplies and decor. And we upgraded our power system with lithium batteries, a hybrid inverter, and solar panels, so we could spend extended time off-grid and save on camping fees. This was a project in partnership with Battle Born Batteries and Zamp Solar. We also upgraded our RV awning and slide topper fabrics thanks to Tough Top Awnings. We estimate these upgrades to be worth about $16K all up (including labor). 
So let's put a total $28K value on RV upgrades and improvements, bringing the total investment value to $54,500. 
Selling the Country Coach for $49K (in July 2020) meant $5,500 in depreciation over 28 months—an average of $196 per month. 
This does not factor in the RV costs for repairs and maintenance of $23,268 or $862 a month (to keep it comparable with the Tiffin depreciation example).  
The heart of our off-grid system – lithium batteries, inverter and solar charge controller
Key considerations
We front-loaded our investment in the Country Coach with the RV reno, upgrades, and a few big 'one-time' repairs. So the longer we kept the Country Coach, the more the average monthly RV cost should reduce over time. Assuming we didn't incur any other significant repair costs in the meantime.
Last but not least, remember most of the RV renovation, plus many of the RV repairs and upgrades, had 'free' labor from me, Julie, and a handful of friends. If we counted all the hours we invested into the coach – even at a super conservative $20/hr – that would add up to at least another $20K. It's likely much more, but I don't want to consider it. For this exercise, we're NOT putting a dollar value on our labor/sweat equity!
Something to point out is that free is rarely truly free, including labor.
Our / your time has value. So, time spent on RV renovations, repairs, and upgrades could potentially be spent doing something else. Things like more travel, hiking, biking, exploring, working, and creating more content. It's an opportunity cost and a personal choice.
Marc with our CC and Jeep, parked just outside of Great Sand Dunes National Park, Colorado
Total Depreciation on 2 RVs Over 6 Years
So to recap, the depreciation on our first RV was $25,000 over 45 months of ownership, or an average of $556 a month. The depreciation on our second RV was much lower. By selling in very hot RVing market conditions, we sold it for $49K, with a net depreciation of about $5,500, or $196 /month, over 28 months.
All up, we estimate our total depreciation over 6 years on both RVs to be around $30,500 or $418 per month. 
But this isn't the full picture either! Now we need to add ALL of these RV-specific expenses to arrive at the grand total of RV costs related to our RV ownership. 
Take a deep breath, here we go!
Total RV Costs of Ownership Over 6 Years 
Before you jump straight to the figures, please remember that this is not "black and white." So don't just take these numbers purely at face value. There are SO many variables – like warranties and optional upgrades – and those highlighted earlier in this article. Here is what we spent out of pocket on both of our RVs.
RV Year and Type
Months Owned
Purchase Price (inc. tax)
2012 Tiffin Gas RV
45
$100,000
1999 Country Coach Diesel
27
$26,500
Finance Interest Paid
Insurance
Repairs & Maintenance
RV Renovation
Depreciation
TOTAL
Avg. Monthly Cost
$13,740
$4,700
$12,260*
N/A
$25,000
$55,700
$1,238
$3,785
$2,298
$23,238
$12,000*
$5,500*
$46,321
$1,654
* NOTES:
The Tiffin repairs and maintenance were offset by our RV extended warranty – if we didn't have one, we would have been an additional $5,721 out of pocket. Total RV repairs would have been $17,981, with a monthly average of $400. Remember, we inherited our RV extended warranty, so we must factor in that cost. Also budget for RV repairs and maintenance is not covered by the warranty. 
We included the total cost of our Country Coach RV renovation but did not include the value of improvements like the off-grid system and new awning fabric (partnerships) as they weren't direct out-of-pocket expenses. We also consider these optional – not essential. But they helped increase the value of the coach.
Don't just look at the numbers as black and white – consider all of the variables we have shared to keep things in perspective. You can play around with different scenarios and data to see other possibilities. eg. What if we hadn't done a remodel? Or how about you don't want to DIY your repairs? What if a coach with lower mileage didn't need a fuel pump repair costing $8,500? Imagine if you bought the RV new instead of used with a factory warranty but also got hit much harder with depreciation, especially if you traded it in—something to think about.
Key Takeouts On RV Costs
We are glad we didn't overcommit financially on either RV, but they still cost more than we initially anticipated when we bought them.

The extended warranty on our Tiffin helped reduce our anxiety whenever something went wrong! Many times we wished we had one for our CC.

Diesel motorhomes offer excellent ride and quality, but it was also more expensive to repair than our gas RV.

We knew it would be a lot of time and work renovating and repairing our Country Coach, but it still exceeded our estimates.
I gained so much experience doing all that DIY work renovating and repairing, which gave me a lot of confidence in my ability to tackle many issues myself.
Having such vastly different experiences with both RVs has been incredibly valuable. It has further deepened our knowledge and understanding of each option.
We have loved both of our RVs for different reasons. We don't prefer one over the other. Each has pros and cons, offering the experience we wanted at the time.

Despite our extensive research, we still underestimated and overlooked some of the expenses related to RV ownership – mainly in unexpected RV repairs.

At the end of the day, we don't focus on what the RV life has 'cost us' so much as what it has given us in terms of experiences, joy, and adventures.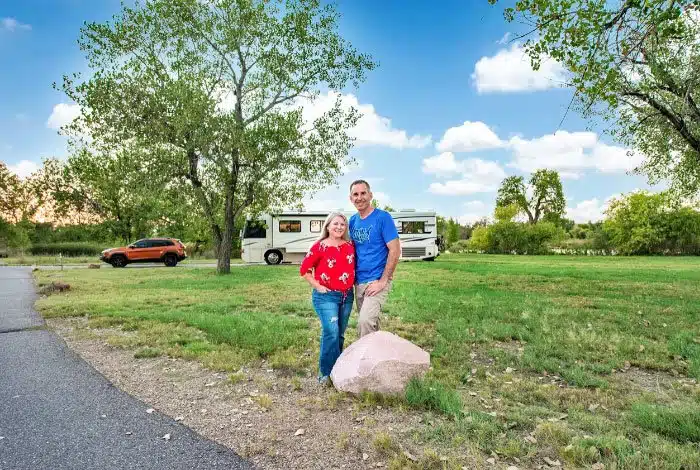 Perspective and Summary
After reviewing all this, you may be thinking, "Wow! Owning an RV is expensive!" Yes, it certainly can be, but as we've said, it really does depend on how you do it, your style, budget, and preferences.
So let's wrap up with why we made our choices to provide some perspective.
A few things to keep in mind
We specifically chose to live and travel in a Class A motorhome – not a truck and trailer –as we felt it was better suited to the type of experience we wanted to have. While we did consider towable options (both times we were RV shopping) we decided against it as we did not already have a suitable truck to tow with, and we didn't want a truck to be our daily driver. We prefer smaller, sporty cars for exploring. Heavy-duty trucks are great for towing RVs, but they can be expensive to buy and maintain too. 
For us, trading one life experience (ie. a suburban stick and brick home with a mortgage, two cars, and commutes to work) for another (ie. a full-time traveling lifestyle in an RV exploring the country) has ended up costing us about the same. Aside from the RV ownership costs, we also had to add our RV camping costs and fuel costs. Of course, the other big consideration is while an RV depreciates, your home (presuming you own, not rent) would typically (but not always) appreciate over the years. 
But as full-timers, we're not paying for a vacation RV on top of a stick and brick home. Keep that in mind if you're planning to travel part-time or just for vacations. You may not use the RV as much, so your repairs, wear and tear, and maintenance may be lower, and you may also need to pay for storage. Check out our blog post comparing full-time and part-time RVing costs here.
D
o we have any regrets? 
In short, the answer is no. Each of these motorhomes has provided us with the ability to travel all around North America, create incredible adventures, experience personal growth, learn how to DIY repairs, build confidence, make great friends, spend more time together, visit family and friends around the world, work remotely, create content that helps and inspires others, transition to self-employment, write and publish two best selling books, Living The RV Life, and RV Hacks, built a wonderful community, and make a living doing what we love. We've been able to follow our dreams and do all this while we're still young and healthy, creating memories and fulfilling experiences in ways we could never have imagined. 
In conclusion, we are well-traveled, fulfilled, and grateful. How do you put a price on that? 
What about the other costs of RV Life?
We have shared a lot of detail in our 'Six Year Recap' articles to give you a real-life, honest perspective of every aspect of what the RV life can cost. Remember, this article just covers our RV ownership, so if you haven't already, jump over to:
We hope you found this article helpful and educational! We'd love to hear your questions and comments about your RV ownership – expenses and experiences! So drop us a note in the comments below!
Breaking pandemic lockdown monotony – dressing up for Formal Fridays, in the desert
GOT COMMENTS OR QUESTIONS?
We would love to hear from you. Drop us a note in the comments section below.
Over the years, we've found many great resources that help save us money and/or enhance our RVs and RV life. Here are some of our faves that we recommend.
If you have any questions at all about these resources and providers, please don't hesitate to ask. We're here to help.