This post may contain affiliate links.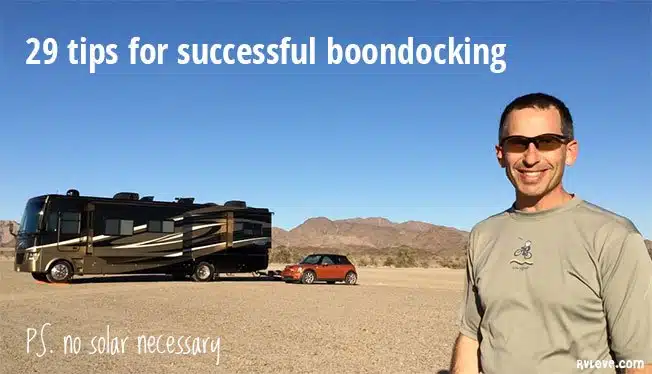 We learned a lot during our first boondocking experience in Arizona which took us to Yuma, Quartzsite and Lake Havasu City over 9 days. So we pulled together 29 tips and tricks that helped us, working with what we had. 
That means… no solar, no composting toilet, no fancy stuff. We just made the most of our RV "as is" from the manufacturer. Of course, we know solar and all the other fancy gadgets are awesome for so many reasons. But it's not cheap and we don't have any of that stuff at the time of writing this, and we didn't want that to hold us back. 
As it turns out, none of this is essential. Especially for newbies like us who are trying boondocking on for size to see how we like it first. So don't be scared off. Give it a try!
No doubt there are many more tips we could add to this list. These are just the main ones we followed on our February trip. As we learn more, we'll continue to share those learnings as well. So feel free to add your best tips in the comments section below. We'd love to hear from you!
29 tips for successful boondocking
Pre-plan your meals. Preparing and freezing meals or making salads ahead of time means there are less dishes to wash up, making it easier and allowing more time to relax and enjoy while reducing the need to go to the store – which is not always close by. As a bonus, this also keeps your trash to a minimum.

Cook with gas. When you warm your meals in a saucepan on the propane stove or cook on the BBQ, it also means no noisy generator!

Buy or take separate jugs of drinking water to save the water in your fresh tank for washing and showering.

Pre-wash fruits and vegetables while still at a campground (with water hookups) just before you leave for your boondocking adventure.

Use paper towels to wipe dirty plates and dishes down first after using. This make them much easier to wash and uses less water.

Limit your dishwashing to once per day. One sink load of dirty dishes per day is more water efficient.

Keep a bucket in the shower to catch excess water and use that to 'flush' the toilet. This reduces water usage from the fresh tank and also helps reduce grey tank water.

Consider letting the yellow mellow for your number ones to reduce the number of toilet flushes.

Take quick "navy showers". That is, jump in, get wet, turn off water, lather up, turn water back on, rinse off, jump out. Or shower only every other day or have a 'sponge bath'.

Track your water usage with Post-it Note markings on the side of your fresh water tank (assuming it is visible). It is a handy way to gauge how much water you are using and estimate how many days your water will last so you can make adjustments as needed, or simply relax about it a bit more!

Be sure to park a respectable distance from other RVers so as not to invade their space or views and also ensure your generator noise (if you use one) won't bother them. This is especially important if you need to start your generator early in the morning (whether for work or coffee!). Be especially mindful of RVers with solar panels and park way well away from them (minimum 300 feet as a guide). They will appreciate being sheltered from your generator noise, so they can continue to enjoy the peace and quiet out there. Being respectful of your neighbors will ensure a pleasant stay for everyone.

Park your RV in a direction that makes the most of the weather and sun location. For example, if hot and sunny weather is predicted and your RV has a lot of windows on one side, park so the window side is on the shady side. You might also be able to use the RV as a wind block if winds are common in the area.

Find a place that creates a natural boundary around your RV so you feel more comfortable, safe and nestled in your space. (thanks 

Technomadia

 for that one!)

Don't use heavy battery drain items like the microwave or watch TV when you aren't running your generator.

Use a portable power inverter/charger to charge small electronic devices using the 12V DC socket on the coach dashboard when driving and/or when the generator is off.

Limit your use of un-needed lights or electrical items when the generator isn't running. LED lights use much less power, so consider upgrading to LED for commonly used lights if they are not already LED.

Keep your night shades down during the hottest parts of the day to deflect the sun and help keep your RV cooler. If you have external window covers, those will be even better – put them on!

When staying in a hot climate, open your windows in the evening and make the most of the cool night air to cool down your RV.

Only use the air conditioner intermittently, not continuously, to keep the coach at a comfortable temperature and to reduce the drain on the generator. Generators get better fuel economy when not powering as many items.

Put a windshield cover on the front of your RV to help protect it from the heat and put tire covers on your wheels to reduce sun damage to the tires.

Track your generator hours to estimate your boondocking costs and work out a daily average. It will help you weigh the potential cost benefits of adding solar power.

Look up BLM or other 

public land apps 

or websites ahead of time to get directions and any other information you need to know about the area, such as fees and where to get permits.

Use the satellite view on Google Maps or Google Earth to get a better sense of the terrain before you arrive.

As a safety precaution, send your location details with GPS coordinates to a family member or friend so someone knows where you are.

Pull in your awning and slides if it gets really windy. It helps reduce the surface area for the wind to catch, minimizes the rocking of your RV and will prevent potential awning damage.

Check for sufficient cellular/internet coverage ahead of time using the Coverage map for your cell phone provider or use the 

Coverage App

.

Keep your trash stored securely inside and don't leave food outside to prevent attracting unwanted natural visitors to your campsite.

Be respectful of the environment and your fellow campers and leave no trace when you depart.

Take time to sit outdoors and look up at the clear night skies. After all, that is one of main reasons you are camping out in the middle of nowhere – to truly become one with nature 🙂
We hope you found these tips useful and that they help you conserve water, energy and ensure a smooth, enjoyable experience out in the boonies!
Remember to share your own tips below – we're sure there are hundreds more we could add to this list! With your help, we can make it even better 🙂