This post may contain affiliate links.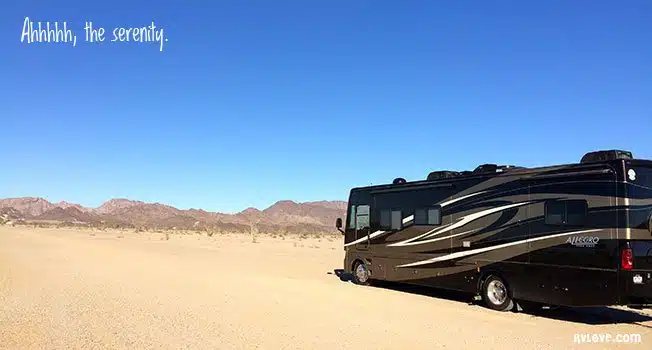 Our first boondocking adventure continues here in Part 2. Join us as we find a free place to park near Yuma, Arizona where we can run our generator during the day without annoying anyone. Plus, we get answers to some questions and concerns as shared in
Part 1
, like whether we'd feel lonely or isolated. Serendipity is alive and well in the desert – you'll never guess who we met out there!
Days 2–5: Boondocking in Yuma, Arizona
After our Saturday morning adventure in Los Algodones, Mexico – see our separate blog post
"the day we went to Mexico for dental"
we returned to our coach at the Quechan Casino, to find about 80% of the rigs that had filled the place the night before had already departed. We packed up the coach and headed off in search of our boondocking location for the next 4 days or so.
In his research, Marc had learned about an area of land that was ideal for dry camping and had excellent cellular signal (Verizon 4G LTE) – high value for us – via one of our 'go-to' blog resources "
Wheeling It"
. It's located off Ogibly Road in Winterhaven, CA about 14 miles west of Yuma, AZ just off Interstate 8. It's free for up to 14 days and offers solitude plus an open view of the Cargos Muchachos mountain range
at the mouth of the Chocolate Mountains. We were sold, if it's good enough for the folks at
Wheeling It
, it's good enough for us!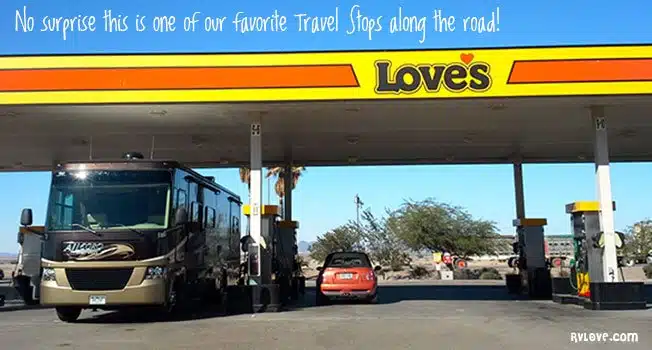 But first, we needed to fill the coach with water (fresh tank) and gas (petrol for those of you outside of the USA) for the generator. We stopped at Love's Travel Stop (of course) in Yuma which is almost always easy to navigate for large vehicles like RVs and trucks. We were warned by the gal at Love's that the water in that area was a bit funky so while it would be OK for showers and dishes, they didn't recommend it for drinking.
Love's Travel Stops often have dump stations, water hoses and propane for RVs and trucks to fill at and are easy for big vehicles to navigate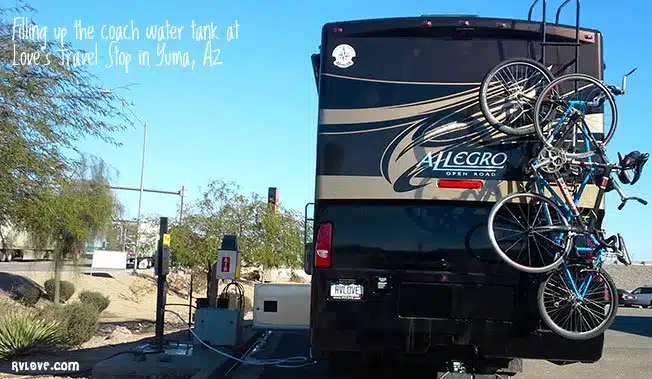 While Marc was filling the coach water tank, I took a trip in the MINI to Target to pick up a few supplies, including 5 gallons of spring water for drinking. I headed west toward Ogilby Road to meet Marc, who wasn't far ahead of me – it took him about half an hour just to fill the coach's 75 gallon water tank! I exited the Interstate at Ogilby Road and after a couple of pass bys, finally found Sidewinder Road to the right just after the railway line, near American Girl Mine Road. The dirt road was a hard, gravelly surface to drive on but boy, was it a bumpy, uneven ride – Marc said it was even worse in the coach. Finally, we met up and scouted the area. Although there were about a hundred other RVers parked within a couple of mile radius, it was very easy to find an open space several hundred yards (metres) away from our nearest neighbors. We found a central place to park looking out to the mountains from the patio side of the coach. We leveled the coach, put out our slides and started setting up inside and out.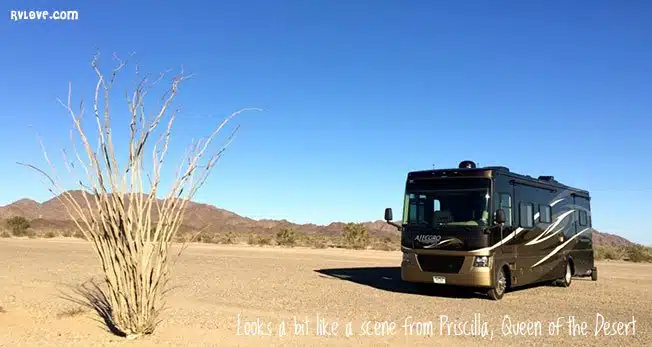 A serendipitous meeting with Technomadia
As we continued setting up our campsite, we noticed a couple out taking a walk, right in front of our coach – Marc immediately recognized them as Chris and Cherie of
Technomadia
. When we began researching the viability of being able to live and work from the road, the first thing we did was buy Technomadia's ebook
The RV Mobile Internet Handbook
. We've been following their blog ever since, so while we 'knew them' in the digital sense, we had never met them in person. A short while later, Chris and Cherie turned around and walked right over to introduce themselves to us. As it turns out, they had also recognized our coach and MINI, from us being members of their
RV Mobile Internet Forum
! Talk about a small world! And here I was, worried about being isolated and lonely in the middle of nowhere!?
We all had a laugh about our serendipitous meeting and enjoyed a chat for a good half hour, as a few flying go-karts/para-cycles flew right behind us! Unbeknowst to us, theirs was the closest coach to ours – a vintage silver bus they call Zephyr! You can see Zephyr glistening in the foreground of the mountains in the photo below. We finished up our conversation with a plan to meet up for a couple of happy hour/coach tours over the next few days.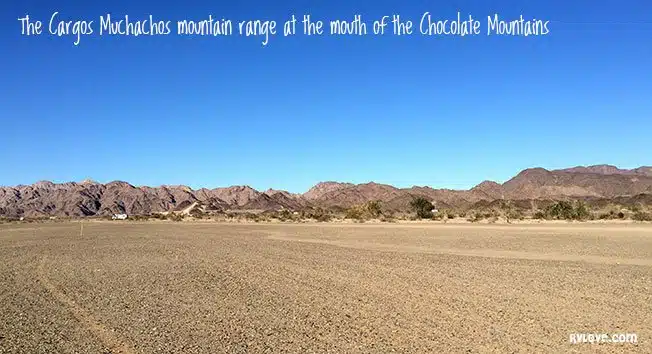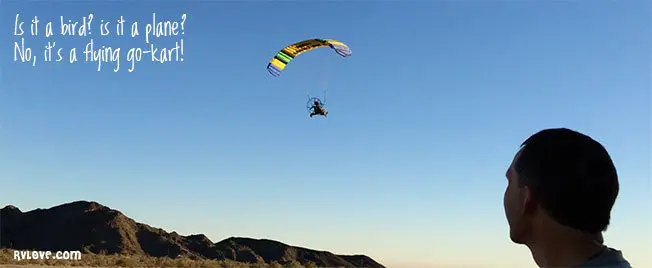 After our early start that morning, our visit to Mexico, setting up in our new boondocking location, followed by our chance meeting with Chris and Cherie, we were exhausted. We took a few photos of the sunset – they really are beautiful in the desert – had dinner, then hit the sack for an early night.
The underwhelming excitement of Yuma
We awoke to a beautiful morning and sunrise on Sunday. Marc made his usual famous hearty breakfast, firing up the generator for a short while to power the tea kettle and the electric griddle. We enjoyed eating our breakfast outside, gazing across to the mountains. The weather was perfect for it and it was the first time we'd been able to eat outside for weeks!

After our hearty breakfast, we took the tandem bike out for a ride. The gravelly surface was hard enough to ride on but a bit rough but we got in a good 20-30 minute ride and some exercise.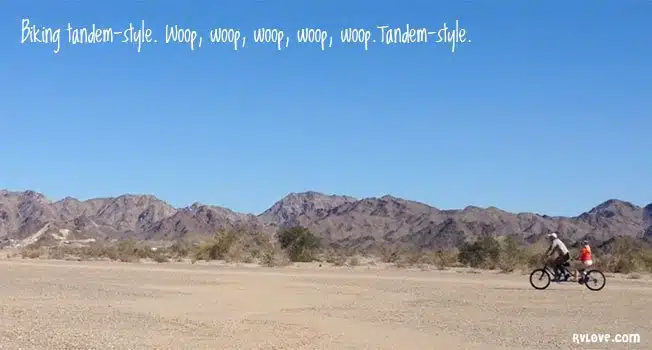 Next, Marc took a look at our Lonely Planet travel book "Southwest USA's Best Trips – 32 Amazing Road Trips" to get some ideas on what to explore in Yuma that day. As it turns out, there's not much at all! That is, except for an old prison. To quote Lonely Planet:
"Yuma is home to Arizona's notorious territorial prison, which was nicknamed the Hellhole of the West, in part because of the city's blazing temperatures…. Today the prison is Yuma's star attraction."
Hmmm not exactly our idea of a fun time. We much prefer taking the MINI out for a fun drive somewhere scenic! On the Wheeling It website, we had read about an old ghost mining town called
Tumco
(previously Hedges) just a few miles away. We decided drive out there, typing "Tumco" into Google Maps on Julie's iPhone and relying on Siri (our iPhone/Google Maps iPhone navigator) for directions. This didn't end up being such a great idea. Siri had apparently found a 'backroad' to Tumco, which we started driving on before we realized it wasn't exactly a road designed for Mini Coopers. Still, we continued.

While it was beautiful driving alongside the mountains, there was more than one occasion where we wondered if we'd end up stuck even more in the middle of nowhere than where we'd begun and end up as two more of the ghosts! It was a long, slow and bumpy ride – as you might expect, the MINI has low clearance so Marc had to be really careful driving her on roads that we suspect are designed more for mining trucks and Jeeps than sports cars.
Eventually, we found it! Now, we're not sure if it was the 90+ degree temps (33C), the fact we'd already had such a big, busy and tiring weekend or perhaps we've just seen too many awesome things in our 9 months on the road, but to us the ghost-mining town of Tumco-Hedges was a complete non-event. We had a brief walk around but the few ruins left behind have been so badly eroded by the harsh environment that we didn't stay for more than about 20 minutes. It's no surprise Tumco-Hedges isn't mentioned in the Lonely Planet Guide! Perhaps we should have visited the prison, after all? Fortunately, we found a 'real road' to drive back on and were back at our coach in much faster time.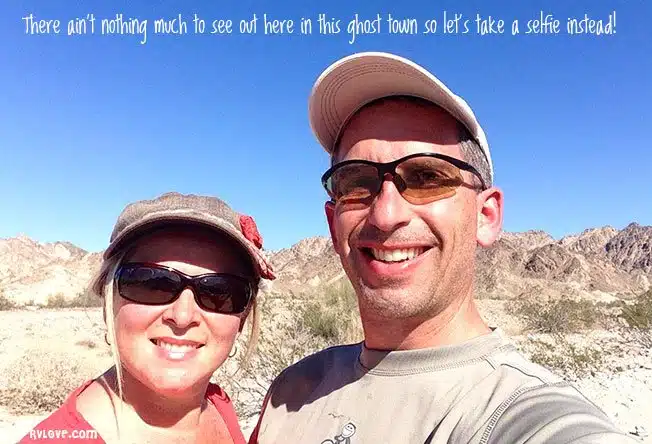 On the day we first met, Technomadia had invited us to do a video interview for their "Ramblings" Series on YouTube (ours will be posted soon) so we invited them over to our rig. We did the interview, gave them a tour of our coach – they were particularly interested in our workspaces – then we all sat outside to get to know each other better and enjoyed a cold drink and some snacks until the sun set. It ended up being a much was more socially active weekend than we had expected which was a lot of fun, and thankfully, everything seemed to be going smoothly with our boondocking. So far, so good. The next 5 working days were going to be the true test.
So, how was our first working week, as boondockers?
Technically, we were parked just west of Yuma in Winterhaven, CA, so we stayed on California time as we were heading back to Palm Springs the following week anyway and didn't want to confuse our inner clocks. As Marc's employer is on Central Time, he's up and working by 6.30am PST. Julie's trading activities also start around 6.30am (the NYSE opens at 9.30am ET) so this meant our generator was fired up pretty early, usually by 6.15am. The generator noise wasn't too bad at all – we got used to the steady hum pretty quickly and it became like white noise – and we kept the bedroom and side windows on the driver's (generator) side closed during the day to prevent the fumes from coming into the coach. Most of all, we were happy that we were far enough away from our neighbors for it not to bother them! We generally turned the generator off by 4pm and definitely enjoyed the serenity after working hours! Productivity-wise, we both did great. With strong, reliable Verizon 4G LTE cell/internet coverage, we were well connected and had no problems at all. So our boondocking workdays were a success – yay!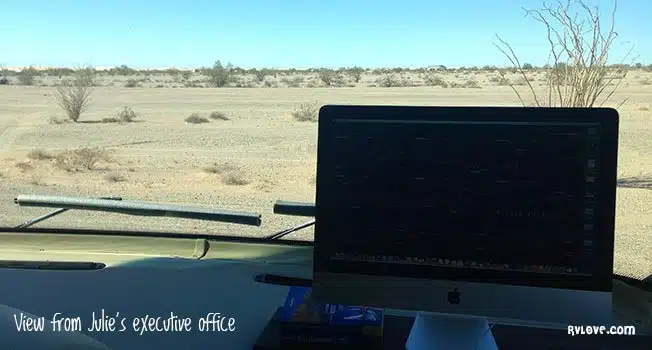 How was the weather?
The weather was pretty consistent throughout the week, with warm sunny days between 88-92 degrees F (32–33C) and lows at night around 50 degrees F (10C), which meant we didn't need to use any kind of heat source at all (electric space heater, heat pump, propane furnace). We didn't have any shade from trees at all, so during the day we would run one air conditioner at least part of the day, occasionally both air conditioners for a short time in the peak heat of the afternoon. On the weekday afternoons and evenings, it became quite windy. We were in a pretty open, exposed area and the winds which started on Monday picked up even more on Tuesday, when they became so wild that we got up during the night to pull in our slides – the reduced surface area really helped reduce the amount of shaking in the coach! Aside from the winds in the second half of our stay, the weather was very pleasant and ideal for boondocking with warm days and mild temps in the mornings and evenings.

How quiet (or noisy) was it out there?
Now, you would be forgiven for presuming that being in the middle of nowhere in the desert, as we were, it would also mean we were in a very quiet, serene place. Not exactly. While the weekends were fairly tranquil, the noise really picked up during the week with trains starting early in the morning (why do they feel the need to honk their horns so early, so loud and for so long?), in addition to a steady stream of mining trucks rumbling their way along American Girl Mine Road (still an active mine) and military helicopters close by as well – oh yes, and the occasional gunshots from the military base! Still, we've stayed in noisy campgrounds before – Jantzen Beach in Portland, Oregon stands out from memory – yet being in such a remote area we also expected to be a little more 'away from it all.' All that said, it really wasn't unbearable. More often than not, we just laughed about it!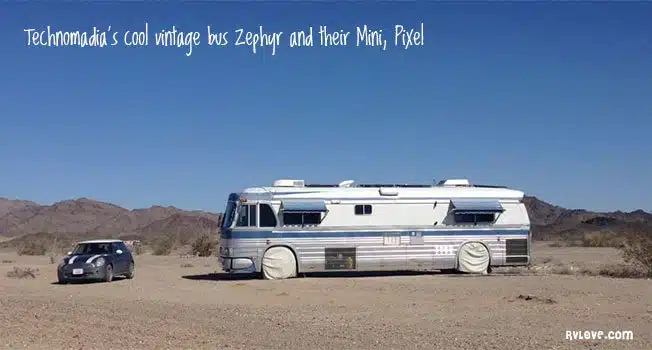 Tour of Technomadia's vintage bus
On Tuesday evening, Technomadia invited us over to their RV for a tour and a glass of wine. Affectionately named 'Zephyr' their RV is a 1961 GM 4106 vintage bus that they converted into the cool, geeked out motorhome she is today. It took them a few years and a good chunk of money to renovate Zephyr inside and out, including a complete engine rebuild! It was fascinating to see and hear what Chris and Cherie have done with Zephyr to make her their own comfortable home on wheels – from solar power to flashing strobe lights – she's definitely a one-of-a kind queen of the roads with a whole lotta character! This is one of the fun things about the RV world – getting to meet other people and see inside their homes on wheels – we're always learning new tips and tricks and ways of doing things – and seeing how different personalities are reflected in the decor as well. Like us, Chris and Cherie are also big fans of serendipity – as shown by the many "Serendipity" signs throughout their bus. So, I guess it's really no surprise that we were destined to meet in such an unexpected place! I loved how Cherie had decorated the tree next to their bus with solar powered Christmas lights – it's really not too difficult to make any place feel like "home". If you're interested, you can
learn more about Zephyr the vintage bus here
.
Highlights of our visit to Yuma, AZ?
Three things: 1) our visit to
Los Algodones, Mexico
; 2) the mountain views and incredible desert sunsets; and 3) our serendipitous meeting with Technomadia – making new friends in unexpected places!
Boondocking lessons learned so far?
By day 4, we were definitely feeling more comfortable and confident, with some real boondocking experience now under our belt, but we felt that 4 days and nights was plenty in that particular location. With the winds easing a little on Wednesday afternoon and bigger gusts predicted for Thursday, we decided to bail a day early and head to Quartzsite – almost a 2 hour drive away – on Wednesday afternoon. We hoped to be settled in by sunset – fingers crossed! Our boondocking adventure continues with
Part 3 – in the famous Quartzsite, Arizona
– RV boondocking capital of the world. © RVLove.com