This post may contain affiliate links.
Does the Ventura beach camping reality live up to the hype? It seems almost everyone dreams about camping by the beach. We've seen rave reviews about beachfront RV camping near Ventura, California. So on our recent trip up the California coast, we decided to find out for ourselves… is it really worth it?
Two of the most popular RV camping spots are at Faria Beach Park and Rincon Parkway. We booked a Saturday night stay at Faria Park. And we took a walk up to Rincon Parkway to see what that was like. Read on for a detailed review of our experience. Then decide for yourself – is it for you, and worth the hype?
RVs and campsites at Faria Beach Park
Location of Faria Beach Park & Rincon Parkway
This truly is beachfront RV camping near Ventura. We stayed in our RV at a local Ventura county park called Faria Beach Park Campground, which is directly on the water. Many sites have only a rocky breakwater between their RV and the crashing waves. The Rincon Parkway campground is just outside of Faria Beach Park, running a total of about one mile north. Rincon Parkway sites are parallel parking along the shoulder of Highway 1. All RVs along Rincon Parkway park facing south, so the patio side of the RV opens to views of the ocean. 
RVs parked along the Pacific Coast Highway, aka "Rincon Parkway Campground"
The town of Ventura California is seven miles south. Santa Barbara is twenty miles north. As you can see, Faria Beach Park is ranked 4.6 out of 5 on Google Reviews. Rincon Parkway Campground is rated 4.5 on Google. Keep reading for more and to learn what we would rate them both.
Where Highway 1 meets the Ocean just north of Ventura, California
Not a bad view from the front cab!
Of course, the primary attraction of staying here is beachfront RV camping. Ventura, California, is a cool little oceanfront town popular with surfers and swimmers. There were dozens of surfers on the waves within view of the RV camping sites. Most of the coast here is rocky, but a metal stairway from Faria Beach Park accesses a nice sandy beach. 
Unfortunately, during our stay in February 2023, beach access was difficult and a bit dangerous. Because of all the debris at the base of the stairs covering much of the beach. Our visit was about a month after major storms and flooding in the area. So, we imagine that normally there is not nearly as much debris on the beach. Being right on the ocean, we imagine most people staying here are drawn to the crashing waves, surfing, ocean fishing, swimming, and simply watching the ocean movement and the sunsets. 
Ventura, California, is about 10 minutes from the campground for restaurants and shopping. There are some coastal drives on Highway 1, but they are not as iconic as the driving further north on the coast closer to Monterey.
Debris washed up on the beach from recent storms blocked the access stairs
Amenities at Faria Beach Park Campground
Again, the primary amenity here IS the beachfront RV camping near Ventura, California. But Faria Beach Park also has a concession stand called Faria Beach Market, but we didn't go inside. The bathhouse seemed clean enough, with hot showers, and a restroom with flush toilets. There is also an outside shower for rinsing off the ocean sand and salt. Most campsites had picnic tables, and fire rings, but we imagine California fire bans would limit fire ring use in summer.
Some beachfront RV sites also have water, sewer, and electricity hookups. But our site #8 had no hookups at all.
Rincon Parkway Campground next door does not have any amenities. Just the painted stripes on the pavement separating beachfront RV camping sites. And the ocean view from your patio. Honestly, it's quite a stretch to call Rincon Parkway a campground, but that's probably how they are able to justify a fee to park there!
There is a campground host, but their primary role is to keep an eye on things and help ensure guests are following the rules. The campgrounds are pet friendly. Internal roads ar Faria Park are paved, and a handful of parking spaces are intended for day-use visitors.
The bathhouse has hot showers and flushing toilets
Faria Beach Market offers breakfast and lunch, snacks and camping essentials 
Cell coverage / WIFI / Mail
Our coverage with T-Mobile was OK, but as we were there to enjoy beachfront camping, we stayed offline. Faria Beach Park has WiFi, but we didn't try it out. As for mail, this is definitely not a location to try and ship any mail or packages to, especially because of the rampant theft.
Lock up your bikes, preferably out of sight, as theft is rampant in the area
Access to the beach and ocean for swimming and surfing
Beautiful sunsets, views, and sounds of crashing waves
About 15 beachfront RV camping sites at Faria Park have full hookups
Easy access being close to Highway 1 (Pacific Coast Highway) and Highway 101
Quick drive to Ventura, CA
Crashing waves and salty ocean spray on your RV (corrosive)
Very high theft crime rate means lock things away
Tightly packed campsites
Noisy with close proximity to other campers
Expensive for boondocking at  well $40+ a night with fees
Recent debris limited access to the beach area
Railroad line with frequent trains are directly opposite the Rincon Parkway sites
Rincon has NO amenities
The dream… a beautiful beachfront site. This was a brief moment captured right after other RVs had left near checkout time
The reality… tightly packed campers. And you're not actually allowed to park facing the ocean in case you need to evacuate quickly
Details of RV Sites in Faria Beach Park and Rincon Parkway
Here are some additional details about these two neighboring beachfront RV campgrounds near Ventura California, right on the Pacific Coast Highway.
Faria Beach Park Campground
There were only a couple of non-hookup sites available when we called Faria Beach Park Campground to make a reservation, so we chose site number 8. That site is on the far northern end of the RV park, beside the beach access stairs. This actually made our site feel a bit bigger. That ocean view from our windshield was really nice. But we arrived at sunset, pulled in the RV and set up camp. And got a rap on the knuckles the next morning from the campground host. Ooops! We didn't read the campground rules upon arrival. But all RVs must back in when parking, so it's quicker to evacuate if needed. 
About 26 of the 42 are truly beachfront RV campsites. The rest still have very little in between your RV and the waves, and still have an ocean view. All the sites are reasonably level, but we saw quite a few RVs that needed leveling blocks. As mentioned above, beachfront RV camping sites have only a rocky breakwater between your RV and the ocean waves. If the waves are high, you may get salt water spraying up onto your RV. Friends have experienced this on previous visits. That is not appealing to us (for so many reasons) but it might be to others.
Most RV sites, 27 of the 42, are primitive camping/boondocking. Only fifteen beachfront camping sites have water, sewer, and electricity full hookups. Those site numbers are 14 through 24 and 39 through 42.
As you might expect, most campsites are very tight
What kind of campers are allowed?
RV and tent campers are welcome at Faria Beach Park. But it's not for big rigs. Campsites range from 19' long by 15' wide, to 43' by 24'. You'll find each RV site size is listed on their website. However, I would caution against getting in and out of many of those sites with a big rig. It would not be easy because the entry road is fairly narrow, and sites are at a 90-degree angle to the road. We did see some fifth wheels and a couple of Class A motorhomes. 
Sites at the end curve allow better access for bigger RVs
Some RV sites near the end or on curves might allow better maneuverability. Accessibility would partially depend on the vehicles in the sites next to yours. Also, there is a relatively steep grade at the entrance. You might scrape at the bottom of the entry if you have a low RV or a long tail. 
The sloped entry road is steeper than it looks
Guests are limited to staying 60 nights in the same county park within a twelve-month period. No more than 120 nights between all county parks per year, and half must be during the off-season. No more than 14 consecutive nights before having at least seven days out. The RVer in the site next to us said he loved it so much that he maximizes his days and spends 120 days a year. He moves his fifth wheel between Faria Beach Park, and Hobson Beach Park two miles north. One night was good enough for us. 
Quiet hours 9 pm–7 am also means no generators during those times. See more details and rules at their website: https://www.venturaparks.org/faria/camping
Yep, that there line of RVs are not just parked, they are in a 'campground'
Rincon Parkway Campground
This beachfront RV "campground" encompasses roughly one mile of the shoulder of the Pacific Coast Highway, also known as Highway 1. It is immediately north of Faria Beach Park campground. Roadside sites are parallel parked and are higher up from the water than in the Faria Park campground. But you are still only separated from the ocean by a rocky breakwater. 
Since the sites are only along the southbound lane, all RVs must park facing south. This allows the patio side of the RV to face the ocean. Being the shoulder of the highway, all RV sites are paved asphalt, with simple white painted lines separating one campsite from the other. The larger Highway 101 is a couple of hundred feet further inland. And a railroad line with frequent trains is only about 30 feet away.
Yay! You can park your RV by the ocean, a highway, and railway track all at once!
What are the campsites like at Rincon Parkway?
It seems hard to believe, but there are actually 127 sites for RV camping along the old Pacific Coast Highway. Only self-contained RVs are allowed. No tents or RVs without bathrooms are permitted since it is solely boondocking and has no amenities. These beachfront RV campground sites are mostly 46 feet by 16 feet in size and are exclusively parallel parking. So, if you tow a trailer, you had better have suitable skills. Or hope you get there before the RV in the site in front of you or behind you. Of course, the larger the RV combination, the more challenging it could be. If your total combined length of the towing vehicle and trailer is more than 46 feet, don't bother trying to stay here.
Same situation if you are traveling in a motorhome with a towed vehicle. Especially since you cannot use reverse with a flat towed vehicle. If camping with a motorhome and towing a vehicle, you'll want to disconnect your tow vehicle before arriving.
Quiet hours 9 pm–7 am also means no generators during those times. See more details and rules at their website: https://www.venturaparks.org/rincon/camping

Nightly Rates for Beachfront RV Camping Near Ventura California
Faria Beach Park Campground nightly rates for boondocking sites (no hookups) range from $37 to $41 off-season. Additional fees brought our nightly total for site number 8 to $56. The full hook-up sites during off-season are $60-63 a night plus fees. During peak season, rates are $40-45 for no hookup sites, and $65-67 for full hookups.
Rincon Parkway Campground rates for RV sites – which ALL have no-hookups – are the same. These cost $39 during off-peak season and $43 in peak season, plus fees. So it's slightly less expensive than Faria Beach Park, but remember, there are also NO other amenities, like a bathhouse, picnic table, or water. It's also more exposed, from a security standpoint, being situated right on the highway.
Why is our Jeep backed up so tight against the back of our RV?
Security Warning – Beware of Theft!
There are prominent signs all around, warning campers to safeguard against theft. They strongly advise you do NOT leave generators, bicycles, or ice chests chained to your rig or outside at night. The sign we saw stated items WOULD be gone in the morning. 
So that was a bit unsettling. Especially as we had two bikes with us, one of which was Julie's e-bike! Both bikes were mounted on and securely locked to our Jeep. But we decided to play it safe, as waking up to stolen bikes would not make for an enjoyable stay. And we didn't want to lay awake worrying about them! So Marc put both bikes in the back of the Jeep and covered them up with a blanket. Then he backed the Jeep close up to the rear of the RV. That way even if someone saw the bikes in the Jeep, they would not be able to get them out easily – or at all. 
It may sound like a hassle, and we'll admit it was. But the good news is, there was no sign of theft around us in the morning. We even saw other campers who HAD left gear out, that wasn't stolen. Maybe it was lucky. But we would rather be safe than sorry.
So, is beachfront RV camping in Ventura worth the hype?
Look, we'll be honest. We're not big water people. We're mountain people who also happen to love the desert. While we appreciate the beauty of water views – ocean, beach, lake or river – we're just not water lovers. 
So it's probably no surprise to learn that for us, these two beachfront RV campgrounds at Ventura are NOT worth the hype. Sure, you might capture some Instagramm-able photos (with careful positioning and cropping, or waiting until your neighbors leave), but the reality is far less dreamy than the images. 
Granted, our stay was in winter, the off-season, and it was a bit cold and windy. Plus, post-storm debris on the beach meant it wasn't really an enjoyable place to walk or hang out for long. Weather aside, the overall camping experience fell WAY short of our expectations, despite reading reviews ahead of our visit.
Here are specific reasons why…
Expectation vs Reality. These photos were taken from the RV bedroom window at the same time. But the angle of the shot made all the difference.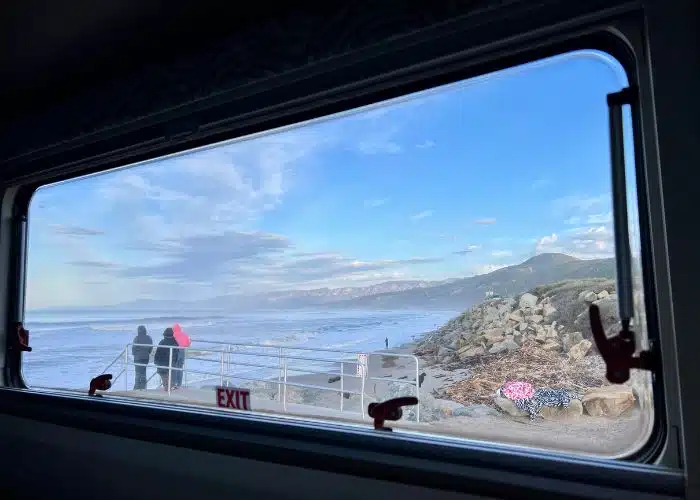 What was our beachfront RV camping experience really like?
Listening to the loud crashing waves of the ocean right beside our RV was more unsettling than relaxing or enjoyable. Any romantic notions of ocean ambiance were overridden by the noise and screams of our tent camping neighbors partying late into the night.
Plus concerns about safety and rampant theft hardly put our minds at ease, despite the precautions we'd taken by putting our bikes in the Jeep. So we didn't sleep great. Perhaps we were also feeling a bit worn down by the stress of the drive as traffic anywhere remotely near Los Angeles is often terrible. Our anticipated 3-4 hour drive ended up taking more than 5 hours and was quite stressful, even though we are typically relaxed and confident drivers.
By morning, we were glad we'd only booked a one-night stay, and were ready to be on our way to our next destination.
Find your own happy place
For us, $56 per night seemed very expensive for a boondocking site. Especially when exposed to corrosive saltwater spray or parked along a roadside. We know we were paying for the location and experience. But we have realized that it just isn't OUR kind of location or experience. And that's OK. We are not the kind of people who place a high value on oceanfront RV campsites. Give us the desert any day – or anywhere in the mountains – and we're happy campers. The good news for you is, we won't be trying to book up those popular sites in the future. So have at it! 
Of course, if you're a beach or ocean lover – or have found other more desirable locations – you'll likely have a very different opinion. 
Related: Check out a full recap of our nine-week California RV trip here.
GOT QUESTIONS OR COMMENTS?
Have you camped at Ventura? Are you a beach loving camper or not? We'd love to hear from you in the comments!
Editorial Disclaimer: Opinions expressed here are the author's alone, not those of any RV park, campground, or RV resort, and have not been reviewed, approved, or otherwise endorsed by any of these entities.
GOT COMMENTS OR QUESTIONS?
We would love to hear from you. Drop us a note in the comments section below.
Looking for more RV parks in this area? Hover over each image to see campground and location and click to read our review. Find ALL of our campground reviews on this page.