This post may contain affiliate links.
Is this place an oasis in the desert? After spending one night at Catalina Spa and RV Resort in early October, we knew we wanted more. So we booked a month-long stay to make the most of our winter visit to the Palm Springs area. 
We settled into our campsite, complete with mountain views, desert serenity and warm, dry temps. And we've been taking full advantage of the mineral spring-fed pools and hot tubs. 
Read on for our full review of this place, amenities and local attractions.
Disclaimer: Our campsite was provided gratis, as part of our partnership in co-hosting an event and related activities at the resort.
We both have a soft spot for the Palm Springs area. Since hitting the road in 2014 as full time RVers, we have spent more winter season time here than anywhere else in the country. Of all the places we've visited in the country, this area feels much like "home" to us – especially in the winter. It's probably our favorite place to snowbird in the colder months! 
Last winter, our good friends and fellow RVers, Brett and Danelle, booked a one week stay at Catalina Spa and RV Resort, and loved the resort so much, they ended up staying the rest of the season. They are back again, so we made plans to come visit and experience Catalina for ourselves. Read on for our full review of this place, amenities and local attractions.
Location of Catalina Spa and RV Resort
Catalina Spa and RV Resort is located in Desert Hot Springs, which is just north of Palm Springs, California in the Coachella Valley. Palm Springs and the surrounding area is a beautiful, desert environment surrounded by mountains. Some of which reach over 8,000 feet elevation. This offers a dramatic change in environment from the valley floor which is just about sea level. 
With all the wind turbines just off the interstate a few miles away, it stands to reason that the area experiences consistent wind. But, our experiences in the RV resort area have been quite pleasant with minimal wind. At least, during our month-long stay November-December, 2019.
Catalina Spa and RV Resort in Desert Hot Springs rests a bit above the valley floor, and is surrounded by open land. This also offers scenic views and plenty of peace and quiet. 
As the name of the nearby city implies, there are also hot springs running underground in the area. In fact, Desert Hot Springs has the largest collection of warm mineral springs in the United States. Catalina Spa has wonderful, odorless mineral hot spring fed pools and hot tubs. These are a huge draw for this resort. But more on that below.
Proximity To City and Services
Catalina Spa and RV Resort is situated southeast of the town of Desert Hot Springs (DHS). With a population of around 30,000, DHS has many stores and restaurants, and is only about a 15 minute drive away. But as we really love the city of Palm Springs, when going out, we prefer to drive the extra ten minutes to get to Palm Springs or Palm Desert. That's where you will find a much bigger selection of restaurants, shopping, and entertainment. And it's a bit more upscale.
We found the RV resort location has a nice mix of easy access to anything you need, while being remote enough to offer tranquility and scenic views. Some may prefer being a little more "out there" – away from the hustle and bustle. While others may like staying in more urban areas. 
But if you are like us, having a mix of both is really nice, especially for extended stays, or full time RVers. We enjoy the serenity and space of this location, while knowing we have all the attractions and action we may desire, just a short drive away
Amenities at Catalina Spa RV Resort
With the word 'Spa' in the resort name, you have likely correctly assumed that one of the main amenities are the wonderful, odorless mineral hot spring fed pools and spas.  There are two such pools and spa areas.  
The Upper pools and clubhouse are more exposed to the sun and more popular with families and those joining activities like water volleyball, as the pool is slightly larger. The clubhouse is large, with a big screen TV, and a full catering kitchen, and a BBQ and picnic tables outside. It's also situated closer to the pickle ball courts, mini golf and parking. 
The Lower pool and clubhouse area is quieter, with a smaller clubhouse (offering games, TV and a small kitchenette). It has a sizable pool, a large hot tub and more spa-like bathrooms and showers. This is also where you will find the Catalina Spa store. (More on that further down).
Water temperature in the pools is usually around 92 degrees F (33C) and the spas are closer to 102 degrees F (39C). Using the natural flowing waters from the local mineral hot springs, the pools completely turn over the water every day to keep it mineral rich and clean. Despite being spring fed, they do treat the water with some chlorine for safety.
Catalina Spa has many pickle ball courts in excellent condition, and offers regular lessons for newbies. Other amenities include mini-golf, bocce ball, horseshoes, corn hole, pet park, kids playground, and picnic areas.  Fitness enthusiasts will appreciate the nice fitness room with gym equipment, as well as nearby biking and hiking trails. The Kim Nicol Trail Loop is right beside the campground.
Activities and Entertainment
Catalina Spa has a very active social event calendar that includes on site meals multiple nights per week. In the peak winter months, their on-site kitchen staff serves meals every Thursday, Friday and Saturday. The menu is on a repeating rotation every week. Tacos on Thursdays, pulled pork sliders on Friday, and Italian meatballs and pasta on Saturdays. The food quality was quite good for an "all-you-can-eat" price of $9.50 per person (plus tax).
We attended their catered Thanksgiving Dinner in the Upper Clubhouse, with about 100 people. Cost was $12 per person (BYO wine) and the food was very good with the traditional meal and trimmings.
They have games, potlucks, seminars and even Karaoke. If you prefer more seasoned performers, the resort offers a concert series where they bring in professional talent during the peak (winter) months.
During our stay, we worked with Catalina Spa and RV Resort to co-host The RVers TV show premiere watch party in the upper clubhouse.  Catalina generously provided the event space, big screen TV (with Discovery Channel) and a complimentary breakfast for close to 170 guests.
Practical Amenities at Catalina Spa RV Resort
Other conveniences offered by Catalina Spa include a small store with RV supplies, snacks, pickle ball racquets, pool noodles and other camping related accessories. They also sell autographed copies of our book, Living The RV Life.
There are two laundry rooms, and the machines can be operated with coins, or by using the PayRange app which you can download on your smartphone. The app was actually pretty great, and even sends you reminders when your machine has almost finished the cycle.
Catalina Spa is a gated RV resort with a manned ranger station at the front entrance. During peak months, ambassadors also patrol the grounds around the clock. A nice convenience is the daily curbside trash pick up from your campsite. While I am not usually big on this service, I must admit I grew to really like it. It's a benefit not having to carry my trash around the resort to the nearest dumpster. But perhaps more importantly, we really enjoyed not having to deal with smelly trash dumpsters around the park, or listen to (or see) noisy trash trucks driving around to empty them.
Free Electricity and Water, Year Round
Many RV parks charge extra for electricity, in particular on longer stays, say a month or more. So it was a bonus to learn that Catalina Spa and RV Resort does NOT charge extra for electricity – or water – year round. They have installed a massive solar array, which provides significant power from the sun to the resort.
RV Storage
Catalina Spa also offers storage for RVs, if you need to leave your RV in the area, but do not need for it to be plugged in. RV storage costs were approximately $120 per month during our visit (call for current pricing).
Buildings near the pool areas also have showers and restroom facilities. All grounds and structures are attractive and are well maintained. Landscaping is very nice, with many flowers, cactus gardens and cool rock sculptures around. We found the staff to be welcoming, pleasant and helpful. 
While we don't usually partake in activities when staying at RV parks, the guests we met were friendly and mingled well at the resort events and amenities. Many of them seem to be regulars for the winter season.
As mentioned at the beginning of this review, Julie and I really like the Palm Springs California area. It is a really great winter location with it's excellent warm and dry climate throughout the winter months. There are great restaurants, shopping and entertainment, but also access to some beautiful nature.  
Most of the surrounding area is dry and desert like conditions, including nearby Joshua Tree National Park. But you still have surprisingly quick access to mountainous landscape in the Mount San Jacinto State Park and access to wilderness. 
It would take about an hour and a half to drive up into the high mountain areas nearby, but you could choose to ride the arial tramway and get to the top quickly and while enjoying amazing views. The Tramway is the worlds largest rotating tramcar carrying up to 80 passengers over 2.5 miles to the 8,500 feet elevation mountain station.
Julie and I have ridden the tram a few times and love the incredible views. Just remember that when you gain 8,000 feet of elevation the temperature will be substantially cooler, and oxygen thinner. Temps at the top average about 30 degrees cooler than the valley floor.  
We also enjoy the Thursday evening markets in downtown Palm Springs, and the weekend markets at the College of the Desert. The Coachella Music festival is a major attraction every year, and will make finding reservations in the area extra difficult.
The Living Desert Zoo and Gardens is a very popular and highly rated area attraction. We heard the Air Museum is great too. During the holidays, have a stroll down Candy Cane Lane oozing with holiday spirit despite the beautiful warm weather.
Palm Springs, Cathedral City, Palm Desert, Indio and other cities that make up the Coachella Valley are very popular winter havens. Being such a popular destination for tourists and seasonal guests, the cities make an effort to ensure guests and locals enjoy themselves and continue to make plans to return. Festivals, street fairs, hot air balloons, concerts, car shows, and other attractions fill the calendars of the local area.
I know we plan to come back to the area again and again in the coming years.
Proximity to Palm Springs, California and local attractions (Downtown Palm Springs, Villagefest, and COD Markets, Aerial Tramway, Coachella all nearby)
Well maintained, with very nice amenities
Natural, odorless, mineral pools and hot springs
Quiet, peaceful and scenic, yet accessible to city conveniences and action
Some sites are not level and most are a bit sandy, being in a desert area
It can be windy here (especially January to March, we have been told)
Nearby town of Desert Hot Springs isn't exciting, but it's not much further to drive to nearby Palm Springs, Palm Desert, Indio and La Quinta
Rates at Catalina Spa and RV Resort
Rates change depending on time of year, length of stay and even the type of site. Peak season is December through April. Quoted rates include tax, electricity, water and all amenities, such as access to the resort facilities (for guests). 
Daily rates now start at $45, which is actually lower than when we stayed. 
Weekly and monthly rates are available for a discount.
Because the rates include include tax, electricity, and water regardless of the length of stay, this can represent a significant saving. We have spoken to other RVers who pay $100-$300 per month for electricity on their stays at other RV parks in the area.
Club Membership Discounts
Catalina Spa offers discounts to members of Passport America, RPI, Good Sam, and Coast to Coast. These rates are comparable to other RV Resorts in the area. So we feel they are reasonable for what is provided. 
Being one of the bigger RV resorts in the area, space availability is quite good off-peak. However, Catalina Spa is popular in the winter, so they mostly book up during peak season. People who are not staying at the resort, but want to use the resort pools and other amenities can do so for a daily use pass of $10 per person. 
We received multiple packages during our stay, which were delivered to the front office, for our collection. We don't usually have USPS mail sent to RV parks, unless it's a Priority Mail Envelope forwarded by our mail service. It is always recommended you check with the office before shipping anything to their address. As policies can change without notice. 
Address: 18800 Corkhill Road, Desert Hot Springs, CA 92241
Phone: 760-329-4431
Email: [email protected]
Catalina Spa does offer WIFI and cable for a fee. 
The first 30 minutes of WIFI are free, but after that, you can pay for the service. The nice thing about 30 minutes free is that you can be sure it works well enough for your needs before paying for it.
We rarely use campground WIFI, as we use our own data with AT&T, Verizon and T-Mobile (phones). Our cellular service showed 4 bars of LTE on Verizon and AT&T (our MIFI hotspots) but only 2 bars on T-Mobile. We found that speeds were below average for what we would have expected from such strong signal. But, we were still able to stream video and work, despite the data speeds not being as fast as we would have hoped.
We did end up connecting the Campground WIFI service on one our laptops, and found that to be very fast. So if blazing fast internet is high value to you, it may be worth buying the WIFI package.
Getting To Catalina Spa and RV Resort
This RV park is located at 18800 Corkill Road, Desert Hot Springs, just off Dillon Road.
It's about 3 miles north of Interstate 10, a major artery across the country. Do your route planning when coming into the Palm Springs, as some routes have significant hills into the area. But once in the area, this RV resort is very easy to access and big rig friendly, with large, straight, and relatively flat roads.  
When you turn off of Dillon Road onto Corkhill Road, pay close attention in the last quarter mile. Some GPS will try to take you down 20th Street. And others may try to have you turn into the park at "the first gate" that is actually a secondary (exit gate) and almost always closed. 
The main entrance driveway to Catalina Spa is located on the left hand side, after the speed bump and yellow sign – AFTER the first, closed driveway. You'll see the big Catalina Spa & RV Resort welcome sign and a much wider driveway, and the Welcome Center to check in.
Note that Corkhill Road is a dead end, so you won't want to pass the resort. It might be hard to turn around, as the road turns to dirt. This will be especially tricky if you're in a big rig or towing.
Being 3 miles from the nearest highway, and with no airports or train lines nearby, we found this location to be extremely peaceful, especially at night.
Once you turn onto the property, there are two lanes. The right lane is for RV check-in only, and the left lane is for through traffic. There is a relatively large welcome center and office outside of the main gate, and a security building manning the gate, which can be accessed with a gate code when no staff is present. Once checked in, you will be escorted to your site by an ambassador, to help you get parked.

All internal roads are paved and in above average condition. Internal roads are a good width for maneuvering with RVs and can comfortably accommodate big rigs in areas where the appropriately sized sites are.  Some sections of the RV resort have smaller sites which are understandably mostly used by smaller and easier to maneuver RVs. That said, I would definitely consider Catalina Spa and RV Resort big rig friendly.
RV Sites at Catalina Spa
Being a desert environment, most ground surfaces can be a bit sandy.  But most sites do have a paved or concrete patio area, and guests are welcome to put down patio mats. Being such a dry, desert area, we were very impressed with the landscaping throughout the RV resort and the amount of greenery between the RV sites. Most sites have irrigation fed shrubs and trees on all three sides. This provides additional privacy and separation from neighboring and nearby sites, and creates a more luxurious feel.
RV sites at Catalina Spa are above average in size. At least compared to what we are used to. Being located in a somewhat hilly area, most sites have a slight angle to them. The slight angle of the resort likely helps prevent any flooding or pooling of water in the event of a significant rainfall. That said, the majority of sites are relatively level. Only a few RVs needed multiple leveling blocks under their wheels.
Catalina Spa and RV Resort has around 465 RV sites and 16 rental cottages. Almost every site is back-in, as there are only a couple pull-through sites available. But it's easy to get parked, with the spacious sites and guidance from the parking ambassador.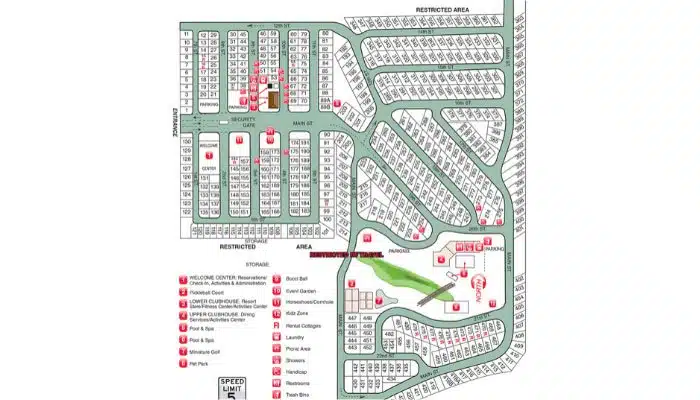 Catalina Spa RV Resort Layout and Sites
The layout of the park is broken into three areas. There is a grid like section at the bottom of the hill that tends to have smaller sites and straight streets at 90 degree angles. RV sites in the lower area are arranged perpendicular to the street. This lower area feels so different from the upper section, that it may have been the original extent of the park, that was later expanded.
Both sections in the upper area are more organic in layout with mostly curved roads. RV sites in the upper sections are often not fully perpendicular to the road, which may make it easier to park larger RVs.  Not coincidentally, the sites in the upper section also tend to be larger in size.
All RV sites are full hook-up and have at least 30amp power. We believe all sites in the upper section of the RV resort have 50amp power available.  Sites are well maintained, and the staff even rakes them before new guests check in. 
Catalina Spa and RV Resort is a medium sized RV Resort near Palm Springs. It is very popular during peak months of December through April. 
This resort was rated the #1 RV Resort in the area on Trip Advisor in 2019. With a wonderful location, mineral hot springs, and nice amenities, it is one of our favorite places to stay in this region.
We stayed at Catalina Spa and RV Resort for a full month in November-December of 2019. The weather was gorgeous for most of our stay. The first half of our stay we had highs in the 80s, and lows in the 60s. 
The second half of our time we had cooler temps, with highs in the 60s and lows in the 40s. We experienced just one very windy day, and a couple of stormy weather days around Thanksgiving. We thoroughly enjoyed our stay and definitely plan to return.
Contact Information and Making a Reservation
To find out more, or make a reservation contact:
Catalina Spa and RV Resort
18800 Corkhill Road, Desert Hot Springs, CA 92241
Phone: (760) 329-4431
Website: www.catalinasparvresort.com
Email: [email protected] 
PS. Feel free to mention you read RVLove's campground review. We receive NO commission or remuneration for any bookings made. It's just nice for them to know how and where their customers learned about the resort.
Editorial Disclaimer: Opinions expressed here are the author's alone, not those of any RV park, campground, or RV resort, and have not been reviewed, approved, or otherwise endorsed by any of these entities.
GOT COMMENTS OR QUESTIONS?
We would love to hear from you. Drop us a note in the comments section below.
Read More Campground Reviews
Looking for more RV park reviews? Hover over each image to see campground and location and click to read our review. Find ALL of our campground reviews on this page.