This post may contain affiliate links.
We first stayed at Cherry Creek State Park in the fall of 2017 for about a week and enjoyed our stay.  We have stayed many times since, in all of our RVs. Cherry Creek State Park is your typical state park campground with fire rings, picnic tables, and trees. For more detail about the specifics of this RV park, sites, and amenities – including pros and cons – read on.
Location of Cherry Creek State Park Campground
Cherry Creek State Park Campground, is a beautiful state park in Aurora, just southeast of Denver, Colorado. The roads into the area are excellent, and the park is very easy to access just a short drive off of Interstate 225. It is only 15 minutes from Denver (depending on traffic) and is close to the Denver Tech center as well. Being on the southeast side of Denver, it would be at least 40 minutes from the foothills if you plan on heading up into the mountains.
There are fuel stations and grocery stores 5-15 minutes away, and any other convenience of a larger city within a short drive. It is a very nice state park, so you of course have easy access to nature as well. We frequently saw deer walking around the campground. There is a large lake for boating, and a fantastic bike trail system within the park as well. 
During the summer (and especially on weekends) there are many daytime visitors, which can cause a line to get into the park. There is virtually no city noise when in the park. No train lines, or airports nearby. It is actually very peaceful considering how close it is to a larger city. Being near the mile high city, elevation is, of course, over 5,000 feet. There are residential neighborhoods and also commercial property in the surrounding area, but when you are in the park you feel like you have gotten away from it.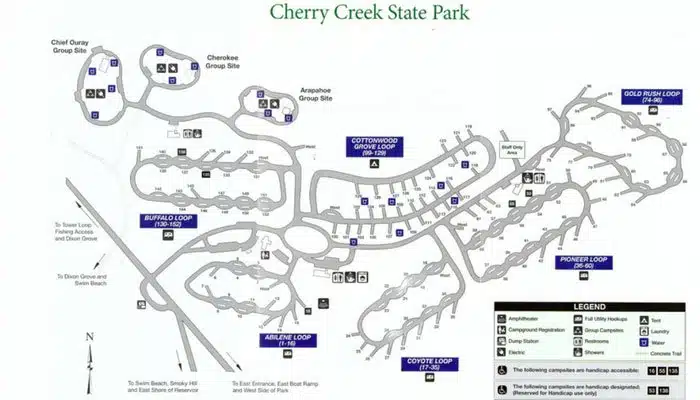 Being a suburb of Denver Colorado, you have access to all Denver area attractions, which we imagine are a draw for many of the shorter term visitors. As the name implies the campground is within a State Park. There is a wonderful bike trail system and a large lake within this State Park, so there are a large number of daily visitors.
There is a beautiful lake and nice trails within the park, but it doesn't have amenities like you find at private campgrounds. The two restroom/shower buildings are both fairly new and in nice condition, and one of those buildings also has a laundry room. There is also a ranger station within the campground that is open during business hours.
The State Park Campground does not accept mail or packages. You will need to send to a local post office, Amazon Locker, Fed Ex, or UPS shipping location and pick it up.
We don't believe they have WiFi at the campground. We have our own RV internet setup, with our own data plans with Verizon and T-Mobile. At the time of writing, Verizon and T-Mobile both had 3-4 bars of LTE signal so connectivity speeds were good.
RV Sites at Cherry Creek State Park Campground
All the internal roads are wide, well maintained, paved asphalt surface. All RV sites are concrete pads, with natural surface areas between most sites and frequent mature trees. The sites are well spaced and don't feel crowded. The campground is divided into 6 main loops, and 3 other small loops for group gatherings. 
There are about 150 sites total. About half of the sites are pull throughs, and the rest are back in sites. RV sites are mostly full hook-up with 50amp electricity, but 'basic' sites don't have hook-ups and are more geared for tents. There are about 30 sites that only have occasional water spigots no electricity. The group campsites have some electricity and water spigots, but are not RV sites.
This RV Park is big rig friendly, especially if you get a pull through site. Colorado state parks limit your stay to 2 weeks at a time, and it is likely in your best interest to consider the purchase of a state park pass which will save you money, if staying more than a week in a year. Campground closes the majority of the sites at the end of October, reducing from 6 loops, down to only 1 in November.
Level concrete pads with lots of nature around, very peaceful

Large lake for recreational activities

Proximity to Denver area for conveniences and attractions
Entry into the park can sometimes take a long time because of all the day use visitors to the park

Can be challenging to get reservations as it is popular
Rates at Cherry Creek State Park Campground
The nightly rate is $41 a night for a full hookup site, in 2022.
Plus, you need to have a Colorado State Park pass as well, which you pay for daily ($11 a day) or buy an annual pass for $80 which is affixed to your vehicle (our RV in this case. You MUST arrive with your tow vehicle connected to your RV to avoid having to buy a separate pass for your toad. They will give you a temporary pass for driving in and out of the park during your stay).
$41 is quite a price hike since our first stay, when we paid just $26 a night, but still good value for this very nice park.
Colorado State Parks are always very popular, and usually booked out many months in advance, for good reason! Typically, we keep an eye out for cancellations and pick up a last minute reservation. These can be found any time, but are most commonly available 2-3 weeks before desired dates, as that is when most people tend to cancel to get a refund and avoid cancellation penalties.
This is a very nice campground in Colorado, which is among our favorite states. Roads in the area are great quality and easy to access for large RVs. Campground is very well maintained with large, level concrete pad sites, and natural surroundings. This is a regular favorite for us when visiting family in Colorado.
We have visited this park multiple times over the years, during various seasons. Our visit for this review was in late October 2017 for a bit over one week. The weather was a bit cold, with lows in the low 30s, but some of the days were beautiful.  We had a really nice time here and would definitely come back to visit. We have also stayed in spring, summer, fall and winter, in subsequent years, and all of those seasons are beautiful in their own way.
Editorial Disclaimer: Opinions expressed here are the author's alone, not those of any RV park, campground, or RV resort, and have not been reviewed, approved, or otherwise endorsed by any of these entities.
GOT COMMENTS OR QUESTIONS?
We would love to hear from you. Drop us a note in the comments section below.
Looking for more RV parks reviews? Hover over each image to see campground and location and click to read our review. Find ALL of our campground reviews on this page.