This post may contain affiliate links.
Clerbrook Golf and RV Resort is a large RV resort near Orlando with an 18 hole golf course in the center of it.  We had a great stay here in the winter for a couple weeks, including playing a round of golf while there.  Read on for more details about this resort.
Location of Clerbrook Golf and RV Resort
Clerbrook Golf and RV Resort is located in Clermont Florida, right off of Hwy 27 in Lake County.  It is about 30 minutes northeast of Orlando.  It is very easy to get here using major roads, which makes it very friendly to RV travel.
The RV resort has, farming and undeveloped land in the neighboring area which helps it feel more rural than it is.  It is actually only about 10 minutes away from grocery stores, restaurants, and shopping, so it is a very convenient location.  It is also probably about 30 minutes away from Disney if you want to visit the theme parks during your visit. 
There are also two other Thousand Trails system parks a short drive away.  Thousand Trails Orlando, and Winter Garden RV Resort. We have a summary article about all 40+ Thousand Trails Resorts in Florida here.
Clermont is a large enough city to provide convenient access to any stores you need. It is also located in the rolling hills area of Lake County which offers more texture than most of Florida.  This RV park is only about 30 miles to the big Orlando area Disney and Universal Studios theme parks.  
The lake Apopka wildlife drive is nearby, and it is a relatively short drive to connect with the great bike trail network in the area. Lake Apopka and area bike trails are mentioned in more depth in related review of Winter Garden RV Resort very nearby.  Thousand Trails Orlando RV Resort is also only about 15 minutes from here.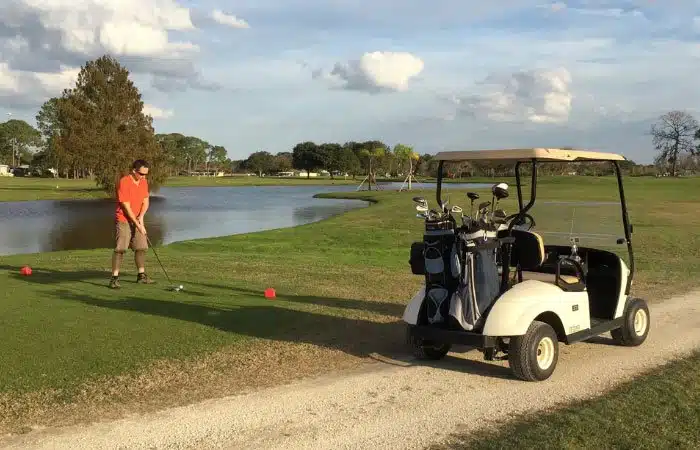 Clerbrook Golf and RV Resort has separate recreation halls, pools, hot tubs, and laundry rooms in all three areas. There is a softball field in one are and a lot of open green areas throughout the park because of the golf course and neighboring wildlife conservation areas.  So, if you have a site on the perimeter or inner loop it will feel especially open. 
A library, card room, billiard room, wood shop, kids playground, and exercise room are also available at the resort, but we didn't visit them on this stay. On the practical side, there is propane filling, a dump station, vending machines, mail room, and great recycling program.
The grounds are well cared for in general, but especially the golf course.  Just be careful playing golf near the water in any Florida course as there might be alligators or snakes near the water edge. Just plan on having some extra golf balls with you instead of trying to retrieve them.
We were able to ship multiple packages here during our two week stay.  Catering to long term tenants, we imagine they are used to receiving deliveries for guests.  But, they do have a charge for receiving packages.
The resort does offer wifi, but we didn't try it. We use our own data with AT&T, Verizon and T-Mobile.  All carriers had 3 bars of LTE signal without our booster, but speeds were slower than expected considering the signal strength.  Maybe there were a lot of people on the local tower.
RV Sites at Clerbrook Golf and RV Resort
Clerbrook Golf and RV Resort is a large resort with 1250 sites on 287 acres. Most of the internal roads are wide and paved asphalt surface.  Being so large, the resort is broken up into three main sections, and has a very nice 18 hole real (not mini) golf course.  Sites are a mixture of RV sites and permanent structures.  
We would estimate that permanent structures outnumber RV sites, but not by a significant margin.  Some sections of the resort have higher percentages, and others have lower percentages. This is a destination and extended stay park, so many of the RVs likely stay here all season and even all year.
That said, again with the size of the park, there is still quite a number of sites available for shorter term visits.  The RV sites seem a bit larger than most of the RV sites we have seen in similar destination parks in Florida.  All RV sites are full hookup, and most are on grassy or other natural surface. We believe that all sites offer 30 and 50 amp power.
More about Clerbrook Golf and RV Resort sites
There is a ranger station and welcome center with one lane for check ins. Once inside the gate, the campground has one large loop broken into two sections, and third section that isn't part of the main loop.  There is a small lake in the center of the loop, and a golf course spread out in between the various sections.  The golf course was very well maintained and provides a upscale feel to the resort.
Being a golf course community, and being such a large area, you will see a ton of people traveling around the park via golf carts. The size of the loop makes for a great way to walk around and get some exercise too.
The resort is very easy to navigate with a big rig, but not all sites will accommodate RVs over 40'.  That said, we would estimate that the vast majority of sites would comfortably handle large RVs.
Layout of resort and amount of amenities keep from feeling crowded

Nice golf course right on site

Convenient location and well maintained park
Some sites were a bit muddy after rain.

Onsite water treatment facility was sometimes a bit smelly. Try to avoid getting site next to it.

If you are at the back of a large park like this with 10mph speed limit, you need patience to get to the main roads.
Rates at Clerbrook Golf and RV Resort
We stayed at this park at with no nightly fee because of our Thousand Trails Membership with the Trails Collection upgrade.  This resort is one of the Trails Collection offerings.  Most sites were seasonal or permanent residents.  We did meet a number of folks staying here for shorter stays.  But the focus is likely on long term visits, and we didn't get information on nightly or monthly rates during our visit.
Clerbrook Golf and RV Resort is a large, but well laid out resort with over 1200 RV sites.  It has a very noticeable golf centered feel, and seemingly active community. Conveniently located RV park in Clermont, near Orlando Florida for shopping and area attractions,
To find out more or to make a reservation, contact:
Clerbrook Golf and RV Resort
Address: 20005 US Hwy 27N
Clermont, FL 34715
Phone: 352-394-5513       
Editorial Disclaimer: Opinions expressed here are the author's alone, not those of any RV park, campground, or RV resort, and have not been reviewed, approved, or otherwise endorsed by any of these entities.
Looking for more RV park reviews? Hover over each image to see campground and location and click to read our review. Find ALL of our campground reviews on this page.
GOT COMMENTS OR QUESTIONS?
We would love to hear from you. Drop us a note in the comments section below.