This post may contain affiliate links.
We have stayed at Garden of the Gods RV Resort many times in our 6 years of travel, and have always enjoyed our return visits. When the pandemic shelter in place orders began in March, we were boondocking in Arizona, where we ended up staying for 5 weeks. But with the desert temperatures set to soar by late April, we knew it was time to look for a safe, and much cooler, location where we could situate ourselves for an extended period.
After making sure they were open and could accommodate us, we headed straight to Colorado Springs to complete phase 2 of our shelter in place. We initially booked a 2 month stay, but ended up extending by an additional two weeks. All up, we stayed for about 10-11 weeks. This post is loaded with photos as you read on, but for an even more visual tour, check out this related video.
Location of Garden of the Gods RV Resort
Colorado Springs is about an hour south of Denver Colorado.  The major interstate highway I-25 runs through it.  Garden of the Gods RV Resort is in western Colorado Springs, near the border of Manitou Springs.  Roads into the area are easy to manage. But be mindful of your routes coming into Colorado, as some routes may involve long steep grades at elevation.
We loved that this resort has very quick easy access to nature and the outdoors, yet is also walking distance to stores and conveniences.  
Our favorite area attraction is the namesake of the campground, and almost literally right next door.  The Garden of the Gods park is a gorgeous park filled with amazing geological features. We loved going on hikes and bike rides in the park, right from our campground. Check out our blog post about Garden of the Gods we wrote during our first visit here many years ago.
Also within 5 minutes of the Red Rock Canyon open space with even more great hiking and biking trails.  The nearby town of Manitou Springs is a cool little tourist town with lots of charm. A short drive the other direction you will be in another cute town of Colorado City.
Colorado Springs has loads of other tourist attractions.  Drive to the 14,115 foot summit of Pikes Peak.  Visit the only mountain zoo at Cheyenne Mountain Zoo.  Go underground in the famous Cave of the Winds.  Explore some history at the majestic Broadmoor Hotel.  
There are loads of other hiking and biking trails , horseback riding, and mountain escapes at your doorstep in this area. Colorado Springs is also host to the Air Force Academy.  Many events and festivals are hosted in the Colorado Springs area too.  It is a great area filled with attractions.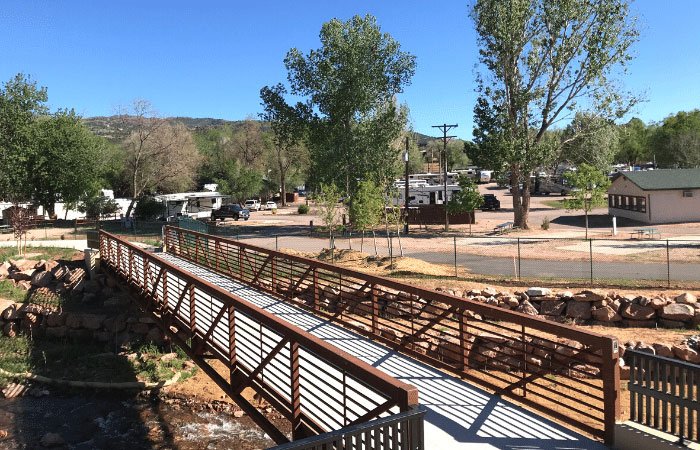 Amenities at Garden of the Gods RV Resort
Garden of the Gods RV Resort has nice amenities for a RV park of its size.  There are two heated pool areas (when open), a playground, dog park, billiard room, and store.  It is a very well stocked RV resort store, with snacks, RV supplies, camping supplies, clothing and books. 
At the time of writing this post, their store even carries autographed copies of our book, Living the RV Life – Your Ultimate Guide to Life On The Road.  They also have a large arcade, and a building that can host large group events.  This RV park often attracts small rallies and traveling groups.
Practical Amenities at Garden of the Gods RV Resort
There are three bath houses, two with laundry rooms.  The main laundry room has nice big front loading washing machines, and huge dryers that can dry three loads at once.  Washers are $2.50 – $3.50 per load depending on settings, but the dryer are inexpensive and powerful, which evens out the cost of doing your laundry on site.  Laundry soap vending machine and a coin dispenser are located in the main laundry room.  
Cable TV and WIFI are available.  We tend to always use our own cellular connectivity so we didn't try the onsite WIFI or Cable.  Verizon had 4 bars of LTE, AT&T was a little inconsistent, but often had a couple bars of LTE.  T-Mobile seemed steady with 2 bars LTE.
RV Sites at Garden of the Gods RV Resort
All RV sites are gravel, or concrete pads and include picnic tables and concrete patios.  Power is 30/50 amp, and all sites are full hook-up (water and sewer).  Some sites also provide cable TV.  
Pull through sites as long as 65' are available. But most sites are back-in, and many will not accommodate large (40'+ RVs).  There are a total of around 170 RV sites, and are divided into 6 different types, from standard back ins, to executive pull throughs. 
About 31 are pull-through, and the rest back in.  Despite the fact that the number of large sites is a small percentage, we would still consider this a reasonably 'big rig friendly' RV resort. Mostly because the internal roads are relatively easy to navigate, and many of the large sites are pull-through.
Most sites are pretty level, but there are many that might require leveling blocks.  We only saw a few travel trailers and fifth wheels needing leveling blocks. But more motorhomes needed leveling blocks, as they have less range for leveling.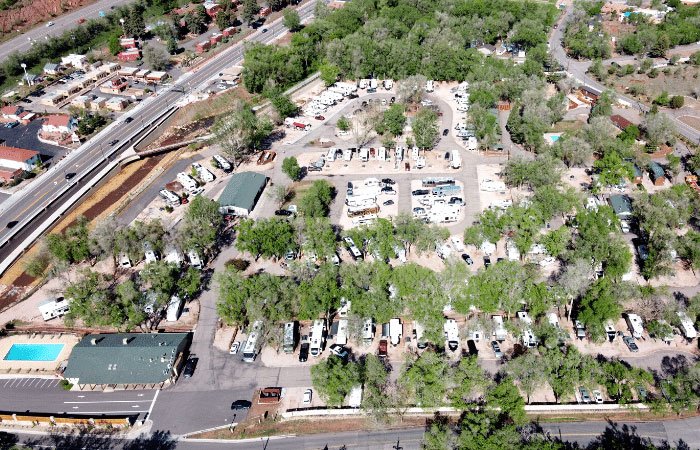 Other Accommodations Available
Garden of the Gods RV Resort also has a number of other accommodations available if you don't have an RV.  Options range from a primitive tent site with no power (some available with power), all the way up to relatively new, beautiful 'Escape Cottages'.  
There are nine very basic bunkhouses that have power, but no water.  Guests staying in the bunkhouses, would need to use one of the campground bathhouses for their water needs.  Five Garden Studios are a big step up from the bunk houses.  Garden Suites, Resort Cottages, and Escape cottages are even better.  Some accommodations can sleep as many as 6 people.
Getting to Garden of the Gods RV Resort
Roads into the area are very easy to navigate.  Colorado Springs is right off of a major Interstate (I-25).  and Garden of the Gods RV Resort is just a few miles west of the interstate using state highwyas, and a few blocks of smaller roads.  No steep grades or tight corners in the immediate area. But, Colorado has many steep grades depending on which way you approach from, so do your route planning research.
The intersection where the entrance to the RV Resort is, is an abnormal intersection where the traffic stops a ways back from the light.  This is actually a good thing as it makes the entrance very accessible for large RVs.  Check out the arial  image below for a more visual detail.  
If you do have a large RV, don't take the lane closest to the office building. We saw somebody with a large RV who ended up doing damage to his RV trying to make the tight turn after checkin.  Also be aware that the road straight up from the checkin is a dead end.  We saw quite a few folks mistakenly drive up that road instead of turning left to their sites.  So pay close attention to how to get to your site, or risk needing to back down the one way, or do some fancy moves to get turned around.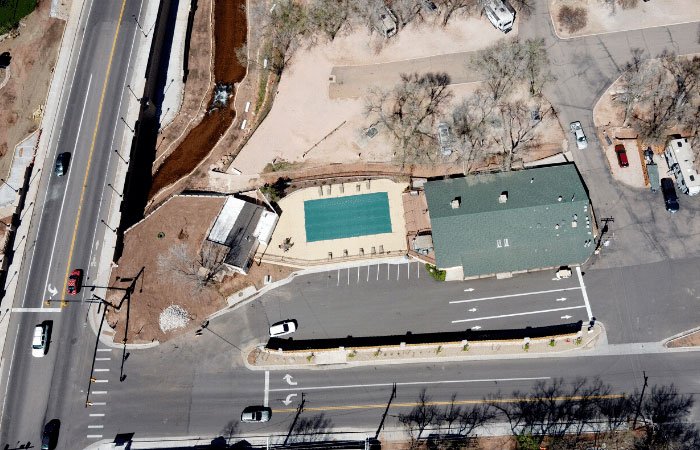 Proximity to Garden of the Gods and area attractions
Nice sized park, and welcoming staff
Availability of other accommodations for those without RVs
Proximity to stores and conveniences
Nice full hook up, gravel sites and paved internal roads
Most of the RV park is on a slight downhill grade, so you might need leveling blocks. Most were able to level without them, but we did see a number of motorhomes with wheels off the ground, after their leveling jacks lifted the vehicle up.
Rates at Garden of the Gods RV Resort
This resort uses a dynamic pricing model, so prices will vary substantially.  You will need to call to check pricing and availability for the specific dates you plan to visit.  Also a factor are the type of stay you are looking for. 
With everything from tent sites, to RV sites, and very nice cottages, there is a wide range of pricing.  Discounts are available for longer stays.  We stayed for two months, so we had a monthly rate. Some guests stay here year round. Monthly and longer stays will also need to pay metered electricity. 
Garden of the Gods RV Resort is a really nice medium sized RV resort. It is in a fantastic location for conveniences of town, and easy access to beautiful outdoor recreation and tourist attractions.  We have stayed here many times over the years, in all different seasons of the year, and definitely look forward to returning. 
We even wrote a blog post about nearby Garden of the Gods park after our first visit, which you can read here.
Editorial Disclaimer: Opinions expressed here are the author's alone, not those of any RV park, campground, or RV resort, and have not been reviewed, approved, or otherwise endorsed by any of these entities.
GOT COMMENTS OR QUESTIONS?
We would love to hear from you. Drop us a note in the comments section below.
Looking for more RV park reviews? Hover over each image to see campground and location and click to read our review. Find ALL of our campground reviews on this page.