This post may contain affiliate links.
Marina Dunes RV Resort is a boutique-style coastal RV park near Monterey, California, in a highly desirable and convenient area. It is part of the Thousand Trails Encore campground network, which enables members (like us) to stay for a low nightly rate. Close to many scenic destinations along the Pacific Coast Highway, this was one of our favorite stops on our nine-week California RV trip.
You can read on for our detailed review of this great little RV resort.
Location of Marina Dunes RV Resort
What an amazing location! Marina Dunes RV Resort is only a short walk along a nice pathway through sand dunes that take you to the beach on Monterey Bay. The beautiful city of Monterey, California, is 10 miles south along Highway 1. The neighboring properties are Marina State Beach, undeveloped land, and some hotels, including the lovely Sanctuary Beach Resort. So it's in a quiet area. However, being right next to Highway 1 has its upsides and a downside, as we'll explain further in a bit.
Area Attractions near Monterey
This is truly a beautiful area of the country, on the list of many road trippers! Some local highlights include the famous Monterey Aquarium, Old Fisherman's Wharf, Fort Ord Dunes State Park, whale watching, great biking trails, plus many famous and amazing golf courses. Being such a desirable area, there are lots of great shopping and restaurants, from simple takeout to fine dining.
A couple of our favorite nearby spots include Pacific Grove (head to Lovers Point Park) and Carmel-By-The-Sea, for its amazing architecture and natural beauty. It is surprisingly dog-friendly for such an upscale area. For beach lovers, Monterey Bay, stretching from Santa Cruz to Monterey, is one of California's best, whether you are enjoying the scenery, swimming, or catching waves on your surfboard.
Sunset from the beach at Monterey Bay
This is not a road, but a section of the very nice coastal bike lane
Our RV at a pull-out on the famous Pebble Beach 17-Mile scenic drive
Special attractions for drivers and car lovers
One of our favorite things to do in this area is just going for amazing drives. California's Highway 1, along the curving and cliff-edged coastline is one of the most stunning roads in the country. Make sure you stop at the iconic Bixby Bridge, near Big Sur and under 30 miles from the RV resort. The scenic 17-Mile Drive along Pebble Beach is well worth the admission fee. You can even rent a unique car from Monterey Touring Vehicles which would make it even more spectacular. Next time, we plan to do just that! (I have my eye on the Cobra).
Car buffs likely also know that Monterey hosts some of the country's best and most famous car events. Come for Monterey Car Week, the Pebble Beach Concours d'Elegance, and Laguna Seca Raceway. With shows, races, auctions, lectures, and more, Monterey Car Week alone has nearly 30 events. Keep their event dates in mind when planning your trip to this area. They are a huge draw and dramatically spike accommodation prices, including at this RV resort. 
The 2023 event is scheduled from August 11th through the 21st.
Highway 1 near Big Sur is one of the most stunning drives in the country
Amenities At Marina Dunes RV Resort
This Thousand Trails Encore Resort is extremely well-maintained and filled with nice boutique-style touches. The first amenity is its location right off the beach. The dunes between this RV resort and the ocean have vegetation growing on much of them, dramatically keeping the sand down and making it more pleasant than most other coastal dunes. The path to the beach is well established, making walking easier than traipsing across a vast sand dune (like at Pacific Dunes Ranch). We also loved that this beach area was dog friendly. There's no pool or hot tub, but the beach is an easy walk from across the road.
Across the road is a well-established walkway and short walk to the beach
Being a smaller RV resort with only around 83 RV sites, you would expect fewer amenities than large resorts. Marina Dunes RV Resort has a nice clubhouse with comfy furniture, games, and tv. They also had free coffee, snack bars, and oatmeal packets every morning.
There are plenty of great games and activities in the main lodge
There is a playground for the kids and a sand volleyball court. And the central office has a well-stocked store with groceries, including beer, RV supplies, clothing, and other necessities. We also liked touches like dog treats and a water bowl outside the office. And indirect post-lighting throughout the resort.
It is a beautiful RV resort with excellent signs, architectural touches, special lighting, and railroad ties to terrace the sites. It all adds to the charm and character of this resort and enhances the feel of being in a coastal area.
On the practical side, Marina Dunes RV Resort has two nice laundry rooms. They are open 24 hours, with a door code, and you can operate the machines with coins or a smartphone app. They also have a propane filling station available during all office hours.
Although we didn't use them, their bathrooms and showers were among the nicest and cleanest we have seen during our travels. We also appreciate that they have separate recycling bins and trash bins.
Marina Dunes RV Resort also has two cottage-style vacation rentals and even some glamping tents for those who don't have an RV. The tents were closed for the winter season during our visit. We learned they will be replaced with much nicer yurts in March 2023.
The glamping tents will soon be replaced with yurts
Cell Coverage / WIFI / Mail
We had good coverage with T-Mobile, our cell phone carrier. We didn't check on their WIFI because we carry our own RV mobile internet solution. As for mail, we didn't have anything shipped during our stay.  But we expect that UPS and FedEx would deliver to your site number. As always, check with their office staff before sending anything.
RV Sites At Marina Dunes RV Resort
Marina Dunes RV Resort is quite small, with only 83 RV sites. There have been multiple updates and expansions over the years. I was surprised to hear it was 40 years old use this place is exceptionally well cared for. The staff rakes the gravel on the campsites every time an RV departs. The signs appear to be brand new, the paint is fresh, the bathrooms, laundry, and lodge were very clean and tidy. Wood/corrugated metal privacy panels between campsites added a nice touch. It is an impressive, attractive little RV Resort.
The original section of 33 sites is terraced with large railroad ties to keep the sites level. The sites required less terracing when they did the first expansion but were still very similar. These first two sections have a mix of sizes in RV sites. All the sites in these sections are perpendicular to the road, making them easier to manage with smaller RVs. That said, we still saw some big 40-plus-foot-long fifth wheels in there. The sites at the front near the lodge can be a bit tricky to back into if other vehicles are parked in the two parking spots opposite.
The most recent expansion, which I believe was in 2019, has a separate (earlier) entrance, and most of those sites are paver stones instead of gravel. This third section has larger and wider sites for today's super-sized RVs.
Virtually all sites in all sections are back-in only and include full hookups with 50amp power. One odd thing about the power and water hookups is that they are often located in the patio area of the neighbor's site (at least in the first two sections). Sewer connections are on your site.
As mentioned above, we also loved the attention to detail with indirect lighting from light posts on the sites. They offer just enough light so you can see well, without it being bothersome. Also, the nice decorative power pedestals, cool privacy fences, and landscaping between sites make them feel more cozy and private, which we rarely see in campgrounds, and like very much.
The newest section is very big-rig friendly with large, angled sites
Nightly Rates at Marina Dunes RV Resort
Usually, nightly rates for RV sites at Marina Dunes RV Resort start at $130 per night. RV site rates can climb up to $300 per night during Monterey Car Week! 
However, we only paid $20 per night to stay here, thanks to our Thousand Trails membership with the Trails Collection add-on. Our 4-night stay here in February 2023 cost us $91.20, including tax. If we were paying the regular retail rate, that same 4-night stay would have cost us well over $500!
If we'd had more time, we could have used our camping membership to stay for no nightly fee at a few other Thousand Trails RV parks in the area. Morgan Hill RV Resort and San Benito RV Resort are less than 50 miles or about an hour's drive away, and Santa Cruz Ranch campground is about 80 miles north. San Francisco RV Resort in Pacifica is 110 miles north (part of Trails Collection add-on members pay just $20 a night). We had just come from Pacific Dunes Ranch campground (162 miles south) near Pismo Beach (also a Trails Collection park.)
As you might expect, these campgrounds are in high demand. So you'll want to book well in advance. Being flexible with your dates is always helpful.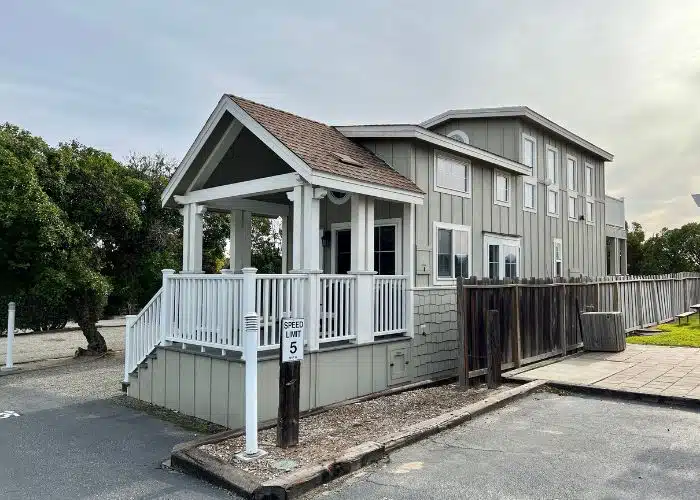 Cabins/Lodging
Rates for the two cottage vacation rentals are generally around $227 per night but climb up to $600 per night during the car week in August. The glamping tents rent out for $96 per night but keep in mind those rates may change when they upgrade to the nice new yurts in March 2023.
Great location for its proximity to Monterey area attractions

Excellent care and maintenance of the property
Friendly and caring staff made us feel welcome
Right off the sand dunes and an easy walk to the beach
Convenient and easy access to stores and restaurants
Right off of the famous and wonderful Highway 1
Very affordable and amazing value for money if you have a Thousand Trails camping membership 
Being right off Highway 1 also means you can hear road noise from your campsite

No swimming pool or hot tub (but beach is across the road)

Prices are on the higher side, especially if you are paying retail rates
This very well-kept and intimate RV Resort is a gem. It is hard to beat as long as you can handle a little white noise from traffic on nearby Highway 1. Of course, that was minor for us, considering we paid just twenty bucks a night with our camping membership instead of the normal retail rate. We thoroughly enjoyed our stay at Marina Dunes RV Resort, and look forward to returning! 
Get the full recap on where we stayed and what it all cost in our in-depth recap of our nine-week California RV trip here.
We now include Marina Dunes RV Resort among our favorite campgrounds
Editorial Disclaimer: Opinions expressed here are the author's alone, not those of any RV park, campground, or RV resort, and have not been reviewed, approved, or otherwise endorsed by any of these entities.
GOT COMMENTS OR QUESTIONS?
We would love to hear from you. Drop us a note in the comments section below.
Looking for more RV parks in this area? Hover over each image to see campground and location and click to read our review. Find ALL of our campground reviews on this page.