This post may contain affiliate links.
We recently spent 2 weeks at Medina Lake RV Resort campground in Texas, and enjoyed our stay. It's located 45 minutes west of San Antonio in the Texas hill country, backing to Medina Lake.  The RV park is your typical campground with fire rings, picnic tables, and trees. But Medina Lake RV Resort has some nice amenities and amazing wildlife. For more detail about the specifics of this RV park, sites, and amenities – including pros and cons – read on.
Update: We have actually returned multiple times since writing this review and still really like it.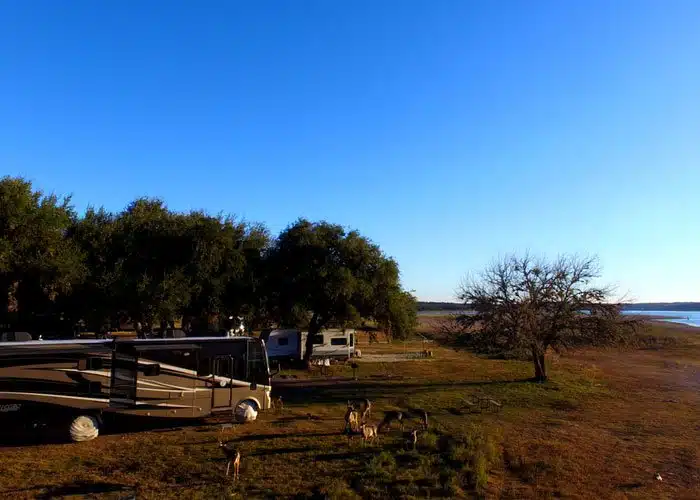 Location of Medina Lake RV Resort
Medina Lake RV Resort is located in Lakehills Texas, which is in the hills about 40-60 minutes west of San Antonio. The roads into the area are in very good condition. But the area roads can be a bit hilly and curvy at times, so be be patient. Speaking of hilly and curvy, be sure to note the name and address if putting it in GPS. Folks commonly make the mistake of going to Lake Medina RV Resort instead of Medina Lake RV Resort on Spettle Road. The road into the other campground had extremely steep and tight roads, and of course is the wrong RV Park.
Medina Lake was beautiful when we were there. But the locals mentioned that just two years ago, the Lake was completely dry near where the campground is. So if they see a big draught, you might not have the lake views we experienced. There is a fuel station, a small, but well stocked grocery store, and a hardware store about 15 minutes away. Larger stores will be at least a 45 minute drive away.
Being so far from large cities, it was extremely peaceful and quiet at the campground. There were no trains, or road noise. Only a couple bi-planes flew over during our two week stay. Elevation is about 1100, and being far south, it is normally reasonably warm in the winter. But we did see some nighttime temperatures below freezing during our stay in late December 2017.
Medina Lake Area Attractions
We were ready for some peace and tranquility and loved our site and the deer so much that we hardly left our campsite during our two week stay. However, if you like boating and fishing the lake is a pretty good sized one (at least when we were there). Hill country in Texas is scenic with many trees and many rolling hills. 
San Antonio has a very nice area downtown called Riverwalk that was especially nice to visit during Christmas time with all the lights. And, the famous Alamo is there as well. But, San Antonio is 45-60 minutes away. In our opinion, if you are visiting this campground you are more likely attracted to getting away from town and experiencing some peace and quiet by the lake.
Amenities at Medina Lake RV Resort and Campground
Medina Lake RV park and campground has a main office, clubhouse, pool, hot tub, laundry room and showers. There is an activity center, outdoor athletic courts, and mini golf. Medina Lake RV park has multiple small playground for kids, and a boat ramp to launch into the lake. The pool and hot tub were still open in December. They had very active social and activity calendars.
There is a propane filling station for the convenience of not leaving the resort. We also saw a propane delivery truck fill a neighbors RV while we were there. Biking is nice within the campground. More advanced cyclists can ride the roads in the area. Most roads have light traffic, but minimal if any shoulder and high speeds. There are hiking and walking trails on the property, and very abundant wildlife. In fact… that was probably our favorite thing about this campground. They sell large bags of deer corn at the ranger station for $4. The deer have become so tame that some will even eat right out of your hands. There were days that we had over 50 deer on our campsite. Truly amazing!
This RV park does accept packages from UPS or FedEX and charges a fee of $2.50 for each package. They are unable to accept mail. So if you have something being mailed to you, it will need to be picked up at the post office in Pipe Creek. Pipe Creek is about 25 minutes away from the campground. We had multiple packages delivered to the campground and to the post office during our stay. The staff were fantastic at the campground.
We are not aware of the campground having wifi or cable. We use our own data with AT&T, Verizon and T-Mobile Signal strength varies widely in the park, and is generally below average. However, our site (B30) had very good signal with T-Mobile and Verizon (3 bars each) and had 1-2 bars of LTE signal with AT&T. We were able to host a video conference call and many Skype calls with the Verizon and T-mobile signal.
RV Sites at Medina Lake RV Resort and Campground
This campground occupies a very large space. In fact, our campsite was 1.5 miles from the campground entrance and security gate. At 5-15 miles per hour it takes a while to get to our site. Most of the internal roads are wide, paved asphalt surface. The RV park is more on the rustic side. All RV sites are dirt, gravel or other natural surface. It is a large campground with 387 RV sites spread out over 260 acres. There are 17 cabins as well.
With so many acres, you can imagine that the sites are generally pretty well spaced. When we visited, they were at less than 50% occupancy so the campground felt extremely spacious. It is worth noting that the electricity system seems a bit out dated. The power is not capable of supporting a full campground especially with todays high draw 50 amp RVs. In fact, 25% of the sites were actually closed. So, if you are visiting in the summer be aware that there may be limits on electricity output. RV park staff mentioned that they will be doing improvements. So hopefully it will be remedied by the time you visit.
RV sites all appear pretty level and reasonably well maintained, The vast majority of the sites are back in, but there are about 40 pull through sites . Nearly all sites are 30 amp power. There are only about 40 sites with 50amp power. About 200 of the RV sites are full hook up, and the remaining are water and electric only. We chose a water and electric site because we found a water front site next to 5 closed sites. That made our site feel enormous and with amazing views. The campground does offer a honey wagon service. But we only needed to dump our tanks once in the middle of our stay. It was on Christmas Eve, so we chose to break camp and use the dump station.
This RV Park is ok for big rigs, but there are some narrow sites and low branches. I would estimate that more than half the sites could accommodate RVs over 40 feel. It is an attractive park, even in December when we visited, with lots of trees and being next to a lake.
Very peaceful and quiet location

Large spacious campground especially in winter

Wildlife, especially the deer were amazing
Electrical system needs some updating to handle occupancy, especially in summer

Long drive to the city if you want to go to the city

Cell coverage is a little limited in some areas of the park
Rates at.....name of campground
This campground near San Antonio is open to the public. But the paperwork states that rates change and that you need to check with the registration desk. They also offer monthly stays to members at rates that vary from $460 -$680 (+ electricity) depending on the site type and the time of the year. Medina Lake RV Park and Campground also offers RV or Boat storage per day, week, monthly or annually. As Thousand Trails members with an upgraded membership we can stay here for 3 weeks at a time with no nightly fee.
This is a nice campground for a getaway. Roads in the area are sometimes curvy and hilly, but good quality. Campground is well maintained, with good amenities, and has spacious sites that feel pretty private with the dense trees, and large acreage. But the electrical system needs some updating. The deer in the park were amazing.  In fact, we decided this was one of our favorite campsites of the year, and included a little video on our friends Kyle and Olivia from Drivin and Vibin.  Our comments on this campsite start about 3 minutes into the video. Click here to see the video.
We visited Medina Lake RV Resort and campground the second half of December 2017 and stayed for 2 weeks. Most day time highs were in the 60s with overnight lows in the 40s. But we did see some temps higher and lower. We had a really nice time here and would definitely come back to visit, especially because we stay here with no nightly fee with our Thousand Trails membership.
Update:  We also stayed here in late September / early October 2018 for three weeks and again loved our stay.  The park was much more beautiful and green this time of year and the lake had more water in it.  It was still very peaceful.  The park was only 10% full during the week, and went up to 25% on weekends.  Speaking to staff, the peak seasons are spring and summer here, and are often at capacity.  We have not stayed here during peak, but absolutely love our stays in fall and winter.
You can learn more about how this membership saves us thousands every year HERE.
To find out more or to make a reservation, contact:
Medina Lake RV Resort and Campground
Address: 215 Spettle Rd, Lakehills, TX 78063
Phone: (830) 751-2444
Editorial Disclaimer: Opinions expressed here are the author's alone, not those of any RV park, campground, or RV resort, and have not been reviewed, approved, or otherwise endorsed by any of these entities.
GOT COMMENTS OR QUESTIONS?
We would love to hear from you. Drop us a note in the comments section below.
Looking for more RV parks in this area? Hover over each image to see campground and location and click to read our review. Find ALL of our campground reviews on this page.