This post may contain affiliate links.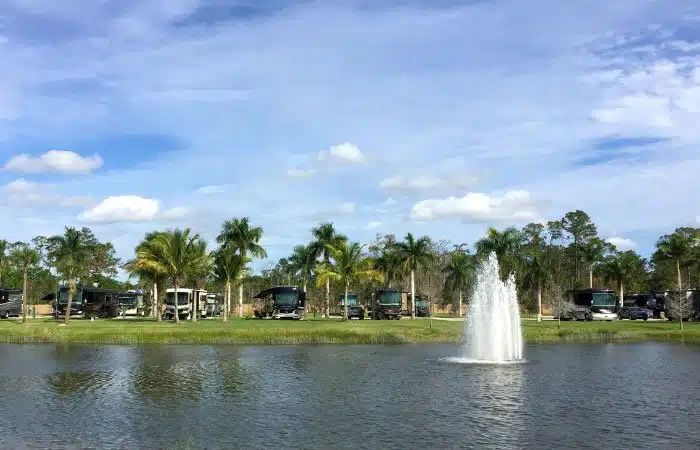 Fancy a spot of glamping? You're in the right place! Palm Beach Motorcoach Resort is just that. A beautiful, luxury resort for motor coaches and glampers. For Class A's and Super C's over 30 feet. This is hands down the nicest RV resort we've stayed at in our (almost) five years of RVing.
This isn't your average RV park, and it's definitely not a campground. But it is a mighty fine resort to pull into with your motorhome and spend a night, a week, a month or a season. Heck, you can even live there if you want! (Seriously, it is tempting… it is THAT nice!)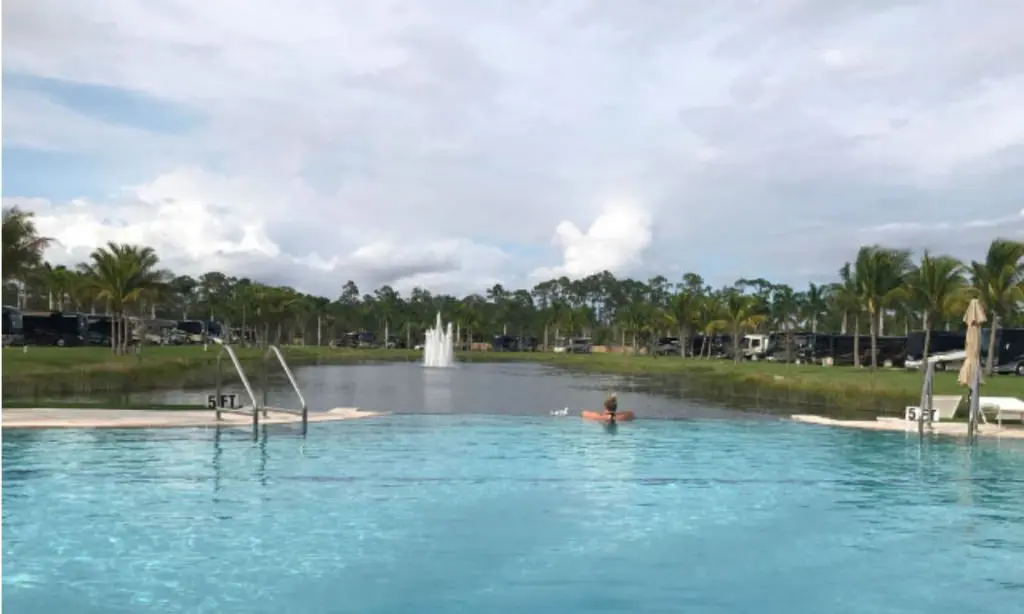 Now, many of you know that, as full-time RVers, we tend to spend a lot of time staying in RV parks that are part of our camping membership. But every now and then, we like to mix things up and splurge with a stay at 'nicer' RV resorts, and/or those in a premium location. It's a bit like taking a holiday!
We first heard about Palm Beach Motorcoach Resort through our friends Erik and Kala of Livinlite.net who did a video about their stay before the resort officially opened. Then, while visiting the Tampa RV Supershow, we met the new owner of the Resort who had recently taken over. Randy invited us to come down and stay, check it out, and meet the rest of the team. So we booked our stay to coincide with Erik and Kala's return visit in February. 
But first, isn't there an age restriction?
With so many RV resorts – especially high-end ones – having a "10-year age restriction" rule on RVs these days, at first, we didn't think we would qualify for a stay. 
As it turns out, Palm Beach Motorcoach Resort has a "pride of ownership" policy instead of an RV age restriction. So as long as your motorcoach is a Class A or Super C, longer than 30 feet, and in good condition, you can stay. Of course, they may ask for photos in some instances, but with so many high-end luxury coaches being older than 10 years and still in beautiful condition, it makes sense for them to focus on pride of ownership rather than age.
When we arrived, our 1999 Country Coach was the oldest motorhome in the place by a few years. But that made no difference at all to how we were treated. We could not have been made to feel more welcome by the owners, Randy and Sherry, and their team. We had some great chats with some of their residents, as well as some other RVers staying at the resort, A few of them were already RVLove fans, so it was great to meet them and chat by the pool!
About Palm Beach Motorcoach Resort
The resort is a private, secure, gated community, surrounded on 3 sides by a nature preserve.  There is a Welcome Center at the entrance with two lanes for check-ins, outside of the secured gate.  Once inside the gate, the property is set up as one large loop of 100 sites. There is a lake in the center of the loop, so the sites on the inner side of the loop pull forward into the site to overlook the lake and water fountain feature. Sites on the outer loop are back-in sites, but they still face the center of the resort and lake.
Again, as the name implies, this resort only accepts motor coaches. That is, only Class A motorhomes, Super C motorhomes on big truck chassis, and bus conversion coaches like Prevost. The minimum length is 30 feet.
RV sites and private lots
All the internal roads are wide, well maintained, with a paved asphalt surface. The resort just opened in 2018, so everything is virtually brand new and in pristine condition.  All RV sites are level, made with pavers, and have well maintained grassy areas between the RV pads. The landscaping is very nice, with hundreds of large, established palm trees and many younger leafy trees. The sites are well spaced and don't feel at all crowded.
This resort has the goal of selling up to half of the lots to individual owners for private use, and keeping the other half available for short term rentals and seasonal stays.  As the resort continues to develop, owners will often add small structures, patios, and even small garages or storage space to their sites, for storing their items when not using their site in the offseason. The few sites that have been developed so far are very tastefully done.
All sites are full hook-up with 200 amp electricity, and of course, a city water and sewer connection.  Don't worry. If your RV runs on 50 amp, not 200, you will be fine.  The connections at each site are well laid out for the intended Class A motorhomes, Super C, and bus conversion coaches.  There are 38 sites that you pull forward into, and 62 that you back into. This resort is definitely big-rig friendly and the majority of the coaches at the resort we saw during our stay were 40' in length or larger.
We were situated in back-in site #46 on the outer loop, on the right side of the resort.
Palm Beach Motorcoach Resort is located in Jupiter Florida, just a few miles west of I-95 and the Florida Turnpike on West Indiantown Road.  The roads into the area are nice and easy to navigate. Just be sure to watch your GPS and pay attention to distance alerts, as the entrance driveway can sneak up on you.
It is a ten-minute drive from the nearest beach in Jupiter, and a short drive from many other local attractions. There is a Publix grocery store, strip mall shops and fuel station just one mile up Indiantown Road. And there are many great restaurants, bars, a marina, lighthouse, and most any shopping you may need, in the nearby town of Jupiter. Palm Beach shopping, fine dining, and Palm Beach international airport are about 30 minutes away.
The resort is just far enough away from the action that you don't feel the busyness and buzz of downtown Jupiter, but close enough that everything you need is still very convenient.
The nature preserve that surrounds it is very expansive at over 2,000 acres. It is really in a great location, as you might expect for a luxury resort. 
Location of Palm Beach Motorcoach Resort
Remember, this is not a campground or even an RV Park. So no picnic tables or campfire rings here! Palm Beach Motorcoach Resort truly offers a luxury resort experience. It is actually a condominium association, so it has more formalized rules established by owners who pay a monthly HOA, so the property is impeccably maintained. Being a luxury resort – and a new one at that – one would expect the amenities to be very nice.  They certainly are.
The main clubhouse at Palm Beach Motorcoach Resort is spacious, at 6,000 square feet.  It has a large, beautifully appointed room for hosting parties, with a bar, and a large, well-equipped kitchen area for catering events and parties. The club house has separate seating areas and tables designed to allow multiple small groups of people to gather comfortably at the same time to socialize. And there's a comfortable sofa opposite a large wall mounted TV.
The resort hosts at least one event per week during peak season at the clubhouse – Friday night social hour with drinks and appetizers for anyone staying at the resort – which is usually fairly well attended. The night we attended, one of their seasonal guests was selling her beautiful hand made jewelry, and Julie purchased a few nice pieces.
As you walk out of the clubhouse onto the terrace, you'll find a variety of seating options and beautiful, contemporary outdoor furniture. The centerpiece is a beautiful infinity pool that overlooks the lake, as well as a hot tub. There are sun lounges on the upper pool deck, and a few on a slightly lower terraced area by the pool. There are also some lovely gas fire tables in the pool area for cooler evenings.
The clubhouse also has a well-equipped fitness center, billiard room, men and women's card and game rooms, and a private office to work from. The resort calendar showed organized fitness activities like water aerobics, sunset yoga, and fitness classes.
Of course, there are also restroom and shower facilities in the main clubhouse. These are absolutely beautiful – very spa-like, spacious, meticulously clean, and with private lockers too. Other sporting facilities include bocce ball, and a pickleball court.
There is a laundry room available 24 hours, and a curbside trash pickup service, that collects trash bags from the front of your RV site every morning between 8.30 – 10.30am.
The resort puts a lot of effort into facilitating social interaction among guests. They host at least one social event – sometimes three – per week, including some off-site events.  These may be group outings to baseball games, concerts, and other events. Friday night social hour in the clubhouse is the main event that is usually fairly well attended by those staying at the resort, including owners and nightly/seasonal guests.
As mentioned above, the resort is surrounded on three sides by a large nature preserve.  The preserve is accessible via a security gate code at the rear of the resort. There you will find many miles of walking, horseback riding, and mountain biking trails. There is also a paved bike path across the street from the resort for cycling.
We were able to have packages shipped to the resort during our stay. There is also a post office about 6 miles away if you need to ship something out.
The resort does provide free cable and WIFI throughout the grounds and has especially high speeds in the clubhouse.  We tend to use our own data with AT&T, Verizon, and T-Mobile.  But we did try their guest internet service for uploading a large video, and it was very good. AT&T, Verizon, and T-Mobile all had 2-3 bars of LTE signal without a booster, so overall, cellular connectivity speeds were very good.
Rates at Palm Beach Motorcoach Resort
Nightly rates during peak season are $125 for back-in and $135 for the pull-in lake front sites. Discounts are available for longer stays (weekly, monthly, seasonal) and during offseason. For example.  Off season rates are $75 for back-in and $85 for pull-in lake front.  They offer 10% discounts for weekly reservations, and 15% off for monthly stays.
For those who have the budget and plan to regularly winter in Florida, you may consider purchasing a site. Purchase prices for sites vary, but are in the ballpark of $150,000 + monthly dues. Sites at the front of the resort start as low as $114,900, and pull-in sites start at $180,000. 
The current plan for the resort is to sell about half of the 100 sites, so supply is pretty limited.  More than ten have already been sold at the time of our visit in early March 2019. As the Resort was only recently completed, they are about to ramp up their marketing efforts. We expect once people start to find out about Palm Beach Motorcoach Resort and experience it for themselves with a stay, the remaining sites will sell fairly quickly.
The Jupiter / Palm Beach area has many wonderful attractions.  Jupiter has surfing beaches, excellent kite-boarding, great restaurants, bars, and most any shopping you might need about 10-minute drive away. We visited Juno Beach and Jupiter Beach and both were beautiful. There is also golfing, motorsports, equestrian, and baseball spring training events in the area. The Honda Classic PGA event, and baseball spring training were both going on during our stay.
There are walking trails in the 2,000-acre nature preserve surrounding the resort and other natural areas nearby.  
If you want to go to Miami, there is an express train line from Palm Beach to Miami that only takes about an hour instead of the two or more hours that it would take to drive there. The Everglades National Park is a 2 hour drive away. 
Absolutely gorgeous, well designed, and nearly new luxury resort

Wonderful location surrounded by preserve but still close to area attractions, beach, restaurants and shopping

Spacious sites, lovely lake outlook, excellent amenities

Option to buy a lot, or rent (nightly, weekly, monthly, seasonal)

Active with social activities and events

Very welcoming staff, site owners and guests
Only Class A, Super C, and conversion motor coaches over 30′ are allowed

Spendy during peak season, which can add up if you're on a budget

Sites at the very front of resort experience some road noise from Indiantown Road
Palm Beach Motorcoach Resort is hands-down the nicest resort we have ever stayed at. While we have visited other luxury resorts over the years, we have not actually stayed in them.  Both the Palm Beach Motorcoach Resort itself and the location are excellent. Of course, being so new, everything is in excellent condition. Being such an exclusive resort, with invested owners and attentive management, we expect this standard will continue to be maintained at a very high-level over the long term.
We visited this resort in late February/early March 2019.  The weather was gorgeous with daytime highs in the 80s and nighttime lows in the 60s. We visited at the invitation of the owners, so our stay was gratis, so we could experience the resort and share our experience. As always, our opinions are our own. 
We genuinely loved this resort and all of the amenities, hospitality and luxuries offered.
We'll be honest. Initially, we were a little nervous and self-conscious about staying here with our 1999 Country Coach. This is a 5 star RV resort after all, and we felt we might stick out among all the newer coaches. But given their 'pride of ownership' policy rather than an age restriction policy, there were also a few other older coaches in the park.  And the management, staff and other guests were all very warm and welcoming to us. The worst part about our stay was having to leave!
We truly had a really wonderful time here and definitely look forward to returning! 
End of season party - Get 40% off your stay
Newsflash! We just got off a call with their marketing director, and we've been invited back for a special event. Their end of season party from March 20-24, 2019.  This is a special opportunity to stay at a very special resort.  Their nightly rates will be discounted by 40% during those 4 days, and also includes access to two events in the Clubhouse that weekend.  The resort will host their usual social event on Friday evening, plus a second special event on Saturday night.
We will be there to sign copies of our book "Living the RV Life – Your Ultimate Guide to Life on the Road". We are waiting on the details so we can officially announce the event, but it looks like there will be some luxury coaches on display, food, drinks, and live music.  There will also be some tickets available to purchase for people wanting to attend the Saturday evening event, even if you are not staying at the resort. Stay tuned for updates from us and Palm Beach Motorcoach Resort over the next couple of days.
To find out more or make a reservation:
Palm Beach Motorcoach Resort
11075 W Indiantown Rd, Jupiter, FL 33478
Website: www.pbrvresort.com
Tel: (561) 741-1555     |    Email: [email protected]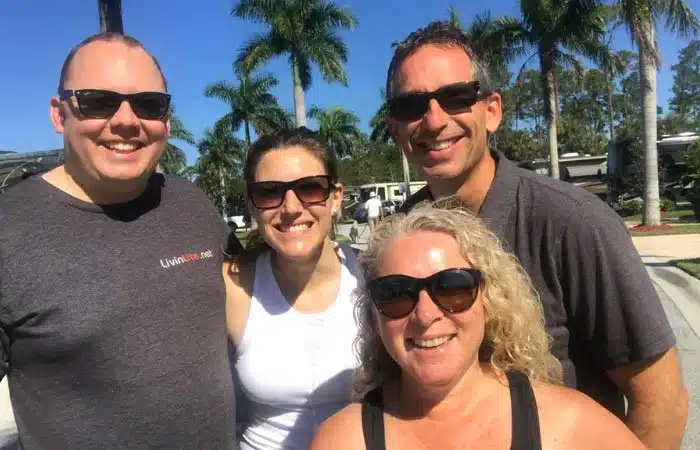 Editorial Disclaimer: Opinions expressed here are the author's alone, not those of any RV park, campground, or RV resort, and have not been reviewed, approved, or otherwise endorsed by any of these entities.
GOT COMMENTS OR QUESTIONS?
We would love to hear from you. Drop us a note in the comments section below.
Looking for more RV resort reviews? Hover over each image to see campground and location and click to read our review. Find ALL of our campground reviews on this page.