This post may contain affiliate links.
Palm Springs Oasis RV Resort is located in the beautiful Palm Springs California area which is extremely popular in winter due to its dry, warmer climate. Not to mention the huge range of things to see and do. It is part of the Thousand Trails camping network and one of the Trails Collection of Encore parks. Read on for more details about this property and the surrounding area.
Location of Palm Springs Oasis RV Resort
Located near the base of the San Jacinto and Santa Rosa mountain ranges, this park is situated in the extremely desirable and popular Palm Springs area. It is in a suburb called Cathedral City. The neighboring properties are a mix of commercial and residential. There is a country club right next door which we'll share about below. This park is easily accessible by RVs in southern California.
Note: Palm Springs Oasis RV Resort is not to be confused with the other Thousand Trails campground in Palm Desert, called Thousand Trails Palm Springs. You can read more about that resort here. The park is also not to be confused with Oasis Las Vegas RV Resort which is in Nevada.
We actually stayed at all of those parks mentioned in the above paragraph during our recent nine-week California RV Trip. Read our full recap and comparison post here.
Convenient location for accessing all that the Palm Springs area has to offer
The greater Palm Springs area has a very interesting mix of area attractions. It is a beautiful metropolitan area with most neighborhoods having professional landscaping along the roadsides. There are palm trees everywhere you look. The desert is warm and dry, and the snow-capped mountains are beautiful in the winter especially. This makes for a striking contrast against the palm trees. Peak season here is in the winter months so it's very popular with winter snowbirds. Summer gets very hot (triple digits) in this low-elevation desert region. Therefore, it is not an especially popular tourist destination in summer. Many locals leave July-August, seeking cooler temperatures. 
Joshua Tree National Park is about 40 minutes away. And if you want cooler weather, you can drive up to the nearby San Jacinto State Park, or the world-famous aerial tramway, to quickly reach the 8,500 ft elevation. In less than 30 minutes you can go from the warm Sonoran desert environment to the cooler alpine forest. The tram ride is less than 15 minutes, and well worth the scenic trip!
A Shopper's Paradise
For those less interested in outdoor activities, the Greater Palm Springs area offers amazing shopping. From an abundance of thrift stores (that actually have good stuff) to boho vintage boutiques, and outlet malls. You will also find excellent consignment stores for clothing, jewelry, and furniture. Plus many high-end designer boutiques, especially in the swanky El Paseo shopping district. 
We always make a point of shopping in Palm Springs, as there is so much to choose from. Honestly, the higher-end thrift stores are among the best we've seen on our travels. We always manage to bring home some great finds. The College of the Desert Street Fair runs both days on weekends (8am–2pm) and is great for fashion and farmer's market shopping. Villagefest on Thursday night is a fun stroll and enjoyable evening. There's also a weekly Wednesday night Mexican Market in Indio. While we've not made it there yet, local friends highly recommend it.
A classic Cadillac out front of the former home compound of Elvis Presley
Something for Everyone
In the Palm Springs area, there us no shortage of excellent dining and nightlife, from karaoke and drag shows to concerts, theaters, and museums. Music festivals include the famous Coachella and Stage Coach. There are some good hiking trails, but not so many great biking trails. You'll find interesting historical sites, mid-century modern architecture, and the famous Walk of the Stars. The King of Rock and Roll, Elvis Presley (and his bride Priscilla) even honeymooned, rented, and owned a home here.
Of course, weed is legal in California, so there are several recreational marijuana dispensaries. 420 Bank boasts the title of the world's largest and only cannabis concert lounge and dispensary. There's every car dealership imaginable. Car buffs like us will appreciate seeing so many exotic cars in one place, out and about cruising the area. You'll find more here at the official Visit Palm Springs California website.
As you might have gathered, we really like spending time in Palm Springs. We've spent many winter months in the region during our years of RV travel. Summers are a bit hot for RVing and many RV parks close down by mid-May for that reason. But this park stays open year-round.
Amenities at Palm Springs Oasis RV Resort
This Thousand Trails Encore Resort is smaller and simpler than the name suggests. There are two pools, a hot tub, and a fire pit for socializing outside. They have nice laundry and a small indoor area where they host events in the clubhouse/office building. The laundry requires the use of a special card that requires a minimum load credit amount. So unless you are staying for a while or have several loads to do, it may not be a cost-efficient solution for a single wash and dry load.
In the opposite corner of this relatively compact RV park, you'll find a restroom and shower building, with a small dog play area behind it. Our dog Sunny had some fun playtime in the dog park. But it was usually muddy in the mornings from the sprinklers, so there was a lot of washing his paws to keep the RV clean. The official 'dog walk' area to take your pups out to relieve themselves is on the grassy area outside the park. It's on busy Gerald Ford Drive, which isn't ideal.
The pools and RV sites were all well-cared for and maintained. During our stay, we saw street cleaning machines for the internal roads, and landscapers taking care of the grounds.
Inside the pleasant and peaceful grounds of the Date Palm Country Club next door
Great Bonus Amenity If You Ask For It
One of the nice things about this RV park is that it has a relationship with Date Palm Country Club next door. When staying at Palm Springs Oasis RV Resort, you can pay a fully refundable deposit of $25 for a key to the gate and access to the country club grounds.
You can schedule a tee time on their golf course, do a workout in their exercise room, or eat at their restaurant. Or you can just enjoy walking through their very well-cared-for property. We loved going for peaceful walks through the golf course and neighborhood.
It is a wonderful little escape, compared to walking or biking on the busy streets outside the campground. We believe this is a huge value-add offered by this RV park and would highly recommend making the most of it during your stay.
Dusk at the Date Palm Country Club. Ask for an access key, with a refundable deposit
Cell Coverage and WIFI / Cable
Cellular coverage with our T-Mobile phones and cellular router were OK, but not as good as we might have hoped, being closer to the city. We didn't run a speed check, nor were we using other cellular carriers on this trip to compare. The RV park does offer WIFI (and cable) but we didn't use it.
Mail and Packages
You can have packages delivered to this RV park, and we had a few items shipped there from Amazon with no issues or fees. Just ask at the office (or call ahead) to ask for their policy, as this can change at any time.
The RV sites at Palm Springs Oasis RV Resort are pretty simple and close together. These are concrete pads surrounded by gravel which is great as it keeps the dust and dirt down. But many of the sites are not very level. We saw a LOT of RVs with tires off the ground or massive stacks of leveling blocks to get level. A large percentage of the 135 sites are only big enough for smaller RVs under 32 feet in length. 
Bring your leveling blocks! Lots of 'em!
The wide paved roads and few obstacles, make it fairly big-rig friendly, for driving and maneuvering, if there is an available site for them. There are two classifications of sites. First are the Standard sites which can accommodate RVs over 38 feet long. The smaller back-in sites for RVs less than 32 feet long are called Value sites. I believe all sites have full hookups with 50 amp power.
They don't have an escort to guide you to your campsite. Management is particular about ensuring your RV slides don't encroach past your site property line. Our site backed onto one of the park models at the adjoining country club. It was functional, but not an environment where we'd want to sit outside and relax.
Really great location in its proximity to Palm Springs attractions
Mostly paved sites make it easier to stay clean and less dusty
Nice swimming pools, hot tub
Lovely views of surrounding mountains from family pool and some RV sites
Great bonus access to the country club next door
Basic RV sites – many are small, close together and/or not level
Some road noise, being so close to heavily trafficked roads
Retail nightly rate may seem expensive, unless you are a member of Thousand Trails with the Trails Collection add-on
Rates at Palm Springs Oasis RV Resort
During our stay in January 2023, nightly rates were $76 to 84 per night. Weekly rates averaged $65 to $72 per night. Many RVs appeared to be seasonal guests staying for the whole winter season, or all year round. 
We paid no nightly fee for our 9-night stay thanks to our Thousand Trails membership with the optional Trails Collection add-on. If we were paying retail rates, our stay would have cost around $600 for 9 nights.
Our camping membership also gives us access to several other Thousand Trails RV parks in the area for no nightly fee. Here is a link to our review of Thousand Trails Palm Springs, located in Palm Desert. We spent six weeks there this past winter for a total of $29. We can also stay for no nightly fee at Wilderness Lakes in Menifee, and Idyllwild RV Resort in Idyllwild-Pine Cove. Both are within a 70-90 minute drive.
If you don't have a Thousand Trails camping membership, we can also recommend Catalina Spa RV Resort in Desert Hot Springs, a 23-minute drive north. You can read our review here. Note, Catalina Spa is NOT a Thousand Trails park.
This well-kept but fairly small and simple RV park is in a convenient location for accessing most Palm Springs area attractions. If you don't mind a more urban environment with some road noise, this can be a good place to stay in the winter months. They do offer longer-term stays and seasonal sites.
If you are happy with a shorter stay (as we were) Thousand Trails members with the Trails Collection add on can spend up to 14 nights and pay no nightly fee. Or you can stay up to 21 nights if you have Trails Collection Plus (only for Adventure members). 
We enjoyed our stay at Palm Springs Oasis RV Resort and would be happy to return in the future. Keep scrolling down to the end of this post to find more of our RV park reviews resorts in California.
Related: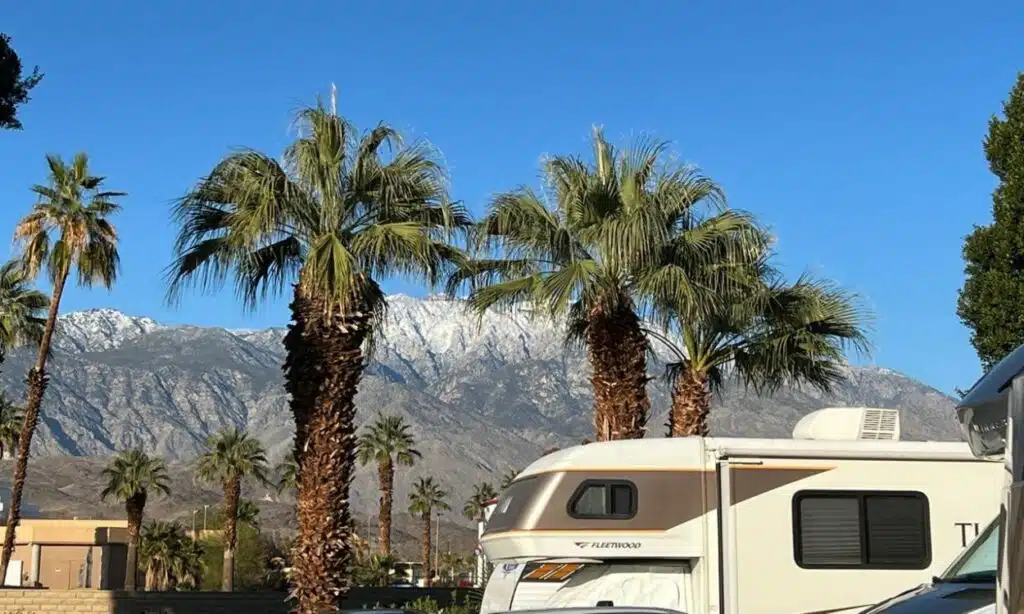 Editorial Disclaimer: Opinions expressed here are the author's alone, not those of any RV park, campground, or RV resort, and have not been reviewed, approved, or otherwise endorsed by any of these entities.
Read More Campground Reviews
Looking for more RV parks in this area? Hover over each image to see campground and location and click the image to read our review. You can also find ALL of our campground reviews on this page.
GOT COMMENTS OR QUESTIONS?
We would love to hear from you. Drop us a note in the comments section below.