This post may contain affiliate links.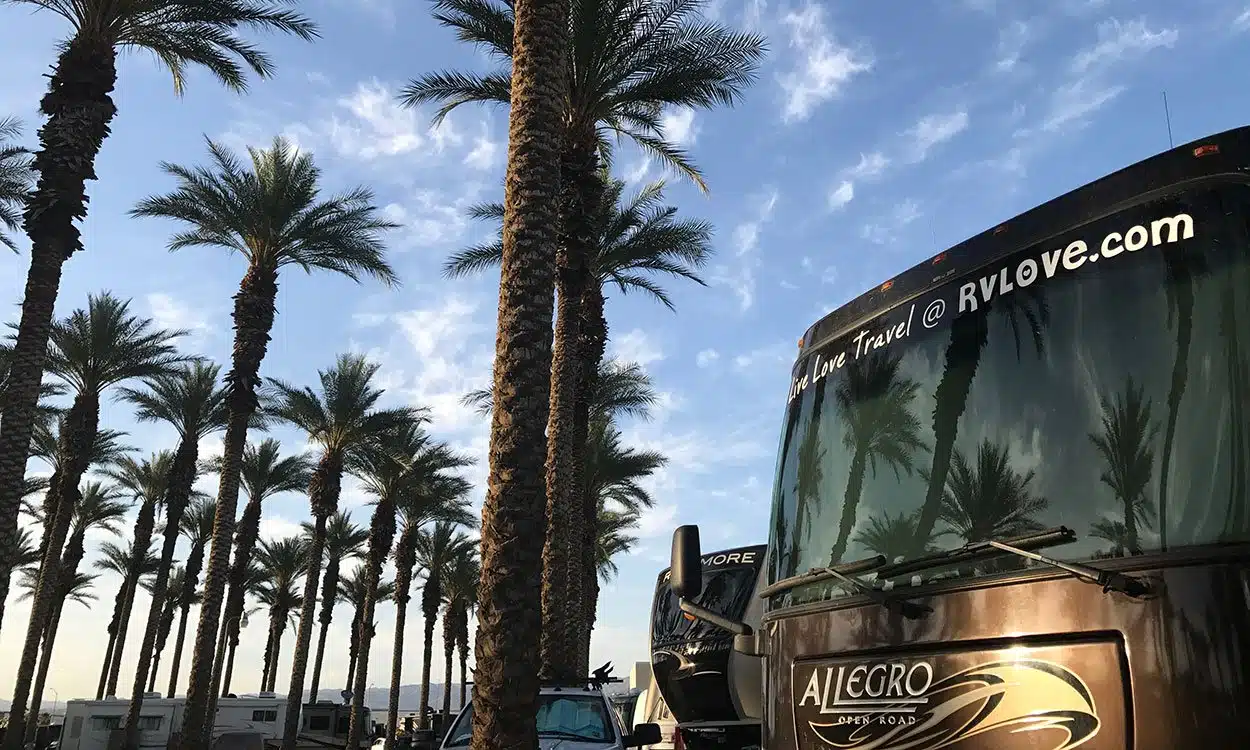 We've actually spent a total of about 21 weeks at the Thousand Trails Palm Springs RV Resort and Campground since our first visit in December 2014. We most recently stayed again in February 2023 for a 2 week stay. This park is special to us for many reasons. It remains our most visited RV park in the Thousand Trails camping network system, having stayed on 6 separate occasions since 2014. Despite the name, this campground is actually situated in Palm Desert, about 20-25 minutes east of Palm Springs.
Overview of Palm Springs RV Resort
This is a medium-large campground with nearly 450 sites on 25 acres. RV sites are fairly close together, but it's never felt too cramped for us and our 36′ or 40′ motorhomes. We mostly stay in peak season (Dec-Feb). But also spent the month of April and it was noticeably quieter.
Palm Springs RV Resort closes for the season on May 15 and reopens in October as the summers are simply too hot. The RV park is filled with palm trees planted in a fairly orderly way which makes it attractive, especially at sunset. All sites are full hook up and they have tent camping sites and little cabins as well. We have never used them, but have seen inside the cabins, and they look cute.
There are about 150 RV sites with 30 amp and the remaining 300 or so are 50 amp. Many of the 50 amp sites are annual sites, especially around the perimeter. All of the 30 amp RV sites are pull-through and all of the 50 amp are back in. This RV campground is reasonably big rig friendly. In fact, probably 80% of the rigs we see there would be considered big rigs by most. But some of the turns and sites are very tricky for big rigs.
Roads are paved, but most of the sites are sandy. A few RV sites have some gravel. The area is known for the occasional dust storms that can blow through the park. So don't leave your windows open or your awnings out when leaving your coach unattended.
Amenities at Palm Springs RV Resort
This RV park near Palm Springs has a lovely pool area with hot tub, pool chairs and a few shaded cabanas and a poolside BBQ. Also a great billiards room with 3 tables and several pickleball courts – which is very popular here. While we don't play (mostly working!) we actually love the sound of pickleball games as it is a happy sound with mostly laughs and good sportsmanship.
Speaking of noise, the campground is situated right off a major highway (I-10) which causes some road noise. There is an elevated rail line on the other side of the highway which you can sometimes hear – and even actually feel the vibration – of trains while in your RV. We didn't find the noise too disruptive, but have almost always been parked toward the rear of the campground and not the front. We feel it's important to mention as this isn't a tranquil, quiet or secluded reserve, so don't arrive expecting that.
There are a few laundry rooms located around the campground with plenty of washers and dryers. An adult lodge, recreation center and family lodge by the pool area are also available. All facilities are in good condition.
Palm Springs RV Resort is in Palm Desert, but is a short drive from Palm Springs with great amenities and also to Joshua Tree National Park. We have always found TT Palm Springs RV Resort to be a very friendly, social and active park and it's always our busiest campground socially, which is fun.
Pros
Proximity to Palm Springs, Joshua Tree NP, Coachella & Stagecoach Music Festivals
Great weather and location
Convenient to supermarkets (Stater Bros just a few mins away), shopping, restaurants, markets, Costco, Whole Foods etc
Reasonably big rig friendly, but need some skills
Great facilities
Can use swimming pool in winter, nice hot tub too
Staff accommodating and friendly
Beautiful sunsets
Cons
Ground can be a bit sandy/dusty
Road noise and train noise (not bad, but noticeable – worse at the front)
We have heard some bikes have been stolen in the past, so be sure to lock them up
A bit more crowed than some might like, though it's never been an issue for us
The handful of storage sites along the west side are no longer available (we stored out coach here in 2014 for 10 days)
Tips for staying at Palm Springs RV Resort
Be careful when parking your rig. Some of those palm trees lean more than you might think and could damage your coach. Look UP as well as the sides when parking to avoid leaning palm trees. Be especially careful if arriving after dark so you can see the trees and obstacles.
Pull in your awning and close windows when your RV is unattended. Strong winds can kick up quite a dust storm. The awning repair guy does good business at this campground for above stated reasons.
When arriving via Varner Road heading east to west, be careful not to pass the driveway entrance on your right. The main Thousand Trails sign is located AFTER the entrance. This can be confusing if it's your first visit.
While the ranger station sells dates from the date palms in the park, the ones we bought on our first visit (2015) were not good (very dry). Buy your juicy, delicious dates from the local markets instead (COD, Villagefest). That's one of the things Palm Springs is known for.
WIFI
We had very good cell coverage with consistent 3 bars LTE with Verizon and T-Mobile. On our most recent visit in January 2023, it is worth noting that we manually set our T-Mobile cellular to LTE instead of the available 5G because the LTE speeds were MUCH better.
Mail & Packages
We have received a number of packages at this campground. FedEx and UPS trucks will deliver direct to your site as long as you include your site number on the shipping address.
We have also received our mail forwarding from Escapees (mail service) here in a 2 day priority envelope. Thousand Trails Palm Springs RV Resort seems OK with those (packages – not envelopes – via mail). The USPS Delivery person puts in a big mailbox at the front and the Thousand Trails Palm Springs staff will put a note with your name on the board near the ranger station. Check the board to see if a package is waiting for you so you can collect from the Recreation Office.
They do NOT accept regular 1st class mail (envelopes) so they must be addressed to General Delivery, Thousand Palms CA 92276. This Thousand Palms Post Office on Ramon Road is where they will hold for you for 2 weeks, I believe.
Area Highlights
Check out the Villagefest on Thursday nights in downtown Palm Springs (Palm Canyon Drive) and College of the Desert (COD) markets on Saturday/Sunday mornings in Palm Desert. Buy your fresh dates there and be sure to stop and taste the delicious jerky samples at Palm Springs Jerky (say hi to Stan and Lynn from us! Lovely people). Also Brandini Toffee samples at the Villagefest mmmm
The Aerial Tram in Palm Springs is worth a trip to the top to see Mt San Jacinto State Park. Note, this gains huge altitude and is a completely different climate at the top. We were swimming in the pool at the campground in 80 degree temps. Then rode the tram up for a hike and it snowed on us. Fun! Take a jacket and sensible, closed shoes for walking and warmth.
Being a wealthy area (vacation enclave for the rich, famous and Hollywood types) the thrift stores / recycle / consignment stores are awesome in this area. Plenty of well dressed wealthy types like to donate/sell their clothes for new fashion updates! Great stuff, designer gear cheap!
For dog lovers, there is a really nice dog park very close to the campground. It is called Freedom Park and is only about a 5 minute drive to the other side of the highway.
We share fave restaurant reviews on Yelp, Trip Advisor etc so check those out too
Summary
We really like Thousand Trails Palm Springs RV Resort and look forward to returning again. It's a popular snowbird destination and for good reason. The weather is great and consistent, elevation is so low that it is quite warm in the winter. Many area RV Parks close for the summer. But can't imagine why anybody would want to try to stay in their RV in this area in the summer anyway.
We know of a few others who don't particularly like this RV park. Their reasons tend to be related to the wind/dust storms and the fine sand particles that make their way inside their RV, creating a fine film of dust over everything. We had to wipe our picnic table and BBQ down several times during our stay. But we are willing to put up with that minor inconvenience to stay at a campground that we enjoy and in an area that has so much to offer.
Notes
We are Thousand Trails 'Elite' members so aside from buying the membership initially and paying annual dues, the rest of our stays are "free". Although we have paid $29 on two occasions to exercise our option to extend by an extra (4th) week, which our particular membership allows us to do twice a year.
We are paying members of the Thousand Trails camping network. First hitting the road with a Zone Pass (not knowing there were any other options available). But in September, 2015 we upgraded to a resale "Elite" membership.We bought the membership at a heavily discounted rate through a broker that we recommend. So we typically don't pay anything for our stays at Thousand Trails parks as it's included in our annual dues. There are occasional exceptions where we may choose to pay a few dollars a night for a specific site or section.
More on our experiences at Palm Springs RV Resort
As full-time RVers, we are fans of Thousand Trails as it makes our camping much more affordable. As a result, it is important to be aware that our experiences and reviews of Thousand Trails parks tend to be shared with the consideration of what we pay to stay. That is, we are generally more accepting of the Thousand Trails campground standards which we would describe as average or 'rustic' across the board.
Though they do vary, we have a good sense of what to expect, compared with other campgrounds where we may pay substantially more (eg. $40 – $100 a night). With Thousand Trails, our expectations are managed. We know what we are getting for our money and are fine with that. It saves us so much and helps subsidize our campground expenses throughout the year.
We have written a lot about Thousand Trails. Why we bought the membership, how much it saves us, and how to get the best deals. Read about zone pass and our subsequent membership upgrade here. We often share photos of our campground stays and campsites on our social media pages (Instagram, Facebook, Twitter etc). If you have any questions, please feel free to ask.
Other Campground Reviews You Might Enjoy