This post may contain affiliate links.
Looking for an RV Park near Green River Utah? Whether you are looking a quick overnight stay on your way to another destination, or want to stay a while to explore Moab and Utah's national parks, Green River Utah is a great place to stop in your RV travels. It is conveniently located right off of Interstate 70, and also near intersections with Hwy 50, Hwy 191, and Hwy 6. We stayed here recently on our way from Colorado to California in December. Then came back through again on our return, in February.
We researched all of the RV Parks near Green River before our trip using RV Trip Wizard for the route, and for finding RV parks. In this post, we share a brief description of what we learned to simplify RV trip planning in this area for others. So we'll share a little bit about the town and surrounding areas, and also some short reviews of the RV parks from what we learned reading other review sites like RVLIFE's Campground Reviews.
Photo credit: Alan Cockrell on Campground Reviews website
Location of Green River, Utah
Green River Utah is located just off I-70 on a business loop. But all of the RV parks in Green River are on the business loop, and far enough away from I-70 to significantly reduce road noise. It is a small town of fewer than 1,000 people at an elevation of around 4,000 feet. All major cell carriers have coverage here.
Green River is 45 minutes from Moab and Arches National Parks. There are many other great state parks in the region as well. John Wesley Powell River History Museum is the only attraction in Green River. On the more practical side, there is a grocery store, a few restaurants, a couple of hotels, and multiple gas stations. The Tamarisk restaurant in Green River near the RV parks is well-rated and popular. It is a hot dry climate in the summer and winter can see freezing temps.
The best times to visit for weather are spring and fall. But it is a very popular town year-round as a stop on big drives because it is easy to access, and located before the mountainous terrain headed west. Being near the intersections of major east/west and north/south highways brings a lot of travelers through this area.
Photo credit Shady Acres RV Park
Types of RV Parks Near Green River Utah
Green River has two private RV parks, one state park, and one Love's Travel Stop RV Hookup. We provide summaries of all of the available RV park options below. All of the RV parks are pet-friendly, and all have water and electricity for RV hookups. Most have full hookups with sewer, but the State park only has a dump station. Now let's dive into the different RV park options in Green River.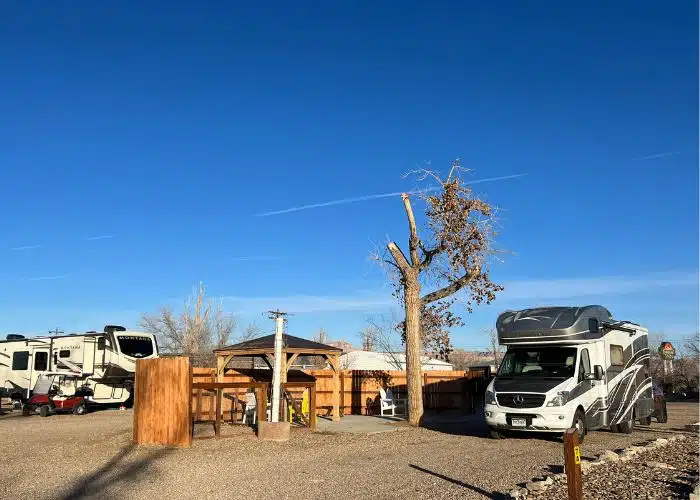 This is where we stayed overnight on our way south during our recent winter RV trip to California. You can read our recap of everywhere we stayed and stats here. This relatively small, 65-site RV park has the best ratings of the private RV parks near Green River. In mid-December, when we stayed, it was one of the only RV parks open between Colorado and Nevada. So it was an important stop before one of our longer legs of the trip over the mountains in Utah, and down to Las Vegas Nevada.
The RV park was well maintained for being the off-season, with very few RVs in the park during our stay. The RV sites were level and had a gravel surface. We chose an upgraded large pull-through RV site that had its own fenced area for our dog. Our site had a concrete patio, a picnic table, and chairs. The price difference was negligible this time of year but might be more significant in peak travel months. We paid only $44.57 including tax. Summer rates are closer to $70/night. The restrooms with showers, and laundry room were all clean and well-maintained.
A bit more about the KOA Journey
Amenities include a dog park, a playground for the kids, and a pool during the summer months. They also have rental cabins if you do not have an RV. All sites are full hookups and 50amp power. One review mentioned that some sites even have ethernet cable connections for the internet. The large, spacious RV sites were very well maintained and looked as if they were regularly raked to keep them nice.
This RV park has a 7.6-star rating on Campground Reviews with 173 reviews, almost all recent reviews are very high.  This KOA Journey RV park is within walking distance of nearby restaurants and hotels. We would definitely recommend this RV park to others traveling through this area. Especially if you plan to stay more than one night and enjoy the region's National Parks and other attractions.
Photo credit for both images above: Shady Acres RV park in Green River Utah
Shady Acres RV Park in Green River Utah
We did not personally visit this RV park. The reviews we read said it is fairly tight to navigate with a large RV, and the RV hookups are located in strange places. But they do have full hook-up sites. Their RV park office was closed, so check-in was located in the gas station located on the property. Rates are around $57/night but do change. One reviewer paid $35/night on average for a five-week stay. There may have been a change of ownership of this RV park in the fall of 2022.
Shady Acres has 102 RV sites. Reviews really show a wide range of experiences. But ratings consistently average much lower than both the KOA where we chose to stay when visiting and the Green River State Park. This RV park has a 6-star rating on Campground Reviews with 134 reviews.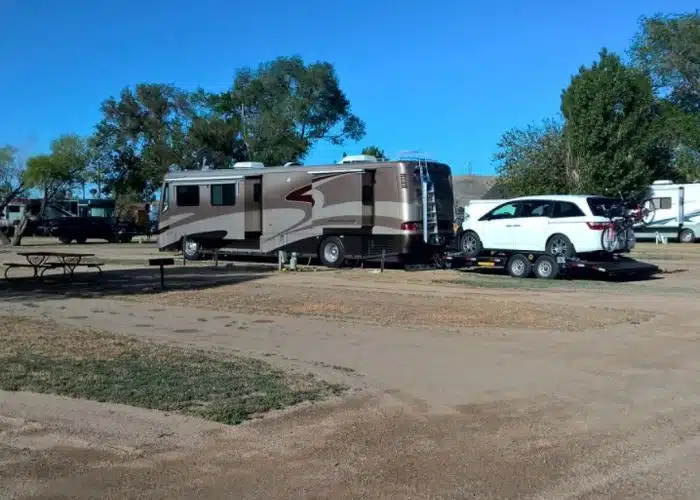 Photo credit: 'We2AreUs' on Campground reviews website for iCamp RV Park
Photo credit: 'The Fishers' on Campground reviews website for iCamp RV Park
We didn't visit this RV park when passing through Green River, mostly because it was not well reviewed. This RV park has 78 sites with full hookups and 50 amp power. It is nice that it is across the street from the Green River State Park. But, this RV park is much further from the river and closer to the railroad tracks. So it experiences more noise from the trains than any other RV park in Green River.
Rates for RV sites are around $48 but vary depending on the time of year. It is a pretty basic RV park, and the recent reviews are mostly not very good. Consider it as an option if all the other RV parks near Green River are booked up. It has 5.6 stars with 57 reviews on Campground Reviews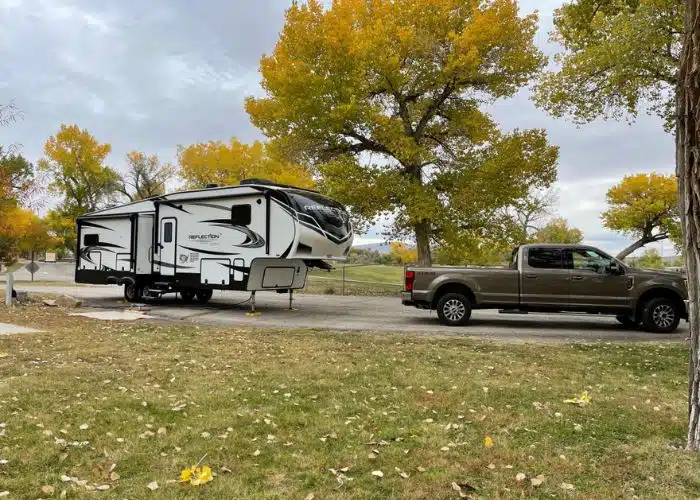 Photo credit: 'Sageref' on the Campground Reviews website for Green River State Park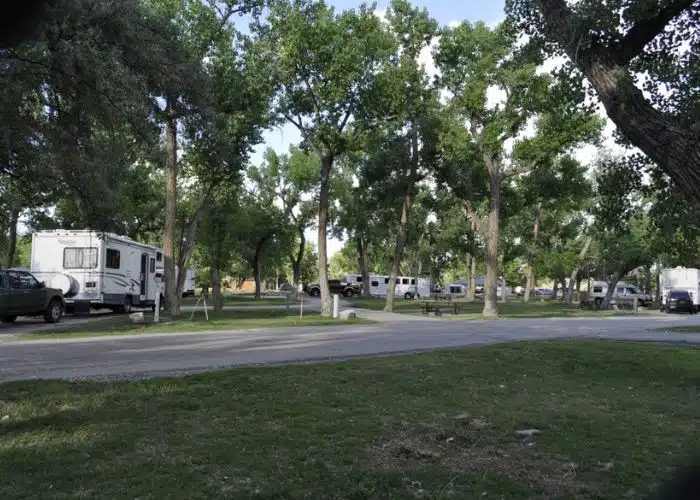 Photo credit: 'Viarivoli' on the Campground Reviews website for Green River State Park
Green River State Park RV Park
This RV park within the State park has 39 sites. RV sites have water and electricity, but no sewer. There is a central dump station for your waste water if needed. This state park is very well-reviewed. It has the highest ratings in this area, even better than the KOA. Pictures of it are pretty too. Rates vary but tend to be around $45.
Internal roads and RV sites are asphalt with lots of grass and big cottonwood trees since it is right along the river. A boat ramp and a 9-hole golf course are adjacent. This could be a lovely place to stay in Green River during the warmer months because of the shade trees. It might also be nice in the fall when the trees are changing color. Reviews mentioned that the restrooms, showers and all the grounds are well maintained.
One caution from the reviews we read is that during watering season, the sprinklers for the grass are forceful and can sometimes point directly at your RV or site. Sprinklers run on Thursdays and Mondays according to the reviews. Multiple reviews also mention that it isn't great for big rigs. It has an 8.2-star rating with 108 reviews on Campground Reviews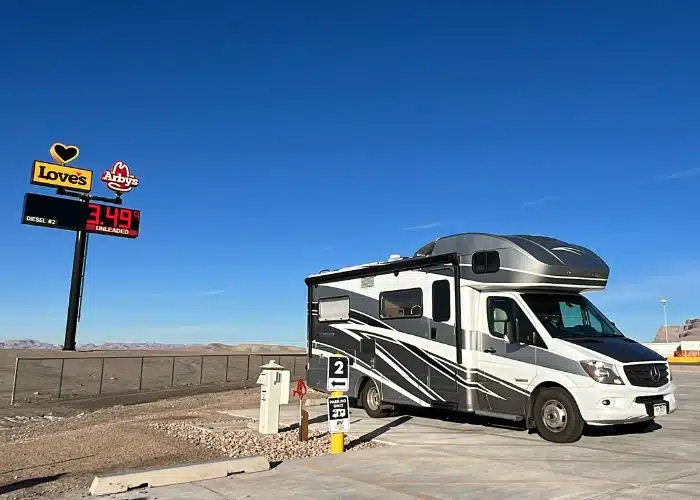 Love's Travel Stop RV Hookups
The newest option for RV parking in Green River Utah is the Love's Travel Stop RV Hookup. The review we saw said they paid $44. Which is the same price we paid to stay in the actual KOA RV park during the off-season. But Love's prices are rumored to stay at this low price year-round. It has full hookups, and asphalt surface, is pretty level, and has a fenced dog park. Access to Love's travel stop for fuel, food, and restrooms in the same parking lot. But being part of a busy truck stop and travel center, expect some nearby activity outside at any time of day or night. It is also the closest to the highway and fairly close to the railroad tracks.
Though we didn't stay here we are excited about what we saw. We love the concept for ease of access, and the kiosk for check-in. Affordable price year-round and across the country. Love's is filling a void by offering these much-needed RV hookups. Many RVers want a safe place to stop to break up long drives but value the ability to have full hookups on those stops. Often in our travels, we would stop in a Walmart, Cabelas, or other parking lots that allow overnight parking.
But with no hookups, they are just a place to rest. No water or power unless your RV has them onboard, and we often travel with limited water to avoid carrying the weight. Some RVs also have very limited battery capacity and no generator. So having electricity allows much more flexibility for cooking and entertaining yourselves. This is especially important if you want or need to run your climate control system to heat or cool your RV.
A bit more about Love's RV Stops
Love's Travel Stops is rapidly expanding its network of RV Hookups. They were first introduced in July 2021, and plan to have over 50 locations available before the end of 2023. Love's has already been one of our favorite destinations for fuel for many years. We prefer filling at truck stops that offer discounted fuel with our Open Roads Fuel Discount Card to save money and easy access (especially when we drove a big Class A motorhome).
Rates for RV hookup sites are generally around $36 per night, and the number of RV sites varies. The location we visited had eight, and the largest location has 60 RV sites. Larger Love's RV Stops facilities even have sports courts, communal fire pits, RV-specific retail buildings, and other RV park amenities.
Love's has nearly 700 fuel locations and is already a favorite for many travelers because of their normally spacious facilities that are easier to access with bigger vehicles like RVs. Other amenities and services include dump stations, propane filling, laundry, showers, restrooms, food, drinks, and often fast food restaurants.
Summary Of RV Parks Near Green River Utah
So there you have it. A quick roundup of all the RV parks near Green River Utah. We hope this article helps save you time choosing the right location for your next RV adventure. Green River is a great place to stop whether it is just a night passing through or a longer stay as a base camp to explore the region.
Have you stayed at any other RV Parks near Green River or the surrounding area? Please share with us in the comments section below.
GOT COMMENTS OR QUESTIONS?
We would love to hear from you. Drop us a note in the comments section below.