Disclosure: Please note this post may contain affiliate links. This means – at no additional cost to you – we earn a commission if you make a purchase using our links. We only link to products and companies we use and recommend. The income goes toward supporting the free content on this site and community.
We spent 8 nights at San Francisco RV Resort and really enjoyed our stay. It's located right on the ocean just south of San Francisco. So just know upfront that you are paying for the location! This is a nice place to park your RV while you head out to explore the city or simply sit by the ocean and watch the whales.
It's not your typical campground with fire rings, picnic tables, and trees, so don't show up expecting that. But, if you appreciate the convenience and proximity to a vibrant city. Or like having short walk to the supermarket, shops, amenities and listening to the sounds of the ocean and birds, then we think you'll enjoy your stay here. For more detail about the specifics of this RV park, sites, and amenities – including pros and cons – read on.
Location of San Fransisco RV Resort
The San Francisco RV Resort is actually in a town called Pacifica, CA.  It is just south of San Francisco, right on the Pacific Ocean and just off Highway 1. The roads into the area were in good condition. But be prepared to pay tolls to get across one of the bridges if you come from the north or east.  We paid $20 for our 36′ motorhome and tow car on the bridge we took (coming in from the east, Yosemite). 
There are some routes with no tolls if coming up from the south. We stayed here in late June / early July of 2017. Weather was cooler temperatures averaging 60s during the day and 50s at night. A welcome contrast to the 120F degree (48C) daytime temps of Phoenix, AZ we'd been seeing the week prior.
The Welcome Center is open 8-5 daily and late arrivals will have a packet waiting for you out front, if you have a reservation. If no reservation, a notice advising which sites are available for the night. Just go to the office in the morning to complete your check-in. 
There are two long check-in lanes to park your RV and unhook your tow vehicle while getting your paperwork sorted out. The staff were very friendly and accommodating. Inside the Welcome Center, you'll find a lot of brochures and maps to help you decide on your activities and tourist options. The Welcome Center offers complimentary coffee and tea, a sofa, tables, chairs, plus a desk set up with a printer. There's also a small shop where you can purchase RV supplies, drinks, and snacks.
More about the location
The location is among the most convenient for grocery shopping and errands that we have ever stayed at with our RV. There's a Safeway grocery store with a Starbucks inside, Walgreens, and a hardware store all within a few minutes walk. It is about a two block walk beside the ocean and through a residential area.
There's a post office, cafes, and multiple restaurants in the vicinity too. There is easy public transport access to the city (though we didn't use it).  It's an easy drive up to the city of San Francisco or down to Santa Cruz along Highway 1. Even though the park is just off of Highway 1, the traffic noise was minimal at our site. The sounds were overridden by the sound of the waves crashing on the cliff below. Sites closer to the highway would likely have it the other way, with the road noise being louder than the waves.
Speaking of the ocean waves, Pacifica has sadly experienced significant cliff erosion in recent years. The neighboring residential area has lost homes to the disintegrating cliffs. Whole apartment buildings have been demolished due to safety concerns. This then provides new ocean views for homes across the street. At least for now.
San Fransisco RV Resort has definitely been impacted by the erosion as well, losing about 50 premium ocean facing sites that have had to be closed as it is unsafe to park RVs there. It's a real shame to have lost so much premium real estate and of course, this now means there is an even higher demand for RV sites in the campground as the supply of spaces has dwindled.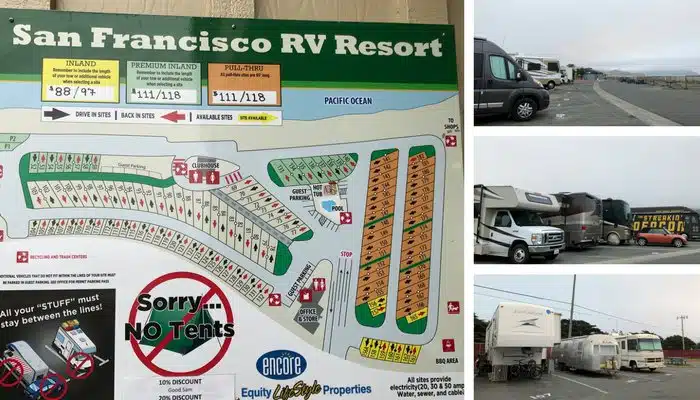 The main attraction of this park is its location.  Being right on the cliff looking over the Pacific Ocean, we were able to see quite a bit of wildlife. We watched whales right from the cliff's edge and enjoyed watching pelicans, gulls, and other birds flying by all day long. We even saw paragliders right over us in the campground. There are also great biking and hiking trails nearby. I really enjoyed the biking trails I found. The trails were dirt and hilly, but great for me on my Adventure bike.
If you like surfing (and can handle cold water) there are surfing beaches a very short drive away, including popular Half Moon Bay. It is also a quick drive into San Francisco Bay attractions like Alcatraz, Fisherman's Wharf and the famous Golden Gate Bridge.  You can also catch the bus and train into the city from a bus stop only two blocks away.
Amenities at San Fransisco RV Resort
San Fransisco RV Resort is clean and well maintained throughout. There is a heated pool and hot tub in an enclosed fenced area, and a clubhouse with bathrooms, showers, ping pong table and TV. They have a good size 24-hour laundry room but you would need to get quarters during business hours as there is not a change machine. 
Or you could take a short walk to Safeway after hours. They have great recycling available and the park is pet-friendly as we saw many folks walking their dogs. The RV sites don't have grassy areas. But there is a long grassy area on the edge of the park that many dog owners visited with their furry friends.
We didn't receive any mail or packages during our stay but you can have mail and packages sent to the Welcome Center for you to collect. There's also a USPS an easy 2-minute walk away on your stroll to Safeway.
Campground WIFI – free in the laundry room and office (pay at site $4 a night, cheaper for multiple nights – can be used for up to 3 devices)

Verizon 4 bars LTE (unboosted)

T Mobile 4 bars LTE (unboosted)

While we don't watch TV ourselves, they do have free basic cable with 20 channels, including 3 sports channels and HBO
RV Sites at San Fransisco RV Resort
The RV park is all asphalt with painted lines as site dividers. RV sites are fairly narrow for large RVs with slide outs, especially if you are parked next to another RV also with slide outs. In fact, when we arrived and tried to park in our pull-through site we had to be extremely mindful of parking in a way that would not have our slides touching our neighbor's RV. This isn't the tightest RV site we have parked in, but it runs a close second.
Pull-through sites are 65' long, so they can accommodate the length. But getting a big rig in and out of those sites if the campground is full could be a little tricky. Definitely tricky if you are near the end of a row as we were. There are approximately 130 sites (180 before the cliff erosion). All sites are 30/50 amp with full hook-ups, including cable TV.
Nearly half of the sites (62) are long term stay sites on the southern end of the park. Some of those long term sites seem to have indeed been here a long time. On the north side of the park, there's about 36 pull through short term sites and the remaining sites are back-in or back out. 
The asphalt lot is sloped toward the ocean, but relatively level.  We did not need to use any leveling blocks to get our gas motorhome level (as we often need to). But we were parked at an angle that our RV prefers (slightly uphill). Had we been parked the other direction we definitely would have needed leveling blocks,. We did see a few motorhomes with tires off the ground trying to get level.
We stayed in pull-through site #180 on the west side, just 3 sites from the ocean and could see the ocean from our windshield. The sites are narrow as, like we said. It's more of an RV parking lot than a campground, but our neighbors were all friendly. Lots of RVs come and go here every day or two, as it's such a popular spot.
Location right on the ocean, convenient to downtown San Francisco, sightseeing and attractions

Public transport and tourist information available in the Welcome Center

Ocean views and whale watching right from the cliff, just steps from your campsite

Large, clean laundry with plenty of machines

Heated pool and spa

Close to supermarket, shops, and restaurants (a short walk)

Fall asleep to the sounds of the ocean if your site is on the west (ocean) side
Highway noise if your site is near the entrance of the campground (east side). Noise will likely override the sounds of the ocean

Narrow, asphalt sites with no grass, picnic table or fire pit. So not great for hanging outside of your site

Cliff erosion has necessitated wire safety fences that are not attractive. They keep you further from the ocean's than you might like (except for one corner area)

Nightly rates are pricey compared to most RV parks (but not for this area)
Rates at San Fransisco RV Resort
This RV park near San Fransisco is not inexpensive, with rates ranging from $88 – $111 a night. But it's still cheaper than most hotels, and situated right by the ocean. It is and a convenient, safe place to stay in your RV. San Francisco RV Resort is on expensive real estate. 
And now, having lost nearly one-third of the park to erosion, their spaces are even more limited. Based on the high occupancy and turnover we witnessed during our stay, it is clear this is a very popular RV park, so advance reservations are highly recommended.
If you're keen to explore the sights of San Francisco from a convenient location, this is a great base to safely park your RV while you head downtown to play. San Fransisco RV Resort offers the best of both worlds, with easy access to the city, conveniences, proximity to popular tourist attractions. It can be a peaceful, place to decompress after a big day out. Be sure to take the time to sit on the benches and watch the whales. And enjoy your stay.
San Francisco RV Resort is an Encore property, owned by Equity Lifestyle Properties, the parent company of Encore and Thousand Trails. We were fortunate to have most of our stay comped as part of Encore Resorts blogger outreach program in exchange for our honest review.
However, we enjoyed the location so much that we decided to pay to extend our stay, using one of the benefits of our Thousand Trails camping membership. We have an Elite with RPI / Ready Camp Go! as an add-on. This enables us to stay at Encore Properties at a substantially reduced rate of $28 per night. It is part of our upgraded Thousand Trails membership. You can learn more about how this membership saves us thousands every year HERE.
To find out more or to make a reservation, contact:
San Fransisco RV Resort
Address: 700 Palmetto Ave, Pacifica, CA 94044
Phone: 650) 355-7093
Website: San Fransisco RV Resort
Editorial Disclaimer: Opinions expressed here are the author's alone, not those of any RV park, campground, or RV resort, and have not been reviewed, approved, or otherwise endorsed by any of these entities.
GOT COMMENTS OR QUESTIONS?
We would love to hear from you. Drop us a note in the comments section below.
Looking for more RV parks in this area? Hover over each image to see campground and location and click to read our review. Find ALL of our campground reviews on this page.