This post may contain affiliate links.
Looking for a great Florida Gulf Coast camping location to enjoy an active vacation or extended stay in Florida?  This Saint Petersburg / Madeira Beach KOA might be the perfect fit. It is located right on the water front, and feels like you are away from it all, while still close to town.
Editorial Disclaimer: Our two night stay at this resort during the Tampa RV show was comped by KOA corporate offices, as they wanted us to experience their resort first hand. We were not asked to write a review and were not paid to endorse them or their park. Our opinions are our own. 
Location of KOA St Petersburg / Madeira Beach
Situated right on the water's edge of Long Bayou in Saint Petersburg FL, thirty minutes west of Tampa. This resort is very conveniently located to many area attractions. 
Tampa and Saint Petersburg are very popular destinations in Florida. With the RV park being located right on the water and along side a major bicycle path, this is a great location for people who love outdoor activities like kayaking and biking.
Weather in this area is warm year round, which makes it a wonderful winter destination. We visited in January and were very comfortable with day time temperatures in the 70s.  
Though the campground feels quite rural being at the water edge and with many mature trees, it is actually located in town. So, guests have very quick access to grocery stores, restaurants and fuel stations
KOA St Petersburg / Madeira Beach offers easy access to water.
As mentioned above, Saint Petersburg and Tampa are very popular destinations loaded with attractions. We have visited the St. Petersburg area a number of times over the years. White sandy beaches and nearby Busch Gardens are a couple of our favorites.  
Other area attractions include the Salvador Dali museum, Sunken gardens, John's pass village and boardwalk, Florida aquarium, and the Tampa Zoo, 
During peak winter months, St Petersburg / Madeira beach KOA has a huge list of activities for their guests. BBQs, dances, live music, exercise classes pot lucks, and more. They also have a nice pool and hot tub area, a playground, mini-golf and a great on-site store.  
The Pinellas county trail is a paved multi-use trail that runs for nearly 50 miles. Kayaking around the bayou among the mangroves and wildlife is very popular here too. Don't worry if you didn't bring a bike or kayak with you, they also offer rental kayaks and bikes (even electric bikes) to explore.  
Other activities include volleyball, pickleball, horseshoes, petanque, bocce ball and an exercise room.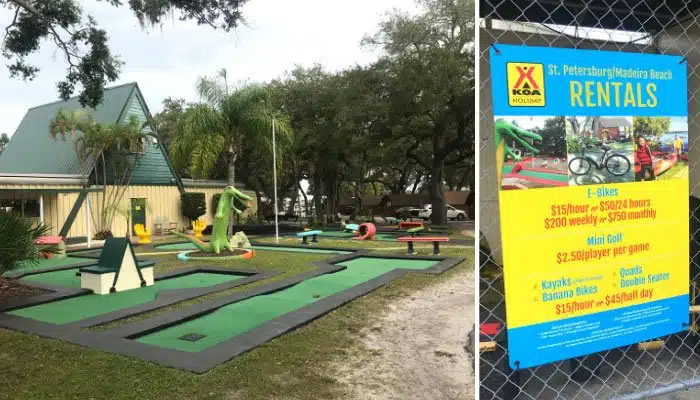 There is also a cute little church and a fitness center.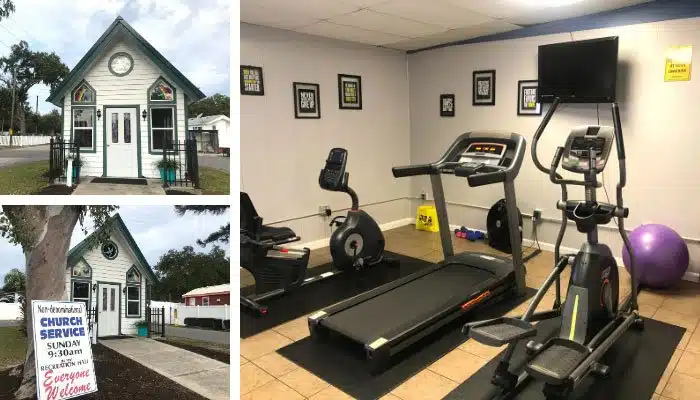 Click through the images below for more.
There is a kayak launching area, and also boat docks for larger water crafts.
St Petersburg Madeira Beach KOA offers 3 laundry rooms, a very well equipped store, and garbage pick up from your site. They also have 3 shower/restroom buildings, a fishing dock, and dump station if you happen to have one of the very few sites without full hook ups. 
The RV park does offer WIFI, but we didn't try it during our short stay.  We use our own cellular service for internet connectivity. Regretfully, we forgot to make note of cellular signal strength, but remember having signal with all three carriers as it is in an urban area.
With so many seasonal and year round guests, packages can likely be accepted here. We even had something shipped here for our very short stay. These rules are always subject to change, so be sure to call before shipping something to their location.
St. Petersburg / Madeira Beach KOA Address:
5400 95th St N, St. Petersburg, FL 33708
Phone: 727.392.2233
Most sites in the long term section, and about a third of the sites in the shorter stay area can accommodate larger RVs. Which also means most of the RV sites in the short term area are better suited for RVs under 36 feet. 
There are a total of 424 sites. Most of the sites are 50/30 amp full hookup sites. I counted 339 of them. Only a handful of sites, nine to be more precise, are 30 amp full hookup or water electric only. 
No RV, no problem. This KOA also has 39 camping cabins, 21 lodges, 16 park models, and some tent sites. More on those below.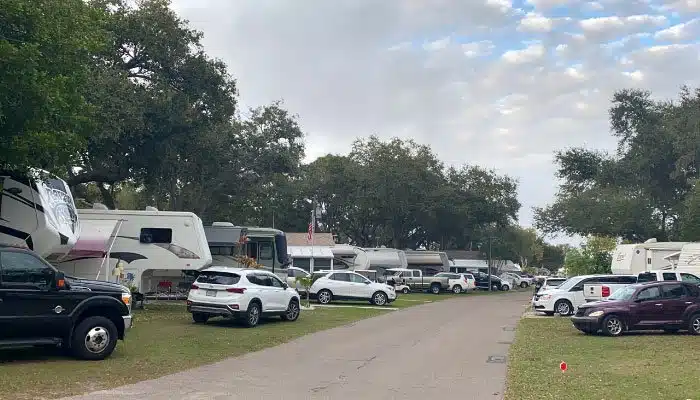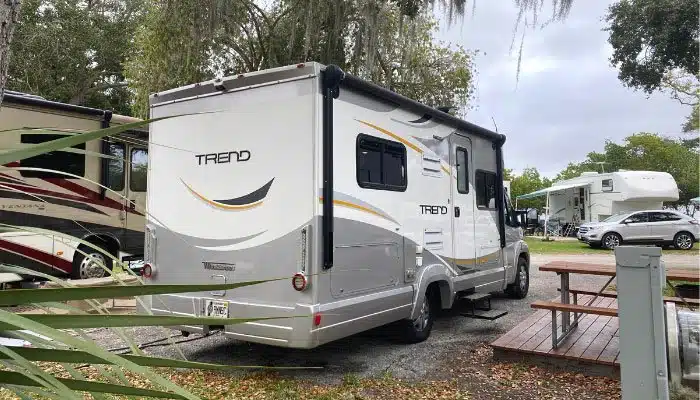 Getting To KOA St Petersburg / Madeira Beach
This St Petersburg / Madeira Beach KOA campground is only a few miles away from a major interstate highway (I-275). Roads between the highway and campground are all easy to navigate with any size RV. It is an urban environment with flat, relatively wide roads.
Traffic can be heavy in the Tampa / St Petersburg area around typical rush hours, and especially coming over the bay bridges. So, if possible plan to avoid peak rush hour for the best driving experience.
Once you arrive, turn left into the campground where they have a long check in lane. A campground employee will likely escort you to your site once you are checked in. 
Some of the internal roads are narrow, and most are one way traffic. Internal roads and most campsites are paved. Mature trees and grass separate the sites and make the RV park feel much more rural than it is.  Most sites are pretty level, but we did notice quite a few RVs needing leveling blocks.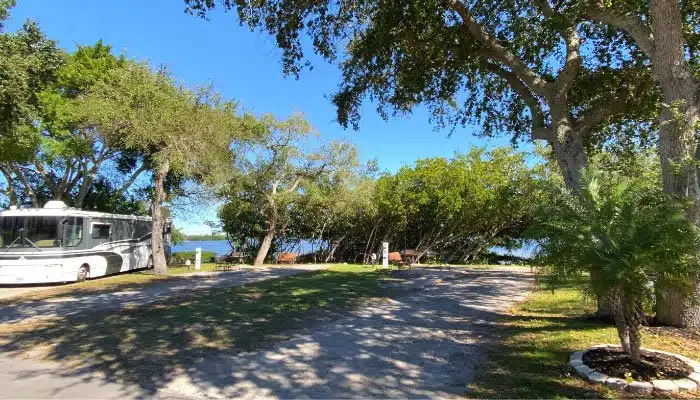 Fantastic location for kayaking and biking
Waterfront sites on the bayou
Feels more remote than it is
Quick access to services and bay area attractions
Staff and maintenance were excellent
Award winning KOA
Not all sites are level
Surrounding neighborhood is a bit industrial
A bit on the expensive side at $100 per night.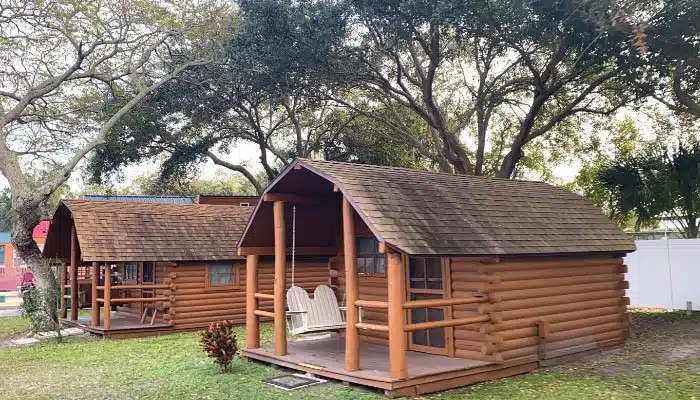 Rates at KOA St Petersburg / Madeira Beach
Rates vary at this RV park as they have many different types of RV sites, cabins, lodges, park models, and tent sites. 
RV sites in peak season can easily reach $100/night. But, longer term stays can offer significant savings. It seems that many of their guests are seasonal or long term residents. Most long term residents are in a separate area of the campground.
Cabins/Lodging
St Petersburg Madeira Beach KOA offers a large variety of cabins. Some are very basic camping cabins with no kitchen, no bathroom, no linens, etc. You would need to use nearby shower/rest room buildings.
These basic cabins rent out for a bit over $100/night. Better equipped cabins are available for $230 per night and up. Tent sites are also available starting around $65/night.
Rental equipment rates
Kayak $15/hr or $45/half day.  Bikes $5/hr, ebikes $15 hr, $50/day or $750/month.
This St. Petersburg / Madeira Beach KOA is a gem of an RV park. It feels like a getaway despite being so close to town. Especially a great location for people who love to bike and kayak. We were only able to stay for a couple days on this trip, but would love to visit again next time we are in this area.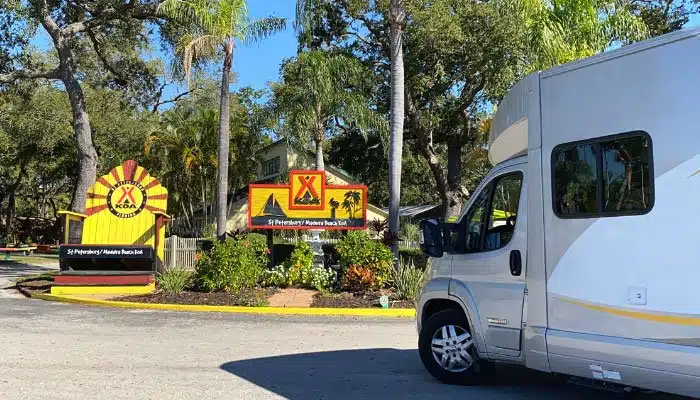 To find out more or to make a reservation, contact:
St Petersburg / Madeira Beach KOA:
Address: 5400 95th St N. St Petersburg, FL 33708
Phone: 800.562.7714         Email: [email protected]
Editorial Disclaimer: Opinions expressed here are the author's alone, not those of any RV park, campground, or RV resort, and have not been reviewed, approved, or otherwise endorsed by any of these entities.
Looking for more RV park reviews? Hover over each image to see campground and location and click to read our review. Find ALL of our campground reviews on this page.
GOT COMMENTS OR QUESTIONS?
We would love to hear from you. Drop us a note in the comments section below.