This post may contain affiliate links.
Sunshine Key RV Resort and Marina is truly a scenic RV destination, located in the beautiful Florida Keys. We stayed here in our RV for just $20/night. Probably one of the nicest Thousand Trails resorts in Florida. Want to learn more about this campground and how you can stay there affordably? Read on for more details and our in-depth review.
Location of Sunshine Key RV Resort And Marina
Right off the iconic 7 mile bridge of the famous Overseas Highway
Area Attractions in Florida Keys
Thousand Trails Sunshine Key RV Resort and Marina in Florida is a destination in itself. It is a beautiful island location, and campground amenities might find many visitors staying in the resort for much of their stay.  But some really amazing attractions are available throughout the Florida Keys, with world-class fishing, scuba diving, snorkeling, kayaking, and the very popular island of Key West.
Key West is just 30 miles (about a 50-minute drive) from the resort, and the stunning Bahia Honda State Park is practically next door and a short biking distance. Islamorada's world-class fishing is about one hour away, but the beautiful shallow, turquoise waters offer great fishing in many of the keys. 
You can take guided tours or rent a boat, jet ski or kayak all throughout the keys. We went on a really great clear kayaking tour in Islamorada. Over the years, we have also parasailed in Key West and snorkeled out in the open waters from a boat out of Key Largo.
The weather in the Florida Keys is pretty consistent year-round, being so close to the equator, with a tropical island climate. The temperatures during our recent two-week stay (in late December 2021) were pretty consistently around 80F for the daytime high and low 70s F at night. Summers are warmer but not super hot, plus it is humid.
Within a two-hour drive, you can be just about anywhere in the Florida Keys. With Thousand Trails Sunshine Key RV Resort centrally located, you can be at the most popular places within an hour or so in normal traffic. 
There is no shortage of great places to eat and drink in the Florida Keys! It's worth a drive to try some of them out.
Amenities And Activities At Thousand Trails Sunshine Key RV Resort And Marina In Florida
Being a medium-sized resort with around 400 sites, Sunshine Key offers quite a few amenities. The location is appealing, as it offers a fishing pier, beaches, and immediate access to the ocean – whether for a swim or via boat from their marina. In addition to the RV sites, there are also rental RVs, cabins, and tiny homes.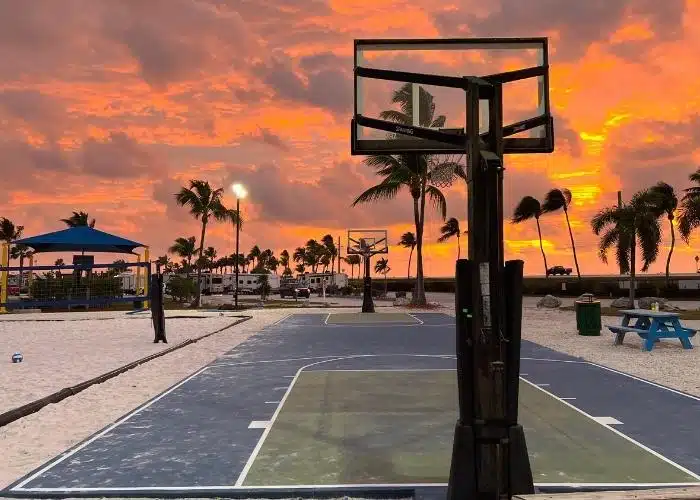 What an amazing sunrise! The whole sky looked like it was on fire.
Sunshine Key RV resort also has a nice pool area, a playground, a sand volleyball court, a basketball court, tennis/racquetball courts, a workout area, horseshoes, a boat ramp, and a fenced area for dogs to play in.
There is an indoor area, and a covered outdoor area for group gatherings, plus a gas station with a convenience store adjacent to the resort. 
Thousand Trails Sunshine Key RV Resort Practical Amenities
There are three bath houses and a laundry room, dog walking area, dumpsters, a fish cleaning station, and propane filling station.
Thousand Trails Sunshine Key RV Resort and Marina accepted packages and mail while we stayed there. We had arranged for two electric bikes to be shipped to the FedEx store in Marathon, and a FedEx driver actually delivered them directly to the campground. But it is always a good idea to check on current policies before shipping, as rules can change anytime without notice. 
Cellular coverage is not great in this area. So our internet connectivity via cellular was definitely below average. Luckily, we knew this in advance and planned to mostly take time off during our visit and minimize our time online.
The best cell coverage we got was about one bar from T-Mobile, so we used our iPhones as mobile hotspots. The RV resort does offer a paid WIFI service, and we tried using that for one week, but we did not have a great experience with it. Others in the park staying for the season mentioned it worked well for them. It may depend on your site location.
RV Sites At Sunshine Key RV Resort And Marina
Like many other Thousand Trails in Florida, Sunshine Key RV Resort and Marina is mostly RV sites, but there are some tiny homes for rent and semi-permanent park model RVs. They also had many RV rentals. 
Nearly all of the RV sites have a fine white gravel surface, and the entire park is close to level, so it should be easy to get your RV level with only a few leveling blocks.
All sites appear to be 20/30/50 amp electrical, water, and sewer connections. Waterfront sites are back-in (or pull-in frontwards and back-out). Most of the sites are pull-through and can accommodate larger rigs. There are three different classifications of sites – Standard, Premium, and Elite. The Elite sites are all waterfront at the beach or marina. Premium sites are basically the next row closest to the waterfront, and most sites still have water views (glimpses) looking in between the RVs parked in the Elite sites.
With angled sites and medium-width roads, we would consider this RV park to be big rig friendly and saw plenty of 45′ motorhomes and big fifth wheels there. But depending on how other RVs and tow vehicles around you are parked, you might still find it tricky to get in or out of your site. A camp host in a golf cart will guide you to your site upon arrival.
Rental RVs and Tiny Homes at Thousand Trails in Florida Keys
For those who don't have their own RV, Sunshine Key RV Resort and Marina does have some rental options.  I would estimate there were about 25 rental RVs and about six tiny homes available. So groups can gather together here, using various accommodation options – whether you own an RV or not.
Getting To Thousand Trails Sunshine Key
Sunshine Key RV Resort and Marina is around the middle of the Florida Keys. So, you must travel south from the mainland on the Overseas Highway. There are a few sections with two lanes, but most of the highway only has one lane in each direction. So, if there is an accident or other traffic challenge, it can cause major delays.
Florida is much longer than it first appears, but all driving is at low altitude, with no steep grades, and most major roads are easy to navigate with any size RV.
Plus, it is a scenic drive, especially once you leave mainland Florida.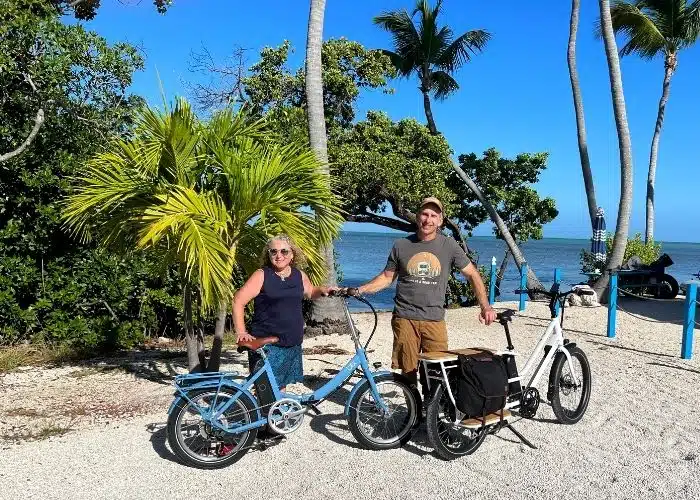 Great, central gulf/oceanside location in the Florida Keys

Sites are fairly level and well groomed

Good base for island exploring

Open year-round

You can stay here inexpensively if you have the right camping membership
Some road noise if parked toward the front side of the campground, near Overseas Highway

Poor cellular coverage for working folks, even the paid campground WiFi is slow and spotty

RV camping rates can be well over $200/night (unless you have the right camping membership)
Rates At Sunshine Key RV Resort And Marina
Rental RVs and Tiny Homes
RV rentals are $350/night, or $278/night when renting weekly

Tiny Home Rentals start at $286/night, or from $228/night when renting weekly
Sunshine Key RV Resort and Marina is one of Florida's nicest Thousand Trails / Encore RV parks. Maybe one of the nicest Thousand Trails parks in the whole nationwide system. It is in an amazing location for a tropical island getaway feel while still being in your RV. 
We have visited friends here a few times over the years. But this was the first time we could spend two weeks in our RV. We had a wonderful time and recommend this resort to others – especially those with a Thousand Trails membership, allowing you to stay here at a heavily discounted rate.
Learn more about the other 40 Thousand Trails RV resorts in Florida in this dedicated blog post.
To find out more or to make a retail reservation, contact:
Sunshine Key RV Resort and Marina
Address: 38801 Overseas Highway, Big Pine Key, FL 33043
Phone: 305.872.2217
Email: [email protected]
Visit their website here
If you are a Thousand Trails member (or want to be), you must make your reservation online or call the member reservation line. The resort cannot make Thousand Trails member reservations directly.
Note: We made our initial 7 day reservation online in October 2021 for a December stay. We managed to eventually extend this – by calling their member call center (multiple times) and picking up cancellations here and there. It took some patience and persistence, but we eventually succeeded in securing a two-week reservation, at a total cost of $280 (plus tax). That's about the cost of one night at the full retail rate, which makes our camping membership well worth it, in our opinion.
Editorial Disclaimer: Opinions expressed here are the author's alone, not those of any RV park, campground, or RV resort, and have not been reviewed, approved, or otherwise endorsed by any of these entities.
Looking for more RV parks in this area? Hover over each image to see campground and location and click to read our review. Learn about the other 40 TT parks in Florida here. Find ALL of our campground reviews on this page.
GOT COMMENTS OR QUESTIONS?
We would love to hear from you. Drop us a note in the comments section below.