This post may contain affiliate links.
We spent a very enjoyable few days at Tall Chief RV Resort and Campground in Fall City, Washington, about 45 minutes from downtown Seattle. It's an Encore RV park that is part of the Trails Collection by Thousand Trails. The RV campground has a few cabins and yurts but is primarily made up of RV sites with fire rings, picnic tables, and trees. For more detail about the specifics of this RV park, sites, and amenities – including pros and cons – read on!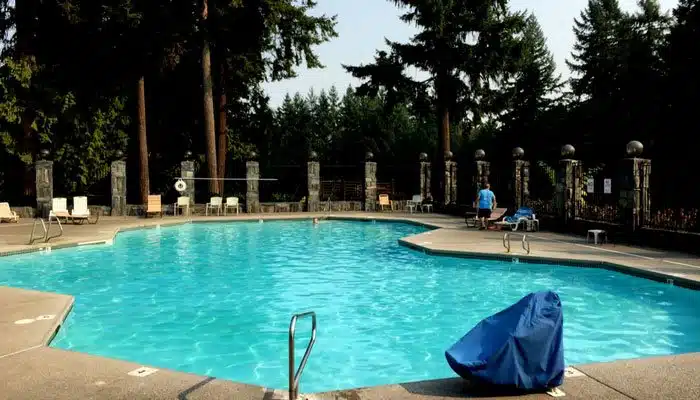 Location of Tall Chief RV Resort
Tall Chief RV Resort is in a town called Fall City, WA. The nearest large city is Seattle, about 45 minutes away. The roads into the area a bit hilly and curvy. Some have grades as high as 12%, but most are less than a mile long grade. So they are manageable for most RVers. But it pays to be aware and take it easy on those hills.
There are grocery stores and fuel stations about 15 minutes away. The campground is surrounded by residential areas with large homes on acre and multi-acre lots. So it is very peaceful, and the roads are all in excellent condition. There are no trains, planes, or heavy traffic in the area. Elevation is less than 400 feet. The campground was built in the 1980s, and most of the nice homes in the area were built long after. So we would imagine that is also what helped bring more services into this area.
There are some cute little towns in the area as well as some lakes. We imagine most people who come here are either looking to get away and enjoy a peaceful campground stay. Or maybe plan to visit some of the Seattle area attractions. Seattle is only about 45 minutes away. But being a big city, try to avoid traveling at peak times as traffic can get very gnarly.
We visited the nearby Boeing "Future of Flight' airplane plant tour, and enjoyed it. The tour is rated as one of the best tours in the country. Seattle has many great restaurants, more Starbucks than you can count (of course) and attractions. Some popular attractions include; the Seattle Great Wheel, Pike Place Market and the Space Needle. We visited the latter and thought it was 'just OK'. For us, it wasn't really worth the money. More advanced road cyclists will find many roads to bike in the area with good shoulders. But be aware that traffic is often traveling at 50mph.
Amenities and Activities at Tall Chief
The pool pavilion has a beautiful pool and hot-tub, large locker room with showers, a room with a pool table, and a nice lounge area. There's a playground, pickleball courts and a mini-golf area near the pool pavilion as well. 
A separate clubhouse up on the hill has a large lounge and many tables to play games or hold a large gathering. There is also a laundry building with showers. Laundry machines can be operated with a credit card, so you won't need to bring quarters. There is an RV storage area on site if you need to leave your RV unattended for extended periods.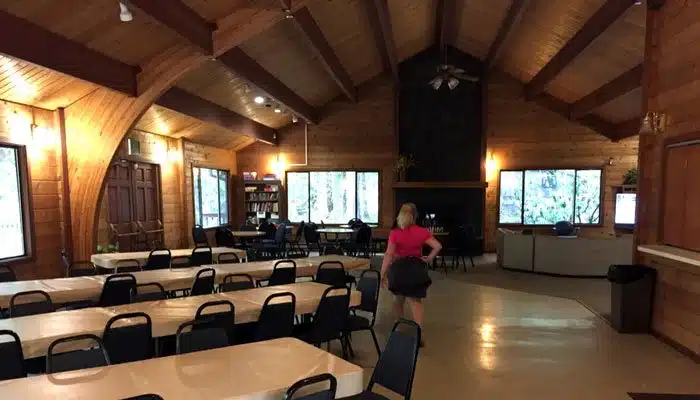 The campground does not accept mail or packages for guests. If you want something shipped to the area, you would need to ship it to General Delivery (local post office) in a nearby city or a UPS/Fedex store.
We are not aware of any WIFI or cable service offered at this campground. We use our own data Jetpack with Verizon and phones with T-Mobile. Both carriers had 2 bars of LTE signal unboosted so we were able to work and access the internet without any issues.
Honey Wagon service is available to dump tanks if you don't have a full hook up site
RV Sites at Tall Chief RV Resort and Campground
Once you drive past the ranger station with security gate, the Internal roads are mostly gravel. But there is a paved parking lot near the pool pavilion.  Some of the internal roads are a bit hilly, but we walked the whole campground and most all of the sites appear level.  
We needed to use some leveling blocks at our site, but believe that we would not have needed many, if any, in most of the sites we saw.  Nearly all campsites are spacious and have trees on the sides and back of the site which provides a very private feel.
There were many large RVs in the campground and the roads are wide. Certainly not all sites can accommodate 40+ foot RVs. But we would guess that more than half of the sites would be fine. There are about 135 sites, 115 of them with 30 amp electricity. 
The other 20 RV sites offering 50amp.  None of the sites have sewer connections, but they do have a honey wagon that can be scheduled on Mondays or Thursdays. Of course, there is also a dump station if you choose to break camp instead. There are 5 rental cabins and 2 rental yurts for those who will be visiting the RV resort without an RV.
Very peaceful, wooded area and campground

Beautiful pool area

Great staff, friendly and helpful

Convenient proximity to downtown Seattle
No sites with sewer hookups

Can't accept mail or packages
Rates at Tall Chief RV Campground and Resort
We met a couple who were paying nightly rates and they mentioned they were paying $57 per night, over the Labor Day weekend.  Ouch! However, if you are a Thousand Trails member with the Trails Collection add-on, or otherwise have this campground included as part of your Thousand Trails membership, you do not need to pay a nightly fee to stay here. The campground is open year round.  We heard many guests stay here for multiple months of the year and commute to Seattle for work. So we are sure there are also discounted options for monthly stays.
This is a nice RV campground in a great part of the country for summer time visits. Roads in the area are great quality, but be aware that the area is hilly and curvy, especially if you are new to RVing so take it easy. The RV Campground is very well maintained with large private sites and one of the nicest pool areas we've seen. Great place for a relaxing stay.
We visited here in late August, 2017 for about a week. Just before crossing the Canadian border with our RV for the first time on our way to stay at TT Cultus Lake in BC, Canada. We had a really nice visit and would definitely come back, especially since we have friends and family who live in this area. Plus, we are able to stay at this campground 'for free' as part of our Thousand Trails membership with Trails Collection upgrade – you can read more about all that HERE.
To find out more or to make a reservation, contact:
Tall Chief RV Campground,
Address: 29290 SE 8th St, Fall City WA 98024.
Tel: 425-222-0778
Website: Tall Chief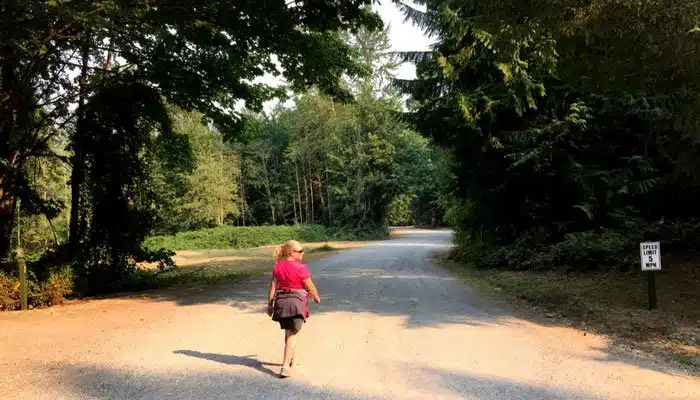 Editorial Disclaimer: Opinions expressed here are the author's alone, not those of any RV park, campground, or RV resort, and have not been reviewed, approved, or otherwise endorsed by any of these entities.
GOT COMMENTS OR QUESTIONS?
We would love to hear from you. Drop us a note in the comments section below.
Looking for more RV parks in this area? Hover over each image to see campground and location and click to read our review. Find ALL of our campground reviews on this page.