This post may contain affiliate links.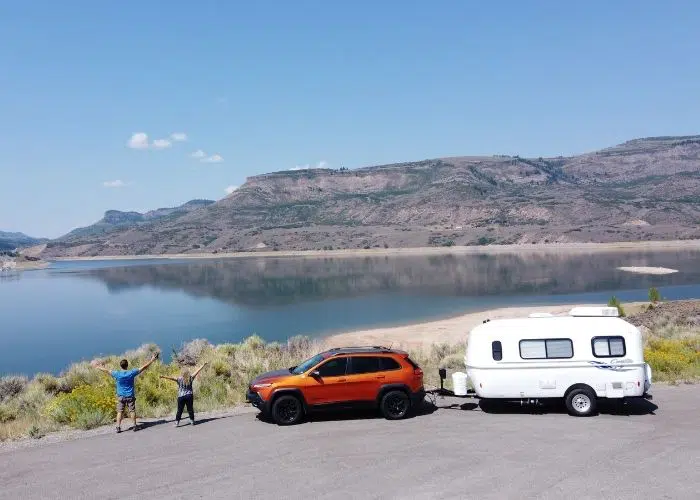 Big news from Thousand Trails! They've acquired a new campground to add to their network of Thousand Trails preserves. It's the first campground they've added in over 20 years. Even better, it's in Colorado! Many Thousand Trails Members, like us, have long awaited more properties in the middle of the country.
Keep reading for more information, and a closer look. We actually stayed there a couple of years ago, so we'll also share our personal thoughts and photos from our stay at this campground.
We first stayed at Blue Mesa Recreational Ranch in our Casita in August 2020
Where Is The New Thousand Trails Campground?
The new Thousand Trails campground is on the western slopes of Colorado's Rocky Mountains, right by the beautiful Blue Mesa Reservoir. It's located in Gunnison and 180 miles from Colorado Springs. The city has a population of approximately 6,500 and an elevation of 7,703 feet. Ranching, mining, and tourism are the primary economic resources found here. You'll find shops, supermarkets and restaurants in the town of Gunnison, just 12-13 miles from the campground. 
The crown jewels of this area are right on US-50, as it's right at the Blue Mesa Reservoir and the Gunnison River – with beautiful Curecanti National Recreation Area just 7 miles away. The campground is less than an hour's drive to Montrose, Black Canyon of the Gunnison National Park, and Crested Butte. Gorgeous drives can be found in every direction.
Taking in the view from nearby Curecanti National Recreation Area
Thousand Trails recently acquired Blue Mesa Recreational Ranch as its 82nd campground, adding to its existing portfolio of 81 Thousand Trails preserves. This is an exciting opportunity for Thousand Trails and its members. This campground is their first in Colorado and is a welcoming, scenic destination for members traveling in the southwest region. 
Our stay at Blue Mesa Recreational Ranch was back in August 2020, before Thousand Trails took over. We haven't posted an official review of it yet, but we can share our first hand experience here. Blue Mesa offers a beautiful setting, views and all kinds of outdoor adventure.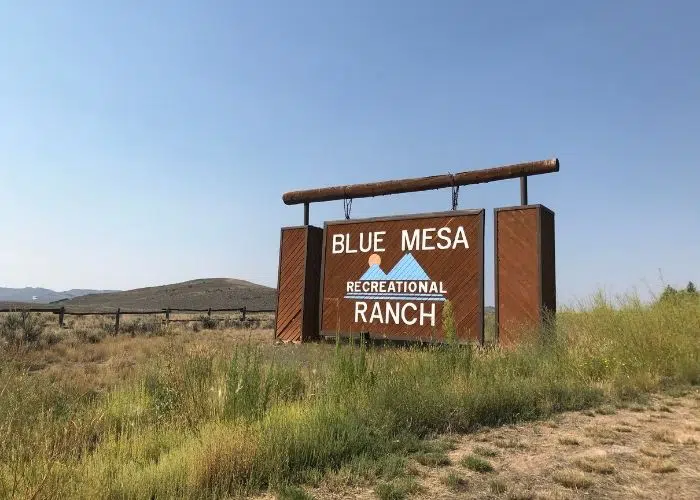 About Blue Mesa Recreational Ranch
Blue Mesa Recreational Ranch has 380 campsites, open seasonally from May 1 through to October 1. Many of the sites are full hookups, some have partial hookups, plus they offer tent sites. There are also rental cabins, two clubhouses, laundry facilities and kid's playground. There's also two swimming pools, mini golf, game room, and a stocked fishing pond. While we don't use cable, it is available – as is WIFI (more on that in a bit).
The campground is directly across from Blue Mesa Reservoir, Colorado's largest body of water with a 26-mile-long lake and 96 miles of shoreline. Nearby Elk Creek Marina features great fishing, boating and water sports.
With mesas and mountain peaks all around and a western-style setting, it's a great little mountain hideaway. And an ideal location for hiking, boating, fishing, kayaking, mountain biking, off-roading, and horseback riding. Or if, like us, you simply enjoy taking a nice drive, you can literally go for miles in any direction without a lapse in the scenery.
Location
27601 West Highway 50, Gunnison, CO 81230
Read on for info on current road construction in the area to plan your route.
Visit Blue Mesa Recreational Ranch on Thousand Trails website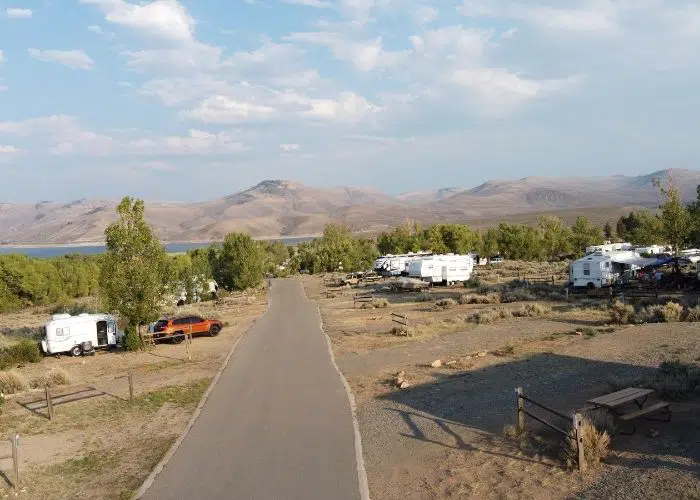 Aerial view of Blue Mesa Recreational Ranch campsites and vista
The campground is tiered, so many RV lots overlook the lake. The roads are paved and there's a grade toward the back of the park, enhancing the views for more campers. Some campsites are paved, some are dirt, and there is also some gravel. Some campsites have picnic tables and fire rings. And there is also RV / boat storage at the very back. As with all Thousand Trails campgrounds, campsites are first come, first served.
We can't wait to see what else Thousand Trails adds to the amenities and activities at this campground, once the new camping season gets underway! And while our stay at Blue Mesa Recreational Ranch was short – just a few days – we found it lovely and peaceful. 
There's just ONE reason we didn't linger longer on our first visit… so keep reading to find out why.
Cellular Service, WiFi and Cable
As RVers who also work from the road, cell and Internet service is always top of mind. Even if you aren't working, you probably want to be able to stay connected. So cellular connectivity is one of our top priorities when looking for amenities in a campground. When reading through Blue Mesa Recreational Ranch reviews, you may notice reports that connectivity hasn't been great in the past. It was only the slow, spotty cellular connection that caused us to leave earlier than planned, as we really needed rock solid internet for work.
Our RV internet setup consists of a Verizon hotspot (and a cellular router) plus T-Mobile for our phones. T-Mobile worked some, but it was slow and spotty. We did pay for the campground WiFi, but that didn't do the job well enough for us. At least, not from our campsite which backed up against a hill. However, we did not try working from the main welcome lodge or the family lodge, where connection might be better. 
Note that the poor cellular connectivity is not just at the campground, it impacts much of the US-50 section in the canyon.
Cable IS available at this campground, but we never used it, so cannot report on how well it works.
Our campsite felt quite spacious and private
How can you get decent internet?
We expect (hope) that Thousand Trails is already looking into better internet options. And like we said, you may have better success than we did by going to one of the lodges on site. But don't despair, you can still find a way to work and play! Here's what we know:
Downtown Gunnison has good cell coverage, and it's only a 15-minute drive. There are cafes, restaurants, and even a pretty city park where you can relax and get free WIFI while taking care of business. Or use your own cellular devices in the downtown area.

The US-50 area is undergoing construction to expand the number of road lanes and pullouts, and part of the improvements include communications services.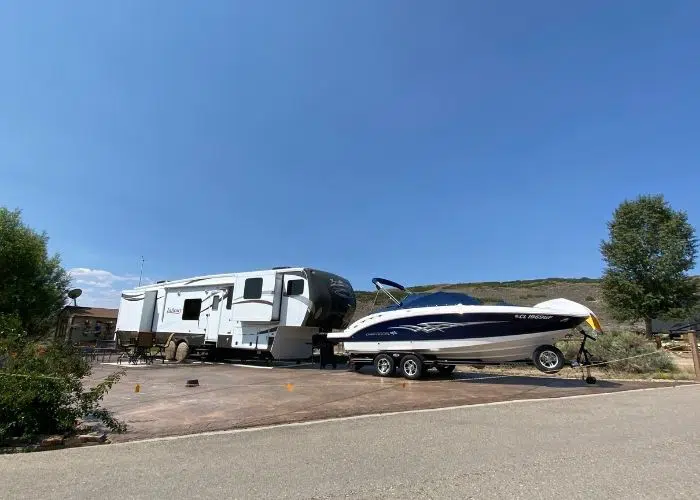 This campground is popular with those who enjoy boating and fishing
Stay up to date on local developments
If you're planning a trip to Blue Mesa Recreational Ranch this year, know there will be some construction in the area until November 2022. It is advised to check on possible road closures when planning your travel days. 
Find more information on the US-50 improvement project and what you need to 'know before you go' you can visit this website. You can get also more info, email or text alerts here.
Click here to see which trip and route planning software we use.
Cellular reception and free WIFI can be found in Gunnison's local parks and cafes
Who Can Stay At Thousand Trails Blue Mesa Recreational Ranch?
Effective March 2022, Thousand Trails members can now make reservations to stay at Blue Mesa Recreational Ranch, at no nightly fee, if you have one of the following:
Thousand Trails nationwide membership with 80+ parks in your contract (eg. Elite, Elite Connections, Adventure)

Thousand Trails Southwest Zone Camping Pass 
The new Thousand Trails camping map, showing the new Colorado property
For members without a national membership – or a Southwest Zone Camping Pass – you will need to upgrade your membership to access Blue Mesa Recreational Ranch at no nightly fee. For example, if you have the Alliance, VIP, or Platinum memberships with west coast parks, you would likely have to upgrade your membership for full access to all 80+ parks, which now includes Blue Mesa Recreational Ranch.
What if I want to stay, but I am not a member or I don't want to upgrade?
Thousand Trails will offer their members 20% off the retail nightly rate, just as they do for their other campgrounds. Non Thousand Trails members can reserve a site at Blue Mesa Recreational Ranch and pay the daily retail rate. 
When will Blue Mesa Recreational Ranch appear as one of my Campgrounds ?
Existing, eligible Thousand Trail members should now (as of March 2022) be able to see Blue Mesa Recreational Ranch show up under "My Campgrounds" when you log into Thousand Trails.
Some of the cabins at Blue Mesa Recreational Ranch
Will Blue Mesa Recreational Ranch be added to the RPI system?
We do not know, but expect to learn more soon, after the campground is officially available for making reservations. You can do that via the Thousand Trails Call Center or online reservation system.
How can I reserve Blue Mesa Recreational Ranch?
As soon as the property is showing in your Thousand Trails membership, under the tab "My Campgrounds" you can use the Thousand Trails online reservation system or call Member Services to make a reservation. Their camping season starts May 1 and ends September 30.
Will Blue Mesa Recreational Ranch be added to the Trails Collection?
This campground will be a Thousand Trails campground, not an Encore RV Resort, and therefore won't be added to the Trails Collection of over 100 RV resorts. Adding the Trails Collection to a Thousand Trails membership gives you access to around 200 RV parks and campgrounds altogether.
Learn more about the Trails Collection.
Curecanti National Recreation Area is just a few minutes drive along US-50
Which Popular Attractions Are Close To Blue Mesa Recreational Ranch?
Blue Mesa Recreational Ranch is a fantastic base to explore the Colorado outdoors. Surrounded by mountains, you'll find the West Elk Mountains to the north and San Juan Mountains to the south. So whether you want to relax and take it all in from the campground, head further out to hike the backcountry, head to the water in a boat or kayak, or hit the ATV trails, you'll find breathtaking views in every direction. 
The campground is next door to Curecanti National Recreational Area, known for salmon and trout fishing. You can hike, boat, or take a scenic drive in the area. There are hiking trails for all ability levels. On the trails, you'll discover a variety of habitats, overlooks, wildflowers, birds, and wildlife. Fly fishing is also a popular activity in the reservoir. 
Black Canyon of The Gunnison National Park is also nearby. The canyon's cliffs and craggy spires are worth a visit. You'll find some of the oldest rocks in the country at the park. There are numerous ways to explore its beauty, from hikes to scenic drives and stargazing.
Black Canyon of the Gunnison National Park is just an hour's drive away
How Do I Become A Thousand Trails Member Or Upgrade? 
Considering joining Thousand Trails? Want to start with a Zone Camping Pass or inquire about the benefits of upgrading to one of the new membership options? Fill in the form below to learn more, get accurate pricing, and find out about the latest discounts and special promotions.
Contact a Membership Specialist
Prefer to speak to someone on the phone or email? Here's who we recommend you speak to for the latest (and best) pricing and deals on NEW Thousand Trails memberships Zone Camping Passes and upgrades).
Jim and Brandy Reneau (NEW Thousand Trails memberships)
Let them know you read this article and are part of the RVLove community to get the best pricing, best service, and to access our exclusive RVLove discount.
Tel: 770-622-4188
Email: [email protected]
We are hearing rumors of more exciting changes happening at Thousand Trails, that will likely only be available for NEW memberships. We're waiting to learn more, and will share with you as soon as we know more.
If you want to learn about resale / used camping memberships, please contact:
Kim and Chad Hoel (RESALE/USED Thousand Trails memberships)
Let them know you are part of the RVLove community to get the best pricing on current resale inventory and excellent service.
Tel: 800-272-0401
Email: [email protected] (email is best / faster)
Have you stayed at Blue Mesa Recreational Resort?
Are you looking forward to staying there? We'd love to hear from you!
GOT COMMENTS OR QUESTIONS?
Please drop us a note in the comments below.