This post may contain affiliate links.
Researching and booking campsites can be exhausting, frustrating, and has almost become a part time job for many RVers these days. Yet after all these years of RVing, we still keep discovering new places, scenic views, and importantly, new tools – to help find them! In this article, we'll show you a very handy tool we've been using to find and book the best campsites – 360 degree virtual campground tour videos.
But how can it be possible to stay at the "best" campsites and campgrounds, you ask? Wouldn't that mean everyone is booking the same sites and campgrounds? Nope, because "best" is subjective and depends on your personal needs, criteria and budget. There's no one size fits all. That's why we love finding new and useful RV camping tools that make life easier for everyone.
You're likely familiar with real estate 360 virtual home tours. But have you ever used 360 video tours to virtually "visit" an RV campground? Let's show you how you can use 360 degree virtual tours at CampgroundViews.com to avoid bad campsites, make the process of RV campground research and booking easier, and take your RV camping to a whole other level.
The Big Problem With Booking Campsites
Part of a great RV camping experience is finding the best site to suit your RV, and your personal camping preferences. But unless you have visited a campground in person, the problem is you're relying on the accuracy of a few photos, a brief description, and maybe some reviews – which are often biased.
And while we do almost always check campground reviews to get a sense of what a place is like in advance, it can really be hit or miss. Why? Because you don't usually know what your exact campsite will be like until it's too late – when you roll in with your RV! Some campgrounds don't allocate specific sites in advance, and while others like Thousand Trails have a 'first come first served' policy. 
But there are still a lot of campgrounds – like National and State Parks – that DO allow you to book a specific site, and that's where it pays to really 'see' where you're going, before reserving your campsite.
Hello highway! This could be our worst campsites ever – in Fort Myers, FL
Issues that can negatively impact your stay
Like most RVers, we've had our share of 'bad campsite' experiences. Like the time in Florida we arrived to discover our campsite was in an overflow parking lot beside a busy highway. Then there was the campsite in Palm Springs by a smelly trash dumpster that banged every time it was used. At one site in Arizona we opened the RV entry door and stared right at a cactus – better not trip! Trees, boulders, and other obstacles can also make it difficult to pull into your site, extend your slides or access RV basement storage. And can even damage your rig. Yep, a big bush even scraped up the front of our first RV. And while trees are ideal for shade on hot days, fewer trees and wide open sky are better for powering your solar panels, or to get Starlink blazing.
That's why seeing a campsite for yourself – from every angle – is the only way to know for sure if it's going to work for your specific needs.
Our RV site at Henry's Lake State Park, ID, west of Yellowstone was a hidden gem
An Easy Solution to Finding the Perfect Campsite
You may have heard of – or already use – the CampgroundViews.com website to find campgrounds along your travel destinations. We've been using it for years, and it's a handy tool in our arsenal for helping us find lesser known gems. It's especially useful for finding great campsites near national parks where you can find availability – like Henry's Lake State Park, Idaho, west of Yellowstone.
Campground Views is free to use, but now there's a premium 360 virtual video tour option. We'll explain how it works, and why it's so valuable for planning your RV camping trips.
Driving around Colorado National Monument on the way to our campsite
What is a Campground Virtual Tour?
A virtual tour of a campground is visually similar to visiting in person. It makes it seem like you're driving through a campground, but since it is filmed with a 360 degree camera, you can pause at any time to look more closely in any direction. This allows you to really see all the details of the site and compare them against others in the campground to pick the perfect site for you. Knowing what to expect can help avoid a lot of issues when you arrive your RV.
How does it work?
When you watch a 360 video tour as it moves through the campground,  you can pause the video for a closer look. Use your mouse to turn any direction – up, down, left and right – in a circle to really get a feel for each campsite, specific location and surroundings. The virtual tours are fully integrated with the Recreation.gov booking site, so you can enter your travel dates and see at a glance if a campsite is available. Green is available, red is booked (or partially booked). Clicking pins also allow you to check the campsite size and amenities. The mini map in the top right corner is a 'look down' at the campground layout and you can click for more detail.
Below is the actual virtual 360 video tour we used to view our options, then select and book a sweet and scenic campsite at Saddlehorn Campground in Colorado National Monument. Press Play to try it out, 'see' all around and use the features.
Press Play to Try the Virtual Campground Tour for Yourself
When you're ready to book a campsite, simply click the Visit button, and it will take you directly to Recreation.gov website, where you can complete your reservation and payment.
As members, we have access to all 900+ virtual tours at CampgroundViews.com. If you are not a premium member and want to watch a campground 360 virtual tour, just click 'unlock VR Tour' to join and access the tour/s. More on the various membership levels (plus a discount code) later in the post.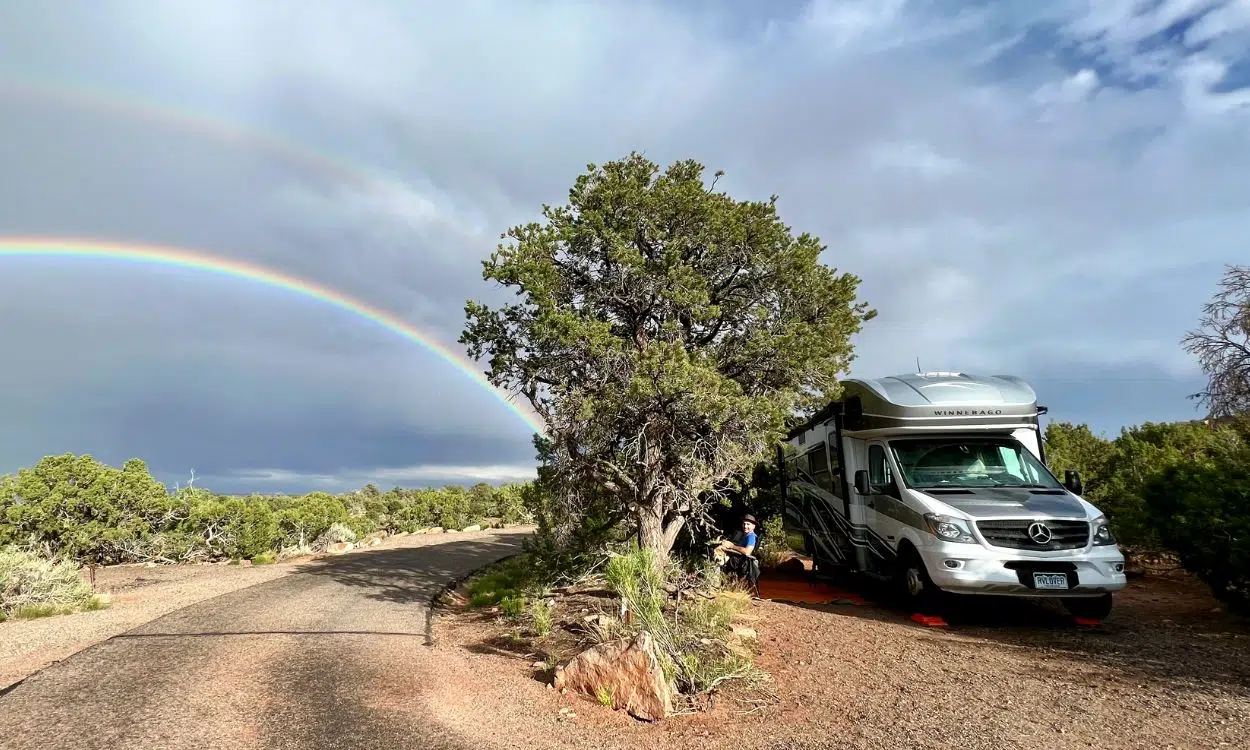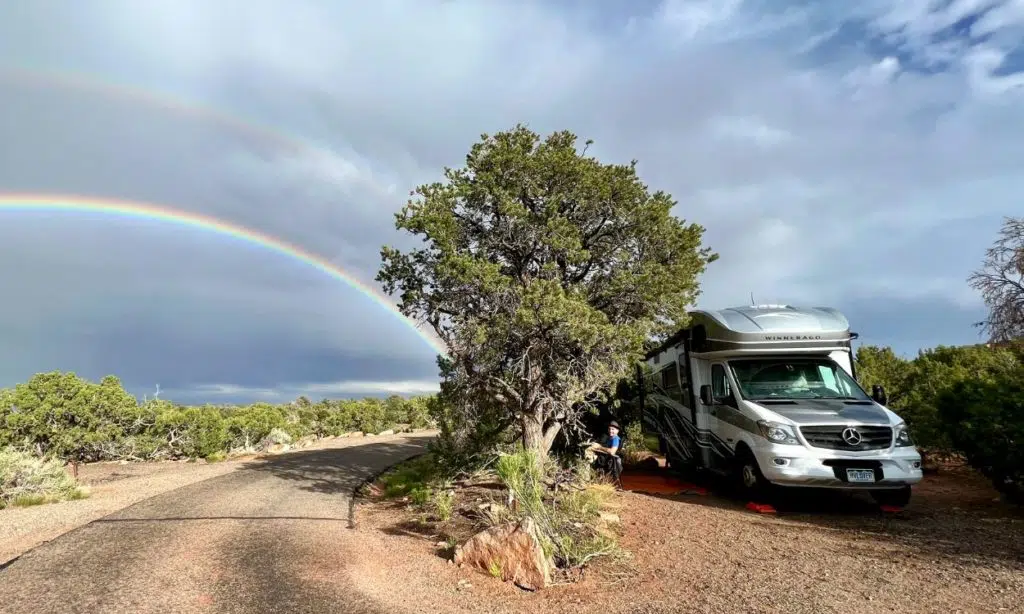 We found and booked this site after watching the campground virtual tour
Tips for How We Booked Our Perfect Campsite
Now that you're familiar with the virtual tour technology, here are some tips on how we used the tool. When we viewed the Saddlehorn Campground virtual tour we could immediately see which sites we wanted to avoid for various reasons. But there were also a few sites that stood out as potential top choices.
If the campsite on the virtual tour has a red pin marker, it is likely booked for all of part of your planned stay. A green marker shows it is available. On the other hand, if like us, your travel days are more flexible than a specific campsite, you can just click on the site, whether it is red or green, and look for dates when it is available. You can use the Campground Virtual Tour tool to select and make a note of your favorite sites, then go directly to Recreation.gov when you want to make your reservations.
Clicking on the pin shows site availability, size and amenities, plus the option to book
Once you click on a specific site, a box pops up with extra information about the amenities, and the size of RV allowed on the site. This is especially helpful if you have a larger RV, but it is still important to us with a smaller 25 motorhome. The virtual tour helps us gauge the depth of the site if it was empty the day the campground virtual tour filming took place. Another benefit of the 360 virtual tours is if the video was filmed on a day that RVs WERE parked in the campsite, you can get an even better perspective of how well your RV would fit in the site.
Click the "Book" button to see available dates at Recreation.gov website
Recreation.gov website is good for booking campsites, not so much for finding them
This is the campsite we chose and booked
Here's Why You Need to Look Before You Book
We could have picked from many available sites at Saddlehorn Campground in June. And luckily, thanks to the detail of the video tour, we picked a good one. But now let's show you exactly how the virtual tour option helped us avoid picking some of the far LESS desirable – and even challenging – campsites.
From the virtual video tour, we could see it was a nice, basic campground with no hookups. But we could also see that many of the sites were un-level. And some are just pull outs that would mean we'd be opening our RV patio door onto the road.
Watch out – this patio opens to the road!
The forecast for our travel dates was hot and sunny. And we quickly realized some of those sites would also mean we couldn't open our awning, without blocking traffic! Plus, we would need to look both ways before we could step out of our RV at the street. Definitely NOT recommended if you have dogs or kids! 
We could see that some campsites were either situated directly underneath power lines – or they spoiled the otherwise lovely, natural view. And other sites were on a corner, so anyone driving in at night would shine their headlights into the RV site.
Of course, if you are a tent camper and just parking your vehicle in the spot, then pitching a tent on level ground nearby, most sites are probably fine. But if you plan to stay in your RV, especially a motorhome which has less flexibility in leveling than travel trailers, you will need to pay extra attention to each site's size and layout.
Let's pick a campsite surrounded by power lines… said no-one ever
What is Your Criteria for the "Best" Campsite?
These are the things you're going to want to look for when viewing campground virtual tours. Ask yourself, what's most important to you and for your RV? As you have probably already experienced, many campsites have features that you would have preferred to avoid – IF you knew better. And the longer you stay, the more these things matter. 
So define your criteria, and as you watch the virtual tours, pay attention to:
Access. 

Are the campground roads – or campsite – difficult to navigate a larger RV into? Would other sites be easier?
Size.

Will your RV, vehicle and gear fit on the campsite?

Surface. Is the campsite paved or unpaved? And how level – or unlevel – is it?  Do

 you have enough leveling blocks?

Amenities. 

Does the campsite have a picnic table, BBQ grill, campfire ring?

Space.

 How close together are sites? Do you have privacy from neighbors?
Location.

Is the site next to a trash dumpster, under power lines etc?

Proximity. Are they too near or far from bathhouses, for your preference? 
Traffic. Is the site situated in a busy spot or turning corner, where headlights may shine into your RV at night.
Obstacles. Do trees, boulders, or other obstacles impact your ability to extend slides, open entry or basement doors? Or risk damage to your RV?

Shade. 

Do the trees help or hinder, when it comes to sunshine or shade?
Solar / Satellite  / StarLink.

Do you have a clear, open space above your rig to capture solar from the sun, point your satellite TV, or position your StarLink for optimal internet?

Views.

Do some sites have better views than others? Eg. lake, mountains?
This view would be nice, if it wasn't for those dumpsters!
Prioritize your campsite wishlist 
You may not get everything on your wishlist, but by prioritizing what's important, you'll have a better chance of finding them, as it helps narrow your focus.
If views are important, you'll want to avoid campsites looking right at other RVs or a dumpster. And if you don't have or use a bathroom in your RV, you may prefer being close to campground bathrooms. If powering your solar panels, or getting your StarLink up and running so you can work is top priority, you'll want to avoid sites with large shade trees. 
So what was our criteria and did we find everything we were looking for?
Nestled into our campsite at Saddlehorn Campground
Which RV site did we choose and why?
We chose site 38 In B Loop at Saddlehorn Campground because it had a lovely scenic view from the patio side. Plus, it was shielded by trees on all sides which provided both privacy and great shade. Shade was important as the weather was expected to be very hot, the campground doesn't have electric, and we didn't want to run our generator all day. We figured our neighbors would appreciate that, too!
Site 38 was also one of the more level sites at Saddlehorn. We could see that we would not be able to level our RV in more than half of the campsites. Other things we chose to avoid when choosing our campsite were power lines, bath houses, dumpsters, being in the line of sight of people driving through, and having our patio open to the road.
Ours was not a very big campsite, and the tree branches were just barely above the RV, so it likely would not work for other, larger RVs. But it worked well for us! Always check the virtual tours to find the perfect site for your RV and preferences.
As you can see from the photos, we were able to nestle our RV in under a nice big shade tree and we had a great view to enjoy outside over happy hour. The rainbow was an unexpected bonus!
Where Can You Find Campground Virtual Tours?
You can find over 900 of these 360 degree virtual campground video tours at CampgroundViews.com where they continue to add more tours each week. So far, most of the campgrounds are government (national and state) campgrounds that are normally booked through the Recreation.gov website. That website usually only features one photo for each campsite, and doesn't answer most of the questions you may have about your selection criteria. But now there are also private campgrounds starting to jump on board with virtual video tours as well.
Of course, campsite styles in any campground can vary widely, which is why being able to see where you're going in advance is incredibly useful. Not only can you view and select the best campsite for your needs, but you know what to expect when you get there, which reduces the chance for unwelcome surprises.
That's why we love using tools like the 360 view in these campground virtual tours so that we know where we are headed and what to expect.
Try The 360 Virtual Tour Tool Out For Free
We just used Saddlehorn Campground as an example here, but you can go to the 360 Virtual Tours landing page to see more. There, the founder of Campground Views takes you on a virtual tour through Jumbo Rocks Campground in Joshua Tree National Park, with an overview of how to make the most of the Virtual Tours Tool.
You can also visit the CampgroundViews.com website and click on the Virtual Tours tab. There you will see about a dozen more 360 degree video tours you can view for free, to try out the tool for yourself. You can also use their free search tool to find more campgrounds across the country.
It's important to note that the Campground Views campground search engine has been, and will continue to be free to use, to find campgrounds and read reviews.
We regularly use Campground Views to find campgrounds within a certain radius from National Parks or other destinations, alongside our primary RV route planning tool RV Trip Wizard – another valuable tool for our RV trip planning. But we're loving these new campground virtual tours to help us see where we're going in a way that really improves our RV camping experiences.
Want to explore the full suite of 900+ virtual video tours?
Learn more about how you can do that below, with a premium, paid membership, and special discount offers.
Sign Up for Campground Virtual Tours Premium and Save
Their premium paid membership gives you full access to ALL of the virtual video 360 tours. Currently there are over 900 tours, with more being added every week. We like that Campground Views offers multiple pricing options for their premium virtual tour membership, depending on how often you plan to use the service. 
For example, if you only do a few trips per year, you might just sign up for one week of use at just $5.99, when you're ready to do your trip planning. On the other hand, if you travel a lot, plan to use the tool extensively and don't want to be limited, you can opt for the one year option at $99, or 3 years of access for $249. 
Save 50% until July 22
You can save 20% at any time with our discount code RVLove20, but right now, there's an even better deal.
To celebrate 900 video tours, right now (for just two more days) you can save 50% on a premium virtual tours membership at Campground Views.
Click here to join and use the discount code: 900RoadTripper until 22nd July. 
Finding and booking campsites can be time consuming and overwhelming. So we hope this 360 video tour technology, and some of the tips we shared, are helpful for your RV trip planning. Having clarity around what you need and want in a campsite is half the battle, the other half is finding the right tools to help you find and book it. It's empowering for RVers to have this video tour technology available for travel planning and securing the "best" campsite reservations…. for you 🙂
Finally, we feel it's important to note that Campground Views and the 360 virtual tour videos are created by RVers for RVers. So they really understand what matters when searching for and booking campsites. The founder, Mark Koep, traveled North America in an RV full time for 12 years with his family, to find the best RV campsites and created the Campground Views website and search engine. Now, Mark and his team are producing these 360 degree virtual campground tour videos to make RVing even easier for the rest of us. We've never met anyone more passionate about his mission than Mark, and we're excited for the future of this great technology. 
Let us know what you think in the comments! Have you used virtual 360 campground tours? Would this be valuable in planning your RV camping trips?
GOT COMMENTS OR QUESTIONS?
We would love to hear from you. Drop us a note in the comments section below.