This post may contain affiliate links.
After 6 years of life on the road, traveling as full-time RVers, we reviewed our biggest RV-related expenses, to see what this footloose and fancy-free lifestyle has really been costing us each year. We start by answering one of our most often asked questions. Is our Thousand Trails membership worth it? 
In this report, we share what Thousand Trails has cost us, how much we use it, and whether or not the money we've spent on our Thousand Trails membership has been worth it. We have written a ton about Thousand Trails over the years, but this is the first time we've done such an extensive review after so many nights of camping.
A lot of people are looking for ways to save money on RV camping right now. And with Thousand Trails running sales on new membership upgrades from time to time, we hope that the information we share here helps you make an informed decision for your own RV lifestyle and budget.
We have so much info to cover on every aspect of the expenses related to our RV life since 2014, that we decided to break it up into a series of posts. This is the first, so keep an eye out for other articles coming up on our 6 years of full time RV travel expenses!
To find out the current prices and special promotions, contact Membership Specialists, Jim and Brandy Reneau, and mention RVLOVE to get the best price, guaranteed. Click here or call 770-622-4188 for more info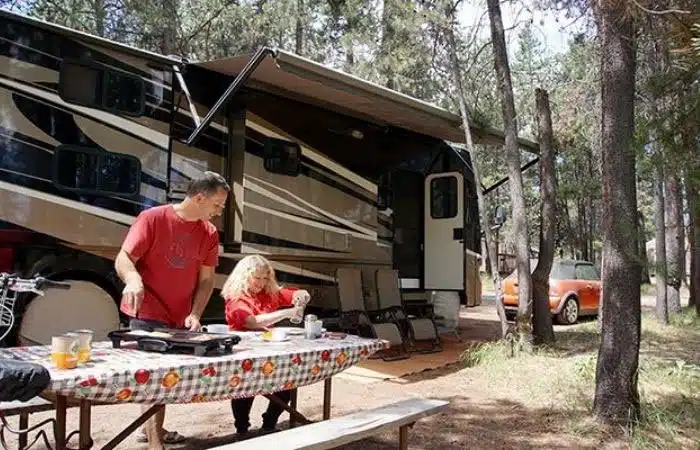 What Camping Membership(s) do we Have?
We've actually had just about every kind of camping membership out there! Passport America, Harvest Hosts, Boondockers Welcome, Good Sam, Escapees, Coast to Coast…. But the core of our camping membership arsenal is Thousand Trails. 
Since 2014, we have purchased two different types of Thousand Trails memberships, plus an 'add-on'. Let's go over those, their key benefits, and what they cost us.
Annual Zone Camping Pass
Even before we started our full time RV life in mid 2014, we purchased an annual Zone Camping Pass with 2 'zones' (there are 5 zones nationally) about two months before we hit the road. We wanted to start making our summer reservations 60 days in advance. 
Back in 2014, this cost us $545 (plus tax) and enabled us to stay up to 14 nights at a time at 37 campgrounds, across the two zones. We had the South West and North West Zone with 18 parks each, plus the South Lake Tahoe Encore property which was included as a bonus.
We then needed to stay 'out of the system' for 7 nights, before we could stay at another Thousand Trails campground. Our '7 days out' of the Thousand Trails system at other RV parks, usually cost us around $200-$300 for the week, depending on where we stayed (eg. state parks, private campgrounds where rates were usually $30-$40 a night, sometimes buy 6, get 1 free.)
Additional Fees with a Zone Pass?
Years ago, Thousand Trails used to charge a $3 nightly fee after the first 30 days of free camping, but they don't anymore. In the 4 months we had our Zone Pass, after the free 30 nights we were charged for some stays, but not others – which seemed odd. We used 68 nights of our Zone Pass, so we should have been charged for 38 of those @ $3 each ($114) but we were only charged for about half of them. So, we estimate we paid about $60 in additional nightly fees. 
We are glad Thousand Trails doesn't charge the $3 nightly fee anymore, as it was just a nuisance more than anything. Occasionally you'll come across a Thousand Trails campground that MAY charge $3–$5 a night for a handful of sites, say in a new 50 Amp section. But it's rare, and we usually pick another site. We stayed only a few times in a site with this small charge, but we didn't track the cost as it was so minimal. It is rare and optional anyway.
How we used our zone camping pass
Sometimes we would stay at a Thousand Trails park for 4 nights, then move to another campground for 4 nights and so on, then finish up with 14 nights. You can stay up to 4 nights at a time and keep moving every 5th day indefinitely, for no nightly fee, with NO time out of the system. But we work while we travel, and this became VERY tiring. By September, we had learned of a membership upgrade that would allow us to slow our travel pace, stay longer, and save on those "weeks out". 
We really liked our Thousand Trails membership, how much it saved us, and the friends we made in the campgrounds (an unexpected bonus). Even though we'd only had our Zone Camping Pass for about 4 months, we had already gotten our money's worth. So we decided to take the leap and buy the more expensive membership upgrade, knowing it would save us even more in the long term.
NOTE: We cover the latest 2023 Thousand Trails pricing here. These days, you can pick up a Thousand Trails Zone Camping Pass for $670  (or lower during special promotions).
To find out the current prices and special promotions, contact Membership Specialists, Jim and Brandy Reneau, and mention RVLOVE to get the best price, guaranteed. Click here or call 770-622-4188 for more info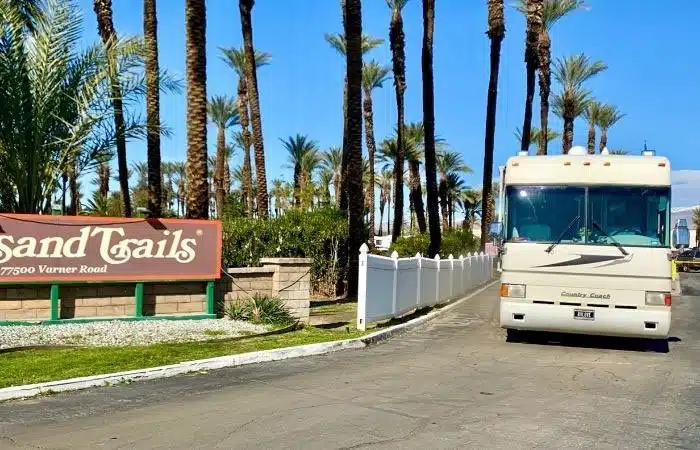 Elite Basic Membership Upgrade
The Elite Basic is the entry level Thousand Trails membership upgrade, and at the time we bought our membership. It was the one with the most benefits and number of campgrounds. We bought this as a resale in 2014 for $2,500, but you will pay a lot more for one now as Thousand Trails has become so popular. Used memberships are cheaper than new ones. But we have noticed the price difference (saving) isn't as much as it used to be. 
These days, we see pros and cons to both new vs used, and the different options in terms of pricing and timing. We'll cover this in more detail further down. In addition to the Elite Basic membership, Thousand Trails now also offers Elite Connections and Adventure membership upgrades. These offer more benefits, like a longer booking window and stays which can be of high value for many.
What our membership provides
Our Elite Basic membership still works just fine for OUR needs. We can stay for 21 nights at a time, and move directly to another campground, with NO time out of the Thousand Trails system. This means we save on those 'weeks out' which really started to add up. 
Now we pay NO nightly fee when we stay at Thousand Trails. Just our annual dues for our Elite Membership. In December 2014 we paid $549 in annual dues, and now we pay closer to $625. So the annual dues increase incrementally each year. Twice a year we can also extend our 21 day reservation by 7 days to stay a total of 4 weeks for just $29. We have also done that a couple of times.
We are able to stay at ALL of the Thousand Trails campgrounds around the country – about 81 parks across 5 zones. And we have a 120 day booking window which makes it easier to secure the reservations we want.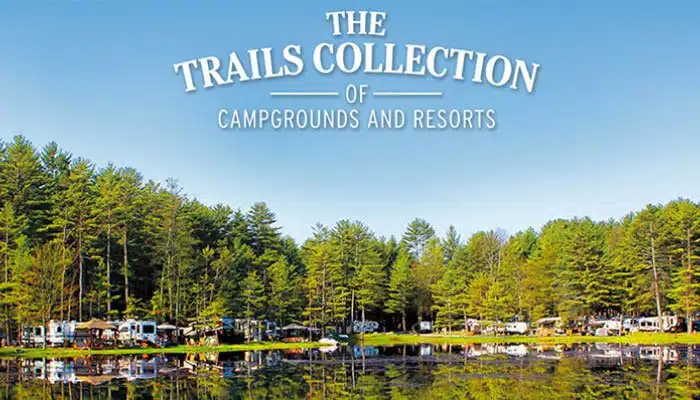 Trails Collection Add-on to Thousand Trails Membership
A few years ago (in 2018) Thousand Trails created a new membership add-on called the Trails Collection. This add-on offers up to 14 nights (per visit) of camping at 110 of their Encore RV Resort properties. Most charge no nightly fee, but a handful do charge $20 a night. We initially paid $199 in 2017 and it's increased each year over the past few years. The 2023 pricing for the Trails Collection is $370 a year. 
We jumped onto the Trails Collection as soon as Thousand Trails announced it. It was a no-brainer and amazing value for money. The Trails Collection more than doubled the number of available campgrounds we could stay at. And the annual fee for this add-on is less than the cost of a week's stay just about anywhere else. We also like that the Encore parks in the Trails Collection offers more geographic diversity than Thousand Trails alone, around the country.
You can learn about the latest pricing and specials on all Thousand Trails memberships here.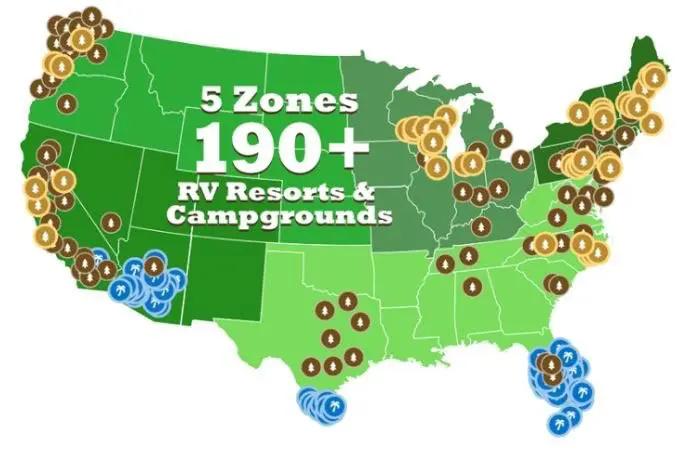 Total Nights Stayed at Thousand Trails
So, how many nights have we spent in the Thousand Trails camping network each year, since 2014? 
2014: 137 nights (68 on Zone Pass, 69 on Elite Membership for half year July – December)
2015: 200 nights
2016: 88 nights
2017: 132 nights
2018: 124 nights
2019: 126 nights
2020: 16 nights (half year January – June)
2021, 2022, and 2023 we are doing part time RV travel, not full time. But still stay in the Thousand Trails system 30-60 days per year. So our membership still more than pays for itself every year.
We have spent a total of over 900 nights camping in the Thousand Trails network. That worked out to be an average of 137 nights a year when full-time RVing. Averaging just over 4.5 months (more than a third) of the year.
More detail on nights stayed
You will also notice that we spent well over 100 nights a year in Thousand Trails during our first 6 years (except 2016) but hardly spent any time in 2020. That's because we spent January-February driving around in a
rental RV in Florida
plus another RV rental trip in Texas, where we DID stay at Fun-n-Sun RV Resort. Shortly after that, we ended up boondocking for 5 weeks in the desert when the pandemic 'shelter in place' order was issued. 2020 was an unusual year for almost all of us!
We also have a really robust off-grid system on our RV now, as well as big holding tanks. This makes it much easier to camp off grid for extended periods, so we've been doing more of that. Then we traveled to Colorado to spend a few months. In 2020 Thousand Trails didn't have any campgrounds in Colorado but now they have Blue Mesa Recreational Ranch.  
Of the 823 nights in the first 6 years, we spent 231 nights (about 28% of our time) in Encore / Trails Collection parks, while 592 nights were spent in Thousand Trails campgrounds.

Boondocking in the Arizona desert
How Much Has Thousand Trails Cost Us?
We added up all of our expenses related to buying and using our Thousand Trails camping membership from mid 2014 – mid 2020. 
This includes the purchase of our Zone Camping Pass and Elite Basic Membership Upgrade in 2014, Annual Dues on our Elite membership (2014-2019) and the Trails Collection add-on (2017-2019), plus nightly fees for Zone Pass extra nights and Trails Collection / Encore.
Total Thousand Trails Investment: $7,242 (over 6 years)
Total Nights of TT Camping: 823
Average Annual Cost of our Thousand Trails membership: $1,207

Average nightly stay: $8.80 (based on 823 nights)
Of course, if we used our Thousand Trails membership more, obviously we'd save even more. 
Spending 137 nights on average at Thousand Trails means we're spending 228 nights on average each year somewhere else! And paying quite a bit more for that.
If we didn't buy our Thousand Trails membership, we would have spent significantly more on RV camping fees over the years than we have. Buying our membership when we were still RV newbies seemed like a lot of money at the time – but we knew it would save us even more in the long run and it did. 
So, let's take a quick look at that.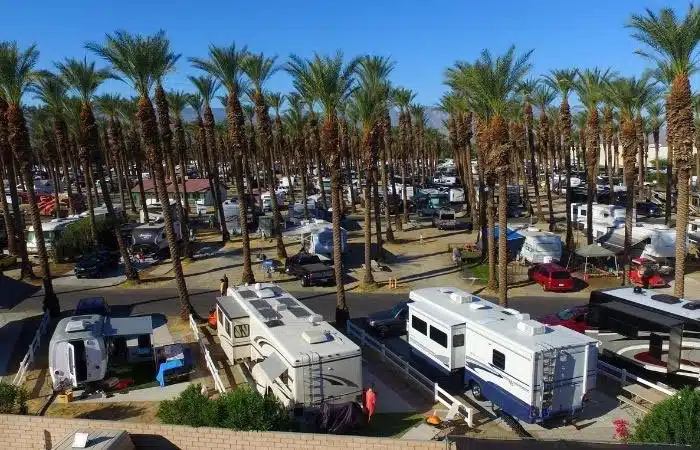 How much has our Thousand Trails membership saved us?
What we would have paid for those camping fees, had we NOT bought our Thousand Trails membership? Let's compare it to paying regular nightly rates at campgrounds around the country. 
In our experience, most campgrounds and RV parks tend to range from $25–$80 a night, depending on the location and amenities. The midpoint of that is about $52.50. But let's be conservative and base our calculations on $35 a night for an 'average' campground. Let's keep in mind that weekly and monthly rates at campgrounds are often less expensive than paying by the night. So we think $35 is a fair average to use.
If we'd spent our average annual 137 nights of Thousand Trails camping at a non-Thousand Trails campground and paid $35 a night, it would have cost us $4,795 instead of $1,207. 
So, based on that nightly fee, our Thousand Trails membership has been saving us around $3,588 a year. 
That's a total saving of $21,538 over our 6 years of full time RVing.
Of course, you can do the math on what the savings would have been at higher or lower nightly campground rates. As we said, we feel $35 a night is pretty conservative. And as you might have already discovered, it's really is not that easy to find campgrounds for $35 a night anymore, especially at peak times and holiday weekends.
Remember, these numbers don't reflect the total cost of ALL of our RV camping expenses! We are only comparing the number of nights we actually spent at Thousand Trails campgrounds, on average each year. We cover our total camping costs over the past 6 years in this article.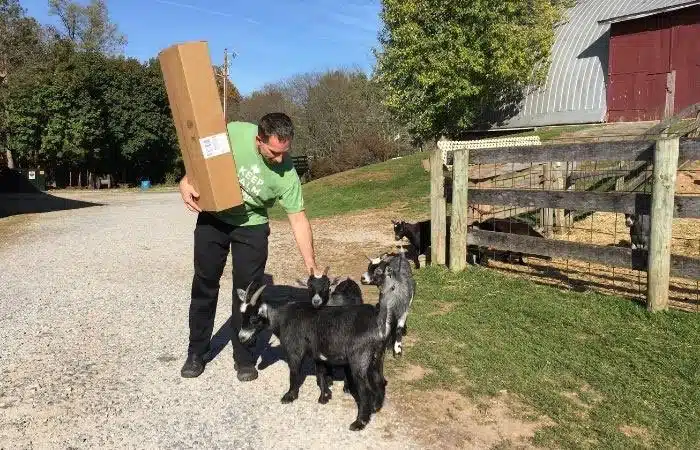 How much could YOU save?
Let's take a look at what our nightly camping fees would average with different levels of usage, staying within the Thousand Trails camping network. This may help you get a sense for how much YOU could save, if you were to use Thousand Trails for more or less time than we did.
100 nights a year: $11.56 a night
200 nights a year: $5.78 a night
300 nights a year: $3.85 a night
We actually know a lot of people who stay almost exclusively at Thousand Trails campgrounds – over 300 nights a year is common. 
Thousand Trails tends to be popular with those on a fixed income, families, or anyone – like us – who simply wants to RV inexpensively, with the convenience of hookups and amenities.
For us, saving thousands of dollars each year on our RV camping fees has been HUGE. And of course, the savings could have been much more. But we are personally very happy with the mix of our travels and type of stays over the years, as we've had a lot of variety. Our travels are not ALL about how much we save, but it sure does help!
To find out the current prices and special promotions, contact Membership Specialists, Jim and Brandy Reneau, and mention RVLOVE to get the best price, guaranteed. Click here or call 770-622-4188 for more info
Cost / Benefit Summary of Thousand Trails
When reviewing our total financial investment in Thousand Trails against how much we've actually used the Thousand Trails system, this is our takeout.
For us, investing in our Thousand Trails membership has absolutely been worth it.
Being able to camp at Thousand Trails campgrounds for only $8.80 a night – for just one third of each year for the past 6 years – has easily saved us over $21,000 so far.
When we hit the road as RVers back in 2014, we really had no idea what to expect. Managing our expenses was important. And the way we looked at it, the less we spent on campground fees, the more we had to spend on other fun stuff. Things like eating out, adventures, activities and the occasional splurge on more expensive (non Thousand Trails) RV parks in prime locations, like Niagara Falls and Key West, Florida.
Our Thousand Trails camping membership is what has enabled us to do that, comfortably, and really enjoy the variety of our RV travels.
How we use our Thousand Trails membership
Some years we stay in Thousand Trails parks more than others. But we bought our Elite membership with a 3-year view. Our intention was to use it enough in the first few years to justify the larger, initial investment. After that, we really only need to camp 3-4 weeks a year in the Thousand Trails network to make it worthwhile continuing to pay our annual dues (ours are under $600 a year). And if we decide we don't need it anymore, we can just cancel it. But we don't see that happening.
Typically, we only stay at Thousand Trails campgrounds when it suits our travel itinerary. If we're exploring the middle of the country where Thousand Trails doesn't have many locations, we don't stay at Thousand Trails. That's when we'll use one of our other camping membership options – like Harvest Hosts, Passport America, or Coast to Coast.
Knowing that we pay a fixed amount for our annual Thousand Trails camping membership and we can use it as much as we want – while saving us thousands of dollars each year in camping fees is well worth it to us. It's been a huge factor in making our RV life financially sustainable, enabling us to keep on RVing in the longer term. And that is priceless.

Some of our favorite RVing memories have been made at Thousand Trails campgrounds. And we've met some of our closest RVing friends that way too. So while we joined Thousand Trails for the cost savings, it's worth noting that these other, unexpected benefits to our membership have exceeded our expectations.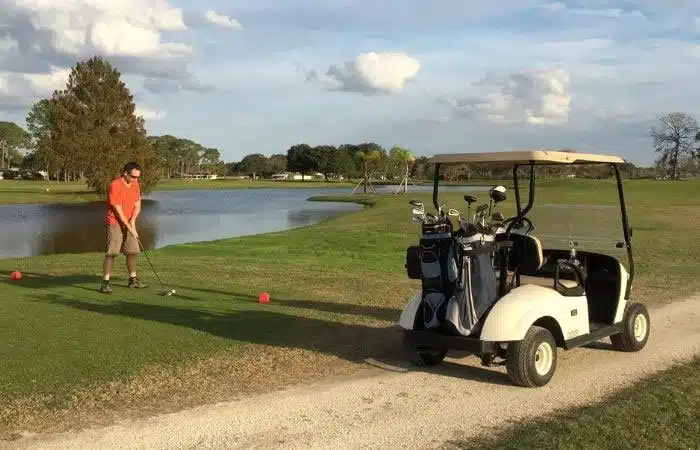 What are Thousand Trails parks like?
A lot of people ask about the standard of Thousand Trails parks. And how easy is it to get a camping reservation at Thousand Trails? We'll tell you straight up that Thousand Trails is not perfect! 
Some campgrounds are better than others, but we tend to pick and choose the ones we prefer to stay at more often. We have shared a lot more detail about the parks we've stayed at in our campground reviews. Most Thousand Trails parks  are 'good' and some 'very good' and certainly worth the price we pay for them!
We can usually get the reservations we want when booking in advance, using our 120 day reservation window. But if we're trying to secure a campsite at the most popular places during peak seasons, without a lot of lead time, then we may have to adjust our dates or find somewhere else to stay, if they are full. But we're finding that to be the case at most campgrounds these days anyway – ones you pay a nightly fee for! 
So for us, the positives of Thousand Trails still far outweigh any potential downsides. Just know what you are buying and manage your expectations and weigh up what's most important to you. Upscale RV parks or saving money? 
That's why we have shared so much about Thousand Trails over the years, to provide an accurate understanding of what to expect, before you buy. We have noticed that those who are well researched before buying a Thousand Trails membership are usually happy with it. 
Campground prices are going up
We are definitely seeing a trend that nightly campground fees are rising each year. Along with increasing demand for RV sites, there are so many new RVers hitting the road. And more people able to work remotely. We're seeing $55 a night on average more of the new norm in 2023. But we don't have to worry about that so much with our Thousand Trails membership, as we're now just paying our annual dues ($960 in 2022 for our membership plus Trails Collection add-on). 
We like the convenience of booking online 
Travel planning can be time-consuming. And we don't really enjoy researching campgrounds for hours on end or calling around RV parks to check on campsite availability. We like the convenience of being able to make our Thousand Trails reservations online and adjust them as our travel route changes. Sometimes we do call the Thousand Trails reservation line and find them to be very helpful. 
As RVing gets busier, we have found call wait times can be longer than usual, which requires some patience. But again, we are finding this to be common with many campgrounds now, as they are all so busy. We don't mind a little inconvenience when we're saving so much money.
How to Buy a Thousand Trails Membership
Well, we hope this article has been helpful! If what we've shared has you interested in learning more about Thousand Trails memberships and how you can save on your own RV camping fees. We've shared some additional useful info and contacts below to help you get the right Thousand Trails membership for you.
You have a couple of options for buying a Thousand Trails camping membership – new or used (also known as a resale). There are pros and cons to both so you'll need to decide which is the best way to go for you. We've written a ton of articles to help you understand them all, which you will find rounded up here. Or you can just go straight to our recommended contacts below for more info and to get a quote. We've shared some key tips below.
Buying a New Thousand Trails Membership
Whether you are looking to start with a Zone Camping Pass or get a membership upgrade like an Elite Basic, Elite Connections or Ultimate Odyssey you can buy these directly from a Thousand Trails Membership Specialist. Your membership will activate immediately so you can start making reservations right away. You can also finance your membership with Thousand Trails so you can pay for your membership by the month, instead of paying a lump sum up front. 
And, when you no longer need your Thousand Trails camping membership (say if you decide to stop RVing or your life circumstances change) you can sell your membership on the resale market and recoup some of your initial investment costs. 
Just keep in mind that the sooner you get a Thousand Trails membership the sooner you'll start saving on your campground fees. That's one reason buying new makes a lot of sense these days. You can start using it right away, instead of waiting for the resale transfer period.
It's a good idea to pick up one of these new Thousand Trails memberships during one of their special promotional sales, as you will save quite a bit. You can get on the list to find out when the next sale is.
This is who we recommend you buy it from…
Who We Recommend for Buying a New Thousand Trails Membership
Call Thousand Trails Membership Specialists Jim and Brandy Reneau on 770-622-4188 or email [email protected] – that's them in the blue and white hats above at a German event at Fun-n-Sun RV Resort in Texas.
That's why you will always get the BEST deal from Jim and Brandy when you mention RVLOVE (and even save $ in areas we can't mention here).
We've had a long standing relationship with Jim and Brandy. We trust them to take great care of our RVLove community.
We guarantee Jim and Brandy will get you the best deal available – whether it's a Zone Camping Pass or a membership upgrade like the Elite Basic, Elite Connections or the new Adventure upgrade – year-round.
To find out the current prices and special promotions, contact Membership Specialists, Jim and Brandy Reneau, and mention RVLOVE to get the best price. Click here or call 770-622-4188 for more info
Buying a Used/Resale Thousand Trails Membership
While you can't buy a Zone Camping Pass as a resale (you can only get those direct from Thousand Trails) you CAN buy a used membership upgrade like the Elite Basic, Elite Connections, or Adventure. You can also buy some of the older Thousand Trails memberships like the VIP, Platinum and Platinum Plus. These have fewer campgrounds available, but some of those memberships offer different benefits, that are no longer available direct from TT and may appeal to you. 
You will still be able to stay 21 nights and move from park to park. And buying used is still cheaper than buying new. BUT there are a few things you need to be aware of when buying used. These come down to time and money.
Keep these in mind when weighing up your options.
Resales/Used Thousand Trails memberships usually take about 4-8 weeks to buy, process, and transfer ownership into your name. So you'll want to plan ahead. During busy times, a resale transfer can take up to 12 weeks. This option may not work for you if you want/need your membership right away to start making your camping reservations weeks or months in advance. For example, booking your winter camping in Florida, California, and Arizona. We recommend you start the process of buying a resale membership 4-6 months before the date of your first stay, to be on the safe side.

You will also need to have the money or credit card to pay for a resale membership upfront in full. While you will save money buying used, it is important to note that for MOST resale memberships, you won't be able to sell it once you're done with it. The full camping benefits only remain intact for the original purchaser (when new) and for ONE resale buyer. S

o if your situation was to unexpectedly change and cause you to stop RVing, you likely won't be able to sell your used membership and recoup some of your investment (unless it's a Platinum membership.)
If you aren't in a rush to start using your membership, you have the funds to buy it outright, and/or you're looking for a specific kind of membership benefit that is no longer available directly through Thousand Trails, then buying a used/resale Thousand Trails camping membership is a great option.
Who We Recommend for Buying a Used Thousand Trails Membership
To buy a used Thousand Trails membership, contact Kim or Chad Hoel from Campground Membership Outlet on 800-272-0401 or send an email to: [email protected] and mention RVLOVE for the best price and service. Or simply complete the quote form below and they will get back to you with more info on inventory, pricing and availability.
Used/Resale Thousand Trails (and other) memberships are available year round from Campground Membership Outlet. We have a great, long standing relationship with them as well. They will take excellent care of you! Just let them know you're a member of the RVLove community.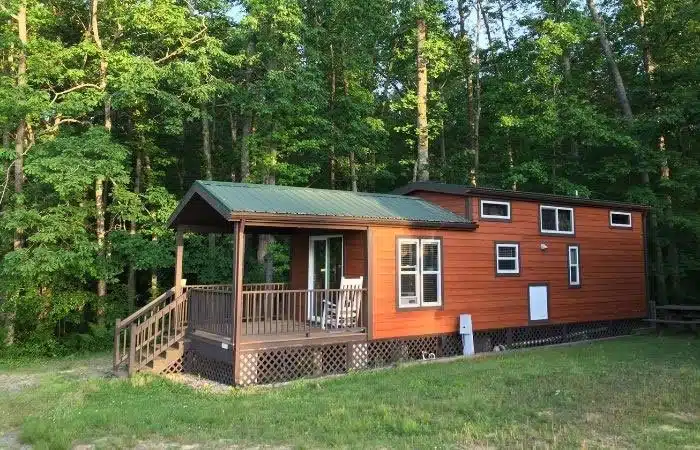 If you're interested in getting a Thousand Trails membership but aren't not sure which way to go, don't worry! It really doesn't matter whether you buy your Thousand Trails membership new or used – from Jim and Brandy Reneau of Thousand Trails or Kim and Chad Hoel of Campground Membership Outlet. 
All of them offer a fantastic service and will take care of you, helping you get set up with the best membership for your needs, timeframe and budget. But, based on our experience, the sooner you get started with a Thousand Trails camping membership, the sooner you will start saving money and enjoying your membership benefits. Time really is money, in this case.
Looking back
One thing we will say is we are SO glad we did our research in advance and started our RV life from Day 1 with our Thousand Trails camping membership. We were able to save on our RV camping fees right away. In hindsight, it would have been great to start with the Elite membership from the beginning. But back then we didn't know it even existed. It wasn't even mentioned on the Thousand Trails website like it is now!
Starting with the Zone Pass ended up being a great, low cost way for us to try out the Thousand Trails system before diving in. By the time we DID upgrade to the Elite after 4 months of full time RV travel, we were already confident that it would work for us. So we were not afraid to spend the larger sum of money, because we knew the savings would come back to us quickly.
Last but not least. We know that Thousand Trails certainly isn't for everyone. But as we have shared, Thousand Trails has worked really well for US personally for over 6 years. And of course, we plan to keep on using and enjoying our membership benefits as we travel. We'll keep sharing our experiences and campground reviews with you.  
Happy Trails!
– Julie and Marc
How to find Thousand Trails Campgrounds
You can find Thousand Trails (and Encore / Trails Collection) campground locations and reviews in a few places. We always recommend reading up on reviews to check them out as they can vary quite a bit.
GOT COMMENTS OR QUESTIONS?
We would love to hear from you. Drop us a note in the comments section below.