This post may contain affiliate links.
We know a lot about Thousand Trails memberships. As most of you know, we have been members of Thousand Trails (TT) since we hit the road in 2014 with an annual Zone Camping Pass. This worked well for several months until we decided to upgrade to an Elite membership in the fall of September 2014.
This is a big part of what makes our RV lifestyle so affordable for us. We don't stay exclusively in Thousand Trails campgrounds. However, the money we save when we do helps offset our camping fees at other places throughout the year.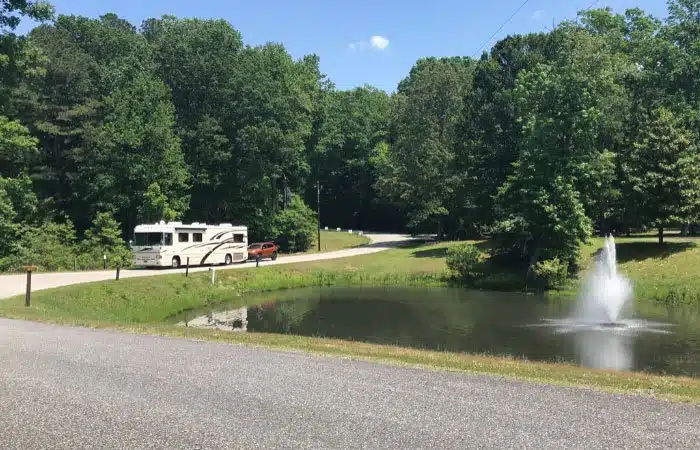 How we save with Thousand Trails Memberships
Our stays at Thousand Trails parks are free. All we pay is annual dues of about $570 a year for our Elite membership, plus $299 for the Trails Collection add-on The Trails Collection add-on gives us access to and extra 100+ Encore RV Parks where we can stay up to 14 nights at no charge.
We typically spend anywhere from 3-6 months a year camping in Thousand Trails and Encore campgrounds. Yes, we get all that for about $870 a year! Pretty hard to beat that for us. It is sometimes cheaper than boondocking as we save on the costs of running our generator, dumping tanks and an expensive solar installation! Plus, we like the free-flowing electricity, water, amenities like pool, hot tub, laundry AND the social aspect, with all the people we get to meet.
In recent months, we've been getting a lot of questions about Thousand Trails memberships. We've been asked about the benefits of buying a Zone Camping Pass vs an Elite membership upgrade. And other questions on the benefits of buying a NEW Elite membership direct from Thousand Trails instead of as a resale, as we did back in 2014.
Since Then
Since that time, Thousand Trails has made some changes to their membership offerings which offer some distinct advantages to buying a NEW membership upgrade. Yes, it costs more, but the advantages may be worth it to you. So we feel it's worth considering both options and weighing up which is the best fit for you.
I do plan to write a much more in-depth comparison blog post about the different kinds of Thousand Trails memberships, the pros and cons of each. But wanted to share a few key points here quickly now. Thousand Trails is running some Spring Specials that you will want to know about if you're in the market for a camping membership. Hopefully, this information will help you decide which way is best for you. And allow you to take advantage of the current prices before they increase on April 1st, 2018.
I just got off the phone with our insider contacts Jim and Brandy Reneau at Thousand Trails and have these updates to share.
2020 UPDATE: We just shared this update on the latest 2020 pricing on all NEW Thousand Trails memberships – Zone Camping Pass and upgrades – click here to read.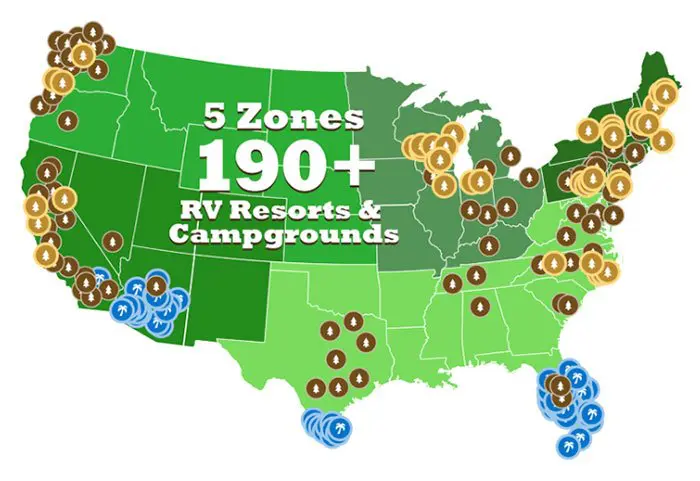 These are usually $575 $599 for an annual Zone Camping Pass for one year. They are currently advertised on the Thousand Trails website at a discount of $100. (Plus tax, if you buy from their call center in Florida, or some other states.) If you commit to the 4 year Zone Pass, you'll get an even better price.
However, if you buy through our Thousand Trails insider contacts Jim and Brandy Reneau (call them on 770-622-4188 or email), you'll enjoy a bit more of a savings. We can't publish the price here and it's always changing. So it's always best contact them directly to find out more about the current best deals available.
If you have plans to upgrade to a NEW Elite (or other) membership upgrade via Thousand Trails within the 4 year term you can do that as this locks in your annual dues at this rate ($499) for the first 4 years. However, if you plan on trying out the Zone Pass first before potentially upgrading to a one of the resale Thousand Trails memberships down the track, stick with the one year (not 4 year) Zone Pass so you're not locked into that longer contract.
Adding Extra Zones
You can also add a second zone to your Zone Camping Pass membership any time you like for just $49 $59. Which is a much better deal than when we first bought our Zone Pass back in 2014. Back then, additional zones cost over $500 each. We were lucky enough to score a BOGO deal at the time!
This is a great option if you plan to travel more widely than one state or area. The Zone Camping Pass is a great way to 'try out' Thousand Trails memberships at a low-cost and with a low commitment. You can cancel within your first year to avoid the auto-renew. if you aren't sure if you want to invest more heavily in the upgrade option like an Elite. We upgraded ours after 4 months on the road full-time.
2020 UPDATE: We just shared this update on the latest 2020 pricing on all NEW Thousand Trails memberships – Zone Camping Pass and upgrades – click here to read.
Contact Jim and Brandy Reneau by phone on 770-622-4188 or email them at [email protected] and mention RVLove. They will help you snag a Zone Camping Pass at the best (unpublished) price available. We can personally vouch that they are very friendly, helpful people and will not pressure you into buying anything!
This is actually a big reason why we like dealing with Jim and Brandy and feel comfortable recommending them. Especially after I felt burned by an awful, high-pressure sales pitch from a Thousand Trails fellow in Texas who shall remain nameless.
Jim and Brandy are the kind of people you'd want to sit around a campfire and enjoy happy hour with! So don't be concerned at all about picking up the phone to ask your questions in person. Sometimes that's easier and more efficient than playing email tag. Call me old-fashioned, but in this digital age, I still prefer a phone call so I can have all my questions answered at once. But if you prefer digital communications, you can either click here to email Jim and Brandy, or click here to buy direct from TT online at the going rate (plus taxes).
Thousand Trails Membership Upgrades (eg. Elite, Ultimate Odyssey)
As we mentioned, we purchased our Elite Membership as a resale in 2014 and wrote a detailed blog post about it. We love that we can go from park to park and stay up to 21 nights at a time. It has really helped slow down our travel pace. And while we still believe the resales offer great value (you can buy older memberships much cheaper, but there are some limitations). There are also some very attractive benefits to buying a NEW membership upgrade from Thousand Trails.
That's why I wanted to share a few key points here, that make a NEW Thousand Trails membership upgrade worth considering when weighing up which option is best for your needs.
Before we go into that, you need to know that there are 3 types of membership upgrades available NEW directly from Thousand Trails. They are Elite, Elite Connections, and Odyssey. All of these memberships allow you to travel directly from park to park.
The Elite and Elite Connections allow you to stay up to 21 nights at a time. While the Odyssey allows 28 night stays (this is MUCH more expensive). Elite Connections memberships offer other travel benefits including staying internationally at hotels and is more expensive than the Elite. But to be honest, in our opinion, the regular ELITE (cheapest option of the three) offers the best bang for your buck.
Of course, if you really want the luxury of 4 week stays instead of 3 weeks and are willing to pay for it, then consider the Odyssey. Again, we'll go into more detail on all these in a longer blog post. But for now, we think the regular Elite (the less expensive of the 3 options) is a good way to go.
Benefits of Buying NEW vs Resale
Reservation Window is 120 Days for ALL campgrounds on the NEW Elite Basic, and 180 Days for Elite Connections and Odyssey. By comparison, our older Elite membership has a reservation window of 90 days for some Thousand Trails campgrounds (Outdoor World and Mid Atlantic Resorts) and 120 days for the rest.

Ability to freeze membership dues at age 62. We can't do this. It goes up with inflation. Nothing too crazy so far though. (Ours is still about $570 a year).

Ability to finance membership purchase for up to 6 years, with monthly payments. Ours being a resale, we had to pay for our Elite membership in full up front.

Membership is activated immediately. We had to wait for almost 4 weeks for Thousand Trails Member Transfers to process it. Sometimes can be faster but up to 4 weeks (or longer, up to 6 or 8 weeks) is not uncommon, especially during busy times like Spring-Summer.

Ability to re-sell membership with full membership benefits intact and recoup some of your initial investment when you sell it. Our Elite member benefits don't transfer to the next owner if we sell our membership, so it's pointless to do so.
The upshot is, we feel both options for Thousand Trails memberships upgrades – NEW and RESALE – are worthwhile and have their unique advantages. It all depends on which of these are most important to you.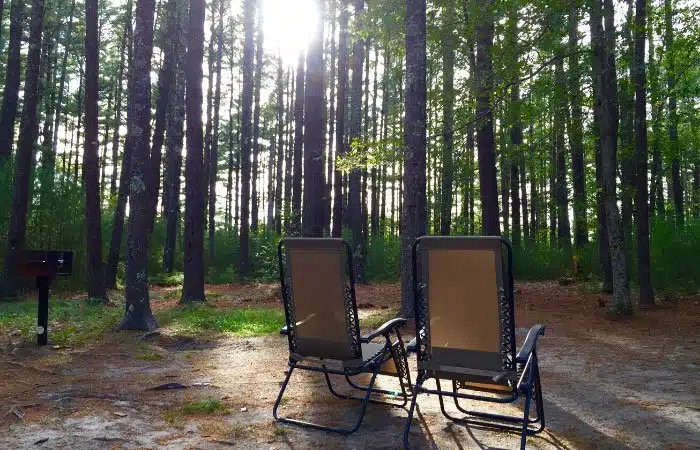 Which is the best option for you - New or Resale?
If getting the cheapest possible resale Thousand Trails membership is more important to you and you're willing to trade off the above benefits, then consider buying a resale. But, if saving time so you can get all the latest benefits, commence your membership right away and start making reservations immediately is more important to you, then consider buying new.
If you don't have the money upfront to spend thousands on a membership of any kind, and prefer a monthly payment, then buying new from Thousand Trails and financing it up to 6 years may be a better option for you financially. This is especially true knowing you can re-sell it down the track and recoup some of your initial purchase price. We've met a lot of folks on a fixed or limited income who find this option works well for them.
Prices on the NEW membership upgrades from Thousand Trails usually cost around $6,000, depending on what promotions they have running at the time. The best way to find out the latest prices is to contact Jim and Brandy. See below for their contact info. Thousand Trails doesn't publish the prices of their membership upgrades on their website. They only list prices for the Zone Camping Pass. That's their sneaky way of getting you in the door! Ha!
Save $500 when you mention RVLOVE
To get more information or prices on buying a NEW Thousand Trails memberships upgrades (eg. Elite from Thousand Trails, contact Jim and Brandy Reneau on 770-622-4188 or email them at [email protected] and mention RVLove. They will give you an automatic $500 discount when you mention RVLove and ask if there are any additional promotions running at the time. And as I mentioned above, they are no-pressure team, so don't hesitate to pick up the phone and call them or email, they are very friendly and easygoing folks.
As Thousand Trails – and RVing in general – becomes more popular, we have started noticing we need to book farther out to secure reservations. Especially true for the more popular campgrounds and peak periods.
Therefore, we do see the benefits of the longer reservation window offered by the newer memberships, especially if you are a planner who likes to have certainty around your reservations well in advance. If you don't like to plan too far in advance and are willing to be more flexible, this won't impact you as much.
When you buy a new membership from Thousand Trails, your membership is activated immediately so you can start making your reservations right away. This means you don't have to wait a month or so for your membership to be transferred from a resale. This is an important, key benefit to keep in mind especially if you are planning to stay at Thousand Trails campgrounds within the next few months.
Reservation Timing
Regardless of whether you buy new or resale Thousand Trails membership, if you are planning to stay at Thousand Trails campgrounds this spring or summer, we DO recommend you start making your reservations as soon as possible. Know that your dates and reservations aren't set in stone. You can make changes to your dates if you want to (subject to availability of course.
We move our bookings around all the time as our itinerary changes. But it is definitely advisable to try and get your reservations 'in the system' as soon as possible, to avoid disappointment. This is especially important for popular places and at peak times. Outside of peak times (eg. from Memorial Day to Labor Day in most places and in the south during winter eg. Florida, Arizona, Texas, plus all major holidays) you shouldn't have as much trouble finding reservations. But in the peak times, keep in mind you'll be competing with summer vacationers or winter snowbirds to secure campsites.
The moral of the story here is don't leave things until the last minute or you may be disappointed when you can't get reservations. The sooner you get your membership and can start booking your stays the better.
Our Recommended Contacts for Buying a Thousand Trails Membership
Zone Camping Pass:  Contact Jim and Brandy Reneau by calling them on 770-622-4188 or email [email protected] and mention RVLove to get the best deal available. They are super helpful, no-pressure and can answer all of your questions.
NEW Membership Upgrades – Elite, Elite Connections and Odyssey: Contact Jim and Brandy Reneau on 770-622-4188 or email [email protected] and mention RVLove for an automatic saving of $500. They can help you buy an Elite, Elite Connections or Odyssey membership upgrade and answer all of your questions.
RESALE Membership Upgrades: Contact Kim Hoel or Chad Hoel at Campground Membership Outlet on 800-272-0401. Or email [email protected] and mention you read RVLove's articles so she knows you're informed. Kim is super helpful and knowledgeable about all the different kinds of memberships and can help you find a resale membership that best suits your needs and budget. For example, she might have VIP, Platinum, Platinum Plus, Elite, Elite Connections, even Ultimate Odyssey etc. Many older memberships that are no longer available through Thousand Trails. Each has their unique pros and cons which we will cover in a separate blog post coming up.
GOT COMMENTS OR QUESTIONS?
We would love to hear from you. Drop us a note in the comments section below.