This post may contain affiliate links.
If you're looking for ways to save money and camp, you have probably heard about Thousand Trails (TT) camping memberships, such as the Zone Camping Pass. Thousand Trails is a popular choice among RVers (like us) looking for affordable camping options. 
But with several memberships available, Thousand Trails can quickly get confusing. In this post, we cover everything you need to know about the Thousand Trails Zone Camping Pass, also known as the Zone Pass or ZCP. And help you determine if the Zone Camping Pass is right for you, and worth the cost.
A Quick Background Of Our Thousand Trails Zone Pass
Let's start with a quick background on our experience with Thousand Trails. In the (over) six years we were full-time RVing, and other years part time, we've spent over 900 nights in more than 60 RV parks within the Thousand Trails camping network. It has literally saved us thousands of dollars each year in camping fees. In fact, we conservatively estimate we have saved well over $20,000 on camping since we joined Thousand Trails.
A couple of months before we began full-time RVing back in 2014, we bought a Thousand Trails annual Zone Pass. We knew it would help us manage our expenses on the road, and it did. Actually, we ended up with two "zones" (more on zones in a bit) for five hundred and forty five dollars. This was a low cost, low commitment way for us to get started, and try out the Thousand Trails camping network first hand, as we settled into our new life on the road.
And while we did upgrade our membership (later that year) to take advantage of the extra benefits, that was a bigger commitment, both in terms of money and time (contract term). This may be something you are interested in too. But we don't want you to get confused already, so we won't go into that now. We'll cover that in a separate blog post.
The main point here is that we started out with a Zone Camping Pass, and we still think it's a terrific inexpensive, low risk way to "try Thousand Trails before you buy". Especially if you are on the fence about whether you want to invest in one of the more expensive upgrade options. 
The Basics
So let's start with the basics – the Zone Camping Pass, which we jokingly refer to as the "gateway drug" to Thousand Trails!
Thousand Trails, commonly referred to as TT, is a national campground membership network of 81+ private RV resorts and campgrounds (also called parks or preserves) in 22 US states and B.C., Canada. Thousand Trails is celebrated "50 years of camping" in 2019, and have over 100,000 member families. So they've been around for a long time, with a few changes of ownership along the way. The parent company, Equity Lifestyle Properties (ELS), is a publicly traded company, based in Chicago, IL.
Being a private, membership-based camping network, Thousand Trails only makes a few campsites available for the public to camp in nightly, at an above average nightly rate. Their focus is on selling camping memberships – like the Zone Camping Pass – which is a much more affordable way to stay.
We describe Thousand Trails as being kind of like a "campground timeshare" but with less cost and commitment.
What kinds of camping options are available?
Thousand Trails offers camping sites for all types of RVs and tent campers, plus rental accommodations such as cabins, cottages, travel trailers, yurts, and even covered wagons! Most sites offer electrical, water and sewer hookups (some campgrounds are water/electric only); BBQ pits and picnic tables. All Thousand Trails parks have bathroom/shower rooms. They also have a dump station for dumping your waste tanks.
Amenities vary by location but typically these include a clubhouse, tennis/pickleball courts, pool, hot tub, laundry, restrooms/showers, library, RV storage, campground store, nature/hiking trails, playground, game room, horseshoe pits and so on. Some locations have mini golf, fishing, and organized activities. Thousand Trails campgrounds are gated, providing security with a ranger station at the entrance (some manned 24 hours) with gate codes for member access.
Thousand Trails has over 80 campgrounds (or preserves) around the country, across 5 Zones. Plus another 110 "Encore" RV parks, that you can access with an optional "add-on" to your membership (stay tuned for more on the Trails Collection). So all up, you have the potential to access over 190 campgrounds/RV parks nationally, as a Thousand Trails member.
What is a Thousand Trails Zone Pass?
The Thousand Trails Zone Camping Pass (also known as the Zone Pass) is an annual pass that gives you access to stay in campgrounds for free around North America.
That's right. Free. As a Thousand Trails member, you pay NO nightly fee when staying at Thousand Trails campgrounds. You only pay the fee to purchase an annual Zone Camping Pass which provides you with flexible, any-time access to the Thousand Trails parks in your "zone" for one year. You can stay up to 14 nights at a time, before having to stay 'out of the system' for 7 nights, before re-entering. 
So once you've paid for your annual zone camping pass, it means each time you go camping, it's free.
The number of parks and locations available to you as part of your Zone Camping Pass all depends on the "zone/s" you purchased as part of your membership. Keep reading.
What you need to know:
Zone Camping Passes automatically renew every year on the due date (at the market rate at that time). But you can choose to cancel it so you aren't charged beyond the initial year, if you choose. You will need to provide notice in writing in advance of the renewal date, to advise of your wish to cancel the auto-renew.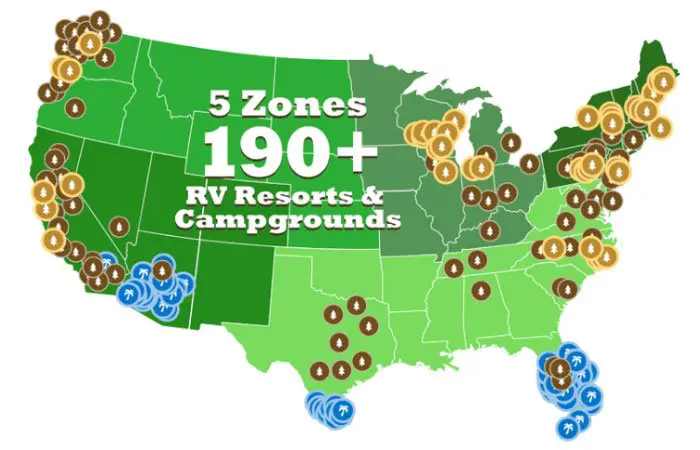 Thousand Trails divides the country up into 5 zones – Southwest, Southeast, Northwest, Northeast and Midwest. Each zone offers between 13 and 23 campgrounds.
Northwest (Washington, Oregon, BC Canada) = 18 campgrounds

Southwest (California, Nevada and Arizona) = 18 campgrounds

Midwest (Illinois, Indiana, Kentucky, Michigan, Ohio, Wisconsin) = 13 campgrounds

Northeast (Maine, Massachusetts, New Jersey, New York, Pennsylvania) = 14 campgrounds

Southeast (Alabama, Florida, North Carolina, South Carolina, Tennessee, Texas, Virginia) = 23 campgrounds
When you sign up for a Thousand Trails Zone Camping Pass, you pick your primary "zone" and have the option of adding on more zones, if you choose, for an additional fee per zone. You can add more zones at any time, and these are valid until the renewal date of your Zone Camping Pass.
How Many Zones Will You Need?
Unless you're traveling really quickly, one or two zones is often sufficient for most people within a year. And you can change your zones at any time. For example, you may spend one year on the west coast and the following year on the east coast. Or vice versa. And just buy the zones you need for each year.
For example: When we started RVing in 2014, we purchased two zones: Northwest and Southwest, with a total of 36 parks. This allowed us to stay in Thousand Trails campgrounds from California, Arizona, and Nevada, all the way up to Oregon, Washington, and even BC, Canada. That was all we needed in our first year on the road. When we upgraded to an Elite membership later that year, that gave us national coverage. Hence, we never needed to add more zones to our Zone Camping Pass.
What Do You Get With Your Zone Pass?
As a member of Thousand Trails, with a Zone Camping Pass, this is what you get:
Choice of your primary zone

Ability to add as many zones as you like for just $54 each per year

Unlimited access to all of the campgrounds in the zone(s) you select

Overnight camping in your own RV or tent (no nightly fees)

Unlimited day use of the parks in your zone

Stay at one park for up to 14 consecutive nights, then stay out of the Thousand Trails system for 7 nights before you can stay again at any Thousand Trails park (ie. you cannot go directly from park-to-park)

Stay up to 4 nights at any park and move immediately to another, without any time out of the system (ie. you're on the move every 4 days)

Make reservations up to 60 days in advance (online or by phone)

Ability to book rental units, cottages, trailers and yurts within the campgrounds

Access to low cost RV storage areas at many Thousand Trails parks

20% Off Encore RV parks (via www.RVontheGo.com) and Seasonal Deals

Ability to add the new Trails Collection add-on with 110 Encore parks. More on this below.

(1) Holiday Reservation in the system at a time
How Much Does a Zone Camping Pass Cost?
At the time of this most recent update, the annual Zone Camping Pass for a primary zone costs USD $670 for one year in 2023. This is amazing value, but if you keep an eye out for their seasonal promotions, you can often pick up a Zone Camping Pass at either 20% off or $100 off. When you do the math, the 20% off deal brings the price down to $536, which is $34 cheaper than the $100 off promo, which brings the price down to $570. 
This is for one year, with no ongoing commitment, and no additional nightly camping fees. Pretty amazing value, huh?
Note: Depending on how and where you buy your Zone Camping Pass, you may also be charged the state tax on top of that. Either way, it's still great value. More on ways to buy at the end of the article.
And, while it's always great to nab the best deal possible (if you can), don't get overly hung up on those few bucks. In the whole scheme of things, it's a fraction of what you'll end up saving every year in camping fees. Just buy at the right time for YOU. The sooner you start using Thousand Trails the sooner you'll start saving, no matter what you paid for it.
Now, if you happened to read any of our older articles, you may have read that folks used to be able to pick up a "buy one zone, get one free" deal (as we did back in 2014) and even get a bonus park included in your membership. Thousand Trails has since made some changes to their system. We actually think their new offering is even better. Here's why.
Adding More Zones to To Your Pass is Cheap
You can buy additional zones for just $90 for the year, or part thereof. And these zones can be added at any time. But the expiration/renewal date will be the same as your main zone camping pass. They don't pro-rate the fee if you purchase it part way through the year.
What that means is you pay $90 for a single extra zone – whether you use it for a year or a day. So, you can add up to 4 additional zones (giving you national access and all 80+ Thousand Trails parks) for an additional total of $360, on top of what you pay for the primary zone – usually $670 (unless they're running a special promotion). 
Now, keep in mind that you can't be everywhere at once anyway. So it makes sense to simply buy the primary zone you want to start with, then pay for the additional zone when you are ready to start making reservations in that zone. There are no cost advantages to buying additional zones sooner than when you plan to start making reservations (up to 60 days in advance).
Note: You can ONLY buy a Zone Camping Pass NEW from Thousand Trails. They are not available to be purchased (or sold) as a used or resale membership from anywhere else.
Comparing The Current Deal To Former Offer
Here is a big reason why the new Zone Pass is a better deal these days. When we bought our zone pass back in 2014, only 30 nights of free camping were included. After that, we needed to pay $3-$5 per night. Doesn't sound like much but it adds up. And it was more of a nuisance than anything. The new Zone Camping Pass memberships do not charge any extra for nightly camping. So, over time, that is a massive saving if you are using the system a lot, as we do.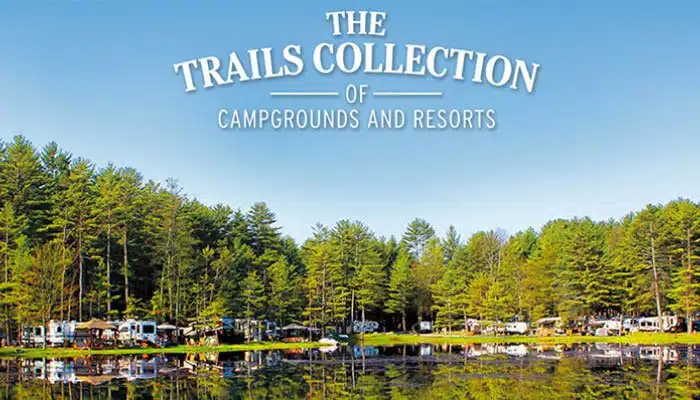 Access More Campgrounds with Trails Collection
With Thousand Trails, you get access to more than 80 campgrounds. But there is another way to add even more RV parks to your Thousand Trails Zone Camping Pass membership with the Trails Collection. This is a collection of 110 Encore RV Resorts. Thousand Trails and Encore are owned by the same parent company, Equity Lifestyle Properties. And we are big fans of their Trails Collection offering.
As a Thousand Trails member – even if you just have a single Zone Camping Pass – you are eligible to purchase the optional "Trails Collection" add-on. The Trails Collection gives you access to 110 Encore properties nationally. And you can stay up to 14 nights at a time, at NO nightly fee for MOST parks. But, there are about 18 parks that are considered "premium" parks in popular locations, and charge $20 per night.
So as well as – or instead of – buying extra zones, you can enjoy the perks of even more parks within the Trails Collection add-on. This costs $370 per year (in 2023), and the expiry/renewal date is the same as your primary Zone Camping Pass.
You cannot move from park to park using the Trails Collection upgrade. You will still need to spend 7 nights out of the system, whether you stay at a Trails Collection or Thousand Trails park.
Click here to read our in-depth article about the Trails Collection.
How Does It Add Up? Let's Do The Math.
While all this sounds like a great deal – and it is – if you're a full-time or extended travel RVer, you will also need to factor in your 'out of network' costs. That is, you will need to spend up to every 3rd week "out of the system". So you'll need to find (and pay) for 7 nights of camping for your "week out" of the Thousand Trails camping network before you can go back into another park.
Consider the average nightly camping fee these days averages out at $30-50 a night (and increasing every year). You'll soon see how easy it is to get your money's worth out of a Thousand Trails camping membership. Let's take a look at some cost-benefit scenarios.
What is the Average Nightly Cost with a Zone Pass?
Theoretically, if you're prepared to move every 4 days and stay only within the Thousand Trails network, you could camp 365 days a year with Thousand Trails for $670. Or even $536 if you scored the current 20% off deal.
This averages out at around $1.83 per night or $1.47 based on the sale price.
While technically not impossible, moving every 4 days is a pretty frenetic pace for anyone to keep up for a year. It would also be geographically limiting. Thousand Trails doesn't have campgrounds in every area you'd most likely want to visit. And we like to mix things up. When we hit the road, we never intended for ALL of our RV camping to be in Thousand Trails parks.
So let's look at some more likely options.
Option 1: One Zone Pass, staying up to 14 nights
Let's say you buy a single Thousand Trails Zone Pass, with a maximum of 23 parks (one region).
Imagine you camped for 14 nights at a Thousand Trails park, then stayed out of the system for 7 nights. Then repeatedly stayed 14 nights in, 7 nights out of Thousand Trails parks and so on for an entire year. You could theoretically camp within the Thousand Trails network for about 243 nights a year.
This averages out at $2.76 per night, or $2.21 (based on the $536 promo price). Sounds amazingly cheap, right? But remember, you also need to factor in the costs of camping OUT of the Thousand Trails network, for 7 days each time in between campgrounds. After all, it's nice to mix things up anyway, so you may decide to stay at another private campground, or a national, state or city park.
Let's say you spend the other 122 nights out of the Thousand Trails system at a campground with an average rate of $45 per night.
That would add up to $5,490 a year, or $458 per month.
Your total camping costs for the year would be:
Initial ZCP $670 + $5,490 = $6,160. Average nightly camping fee $16.88. 

Initial ZCP at the 20% off sale price of $536 + $5,490 = $6,026. 

Average nightly camping fee $16.50.
If you paid $45 a night for camping 365 nights a year (as a full-time RVer), you'd be looking at paying something like $16,425. By taking advantage of discounted weekly and monthly rates, you would end up paying less than that.
Now, keep in mind that it's getting harder and harder to find campgrounds for $45 a night or less. Campgrounds prices are going up in response to increased demand. It's not uncommon these days to see campgrounds charging upward of $60-80 or even over $180 a night in some highly desirable areas (like the Florida Keys).
The point here, is to show you just how much a Thousand Trails camping membership can help keep your camping costs down. Even if you don't use it all the time, it can help subsidize your overall camping expenses through the year. That's how we use it anyway.
Option 2: What if you boondocked half the 'time out'?
Let's say you only spent half of your "time out" of the Thousand trails camping network in campgrounds, and half the time boondocking for free. In places like free public lands; Harvest Host wineries, farms and golf resorts; Walmart parking lots etc.
Then Option 1 above would still end up costing you $2,745 a year for your time 'out of the Thousand Trails network. And your overall annual camping fees would amount to just under $3,415, or $285 per month.
This drops your average camping fee all the way down to $9.35 per night.
Option 3: Buying Two Zones + Trails Collection add-on
Let's say you plan to do quite a bit of travel and want to be able to stay in campgrounds across two zones. And you also want to purchase the Trails Collection add-on for the extra RV resorts. Let's take a look at how that adds up.
Buy your Primary Zone for $670

Add the second zone for $90

Add Trails Collection $370

Total Cost: $1130
This would give you access to anywhere from 27-41 Thousand Trails parks, plus 110 Trails Collection parks nationally. A total of 137-151 parks to choose from. This gives you much greater variety and geographic diversity. 
The same 14 day in / 7 day out rule applies. So you can still only stay in the system for a maximum of 14 days at a time.
Let's say you spend 243 days in the Thousand Trails system, that brings your nightly rate down to an average of $4.65 a night.
How much will you plan to stay in the Thousand Trails network?
Now, how much you save will all depend on how much you stay in the Thousand Trails system. We know some people who stay in it year round (with a different, upgraded membership option that allows them to do that). But most people tend to use it some of the time. That's because we like to experience different kinds of camping, and visit areas where Thousand Trails may not have any parks in the area.
Personally, we tend to spend anywhere from 90-180 days a year camping within the Thousand Trails network.
We're also going to assume you buy the two zones plus the Trails Collection (as above) as that's such a great combo that we believe would suit most people very well, with a huge number of parks to choose from.
So let's the do the math on that basis.
Even if you only spent 90 nights a year in Thousand Trails/Trails Collection parks, your average nightly rate would be $12.56.

Let's say you spent half the year in Thousand Trails (say 180 nights), that would mean a nightly rate of $6.28.
That is still significantly lower than most any nightly fee you will find anywhere else in your travels. As you can see, Thousand Trails really helps subsidize your camping costs. This helps offset what you are spending at other non-Thousand Trails-parks throughout the year. We pick and choose where we stay, which allows us to splurge at other, more expensive parks from time to time. Say at Niagara Falls or the Florida Keys.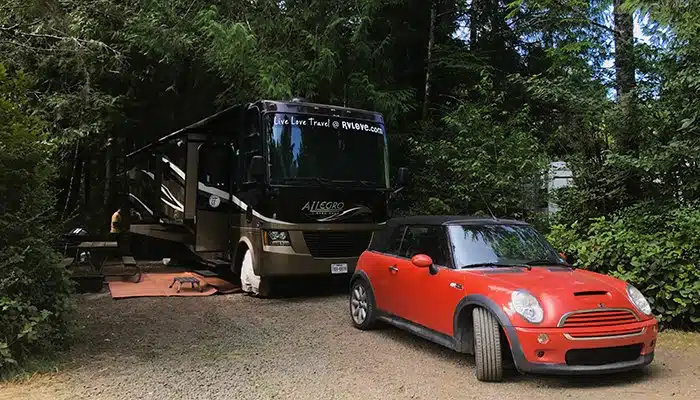 Zone Camping Pass - One Year or Four?
As we mentioned above, in 2023 you can buy an annual Zone Camping Pass for $670 – or as low as $536 if you score one of their 20% off promo deals, without any ongoing commitment. Keep in mind, when your annual renewal comes up, you will be charged the current market rate, which is subject to annual increases. It's usually not much. Since 2014, we have seen the Zone Pass increase from $525 to $670 a year. That is just $145 over 9 years. 
Now, you can get a better price on the annual zone pass if you make a longer, four (4) year commitment and elect monthly payments. You pay the first year up front, and the rest in monthly installments for the remaining three years. Then, after the 4 years, you can cancel your contract by providing advance notice in writing, or just keep paying annual renewals.
If you're a vacation camper who stays in one area (or two) and you see yourself camping this way for the next four years, this option may work for you. But if you're planning to go full-time and explore all of the states, like us, you may not want to lock yourself in for that long. 
Remember, this is a legally binding contract.
And you won't be able to get out of it, even if your travel and camping needs change. So we generally recommend just signing up for the one-year commitment when talking about Zone Passes. That way you have the flexibility to renew if you wish or make a membership change that is better suited to your camping style, without being locked into another contract.
Of course, if you do decide to commit to four years, and want to upgrade your Thousand Trails membership (say to a new Elite or Adventure, and pay for that in monthly payments) during that time, you can absolutely do so. Your annual dues commitment simply gets applied against your new membership upgrade contract. Just keep in mind, that option is only available for new membership upgrades made directly through Thousand Trails (not resales).
Getting The Best Deal On A Thousand Trails Zone Pass
Thousand Trails is pretty active when it comes to running special offers and discounts on the Zone Camping Pass. As mentioned above, the two most common promotions we see are 20% off or $100 off. And they do run special promos several times a year. However, they don't publish those dates in advance.
If you have a relationship with a Membership Specialist (as we do), you can ask them to add your name to their contact list to notify you when the next promotion is announced. Thousand Trails Membership Specialists work for Thousand Trails and are based at their campgrounds around the country.

Note: One of the advantages of working with our connections (below), is they are the first to know if Thousand Trails extends it and can let you know. Or find you another promotional deal.
Who do we recommend?
If you want to contact our own trusted sources within Thousand Trails, they are Jim and Brandy Reneau – phone 770-622-4188 or email [email protected] – we know them personally and they take great care of our RVLove community. They will ensure you get the best deal, and they provide a great service. Even if you're not ready to buy yet, shoot them a note and ask to be added to their contact list. They let you know when the next promotion is happening and answer any questions you may have.
Jim and Brandy are very pro-active about getting you the very best deal but are NOT pushy or salesy. These are just a few of the many reasons we like and recommend them.
Try Before You Buy (an upgrade)
If you are on the fence about Thousand Trails – and unsure whether you'll like it or get value out of it – we suggest starting out with a Zone Camping Pass first. That's what we did, and it ended up being a great decision for us.
We recommend you try staying in a few parks to get a feel for the variety, as they can be quite different. If you find Thousand Trails is not your cup of tea, then you haven't committed much money or locked yourself into a longer contract. Even if you only spend a few weeks or months trying out different campgrounds, based on a conservative $45 a night camping fee, the $670 comes down to about 15 nights of use. It won't take long to get your money's worth, and you are not committed long.
Our Zone Pass Experience
Even though we upgraded from a Zone Pass within the first 6 months, we got loads of value out of our Zone Pass during that time. Back when we first hit the road in 2014, we did not have the confidence, knowledge or funds, to make an initial, larger investment in one of the upgrade options. 
But the Thousand Trails Zone Pass was the perfect stepping stone for us to get there when we felt ready. By the time we did upgrade, we had absolute clarity and peace of mind that we were making the right decision for us, so we could slow our travel pace down and enjoy longer stays. This was especially important for us, as we work full-time. 
If you travel extensively, as we do, and wanting to manage your camping costs while on the road, Thousand Trails is a fantastic way to help you do that. If you find you do like the Thousand Trails camping network, you can explore your options to upgrade, and start enjoying more benefits. 
Benefits like the ability to stay 21 days at a time (with the Elite Basic, Elite Connections and other options available as resales) or even 28 days at a time (with the Adventure), and move from park to park without having to stay out of the Thousand Trails network for 7 days in between reservations.
By then, you will know exactly what you're getting into and can feel good knowing you are making a sound investment that is in alignment with your travel goals and budget.
Pros and Cons of the Thousand Trails Zone Camping Pass
In summary, let's recap with the pros and cons of a Thousand Trails Zone Pass:
PROS
Affordable, low-cost way to camp for a year with no nightly fees

Stay up to 14 days at a time

Low commitment of just one year (auto renews unless you cancel)

Variety of locations: choose 1-5 zones with 13-23 campgrounds each

Allows you to try out Thousand Trails and ensure you like it considering a membership upgrade




Option to add Trails Collection with an additional 110 RV Parks




Good choice for the vacation camper, part-timers or full-timers




Ideal for anyone on a budget, fixed income, or wanting to save money on camping fees
CONS
You need to spend 7 days out of the Thousand Trails system after each stay 5 nights or more




If you commit to a 4 year payment plan, understand that it's a contract and you won't be able to get out of it if your travel needs change (well, you probably CAN cancel it, but you will have to pay a $ penalty)




There are no Thousand Trails campgrounds in UT, ID, MT, NM, SD, ND, NE, WY, KS, OK, LA, AR, MO, IA, MN so there are some real gaps around the country
Is A Thousand Trails Zone Pass Worth It?
Honestly, whether you buy the Zone Camping Pass on the special promotion or pay the standard $670, Thousand Trails still offers amazing value. You won't find more affordable camping anywhere else. We know as we've looked high and low, and this is the only camping membership network that makes camping so affordable. Especially for full-time RVers like us. The more you travel and use it, the more you save.
Over 9 years and 900 nights later, we calculate that our Thousand Trails camping membership has easily saved well over $20,000 in nightly camping fees. It's a no-brainer for anyone considering camping more than two weeks a year, RVers who do extended or full-time travel. And especially if you're on a budget and want to contain your camping costs.
An Unexpected Bonus of Staying in Thousand Trails Parks
One big unexpected bonus to us of our Thousand Trails membership is the friends we've made while staying Thousand Trails parks. Because Thousand Trails is membership based and most RVers tend to travel north in the summer and south in the winter, we've met many people that we see at multiple parks along the way. We get to catch up often as we travel, and being in the same campground makes reconnecting so much easier. So while we joined Thousand Trails to save money, we now have a fantastic RVing community as an added bonus! And that's priceless to us.
Ultimately, only you can decide if a Thousand Trails Membership – and in this case a Zone Camping Pass – is worth it for you. But we hope that what we've shared from our own experience helps you on your way. It's low cost and low risk. What have you got to lose by trying it out? As you've probably gathered, having been Thousand Trails members now for almost 5 years,  it's a camping membership that we are big fans of. It's an important part of what makes our full-time RVing life so affordable.
How and Where to Buy a Zone Camping Pass
Ready to give it a try? You can ONLY buy the Thousand Trails Zone Camping Pass from Thousand Trails (not from private parties or on the resale market). You have a few options for buying a Zone Camping Pass, which we've listed below.
1. Buy from our insider Thousand Trails contacts
Contact our trusted sources within Thousand Trails, Jim and Brandy Reneau. Ph: 770-622-4188 or email [email protected]
We have met Jim and Brandy in person several times and really like their friendly, laid back approach and their focus on on helping people. So we feel very confident referring our RVLove community to them, knowing they are in good hands. They can also keep you updated of any upcoming promotions, special discounts and answer any questions you may have about new Thousand Trails upgrades, like the Elite Basic, Elite Connections and Ultimate Odyssey, which we'll be covering in more detail in a separate post.
PS. That's us with Jim, Brandy and their awesome dogs Cash (the big fella) and Princess in the photo above.
2. Buy direct from Thousand Trails via website or call center
If you're the type who likes to instantly purchase online, you can buy a TT Zone Pass online right here. Or you can phone the call center on 1-877-730-5935.
3. Buy from another Thousand Trails Membership Specialist
If you happen to be at an RV show, RV rally, or even a Thousand Trails campground where you get chatting to another Membership Specialist, you can also buy direct from them. Let them know you read our article, if it helped you in your decision to buy.
And remember to also factor in sales tax on top of your purchase, which will vary depending on the state you buy it from.
If you found this article helpful, there are a few ways you can say thanks!
If you do end up buying a Thousand Trails membership – whether it's from our contacts Jim and Brandy, another Membership Specialist, or the Thousand Trails online / call center – and you feel inspired to say 'thanks' please tell them we referred you: Marc & Julie Bennett, Thousand Trails Member Number 298683360. It won't cost you anything, but Thousand Trails may send us a VISA Gift card which will buy us a round of drinks. Naturally, we never expect this but it's always a very welcome bonus which we'll graciously accept as we toast you and your new membership! And the money you'll be saving!

Please share this article – via social media or email – we truly appreciate it!

Please leave us a comment below – we'd love to hear from you!
Maybe we'll meet up at a campground sometime! Until, then, Happy Trails!
GOT COMMENTS OR QUESTIONS?
We would love to hear from you. Drop us a note in the comments section below.