This post may contain affiliate links.
Whether you're already a Thousand Trails (TT) member – with a Zone Pass or one of the upgrade options like Elite, Platinum, VIP, Alliance, Odyssey, Adventure etc – you're going to want to check out the Trails Collection offering by Thousand Trails. 
This post will help you consider if it's worthwhile adding this extension onto your existing membership. The Trails Collection is basically a selection of Encore RV Parks. Encore and Thousand Trails are owned by the same parent company, Equity Lifestyle Properties. So, it's an attractive way to dramatically expand your camping options for a bargain price.
In this article, we'll give you the lowdown, along with the benefits and limitations. It will help you understand how the Thousand Trails Trails Collection works. And help you decide if you're ready to pull your credit card out and snag one of these while you can. You will notice I use the term "Trails Collection" and "Encore RV Parks" interchangeably. Just know it's the same thing.
The Trails Collection is 'Thousand Trails branded terminology' for a group of Encore RV Resorts that are now being made more affordable and accessible to new and existing Thousand Trails members. It's a marketing term that distinguishes the Thousand Trails parks from the Encore parks. But first, for the benefit of those of you who may not be familiar with Thousand Trails and their camping memberships, let's start with a brief introduction before diving into the detail.
If you are already a Thousand Trails member and familiar with how it works, you can jump down to the features and benefits, rules, and limitations section.
The Thousand Trails Trails Collection Backstory
We learned about the Trails Collection while staying at the Thousand Trails campground in Bend-Sunriver, Oregon. Occasionally, while staying at a Thousand Trails campground, we'll drop into one of their sales presentations to see if we can learn something new or different to share with you all. This one turned out to be a serendipitous drop-in indeed. And well worth our time. 
If you're a full-time RVer like us – or even an extended stay / part-time RVer – it's pretty well known that it's pretty hard to beat the value for money offered by a Thousand Trails camping membership. We consider it a no-brainer. But we also understand it may not be for everyone.
Our regular Thousand Trails membership allows us to stay at 80+ campgrounds available around the country. We can stay at these RV parks 'for free' (after buying a membership and paying annual dues). It makes our RV lifestyle extremely affordable. And we consider it a no-brainer for full-timers especially. If you're spending at least 30 nights a year in a Thousand Trails campground, it's virtually impossible to find a cheaper way to camp. 
Less expensive than boondocking
For us, it's actually less expensive staying in Thousand Trails campgrounds than boondocking. Which is one of the reasons we do it so often. We get water and electric hookups, sewer (most of the time), access to a laundry, pool, hot tub, and more. Plus it's become one of our best ways to meet fellow RVers and find community. Many of our RVing friends also stay in Thousand Trails often. So a campground stay can often turn into a reunion!
RELATED: Is Thousand Trails Worth it? Our Comprehensive Review after over eight years and 900 nights of RV camping
Expanded camping options
So when we discovered a way to expand our camping network from 81 parks to 191, we were all ears. We showed up at the presentation hosted by Jim and Brandy Reneau who provided wine slushies, cheese, and crackers. Then settled in to get the scoop. We have to say, it was actually the most enjoyable Thousand Trails presentation we've ever attended. Jim and Brandy were laid back, friendly, and fun. And they patiently answered our many questions.
Let's return to the Trails Collection and what you get for just $370 a year! Trails Collection was originally $199 per year. The price has increased annually since it was first offered in 2017. But It's still a bargain.
In August 2017, Thousand Trails introduced the Trails Collection camping option that can be added to ANY Thousand Trails membership. That means Zone Passes AND any/all of the upgrade options. Regardless of whether you bought it new direct from Thousand Trails or whether you picked up a discounted, resale membership as we did back in 2014.
And in 2020, they also introduced the Trails Collection PLUS as a benefit for Adventure memberships. Click here to learn more about the Adventure membership and Trails Collection Plus.
The Trails Collection essentially makes a large number of Encore RV Parks available to Thousand Trails members for free (after purchase). Encore and Thousand Trails are owned by the same company, Equity Lifestyle Properties.
In a nutshell, for just $370 per year, the Trails Collection adds around 110 Encore RV Parks to your existing Thousand Trails membership. It allows you to stay up to 14 days at a time at any available Encore property for free, multiple times a year.
Nightly Fees for Trails Collection
There is NO nightly fee for 92 of the properties. But for 18 of the higher-end/more popular Encore properties such as San Francisco RV Resort, Marina Dunes, Sunshine Key, and Miami, to name a few, there is a $20 per night fee, plus taxes.
The retail rates for these particular RV Resorts can be well over $100 a night. So, this still makes for an awesome deal. The Trails Collection is essentially a group of Encore Properties. Not all of them, but 110 of them, which is a significant number. They are considered "Affiliated Resorts." So it's not exactly the same as simply expanding the 80+ Thousand Trails camping network to 190, but kind of.
OK, let's dig into the key features and benefits of the Trails Collection.
Photo: Our campsite at Thousand Trails in Bend, Oregon with Thousand Trails reps Jim and Brandy Reneau and their awesome dogs Cash (Mastif) and Princess (King Charles Spaniel)
Features and Benefits of the Trails Collection
110 Encore RV parks are added to your Thousand Trails membership

When combined with Thousand Trails parks, you gain access to a total of up to 191 campgrounds/RV parks nationwide

You can stay up to 14 nights at a time at any park

There is no fee to stay at 92 of the Encore RV Parks in the Trails Collection. But 18 parks charge a nightly fee of $20 + tax

You can make advance reservations up to 60 days in advance

The Trails Collection add-on currently costs $370 per year

The Trails Collection PLUS add-on is available exclusively to Adventure members and costs $670 per year
As you can see, the Trails Collection will likely be a pretty attractive option for just about any Thousand Trails member. Regardless of your membership type, it automatically expands your camping access by 110 parks. That is ON TOP of what you already have included in your membership. No matter which kind you have.
Trails Collection for Zone Pass
What we find interesting is that even those with a single annual Zone Camping Pass (one Zone/region costs $670 per year as of February 2023) will be able to add the 110 Trails Collection (Encore) parks NATIONALLY onto their membership. This makes for a pretty incredible deal.
If you want longer stays (up to 21 nights) and have the ability to go park-to-park with no time out of the Thousand Trails system, you will want to consider an upgrade option.  Upgrades like the Elite, Elite Connections, and Adventure. Or also the VIP and Platinum if it is a resale membership. And while these are more expensive (usually in the thousands), they are still very worthwhile for people who get a lot of use out of their membership, as we do.
In 2021, Thousand Trails introduced the Adventure Membership. It offers the exclusive Trails Collection Plus add-on. This gives you the ability to book Trails Collection (Encore) parks 90 days in advance and stay up to 21 nights. And also the ability to move directly from Encore park to Encore park. These are HUGE benefits for those who travel extensively and like to stay at Thousand Trails / Encore RV resorts a lot.
RELATED:  What is the NEW Thousand Trails Adventure Membership Upgrade?
Photo: Our campsite at the Encore Mt Hood RV Resort in Oregon
Trails Collection Plus (Adventure members)
In 2021, Thousand Trails introduced a second Trails Collection program called the Trails Collection PLUS. This is exclusive to those with an Adventure membership, and offers additional benefits, such as:
Stay up to 21 nights at Encore properties in the Trails Collection, just as you would within the Thousand Trails campground network

Book Trails Collection parks 90 days in advance. This is a huge advantage as you will more often than not be able to secure your reservation.

Park-to-park access, with

21 Days in / seven days out of an Encore park if you wish to return to the same property. Instead of 14 days in / seven days out with the original Trails Collection. The exception to this is the two Florida Keys properties – Sunshine Key and Fiesta Key – which require 28 days out in between returns to the same resort. 
The Trails Collection PLUS is $670 per year, on top of your annual dues for the Adventure membership. 
Learn more about Adventure Membership and Trails Collection Plus
OK, back to the key features and benefits of the standard Trails Collection! Many of these still apply to the Trails Collection Plus.
Photo: Our campsite at Thousand Trails in Bend, Oregon with Thousand Trails reps Jim and Brandy Reneau and their awesome dogs Cash (Mastif) and Princess (King Charles Spaniel)
Rules and Limitations of the Trails Collection
There are, of course, some gotchas that you need to be aware of. Yup, the fine print! But don't worry, they aren't too bad. And note that the Trails Collection PLUS (which is exclusive to Adventure memberships) has additional benefits.
If you are a Zone Pass holder spending five or more nights at a park (Thousand Trails or Trails Collection), you must stay out of the TT/TC system for seven days before going to another park.

If you have a Thousand Trails membership upgrade (Elite, Elite Connections, Odyssey, Adventure, Platinum, VIP, Alliance, etc.) with park-to-park privileges, the '7 days out rule' does NOT apply.

You cannot move directly from park to park with Trails Collection properties like you can with the Thousand Trails membership upgrades UNLESS you have the Trails Collection PLUS add-on, which is exclusive to Adventure members.

You cannot make back-to-back reservations for Trails Collection parks like you can with Thousand Trails. You can go from Thousand Trails to Encore to Thousand Trails. But you cannot move directly from Encore to Encore Parks within Trails Collection

UNLESS you have Adventure Membership Trails Collection PLUS add-on. 

Reservations are subject to availability, and not all sites are available for Trails Collection members (e.g., premium sites)

Every park has a minimum of 10 sites allocated to Trails Collection members. We heard that some larger properties may offer 40+ sites.

Some Encore RV Parks may have an RV age or condition restriction. This means they may not allow RVs more than 10 or 15 years old to stay in the parks. It is not a hard and fast rule across the network. But tends to be dependent on each park/manager. If in doubt, check the rules and restrictions at the time of making your reservation. (Note: This RV age restriction rule does not apply to Thousand Trails campgrounds. But the RV condition restriction may still apply.)

Many Encore RV Parks in the sunbelt (e.g., Arizona and Florida) are MEMBER AGE RESTRICTED in that at least one member must be aged 55 or older in order to be able to stay. While we have seen and heard of occasional exceptions, this rule tends to be more strictly enforced during peak times, like winter in the southern states.

If your Thousand Trails membership already has specific Encore parks INCLUDED, then your usual Thousand Trails reservation window (e.g., typically 120 days or more) remains the same for those Encore parks ONLY (check your Thousand Trails contract for details). For all other parks in the Trails Collection and not included in your Thousand Trails membership the reservation window is 60 days. But Adventure memberships with the Trails Collection PLUS add-on have a 90-day reservation window.

The $370 Trails Collection fee is charged immediately when you sign up and is automatically added to your annual dues invoice at renewal time. But you can request Thousand Trails to cancel/remove the Trails Collection if/when you choose (no pro-rata refunds). This annual fee is $670 for Trails Collection PLUS.

Thousand Trails will not pro-rata the $370 (or $670 for Trails Collection Plus). So if your annual dues anniversary is January and you buy the Trails Collection in September, you will pay $370 (or $670 for Adventure / Trails Collection Plus) twice. Once at the time of initial purchase then again with your annual dues again in January.

You can contact Thousand Trails Member Services and ask them to delay activating your Trails Collection privileges until your annual dues date to avoid two charges close together. They did this for us.

Membership in the Trails Collection is only valid for one year and is subject to renewal. And with likely cost increases annually. It was $199 back in 2017, and now in 2023, it's $370 yearly.

You must be a Thousand Trails member in good standing. This means your dues/payments are up to date to access the Trails Collection.

Trails Collection privileges are NOT available for Family Courtesy Card holders to use.

Encore RV Parks will only accommodate RVs that are fully self-contained. NO tents, popups, or van conversions.

Some Encore RV Parks may have stricter rules around the AGE of the RV (e.g., no RVs older than ten years). Rules can vary from park to park. So be sure to call ahead and check on their rules before making a reservation as it may not be honored upon arrival if you don't qualify according to their rules.
Remember, if your annual dues are coming up soon, you can call and ask Thousand Trails to sign you up but hold off starting the Trails Collection access until your dues date. They will charge you the $370 (or $670 for Trails Collection Plus) immediately. But at least you won't be paying it for say just three months of access and be charged again with your next round of Trails Collection dues. You will get access for the full year.
In fact, we signed up online right away the first weekend it became available. Then a Thousand Trails Membership Representative called me on Monday and offered to delay our commencement date until our dues anniversary in early December. This saved us from being charged in August and again in December. Of course, we can't use the Trails Collection during that time, but we didn't need to anyway. We did plan to use it in December though. So it made sense for us to delay our start date and avoid paying the Trails Collection add-on fee twice, just a few months apart.
Things to Keep in Mind...
As always, it pays to understand what you are buying. So you can manage your expectations accordingly. Keep these things in mind:
As the Trails Collection becomes more popular, we expect those 10 (or more) allocated campsites for TC members will probably get snapped up pretty quickly. However, with over 100 properties, this probably won't start to become an issue with so many to choose from. We hope that as Thousand Trails monitors the occupancy, they may increase the site allocation in line with demand. But there are no guarantees. Adventure membership holders with the Trails Collection Plus add-on almost always get reservations. Their booking window is 90 days.

For all bookings, we recommend you check the RV Park's policies to ensure you qualify for a stay before making your reservation. Each park is entitled to set its own rules. So go to the specific park's page on the Thousand Trails website (or call them). Ask if they have any specific policies you need to be aware of. Especially around age restrictions of Members OR RVs. Some Encore properties, especially in the sunbelt in the winter (AZ, TX, FL), are "Age Qualified." Which means at least one member must be 55 or older to be able to stay. Plus, Encore properties have a strict 10 (or 15) year RV AGE RESTRICTION. So be sure to check first to ensure your RV qualifies.

If you are a Thousand Trails member traveling with a tent, popup, or van conversion, you're out of luck. RV units must be self-contained.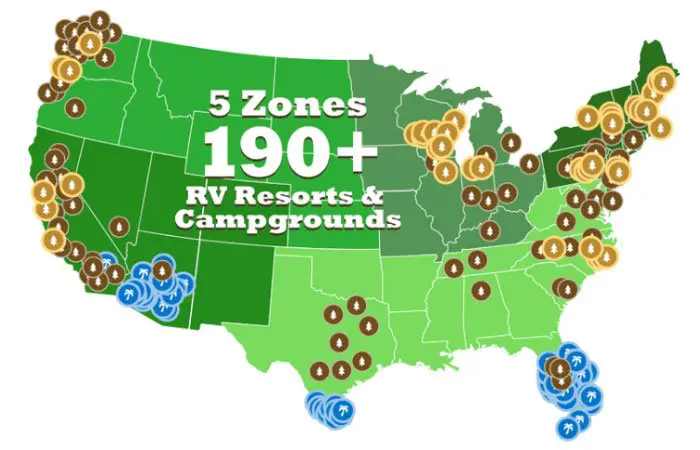 Where Are the Trails Collection Parks?
As you will see from the above map, the heaviest presence is on the east and west coasts, midwest, and Texas, which correlates pretty closely with the geography of Thousand Trails campgrounds. However, we find many Encore parks to be of a higher quality and often more conveniently located than many Thousand Trails campgrounds. 
Some of our favorite Encore parks are included in the Trails Collection. Resorts like Narrows Too near Acadia National Park in Maine, Marina Dunes RV Resort in California, and Mt Hood in Washington. And we're looking forward to getting out and exploring a whole lot more Encore properties now!
To view the list of Trails Collection parks, click here and scroll down to the map and the text below. You can view by individual zone or click TRAILS COLLECTION (on the right) to view the entire list.
Something to note: For some reason, they have called the Trails Collection Properties in the northern part of the USA "Campgrounds" and those in the southern part (snowbird belt) "RV Resorts." But they all work exactly the same when it comes to benefits, reservations, and usage. When looking at the above map, you will see those campgrounds are shown as Yellow dots, RV Resorts are shown as Blue dots, and Thousand Trails properties are shown as Brown dots.
Is the Trails Collection Worth It?
Of course, that is for you to decide, but hopefully, by now, you've been able to work out that this really is a screaming deal for anyone who likes to stay in RV parks with hookups. In our opinion, it is DEFINITELY worth paying $370 (it is $670 for Trails Collection Plus for Adventure members) to get access to an additional 110 Encore / Trails Collection properties as part of your Thousand Trails membership.
Most Thousand Trails campgrounds charge a minimum of $50 a night. And the majority of Encore properties are easily $70 and up. So, just one week at an Encore / Trails Collection park would more than cover your investment. Most of the 18 Trails Collection parks that charge a $20 fee have retail rates over $100 per night! But remember, at the other 92 Encore resorts, your stay would be free for up to 14 days.
How to get the Trails Collection
If you're already a member, it's SUPER easy. Log into your Thousand Trails Member account, and you will see on the left side menu "Trails Collection." Click that button, which will bring up your account and add $370 per year ($670 for the Trails Collection Plus, exclusive to Adventure members). You will be charged immediately, regardless of when your annual dues are due.
Note: When we signed up for the Trails Collection back in 2017, it cost $199, so that's why you see that amount below. As of 2023, the Trails Collection costs $370 a year.
Note: The image above is from our 2017 addition. Since then, it has been automatic, including the annual increases in price.
Other Options
Or, if you prefer, you can call Thousand Trails Member Services at 800-388-7788 and ask them to add it for you. No matter which way you go, upon payment, you will be charged immediately, and you will get almost instant access to the Trails Collection properties and be able to start making reservations right away.
I must admit, it was pretty exciting to log into my Thousand Trails account and, with the click of a few buttons, suddenly see my choice of campgrounds jump from 81 to 191! It feels like we now have a smorgasbord of places to explore. And it opens up our camping options dramatically. Gotta say, as an RVer, it feels a bit like Christmas!
Remember, if you are NOT already a Thousand Trails member, you will need to become one first in order to be able to buy and access the Trails Collection. There are a few options below to choose from. We have provided a quick overview of each, along with the contact details of the people we personally know, trust, and recommend to help you get set up with a great deal.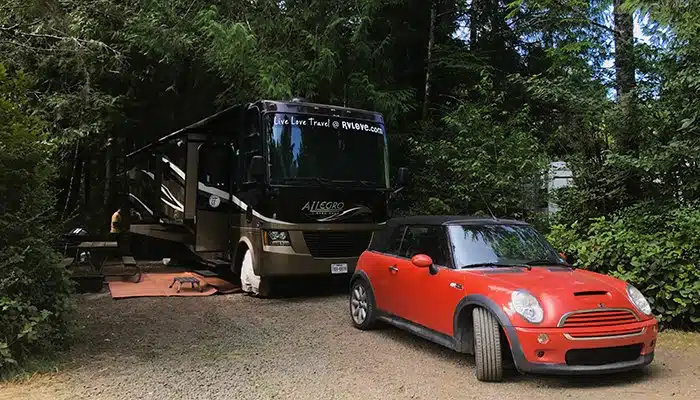 How to Sign Up for a Thousand Trails Membership
Below we have shared a few options for you to consider. Which is the best way to go depends entirely on your needs and budget. Read on to dig a little deeper and learn more about each of them. We've included links to some of our other related blog posts which we hope you find helpful to learn about the different memberships and narrow down to the best option for you.
To buy a Thousand Trails Zone Pass
Reach out to one of our Thousand Trails inside connections and contact Jim or Brandy Reneau by phone on 770-622-4188 or shoot them an email. If you're happy with the 14 days in, seven days out limitations, and the low cost/low commitment of the Thousand Trails Zone Pass, they will be able to help you get a better deal and more personalized service than you will experience online or via the Thousand Trails call center. We have met Jim and Brandy personally (see the earlier photo with their awesome dogs). Getting to know them for many years now, we appreciate their laid-back, non-sales approach. 
They are easygoing and helpful and will be happy to answer all of your questions. They can sign you up for a Zone Pass and add the Trails Collection at the same time to give you instant membership access. Zone Passes usually cost $670 for a year, and you can add an additional Zone for $90, but they often have specials (like 20% or $100 off. Tell them RV Love sent you and that we said hi! We already did the legwork by grilling them to ensure they look after our RVLove community. And we personally guarantee Jim and Brandy will get you the best deal available. 
To buy a NEW Membership Upgrade from Thousand Trails
Again, we recommend you contact Jim or Brandy Reneau by phone at 770-622-4188 or shoot them an email. When it comes to buying a NEW Thousand Trails membership upgrade, you have three options. They are Elite, Elite Connections, and Adventure. Plan on spending $7K-13K (or more) for these. It depends on which one you purchase and how well you negotiate. We suspect there's a good chance you could negotiate the Trails Collection to be included with your membership, especially if you're dropping that kind of cash! Whether you buy outright or choose Thousand Trail's monthly payment plan (with interest), ask how to get the best deal. 
At certain times of the year, Thousand Trails runs special promotions that aren't usually publicized so you may get lucky. Or, if you aren't in a hurry, you can give Jim your number or email address and ask him to contact you when a special deal comes up. Tell them RV Love sent you and that we said hi! Remember, we already did the legwork by grilling them to make sure they look after our followers, so Jim and Brandy can guarantee you will get the very best deal available and they provide excellent service.
To buy a RESALE (used  Thousand Trails Membership Upgrade
You'll want to reach out to Kim Hoel at Campground Membership Outlet (CMO) at 800-272-0401 or click here to email. We wrote extensively about buying our resale membership upgrade here and highly recommend Kim (and her brother Chad) from CMO. They are membership brokers who handle the majority of Thousand Trails membership resales and transfers. And there is absolutely NO FEE for their service. We had a great experience with them in 2014, and since then, hundreds of people have emailed us to say the same. Buying a resale membership can be extremely complex and confusing. So before you even attempt to do this, please read this article to learn about them and get our advice on what you need to look out for.
With a resale membership (usually $3k-5k depending on what you buy) you actually have several options. This includes some of the older memberships that are no longer available. Some still have great benefits, like Platinum, Platinum Plus, and VIP. These tend to be less expensive than the Elite, Elite Connections, Odyssey, and Adventure memberships. But they may be all you really need. We have an Elite, but Platinum/VIP memberships are typically cheaper and may fit your needs and budget. They may even offer unique benefits no longer offered directly by Thousand Trails.
And you can add 110 Trails Collection / Encore properties nationally to any Thousand Trails membership. Just know that you will have to pay for a resale membership in full upfront. They don't offer a payment plan, but this is a cost-effective way to buy a Thousand Trails membership upgrade.
Did You Find This Post Helpful?
If you found this article helpful, you end up buying a Thousand Trails membership (whether it's a Zone Pass, new or resale/used), and you want to say 'thanks,' please tell your member representative we referred you: Marc and Julie Bennett of RVLove, Thousand Trails Member Number 298683360. They may send us a VISA Gift card which will buy us a round of drinks. Of course, we never expect this. But it's always a very welcome bonus which we'll graciously accept as we toast you, your new membership, and how much it will save you!
If you're adding the Trails Collection to an existing Thousand Trails membership, there is no referral option, so simply log into your account or call to upgrade and enjoy!
But if you STILL wanted to say thanks in some way, please feel free to use this link next time you do your Amazon shopping (for anything, not just RV gear). We are Amazon affiliates and earn a small commission from them. It won't cost you a cent extra to use our Amazon shopping link. If you do, THANK YOU! 🙂
We hope you get as much value and use from the Thousand Trails and Trails Collection as we do. Maybe we'll meet up at a campground sometime? Happy Trails!
Useful Contacts and Links
GOT COMMENTS OR QUESTIONS?
We would love to hear from you. Drop us a note in the comments section below.