This post may contain affiliate links.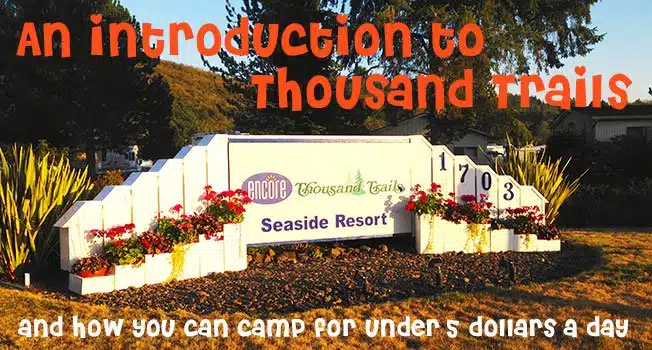 One of the important aspects of planning for our RV lifestyle was putting together our budget. As we live, travel and work full-time from our RV, campgrounds fees had the potential to be one of our biggest monthly expenditures. We wanted to create as much certainty as possible around the financials so we could feel confident about pulling this whole thing off without blowing the budget!
So before we even bought our RV and hit the road, we researched the various types of camping memberships available – Escapees to Passport America, RPI and Thousand Trails – to name a few. We liked the Thousand Trails (TT) model best as a starting point, as we felt their "Zone Park Pass" offered excellent value for money and was a great way for us to get started and try out their campground network, for a minimal investment.
2023 UPDATE: We just overhauled our Thousand Trails article on Zone Camping Passes with the latest information and prices. Jump over and read it here.
Now, if you watched our "6 months on the road: Our 4 Biggest Changes" video update you would be aware that we ended up switching over to an Elite membership five months into our 12 month Zone Pass membership. If you are traveling extensively, this may also be a good option for you, but there is a whole smorgasbord of Thousand Trails membership options available and making sense of them all can get kind of complicated and confusing.
That's why we decided to share what we've learned about both the Thousand Trails Zone Park Pass and the Thousand Trails Membership Upgrades (such as Elite, Platinum, Platinum Plus, Alliance) in two separate articles (as outlined below) that each focus on a certain membership type.
If you aren't yet a Thousand Trails member and are exploring whether or not it's right for you, then we'd recommend you start here and learn about the the benefits and limitations of the Thousand Trails Zone Park Pass first.
If you already have a Thousand Trails Zone Pass and/or plan to travel more extensively, I'd recommend you jump right over and read our other post: Thousand Trails Membership Upgrade: Elite, Platinum and more
Before we dive in, please keep in mind that we are by no means "experts" in this area, nor are we affiliated with Thousand Trails in any way. We're just a regular couple who have invested a lot of time and energy in researching our options before spending our hard-earned cash and become Thousand Trails members! It is our hope that by sharing what we've learned along the way, you will find it easier to determine the best kind of membership to suit your needs and get the best deal in the process.
Ready to learn more? Let's go!
2023 UPDATE: We just overhauled our Thousand Trails article on Zone Camping Passes with the latest information and prices. Jump over and read it here.

What is Thousand Trails?
If you haven't already discovered this by scouring their website, Thousand Trails (TT) is a national campground membership network of over 80 private RV resorts and campgrounds (also called preserves) in 22 US states and B.C., Canada. Most (not all) sites offer electrical, water and sewer hookups, BBQ pits and picnic tables.
Thousand Trails offers sites for all types of RVs, tent campers, rental accommodations such as cabins, cottages, travel trailers, yurts and even covered wagons! Facilities vary by location but typically include a clubhouse, tennis/pickleball courts, pool, hot tub, laundry, restrooms/showers, library, RV storage, store, nature/hiking trails, playground, game room, horseshoe pits and so on.
Some locations have mini golf, fishing and organized activities. Thousand Trails campgrounds are gated, providing security with a ranger station at the entrance (some manned 24 hours) with gate codes for member access.
Thousand Trails has been operating as a member organization since 1969 and currently has over 100,000 member families. It is kind of like a "campground timeshare" but with less cost and commitment.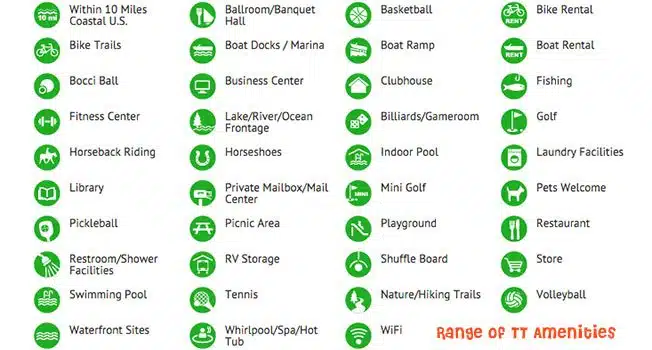 What is a Zone Park Pass?
The Zone Park Pass (also known as the Zone Pass) is an annual camping pass that gives you access to campgrounds in one, two or more "zones" around the country. The Zone Pass provides flexible, any-time access at Thousand Trails campgrounds within the zones you select at the time of purchase. Thousand Trails has divided the country up into 5 zones: Southwest, Southeast, Northwest, Northeast and Midwest with each zone having between 13 and 23 campgrounds. You simply pay an annual fee to access the TT preserves – the number and locations available to you will depend on the "zone/s" you purchased as part of your membership.
The Zone Park Pass is kind of the "gateway drug" to Thousand Trails. It's cheap, quick and easy to get started and, as a full-time RVer, once you start enjoying the benefits and appreciating the value you're getting, you just may get hooked and want more! (That's when you read our other blog post about upgrade options).

What does a Zone Pass cost?
Strangely enough, there are a few different answers to this question – it all depends on who you speak to and what questions you ask!
At the time we purchased our Zone Pass in May 2014, they were running a "buy one zone, get one free" deal for $545, so we scored both the Northwest and Southwest Zones for that price. The sales rep we spoke to was keen to seal the deal, so she offered us a bonus – adding on Tahoe Valley RV Resort, an Encore property in South Lake Tahoe – this gave us access to a total of 37 campgrounds. She also advised that we could "swap" one of our zones during the year – for example, we could swap out the Northwest (or Southwest) Zone for say the Midwest Zone, effectively giving us access to 3 zones within a twelve month period, all for $545.
You can pay for one year and either renew it the following year or not. The TT website is no longer promoting the "buy one zone, get one free" promotion that we scored, so we called them this week to ask if we could still get that deal.
2017 UPDATE: There is also a new Trails Collection add-on option available which gives you access to 110 Encore Properties nationally for just $199 per year. See our blog post to learn more about the Trails Collection.
2023 UPDATE: This year, the cost of a Zone Pass increased to $670 and additional Zones are $90 per zone. The Trails Collection add-on is now $370 per year. Click here to learn more.
When you are ready to buy your zone pass, don't just simply pay the first price Thousand Trails quotes you! They can usually do better and you may be able to get the same deal down the track, even if you don't buy it same day. Of course, we can't guarantee it and they certainly won't tell you that – they are trying to sell you a membership after all! If necessary, hang up the phone and call back to speak with a different sales rep and see if you get offered the same deal or manage to find something different.
Although they may not appear on the Thousand Trails website, there are all kinds of promotional offers available behind the scenes, although you may need to ask some leading questions, such as:
If I commit and pay in full today, can I get two zones for the price of one?
Are there any bonus Encore properties available that you can add onto my membership?
Do I have the ability to swap out one of my zones for another within the year?
What are my options if I want to pay by the month?
Any other promotional offers, options and bonuses are available?
What's the best you can do if I pay for one year up-front today?
You may or may not be able to score a deal like we did, but even if you manage to buy the One Zone Pass upfront for $630, you'll still find it a very affordable and easy way to travel and camp.
You may also notice a National Zone Camping Pass advertised on the TT website, offering access to all 5 zones. Keep reading this article (and then this one) before you even think about pulling your credit card out of your wallet!

What do you get with a Zone Pass?
Here's a snapshot of the Zone Pass terms and conditions, as outlined in our contract. These may be subject to change if Thousand Trails decides to amend the Zone Pass terms, but this gives you a good general overview:
Access to all of the campgrounds in the zone(s) you select
Unlimited day use and unlimited overnight camping in your own RV or tent
The extra nightly fee was dropped off of memberships around 2018 and forward.
Stay at one preserve for up to 14 consecutive nights, then stay out of the TT system for 7 nights before you stay again at

any

preserve
Stay up to 4 nights at any preserve and move immediately to another, without any time out of the system
Ability to make reservations up to 60 days in advance (online or by phone)
Ability to book rental units, cottages, trailers and yurts within the campgrounds
Access to low cost RV storage areas at many preserves
20% discount when staying at Encore properties
Ability to add the new Trails Collection add-on with 110 Encore parks for just for $370 a year
2023 UPDATE: We just overhauled our Main Thousand Trails article on Zone Camping Passes with the latest information and prices. Jump over and read it here.
What's the average nightly campground fee with a Thousand Trails Zone Pass?
If you're prepared to move every 4 days and stay only within the TT network, you could theoretically camp 365 days a year with Thousand Trails for $670. This averages out at around $1.84 per night. While not impossible, that's a pretty frenetic pace for anyone to keep up for an entire year, not to mention geographically limiting, as Thousand Trails doesn't have campgrounds in every area you'd most likely want to visit.
So let's look at the other option. If you camped 14 nights at a Thousand Trails park, then stayed out of the system for 7 nights, 14 nights in, 7 nights out and so on for an entire year, you could theoretically camp within the network for about 243 nights a year, which averages out at $2.76 per night. You will also need to factor in the costs for camping out of the TT network. Let's say you spend 16 weeks a year out of the Thousand Trails system at $280 per week ($40 per night) and this adds up to around $4,480 a year. That means your overall annual camping fees would amount to just under $5,150, or $429 per month.
When you consider that most campgrounds with hookups range between $40-80 per night, it's easy to see why Thousand Trails represents such good value, especially for full-timers like us! With electrical, water and sewer included, it's pretty hard to beat.
What are our thoughts on the Thousand Trails campgrounds?
While the purpose of this article isn't to provide reviews of individual campgrounds, we can share a little about our experience, having stayed at dozens of their parks so far. It's important to be aware that the size, location, sites, amenities and standard of each campground can vary quite widely. Here, we share a handful of examples to give you an idea of our likes and dislikes of some of the preserves we've visited.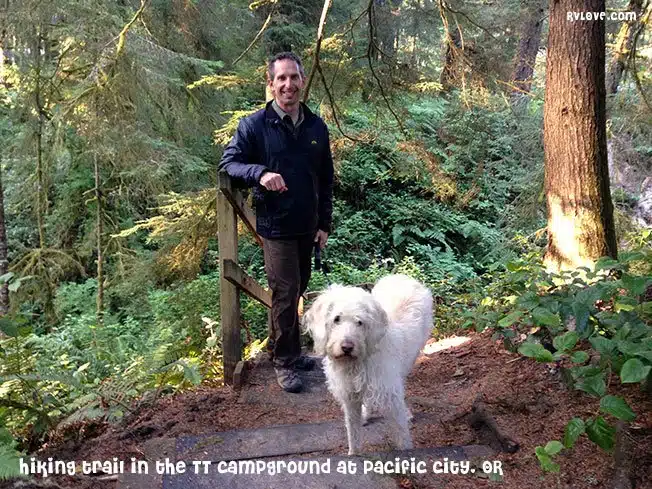 We've stayed at some parks that are very well maintained with excellent facilities, such as Palm Springs and Seaside and others that are very run down like Soledad Canyon in Acton, CA where a lot of the electrical sites are broken. We've experienced wonderful views and a lovely environment at Rancho Oso in Santa Barbara, CA and Ponderosa in Lotus, CA and we've been bored senseless at Lake Minden, CA (108 degree summer temps!) as we don't really like fishing and they don't have a pool.
There have been stays nestled among lush, leafy green trees in Florence, OR and stuck in a dry dustbowl at Morgan Hill, CA. We know, it's neither Thousand Trail's nor California's fault there's been a three year drought. We've had trouble getting our packages delivered to Pacific City, OR yet had mail and Amazon packages personally delivered to our door by the friendly rangers at both Cloverdale and Oakzanita Springs, CA.
In Whaler's Rest, OR and Rancho Oso, CA we had insufficient cell signal/internet for us to work from. But enjoyed super fast, reliable connectivity at Chehalis and Mt Vernon, WA (among others). Navigating our 36 foot motorhome was a breeze in Birch Bay, WA and Palm Springs, CA and more of a challenge (though do-able) in Oakzanita Springs and Cloverdale, CA.
Whaler's Rest and Pacific City in Oregon were ideally located across the road from the beach while Soledad Canyon in Acton, CA was almost an hour's drive by car away from the beaches, Santa Monica, Hollywood and other L.A. action. The campground in Long Beach, WA was a little cramped with one electrical pod for every 4 rigs to share, but the people there were super friendly and we had one of our best days ever biking the trail right behind the campground.
We've heard other members complain about the Thousand Trails campgrounds they don't like, when some of those very campgrounds end up ranking among our favorites!
The Reality Is
The short answer is, it really all comes down to what you like and what is most important to you in a campground. We don't live in a perfect world and Thousand Trails campground certainly aren't perfect either. Yes, we agree the company could spend more money upgrading some of their campgrounds, internal roads, sites, electrical posts and facilities, and we do see upgrades taking place here and there.
It all comes down to the dollars they have available. Personally, we'd be OK with an increase in our annual dues to support more park upgrades, as we are full-timers who use the Thousand Trails system fairly heavily, but I'm sure not every one of their 100,000+ member families would agree or welcome a price hike!
In our opinion, it's difficult to compare Thousand Trails campgrounds with many others that charge $45+ per night, as you're simply not paying anywhere near that kind of money to enjoy the Thousand Trails member benefits year round.
We definitely appreciate nice places and campgrounds and we often stay at nicer parks outside of the Thousand Trails system. If you have a preference for staying in upmarket campgrounds on a more regular basis, then Thousand Trails may not be for you.
If however, you don't mind campgrounds that are occasionally a little more 'rustic' then you'll probably be just as happy with Thousand Trails as we are. It all comes down to your expectations and attitude. We tend to be the kind of people who focus on the good and positive things in life, so we tend to appreciate each campground and experience for what it is.
We also like to stay at as many Thousand Trails RV parks as we can and form our own opinions. The RV parks we enjoy most we return to, the ones we enjoy least we don't, it's as simple as that. You will find there are plenty to choose from and in the end, it's up to you – we all have different preferences.
Finally, one of the things we do enjoy and appreciate greatly about being Thousand Trails members is the sense of community it offers. Now that we've been traveling for 7+ months, we are starting to see some of the same people at different campgrounds and have been forming many new friendships on the road. This continues to be our experience over 8 years later.
You may have heard us talk about the sense of community and new friends we've made through Thousand Trails in our "6 months on the road video." Being full-timer RVers, we place a high value on the social aspect and the ability to create a new community on the road is important to us. It's hard to find that in public campgrounds unless you're a member of some other kind of RV club with social groups (such as Escapees).
If you are looking for a cost effective way to camp year-round, in our opinion you can't go wrong starting out with a basic TT Zone Pass – it's so affordable for what you get, especially if you full-time like us, and you're not tied down by a long term contract. But again, read our other post about TT membership upgrades before making a final decision. Who knows, depending on your situation, it may be better for you to start with an upgrade right away?
To become more familiar with the Thousand Trails preserves, we suggest you visit the Explore Campgrounds section of the Thousand Trails website, check out a few RV park reviews and discover for yourself what other members have to say about their experience at each of the parks. You can also watch the excellent Thousand Trails campground videos made by Gone with the Wynns.
2023 UPDATE: We just overhauled our main Thousand Trails article on Zone Camping Passes with the latest information and prices. Jump over and read it here.
In summary, here's our "Cliff Notes" version of what we see as the pros and cons of Thousand Trails and the Zone Pass:
PROS
Affordable – it's a great, low cost way to try out Thousand Trails out and see if you like them
Low commitment – pay for your contract upfront and simply renew annual fee yearly
Variety of locations – choose from 13-23 campgrounds per zone within the network
Amenities – clubhouse, pool, spa, sporting facilities, laundry and more
Community – meet and befriend other members as you travel and camp together
Some (not all) campgrounds are in great locations (eg. near the beach, sand dunes, state parks)
Good choice for the part time vacation camper
CONS
Some parks are not as well maintained and/or have inferior electrical posts (some are quite rustic, a few may even be rundown, though this can change over time as they conduct property upgrades)
RV sites in some parks can be close together like a parking lot, or difficult to access with big rigs
If you commit to a 4 year payment plan, it may prevent you from upgrading to another membership in that timeframe
Some (not all) campgrounds can be in more remote areas and a bit of a drive from area attractions
Campground WIFI tends to be slow or unreliable so having your own WIFI setup is recommended if you depend on it (see our post 'Best RV Internet')
Some areas can have poor or no cell coverage (maybe 10-15% in our experience on the West Coast)
There are no TT campgrounds in UT, ID, MT, NM, SD, ND, NE, WY, KS, OK, LA, AR, MO, IA, MN
The TT Zone Pass is not available to residents of MN, MS and SD
After all of your research, if you've decided a Zone Park Pass is right for you, let's recap on how you can get the best bang for your buck!
Useful Links and Contacts
Here's some more information you may find useful:
Thousand Trails – explore campground amenities, see photos, watch videos
RV Park Reviews – search for specific states and campgrounds and read up on what other members think of Thousand Trails campgrounds
Thousand Trails Zone Pass Membership Sales: If you think a zone pass might be a good fit for you, be sure to read this article on How to get the best deal on a zone pass. Or call our Thousand Trails Membership Specialists, Joanna and Pat Parizo, at 631-921-1674 or 352-396-6835.
Well, that's about all we've got to share with you about the Thousand Trails Zone Pass! We hope you learned something new and feel well informed to make the best choice for you.
If you are an extensive traveler and want to learn more about the Thousand Trails Membership Upgrade Options (eg. Elite, Platinum, Alliance) and why we chose to go that route, please click here.
It will educate you about the benefits, differences and the process – you may even going direct to a membership upgrade option is a better fit for your needs than a Zone Pass. And we're confident that by reading this article before you buy, it can save you a HUGE amount of time and money.
We'll do our best to keep this article up to date as things change over time. If you happen to learn of any changes that Thousand Trails makes to their plans, rules or inclusions, please drop us a line and let us know.
Was this article helpful to you? Awesome! Here's how you can thank us!
1. "Like" this post and share it with your social networks, friends, family – anyone that may find it useful
2. If you decide to buy a Thousand Trails Zone Pass, reach out to our contacts in this article. You certainly don't have to do this, but if you are feeling all warm and fuzzy about the time, effort and money we've saved you and you want to say "good onya", you can give them our details as your referring member: Marc & Julie Bennett #298683360. Thousand Trails will apparently send us a gift card as a little 'thank you' which will buy us dinner! And for that, we will thank YOU! Yay! We love win/wins 🙂
3. We always love to hear from you – please us what you thought of this article in the comments section below. If you scored a great deal on your Zone Pass, let us know by sharing the details with us here! It will also help others who read this article and related comments.
© RVLove.com