This post may contain affiliate links.
The new Camp Margaritaville RV Resort in Auburndale Florida is one of the nicest RV resorts we have ever stayed at. Honestly, we have to admit, this is actually our favorite RV property (to date), from all of our years of RV travel. This is a surprisingly special and well appointed resort, with laidback, friendly "Margaritaville vibes" that transport you to vacation mode within minutes of arriving. After all, it's hard to miss the reminder that "it's 5'o'clock somewhere" as soon as you roll in! 
One of the views from the mini golf course
Aside from the impressive resort and amenities, a key ingredient we noticed that makes this place different to so many others we have stayed, is their amazing attention to detail. This is actually a family-owned and run resort, which is licensed under the Camp Margaritaville brand. You can feel that the family who built and run this place – and their team – truly care about creating a wonderful space and experience for their RV and cabana guests. 
Read on to learn more about what this resort has to offer, the rates, and the RVLOVE discount code they kindly offered for us to share with our readers.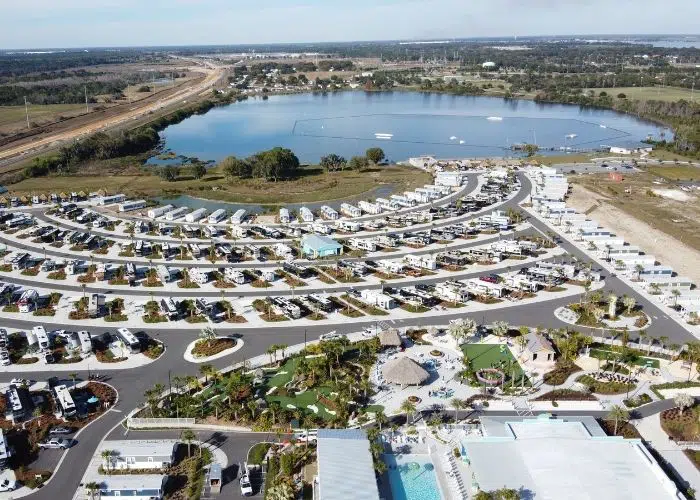 Location Of Camp Margaritaville RV Resort In Auburndale Florida
Auburndale is located in central Florida, roughly halfway between Tampa and Orlando and about 10 miles from Lakeland. As you can see from the map below, there are many lakes in the area, including one adjacent to the property.
The lakeside location helps create an island vibe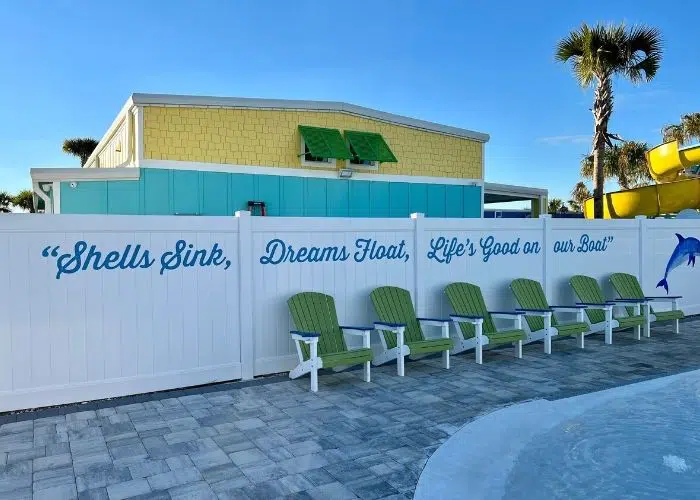 Song lyrics by Jimmy Buffet, the man behind the Margaritaville brand, are everywhere
There are currently three Camp Margaritaville RV Resorts. But they are not all the same. Two Camp Margaritaville locations (TN and GA) were developed by Margaritaville group. The Auburndale property was developed by a private family, who later partnered with the Camp Margaritaville brand to set a new standard and style for future properties. This review is specifically for Auburndale Florida – as it is the only location we have visited.
Camp Margaritaville RV Resort in Auburndale Florida is a destination in and of itself. It is one of those rare RV resorts where you could quite comfortably spend your entire vacation, without ever having (or wanting) to leave it to be entertained. It almost feels like an island vacation resort, or as Julie said, a cruise ship on land. With that said, there are still some nice attractions in the area you may want to visit, with Camp Margaritaville as your base.
There is an excellent multi-use path for biking, walking, and running – called the Auburndale TECO Trail, just 0.3 miles from the resort's front gate. It connected with the Van Fleet Trail, for over 30 miles of biking trails! There's also an elite cable waterski park next door, and cute smaller towns like Winter Haven nearby. But being halfway between Tampa and Orlando, there are enormous opportunities about an hour or so away. These include major theme parks like Disney, Universal studios, Busch Gardens, Sea World, Legoland and more.
There's even a nature preserve on the lakeside of the property, with wildlife inhabitants.
Biking the Auburndale TECO Trail, and its a fairly easy ride to Walmart for supplies
Though we went out on a few bike rides, did some grocery shopping at Walmart, and drove to visit a nearby town for Thai food, Camp Margaritaville was so nice we hardly left it. A friend had been raving about the place, insisting we meet her there, so we booked our first stay for 6 days in January. We liked the place so much that we booked a return visit the following week, for another 10 days in February!
This place makes it easy for guests to mingle (if you want to). So, we expect many other guests also spend most of their time at the RV resort, since it is the main attraction and destination.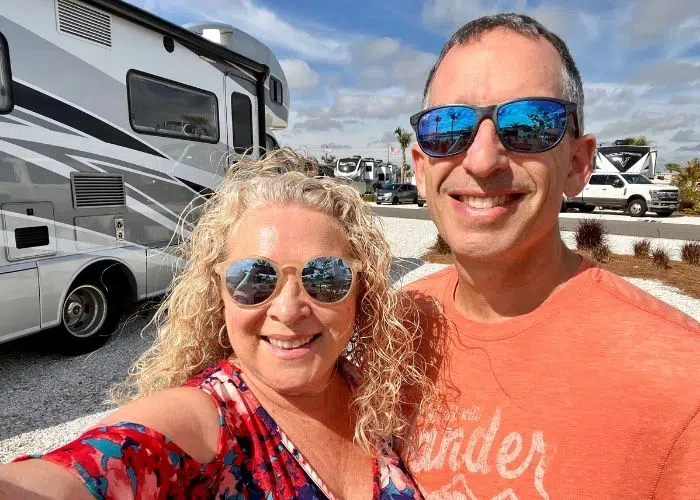 Amenities and Activities At Camp Margaritaville
The amenities at the Auburndale Florida Camp Margaritaville RV resort are truly among the best we have ever seen in over eight years of RV travel (more than 6 years full time). It's quite new, being open for about a year, and the latest (final) major expansion will be completed around the end of April 2022. Being so new, the resort and its amenities are in excellent condition, very clean, beautiful, and immersive, with a real island vacation feel.  
The community Tiki Hut and bar are in the center of the property, and the hub of all the action! The Tiki bar sells drinks (with a happy hour), has TVs, and plays upbeat music throughout the day and night (except quiet hours). There are multiple community fire pits around this central area, for gathering with friends, meeting other guests, and making new friendships. There is also stage for live music. 
Some nights (usually weekends) they have food trucks, and they have an active event and activity schedule, that you can sign up for text message alerts to get updates.
There are two big play areas for kids. One is by the welcome center, and the other is beside the Tiki hut and community fire pits. This makes it easy for adults to relax, while keeping an eye on their kids playing close by.
The beautifully landscaped miniature golf course is also located by the central Tiki hut, as are the corn-hole game boards.
Pool areas and other amenities
There were two fantastic pool areas at the time of our visit, with a third being built (that has since been completed). In the center of the resort, the 'family pool' has a water slide and a waterfall feature. Plus, there is a separate, large 'splash zone' for little kids, with lounge chairs for parents to relax. The third pool is located by the lake.
There's also a basketball court, a well equipped fitness center, and an arcade room. Plus a clubhouse / business center where you can relax or work.
Fun for your furry friends
There are also three 'Bark-aritaville' dog parks. Two with regular grass for bigger dogs, and one for smaller dogs that has astroturf. We spent a LOT of time in the smaller Bark-aritaville dog park with our pup Sunny who LOVED it. At least twice a day, we would head up there so he could play with the ball, meet new friends (this place is like a doodle-palooza!) and drink from the fire hydrant water fountain. 
We made good use of the handy Bark-aritaville dog spa with two separate sink stations and washing supplies) plus a table with dryer, which made dog bathing so much easier!
More amenities, soon to be completed
At the time of our visits, even more amenities were still under construction. These will likely be finished by the time you get to stay, as the estimated completion date was by summer 2022. 
Those additional amenities include: beach volleyball, pizza restaurant, burger restaurant, a quieter "license to chill' pool area by the lake and waterfront sites, and probably more we don't know about! They are also building a huge indoor recreation facility for events.
We don't usually tend to use many of the amenities at RV parks and campgrounds we stay at, but at Camp Margaritaville, we took full advantage of many. For us, this felt more like a 'vacation' than most of our other RV camping stays. It was so NICE and fun, with something for all of us to enjoy.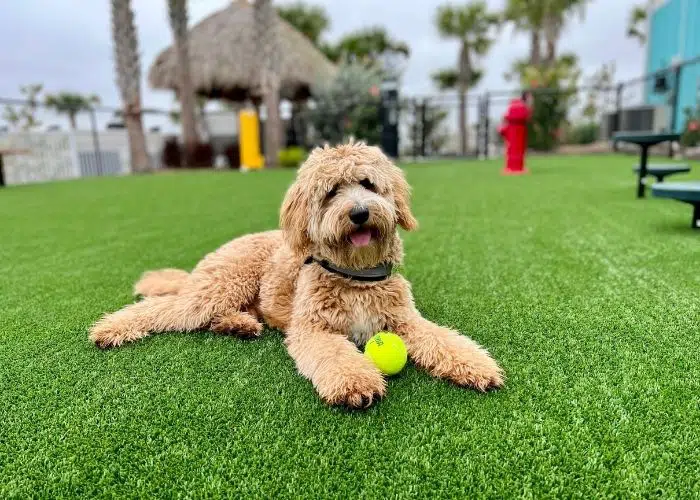 Our pup Sunny LOVED the Bark-aritaville dog park with astro turf
Practical Amenities At Camp Margaritaville
There are many other practical amenities at Camp Margaritaville in Auburndale Florida.  There's a large Camp Store in the Check-in / Clubhouse, with RV supplies, food, drinks, clothing, plus Margaritaville branded merchandise and gifts. You will also find comfort stations, laundry rooms, rental golf carts, and plenty of dog bag dispensers situated around the property.
Other attention to detail that RVers will appreciate, are the easy to maneuver roads, very spacious RV sites, and the beautiful landscaping all around.
The Camp Store has drinks, snacks, RV supplies, Margaritaville merch and gifts
During our stay, Camp Margaritaville in Auburndale Florida was accepting packages and mail. But we always recommend checking on current policies at any campground, before shipping items. Experience has taught us these can change without notice, at any time. We appreciated the convenience of their office accepting packages, during our stay.
Cellular coverage was very good in this area for our two carriers, Verizon and T-Mobile. They also have WIFI available in the resort that is very good. They also have cable TV, but we don't watch TV, so didn't try to use it.
RV Site Layout and Types At Camp Margaritaville
The Auburndale Florida Camp Margaritaville RV Resort has extra deep campsites with 15 feet of open space in front. These large sites and very wide roads make this one of the most big rig friendly RV resorts we have seen. It has been thoughtfully designed, with the needs of just about every RVer in mind. At the time of our visit, there were about 250 total sites. With construction underway, they advised their expansion of an additional 150 back-in sites and 25 more cabanas should be finished by summer 2022.
During our visit there were about 90 pull through sites, 90 back-in sites and 75 cabana/cabins. RVers should not be intimidated by the back-in sites, as they are so large and easy to maneuver into, and a staff member in a golf cart guides you to your site. All RV sites can accommodate larger rigs.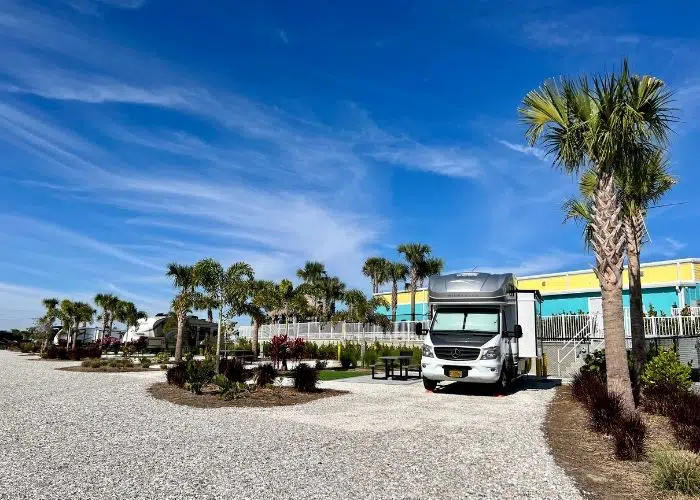 Our RV campsite during our first visit in January
A typical campsite, with seashell surface, paved patio, and lush landscaping
What do you get with a regular RV campsite?
Sites are wide, level and separated from neighboring sites with attractive landscaping. Most sites are predominantly white seashells, but all have paver patios and a small area of artificial turf. All regular campsites have full hookups, with 20/30/50amp electrical, water, sewer, cable TV, charcoal grills and picnic tables. 
We were impressed by the thoughtful layout of the resort, which is designed to have the patio side of most RV sites facing north or east, so it isn't as hot in the evenings when relaxing outside on your patio.
Paved patio, astro turf, picnic table and landscaping on a typical campsite
Premium Motorhome Suites
The nicest sites on the property are for pull in motorhomes. These sites are paved and situated on or near the lakefront, with a view of Lake Myrtle. These premium sites have 110/50/30 amp service, include an outdoor kitchen/bar area under a private Tiki hut roof complete with fridge, Kamado Joe grill and outdoor TV, CATV and wireless internet. There's even a small private sandy 'beach' spot with a hammock, and 2 Adirondack chairs for relaxing. 
No towable RVs (fifth wheels, travel trailers, truck campers etc) are allowed in these spots. But we understand that – due to desirability of these amenities – some of the other standard campsites around the property are presently being upgraded to add some of these features, like a Tiki hut and grill. These will be available to all RV types.
Motorhome Suites have a private tiki hut, outdoor kitchen, grill, seating and beach hammock
Cabana Cabins At Camp Margaritaville
You can also rent cabana cabins at Camp Margaritaville in Auburndale Florida, which is handy for those who don't have an RV. There were 75 when we were there, and the plan is to have around 100 cabins, once the resort is complete. These are nicely appointed, with tasteful decor.
Most have a front porch and/or paved patio, picnic table and a space to park your car. Cabana cabins are almost exclusively along the perimeter of the resort, and are colorfully painted to add to the island vibe. 
Some Cabana cabin porches also have a fireplace, seating, TV and ceiling fan.
Getting To Camp Margaritaville
The Auburndale Florida Camp Margaritaville location is in central Florida with major roads nearby, so it is extremely easy to get to. Being in central Florida, there are no major hills, or other RV unfriendly terrain. So it's an easy drive into the property in any kind of RV. You'll pull up at the manned security gate, then be directed to the welcome center to check in. An attendant in a golf cart will guide you to your campsite.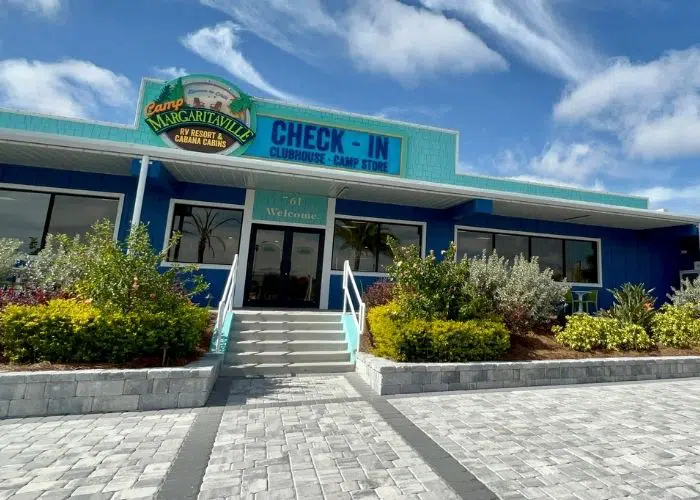 Absolutely beautiful new RV resort
Friendly, helpful staff who pay attention to the details
Large access roads and campsites for ease of maneuvering
The best RV amenities we have experienced to date
All inclusive feel promotes relaxation and fun
Activities for all ages and pets
Comfortable and attractive new Cabana cabins
Ideal for gatherings, with both RV and cabin options
All RV types welcome, not just motorhomes
Open all year round
Discounts for weekly stays
A+
10% discount with RVLOVE code
Currently (April 2022) still some construction and noise, while they finish up projects
Rates range from $80 – $200+ per night, which may be expensive for some, but has a lot of amenities
A little road noise in the sites far from the main center
Some music noise if your site/cabin is close to the central Tiki hut/bar, except during quiet hours
May be tough to get a reservation due to high demand, especially on weekends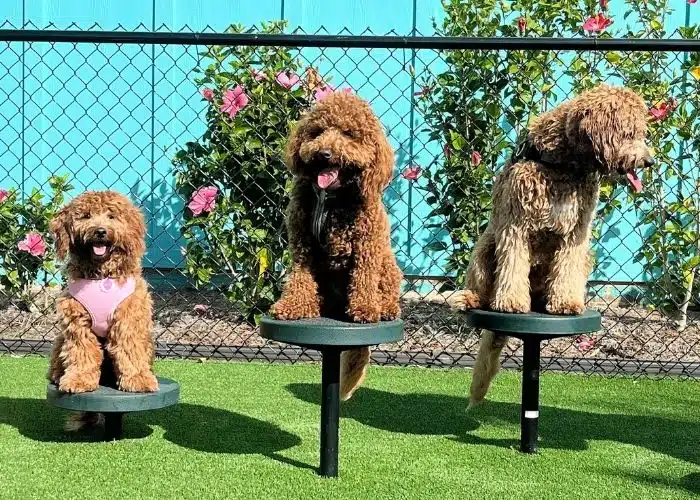 Our pup Sunny (right) with his buddies Daisy (left) and Scout (center) at Barkaritaville
Rates At Camp Margaritaville RV Resort In Florida
As you might expect from a brand new RV resort so loaded with amenities, this is not a low price point RV resort. But, when compared to other RV 'resorts' and the prices we have been seeing lately, we feel Camp Margaritaville offers excellent value for the money. Especially when you consider the high quality, and the fact you really don't need to go anywhere else for your entertainment.
These days, we are finding it is common for RV parks and resorts to charge $60 or more per night. And we have seen many over $80, $100 or even $200 + per night. Camp Margaritaville in Auburndale Florida starts in the $80s per night for regular RV campsites, and goes up to $200+ for the premium waterfront Motorhome Suite sites, with private tiki huts and outdoor kitchens.
You can book nightly, or save with a weekly reservation. 
Save 10% with RVLOVE Discount Code
When we told Camp Margaritaville Auburndale that we would be writing a review here on our website, they offered a discount code to share with our readers. So when reserving an RV campsite or Cabana cabin, simply use the code RVLOVE to save 10% on nightly or weekly reservations. NO blackout dates.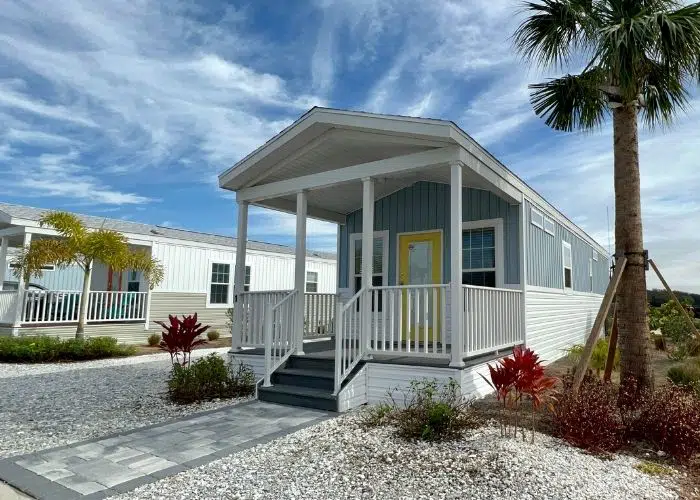 Cabana Cabins Rates
There are a few different types of Cabanas. Some allow pets, and some don't. If you have a larger family, some are available with bunk beds in addition to the main bedroom. Others have outdoor TVs, fireplaces and fans on the porch. The Cabana Cabin rates range from $195 – $228/night. 
Discounts are available for nightly or weekly stays.
Save 10% with discount code RVLOVE.
Rental equipment rates
Most equipment for activities is free to use during your stay. We saw that they have golf carts, and fire pits for rent to use at your campsite. Golf cart rentals are $65 – $85/night.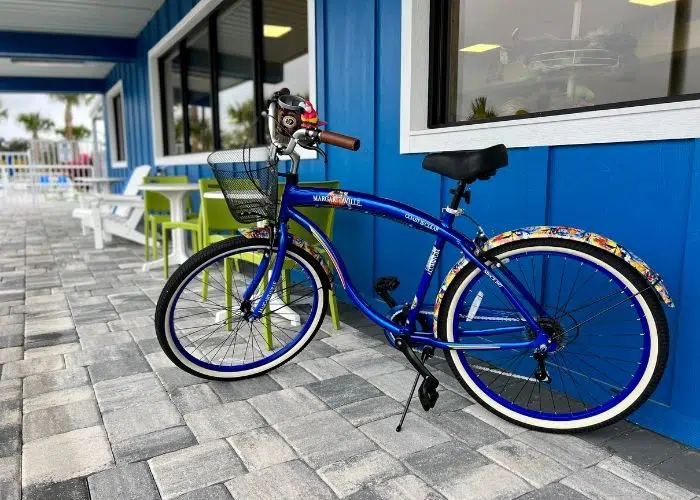 As you have probably gathered, we really loved this RV resort. We consider Camp Margaritaville Auburndale to be one of – if not THE – top RV resort experiences of our entire RV lifestyle since 2014. We have stayed in some very nice resorts, including high end motorcoach only resorts, but this is the nicest RV resort we have found that welcomes ALL RVs, ages and audiences. The fact that it is so beautifully laid out, packed with quality amenities and activities, and with such a warm, friendly vibe, makes Camp Margaritaville a very fun and desirable place to visit.
We understand the founder has spent time working with Disney properties, which would explain the thoughtful design and incredible attention to detail. Based on our experience, amenities at Camp Margaritaville Auburndale are unmatched, so we feel the rates, while some may consider them to be on the higher side, actually offer very good value for money. We can see how this place would be a fun vacation getaway for couples, families and solo travelers alike.
The only downside to our stay was the construction underway in some areas. But we also kept this in perspective, knowing it was temporary, and would result in an even better experience on our next visit. We can't wait to return!
Julie enjoys a "Perfect Margarita" from the Tiki Hut, by the swimming pool, at sunset
Do we recommend Camp Margaritaville Auburndale?
Absolutely! For us, it was definitely a bit of splurge, but well worth it! Our only reservation in writing and sharing this review is it may make be more challenging for us to secure a reservation next time! But we can't NOT share this place, as we know many of you would love to experience it. 
In our opinion, Camp Margaritaville Auburndale has set a very high standard. One that we hope is followed by many other RV park owners and developers, as this place has simply done so much RIGHT. We look forward to seeing more of these properties being built around the country, at this high caliber!
Have you stayed at Camp Margaritaville in Auburndale Florida? We'd love to hear about YOUR experience in the comments below!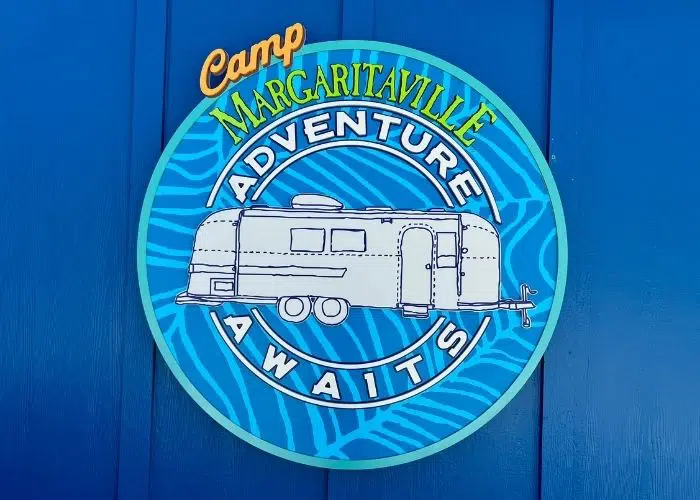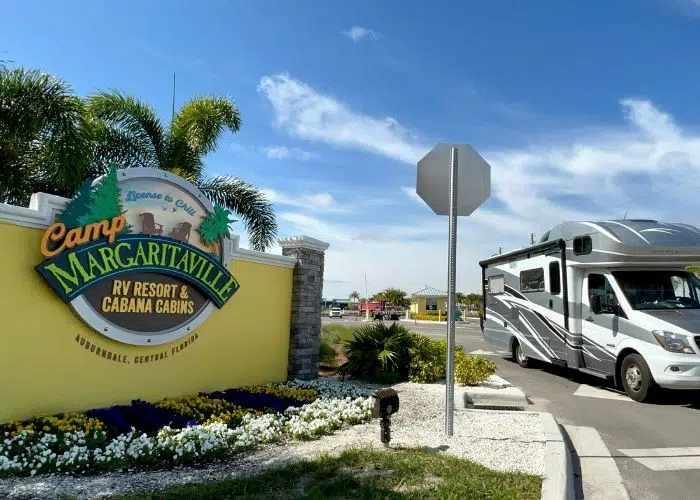 Editorial Disclaimer: Opinions expressed here are the author's alone, not those of any RV park, campground, or RV resort, and have not been reviewed, approved, or otherwise endorsed by any of these entities.
GOT COMMENTS OR QUESTIONS?
We would love to hear from you. Drop us a note in the comments section below.