This post may contain affiliate links.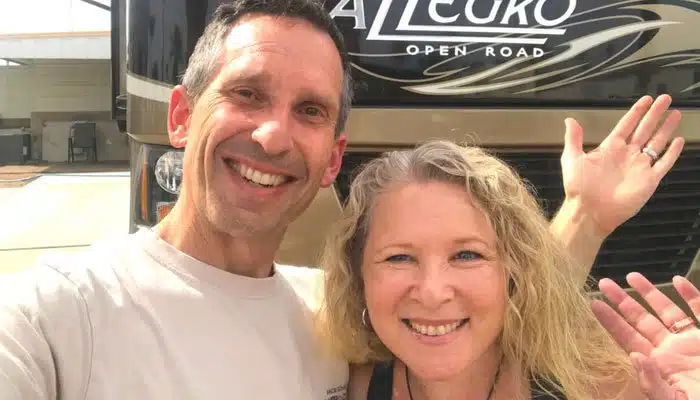 If you've been following us for a while, you'll know that our RV 'Rocky' has been an amazing coach to us for nearly 4 years on the road. To us, Rocky is far more than just an RV. Our motorhome has literally been the vehicle for a complete life transformation for us. Not only was it our home for nearly four years, we had actually lived in this coach longer than we had lived in any other home together. And, we explored all 50 states in the time we lived in Rocky. The past 4 years have truly been the adventure of a lifetime, filled with so many amazing memories. And so while we feel ready for a change, it's also bittersweet.
Last week we posted this first video sharing the news that we planned on selling Rocky/ And already had not one, but TWO interested buyers. This all happened very serendipitously, just a couple of months after removing the RVLOVE branding stickers from our RV while in Arizona for the winter. Intuitively, we both knew that removing the decals from Rocky was a sign of a change to come. And we were right. You'll just have to watch the video to get the full story and understanding on that.
Since we hit the road as newbie RVers in 2014, we and our lifestyle have changed. This also changed some of our needs and desires. As you know, we researched our first RV purchase decision thoroughly before buying our Tiffin motorhome. We remained very happy at how well Rocky served our needs for the past almost 4 years.
The bunkhouse model that would provide us with two dedicated office spaces, plus the cavernous storage, were two important features to us when buying our first motorhome. Having two office spaces proved to be the right choice, with Marc working for his employer and needing the separate bunkhouse office where he could literally pull the curtain and hide his office at the end of a workday. Work-life balance is high value to us.
Because we're bona fide "RV Lovers" we always enjoy checking out and "shopping" RVs, most often for the fun of it. And to stay educated, for our RV Success School students, as well as when the time would eventually come for us to make a change. We regularly to check out local RV dealerships, browse websites like RV Trader. We also like to do RV factory tours and attend industry events, like the RVIA Show in Louisville, Kentucky where we filmed a 3 part series. More often than not, we have come away from these visits with the realization that very few RVs would meet our needs (and our budget) as well as our Rocky had. So we never felt a burning need to change.
Finally ready
Eventually, however, the gradual desire for a different experience, and some different features began to grow over time. We'd say it took about a year of 'RV shopping' before we finally got to the point where we felt 'ready' to make a change. And to feel very clear on our needs and desires for the future and the next phase of our life and adventures.
A number of people asked us in the YouTube comments – if we were so happy with Rocky, why the change? There were a few factors, with the main ones being:
Increased weight capacity
If there was one thing we wish was different or better about our Tiffin motorhome, it would be increased weight carrying capacity. Rocky had a TON of storage space, inside and out, but only a 22,000lb chassis. We were limited on what we could safely carry.  We covered our RV weight dilemma in a lot more detail in our RV Weight Loss blog post and video.
Desire to do more off-grid camping
Since Marc quit his job, we have more flexibility in our schedule. We wanted to add more batteries and solar to our next RV so we could do more off-grid camping. We still enjoy staying in campgrounds. And we continue to use and get enormous value from our Thousand Trails camping membership.  But we also wanted the option to stay off-grid longer if we wanted. Again, this comes back to our weight issue with Rocky. Many people asked why we didn't add solar to our RV.
The answer was simply that Rocky didn't have the spare weight capacity to add batteries or solar panels. We were not willing to compromise on safety for the convenience of solar. So we just went with a portable 100 watt solar panel which served us well for about 2 years. Our power usage needs are low. Rocky didn't even have an inverter! We didn't mind using our generator from time to time. But if we wanted to do more off-grid camping, then we really wanted to amp up our battery and solar setup.
Desire for greater quality and features
While we didn't specifically call this out in the video, we also wanted to increase the quality, insulation and features of our RV. We plan to continue RVing in the long term. Yes, our Tiffin gas motorhome is still decent quality. But we knew we wanted something more solid, substantial and better insulated. These are important needs for us as full-time RVers. And while we got by just fine with our 8 cubic foot RV fridge for a long time, we really started to look forward to having a residential fridge again. This wasn't an option to install in Rocky.
We'll talk more about some of the other features we were looking for in a future post/video. But our desire to switch RVs ended up being a perfect storm of desiring a change and a new experience, increased capacities and quality for the longer term, as well as wanting to better equip our RV for more off-grid camping.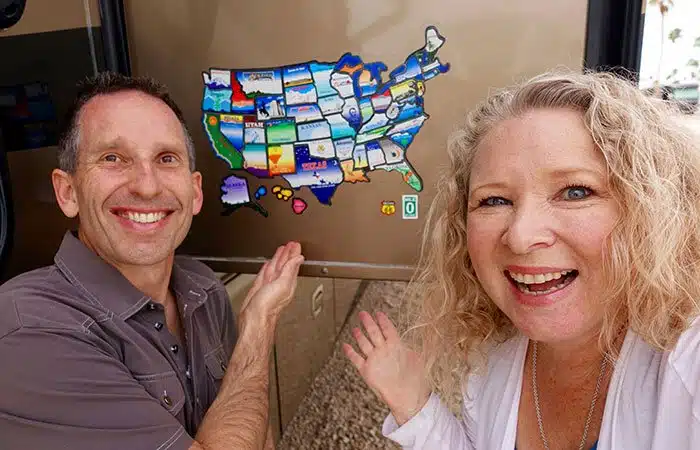 Selling Our RV. Our Experience
As we began to come around to the idea of selling Rocky and finding a new home on wheels, we began thinking through all the logistics this would entail. Of course, the easiest solution is to simply drive into an RV dealer, trade in your RV and drive off with another one – whether new or used. The dealer takes your RV off your hands, handles all the financing and paperwork, and you simply move from one RV to the other. But you pay for that convenience – dearly. And it was a price we weren't willing to pay.
We were offered a pretty low – in our opinion – trade-in valuation on Rocky. However, we were confident that, based on how well we took care of our RV, we'd be able to get a much better price selling it privately. We did our research and found the difference between the trade-in price that we were offered and the price we believed we could get for Rocky was $25,000. Yes, you read that correctly! Twenty-five thousand dollars more (potentially) if we were willing to go through the 'hassle' of selling Rocky ourselves!!!
How we saved that money
This is pretty standard in the RV biz, just like in the auto biz. .You will usually get a much better price selling an RV privately than by trading in at an RV dealership. We were willing to go through a bit of extra 'hassle' to save that much money on the transaction so we would be better off financially. Still having a loan on Rocky, was a potential complication that we had to factor in too. We had been told it was impossible to sell an RV to a private party if you didn't hold the title. But we found a way to make it work anyway. It definitely wasn't easy and certainly required an extra level of trust between us and the buyer.
Trying to work out a plan to sell our RV and find another, organize the financing and the move – privately – was a lot to navigate. Quite literally it gave us a headache. At one point, Julie got so frustrated, she announced we were going about it all wrong trying to "work it out".
She asked "Why are we making this harder than it needs to be? When we decided to sell our townhome at full asking price to a cash buyer with a short close, that's exactly what happened. Let's put it out to the Universe that we want this RV transaction to be quick and easy and happen effortlessly."  And so we did.
And it suddenly all came together
Within weeks of this declaration, we had not one but two of our followers (one from Kansas, one from Florida) send us a message casually mentioning they were looking for an RV like ours – with an office space. This meant we would not need to restore the original bunk beds. We were VERY happy about that, as that would have been a big job.
Marc wrote a For Sale ad in January, planning to advertise Rocky. But then we landed a book deal with a ridiculously short timeline to write it. So we had to put our RV sale/buy plans on a temporary hold, if we had any hope of meeting our deadline with the publisher! We knew we would be so busy at the time that we would not have had time to field all the inquiries we may get about selling. But we also knew the RV would likely sell better if we removed our personal decor touches and reinstated it 'back to factory' so it looked new again.
Restoring Rock 'back to factory'
We spent a couple of evenings restoring the coach back to original condition. It seems most buyers would like to see an RV  looking more original and less personalized. They generally like them closer to what it was like coming from the factory. That would make it easier for them to imagine the RV as their own.
We had kept all the original parts, linens, and pillows (as new) and were confident that we could bring the coach back to original relatively quickly. We moved most of our stuff out of the RV and into a small storage unit in Phoenix that cost just $20 a month. This made it easier to prep the coach for sale and was well worth the $60 it cost us for the 3 months we used it January through March. You can see us make the restoration in this video, but that is only part of the story.
We were optimistic about a sale. The coach was restored back to the original look, with virtually everything in storage. Having gone to all that effort, we were understandably a little nervous for when the potential buyers arrived. We hoped the coach would be everything they hoped for and they would want to finalize the transaction. Rick and Robin arrived from Kansas and we spent most of the weekend with them. We were going through Rocky, the systems, setup and answering all of their questions. They took Rocky for a test drive and loved the coach – seeing themselves living in her full-time while traveling the country, as we did.
We made arrangements for the sale, and completed the transaction at our bank the next da. The keys to our Rocky were handed over to her new owners. We honestly could not have imagined a more easy and pleasant transaction, and getting to know and spend time with such a lovely couple. We're so grateful it all worked out as smoothly as it did. Thanks, Universe! This is what happens when you let go and trust!
Final days
We packed a couple of suitcases and moved into a hotel for the next couple of weeks. All of this happened in the midst of our book writing deadline, mind you! Yes, crazy, we know. We managed to pull it all off though.
Fortunately we were able to stay in the area for two weeks while the new owners settled in. Being brand new RVers, they had a lot of questions. It was nice for us to be able to share our knowledge with them in those first couple weeks to make sure they were off to a great start. It also allowed for an easier emotional transition for us. This was important because this was as big of a change for us to say goodbye to this life-changing vehicle, as it was for her new owners entering the lifestyle!
In our latest video "SOLD", we bid farewell to our beloved Rocky and hand her over to her new owners wishing them amazing continued adventures. In the video, we also share our reasons for selling, offer some tips for selling/buying an RV and the logistics of navigating a change as a full-time RVer. We finish up with a video tribute to Rocky, to a track by one of Julie's favorite Australian bands. We think you'll enjoy this trip down memory lane as much as we did.
Goodbyes
Honestly, we shed a couple of tears last night, as we put the finishing touches on this video. It is emotional remembering all of the amazing experiences we had with Rocky. A lifetime of adventures, in just a little under 4 years, traveling over 35,000 miles and exploring North America together. We hope you enjoy the video, and our tribute to Rocky too. Thank you for sharing these adventures with us all!
And don't worry, the adventures don't end with Rocky. We'll be continuing to RV, albeit with a different one. And you won't have to wait long for the announcement of our next home on wheels. That video will be posted tomorrow, so stay tuned!
GOT COMMENTS OR QUESTIONS?
We would love to hear from you. Drop us a note in the comments section below.