This post may contain affiliate links.
As states begin lifting lockdowns, people are already planning camping trips and hitting the road in their RVs. Campgrounds are opening back up. Gas prices are the lowest we've seen in ages. And with most rigs being completely self contained, an RV is hands down the safest way to travel. But as you get back out there, you'll still want to take a few precautions to keep you and others safe and healthy, and avoid potential hiccups that could spoil your trip.
Here are our 11 tips for traveling in an RV safely, with less stress, in a COVID-19 world. 
1. Do your research and manage expectations
As states re-open around the country, keep in mind many of the rules and requirements for each area are changing daily. Research your destinations before planning your RV road trip. Check local news reports. Call ahead to the campground to get a feel for what to expect. It may or may not be camping as usual. And keep in mind that some small towns may not yet feel ready to welcome visitors, so respect their wishes. Be prepared, manage your expectations and stay self contained as much as you can, on your way and upon arrival.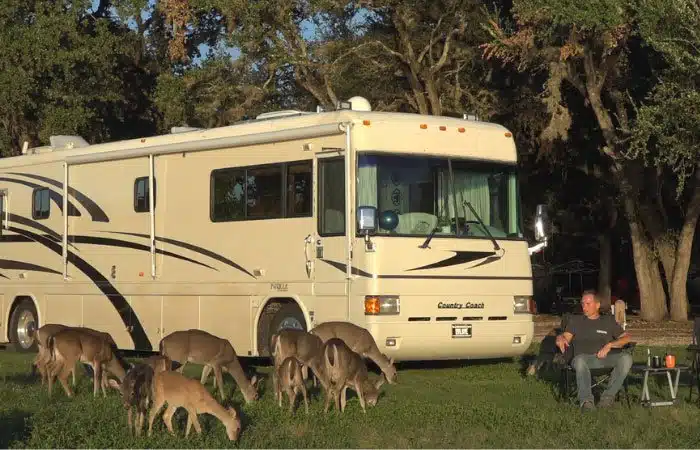 2. Make your camping reservations now
Book your stays in advance, especially for popular areas and holiday weekends. After a quiet period, many RV parks are now reporting a surge in reservations. With so many people ready to get out and explore again – and even more getting into RVing – we're expecting a busy camping season. We have made several reservations at Thousand Trails campgrounds all the way through summer. But we know we can change or cancel them easily, without penalty. If you prefer going with the flow and un-planning your travels, you can trying winging it with same day reservations or a walk up campsite. Just keep in mind this may be harder in popular parks and especially on weekends. 
3. Check campground COVID-19 policies
Call ahead or check a campground's website to know their COVID-19 sanitation protocols for public areas and amenities. And ask about their policy regarding potential closures, cancellations and refunds – just in case your trip doesn't go according to plan. Also find out what amenities will be available at the campground during your stay. You will likely need to be prepared that some activities may be limited or closed, and their nightly rate is unlikely to change as a result. Better to know in advance and be prepared.
4. Head to hidden gems and less crowded places
This is a great time to visit those hidden gems that haven't made it onto your bucket list,  or any of those glossy travel magazines or Instagram feeds. Aim for uncrowded spots near lesser known, outdoor recreation areas close to hiking and biking trails, parks, beaches, lakes or mountains. One of our favorite travel memories ever is from a place we least expected! It's an ideal time to switch things up – maybe even skip Yosemite and Yellowstone in favor of exploring some of those national parks and monuments you've never heard of instead. But follow our tip #1 first to make sure visitors are welcome.
5. Stay at unique camping locations, like a winery
Instead of staying at a crowded campground, consider overnighting at a winery, farm or other unique location on your RV road trip. Members of Harvest Hosts can find properties all around the country to stay overnight for free, in their self-contained RV. Of course you are expected to support their business by buying something during your visit. Just be sure to check for availability and follow their requirements, which usually means arriving during business hours and parking in a designated area.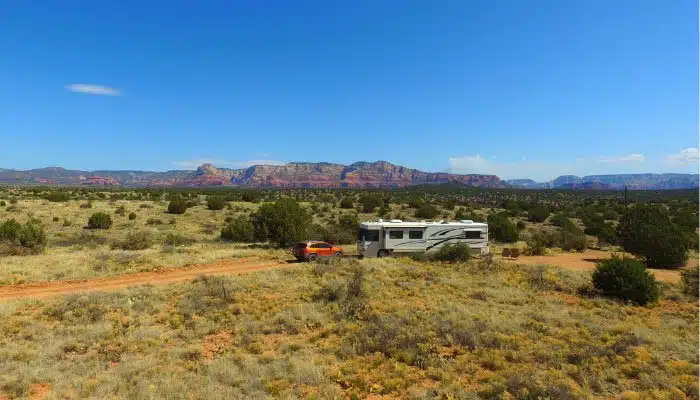 6. Try out your boondocking skills
Another way to skip crowded campgrounds while saving on camping fees is by going boondocking. Find a place to park on free public BLM land or in National Forest, by searching camping review sites like Campendium. If you have never boondocked before, this is the perfect time to try it out, and get outdoors while still keeping your social distance. Check out our 29 Tips for Successful Boondocking before you go – no solar or fancy equipment required. This option is perfect for those who want to continue self isolation, or just appreciate the peace and quiet of a remote camping spot.
7. Bring enough supplies and food to last a while
It may sound obvious, but do stock up before you leave, to minimize trips to the store. Pack your RV with food and other essential supplies – Lysol or Clorox wipes, disinfectant, bleach, gloves, hand sanitizer, Tylenol, a thermometer, gloves, masks, paper towels, and toilet paper.  You'll also be using your RV kitchen and BBQ grill more! Consider planning or even making meals in advance. Stock the fridge and pantry, so you won't have to go out to eat or go to the grocery store (as often). Not only will you reduce exposure (for yourself as well as for others), being organized will give you more time to relax and play.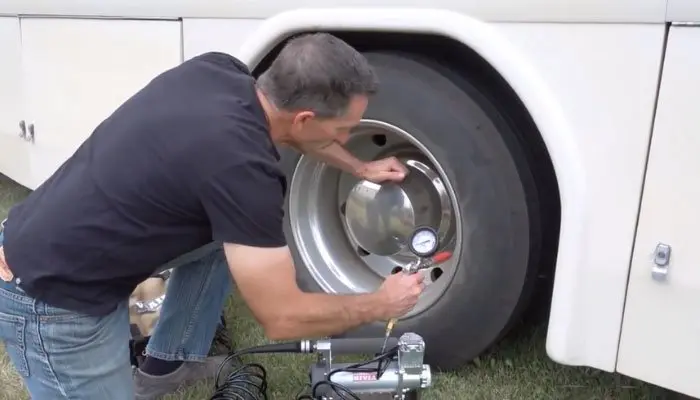 8. Get your RV road ready to avoid incidents
Give your RV a good checkover before you roll, to minimize the risk of breakdowns or issues out on the road. Many RV-related breakdowns and repairs we see out there are easily preventable. Take a thorough look around your RV, test systems and appliances. Get up on the roof and check for leaks. Have your RV serviced. Make sure you roadside assistance policy is current. Check your tires are properly inflated (we highly recommend our Viair). And if you don't already have a Tire Pressure Monitoring System, consider installing one like this so you can monitor your tire pressure and temperature at all times. Even if you plan to rent an RV, it's important to check the tires (a leading cause of breakdown) before you roll.
9. Stay mindful and respectful of others
It's important to remember, even though lockdowns are being lifted, this pandemic isn't over. So it's a good idea to continue being mindful and practicing social distancing in the foreseeable future, by staying 6 feet apart. Even when at campgrounds or out on trails. Not only will this practice keep you and your family safer, it also respects the wishes of others.
10. Be flexible and have a backup plan
There's no guarantee all of our trips will go according to plan. But it pays to be prepared. Keep things in perspective, have a positive attitude – let's focus on being glad we can travel and go outside again! And above all, be patient, understanding and flexible when it comes to changing your plans, if necessary. If you get to a place that is more crowded than you expected and it makes you uncomfortable, just leave. We recommend having a backup plan (or two) in place "just in case". That way you can avoid a lot of stress or frustration if things do change unexpectedly. Above all, keep in mind that even when you are dealing with the unexpected, it's ALL part of the adventure, so just go out there and have fun… safely!
PS. If you find yourself in a situation where campgrounds or states are implementing travel restrictions and shelter in place orders again, re-visit this article What Should RVers Do Now. You'll find some useful tips and links to help you out.
11. Focus on the journey, not the destination
Yes, this may be a cliche but for good reason… because it's true. Instead of making your trip all about where you are going, choose a scenic RV-friendly route – even if it takes longer to get there. Relax, enjoy and appreciate the drive itself – the roads, the scenery and everything you see along the way. Stop for meal breaks at scenic spots, or just go with the flow and pull over when a place calls you. The road may end up leading you somewhere you least expected, and it could be the highlight of your trip.
GOT COMMENTS OR QUESTIONS?
Do you have some other tips you'd like to add to this list? Drop us a comment below.